Thailand's air quality measurement standards raise concerns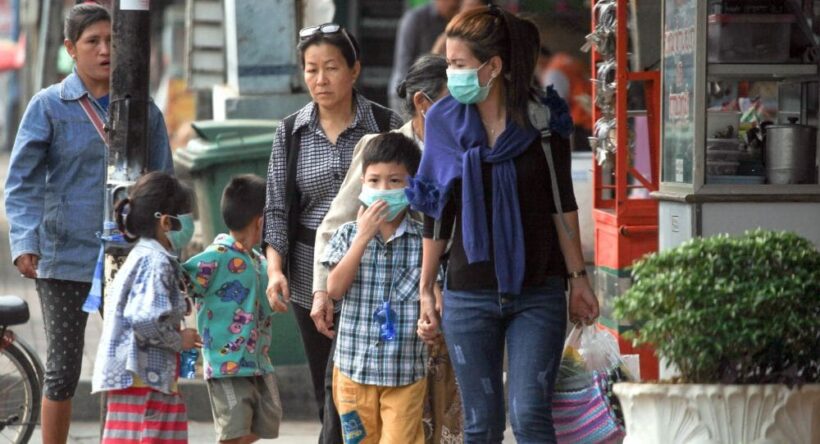 by Chularat Saengpassa
From next month, the Pollution Control Department (PCD) will set PM2.5 particles as an indicator of Thailand's air quality, but the move does not ease the concerns of people in the know.
"I must tell you that the PCD intend to use the '24-hour mean' as the indicator and that may be misleading," said Tara Buakamsri, the country director for Thailand at Greenpeace Southeast Asia.
He pointed out when the quantity of PM2.5 particles was calculated across a 24-hour period, it could sometimes hide the fact that air pollution had reached an unsafe level during some hours of the day.
According to the World Health Organisation (WHO), about 7 million people die every year because of exposure to both outdoor and household air pollution. Since 2013, WHO has described PM2.5, a tiny particle that is 2.5 microns or less in width, as carcinogenic. PM2.5 can easily enter the respiratory system, lungs and blood vessels.
In Thailand's Chiang Mai province, 950 people were rushed to Chiang Dao Hospital's emergency department between March and April in 2016 and 2017 as the province suffered a serious smog crisis. The patients were diagnosed with emphysema, ischaemic heart disease, stroke and lung inflammation. Of that group, 68 died. Another 477 locals died in the same period.
"We cannot say that they died of pollution but statistics show that when the amount of PM2.5 rises by 10 micrograms per cubic metre of air, the death rate rises by 0.15 per cent," said Professor Chaicharn Phothirat, who heads the Department of Internal Medicine, Faculty of Medicine, at Chiang Mai University.

Chaicharn said his studies also found links between the soaring volume of PM2.5 and PM10 particles, and hospitalisations. PM10 refers to particles whose diameter is no more than 10 micrometres. PCD, an official government agency, has for more than a decade judged air quality solely on the basis of PM10 indications.
But last year, Greenpeace brought public attention to Thailand's failure to include PM2.5 in its official air-quality monitoring, and thus not fully reflecting actual risks in many provinces. As air pollution has become increasingly visible in the form of smog, the Greenpeace position received widespread attention. PCD felt the heat and revisited its air-quality criteria.
Currently, about 28 air-quality monitoring stations in Thailand are equipped with devices to measure the amount of PM2.5. Before the end of next year, as many as 53 stations should have had the devices installed. PCD director-general Sunee Piyapanpong said that starting from next month, people would be able to check air quality by themselves via the Air4thai application and https://air4thai.pcd.go.th.
The app is compatible with both Android and iOS devices. Sunee said when people get updates about air quality, they will then be better able to protect themselves.
As of Saturday morning the Air4Thai App measured Chiang Mai's Air Quality Index at 44 and 'good', Bangkok's AQI at 62 and 'moderate', Phuket's AQI is 33 and 'good'.
SOURCE: The Nation Weekend

Keep in contact with The Thaiger by following our
Facebook page
.
10 billionaires among Thailand's 500 MPs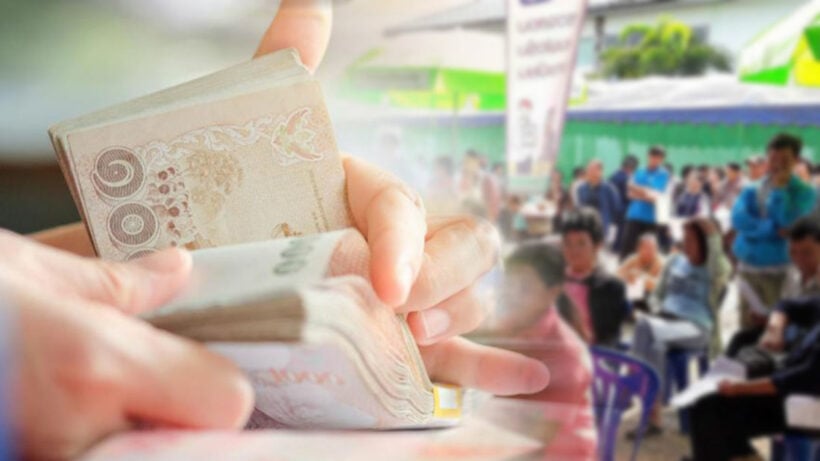 Thailand has 10 billionaire MPs, while the poorest MP has just 5,064 baht in his bank account, according to reports from the Office of the National Anti-Corruption Commission.
Of the 10 billionaire MPs, Mrs. Nathee Ratchakitprakarn, of the Bhumjaithai Party, wife of Tourism and Sports Minister Pipat, is the richest, with declared assets of about 4.675 billion baht.
The other nine billionaire MPs are:
Mr. Anutin Charnvirakul, Bhumjaithai party leader, deputy prime minister and public health minister, with 4.249 billion baht (including two planes, two boats, Buddha images worth 121 million baht and 395 million baht in bank deposits)
Bhumjaithai MP for Satun province, Mr. Piboon Ratchakitprakarn, with 2.342 billion baht
Mr. Suriya Juangroongruangkit, industry minister and Palang Pracharat MP, at 2.198 billion baht
Mr. Apichaiubon, Democrat party-list MP, with assets of 2.048 billion baht
Mr. Nataphol Teepsuwan, Palang Pracharat party-list MP and education minister, with 1.985 billion baht
Khunying Kalaya Sophonpanich, deputy education minister and Democrat party-list MP, with 1.785 billion baht
Ms. Supamat Issarapakdi, Bhumjaithai party-list MP, who has 1.609 billion baht
Mr. Kittisak Khanasawat, Pheu, Thai MP for Maha Sarakham, with 1.529 billion baht
Democrat party-list MP Korn Chatikavanich, with 1.097 billion baht
PM's Office Minister and Chart Pattana party-list MP Tewan Liptapallop, who has 1.03 billion baht
House Speaker Chuan Leekpai has assets of about 8 million baht
Of the 500 MPs, it appears that Mr. Phisanu Polatee, Bhumjaithai, MP for Pathum Thani province, has the least assets. There was, at the time reporting, only 5,064 baht in his bank account.
Earlier, he reported that he earned 14,000 baht a month from the Provincial Administration Organization. His earnings as an MP since May totaled 829,700 baht. He said he is living in the house of his mother and the car that he has been driving belongs to a friend.
Several MPs have not yet declared their assets to the NACC's Office, including Future Forward party leader Thanathorn Juangroongruangkit and Future Forward MPs Pannika Wanich and Pitha Limcharonrat.
SOURCE: thaipbsworld.com
Keep in contact with The Thaiger by following our
Facebook page
.
PM will act on opposition's recommendations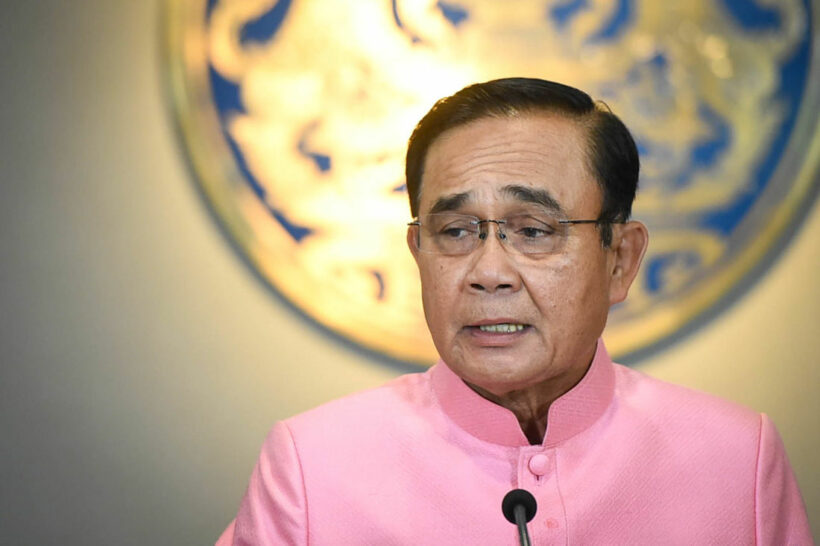 Prime Minister Prayut Chan-o-cha said on Saturday that he was satisfied with the deliberations over the budget bill in the previous two days and promised to act on the constructive suggestions offered by opposition parties.
Regarding the 400 billion baht allocated for the Central Fund, the Prime Minister admitted that the figure seems high, but it actually isn't when measured against various urgent issues requiring immediate attention, such as flood relief, pensions and critical projects proposed by local administrative bodies during cabinet meetings.
Defending the increased military budget, the PM said that the mission of the military isn't just to defend the country from invasion, but also the interdiction of smuggling and non-military activities such as disaster relief operations.
Tens of thousands of troops are deployed along Thailand's borders, with many of them stationed in the deep south to maintain peace in the often restive region.
He defended the need for new armaments, including navy's plan to procure new vessels to protect Thailand's marine resources and enhance the navy's overall capacity. He pointed out that Thailand isn't the only country in the region enhancing its military.
He said that about 2,000 projects have been proposed to address the flooding issue and that budgetary constraints mean the government must be selective, priority being given to those which are most urgent.
Regarding the 300 billion baht investment budget, the PM said that since investments in various major infrastructure projects are, and will be undertaken by the private sector, the funds will be used as seed money from the government to supplement private investment.
He said that public debt, now 41% of GDP, is not a serious concern as Thailand has the ability to service the debts.
SOURCE: thaipbsworld.com
Keep in contact with The Thaiger by following our
Facebook page
.
Foreigner arrested for exchange counter robbery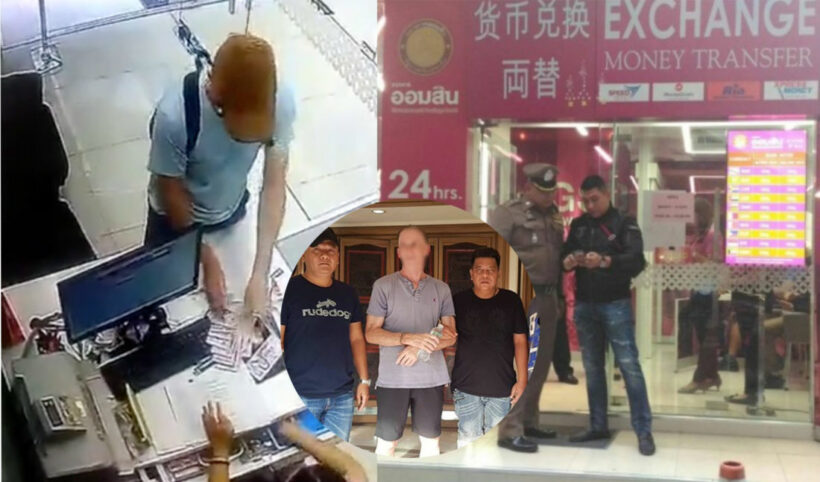 A foreign man was arrested after robbing a currency exchange counter in a Bangkok bank on 16 October. Police worked with Immigration officers and the tourist police to arrest the man, whose nationality has yet to be confirmed.
The man walked to a Government Savings Bank Currency Exchange Counter before pulling out a knife and threatening a clerk. He then ran from the bank with the money he'd received and got away on a motorbike taxi that happened by.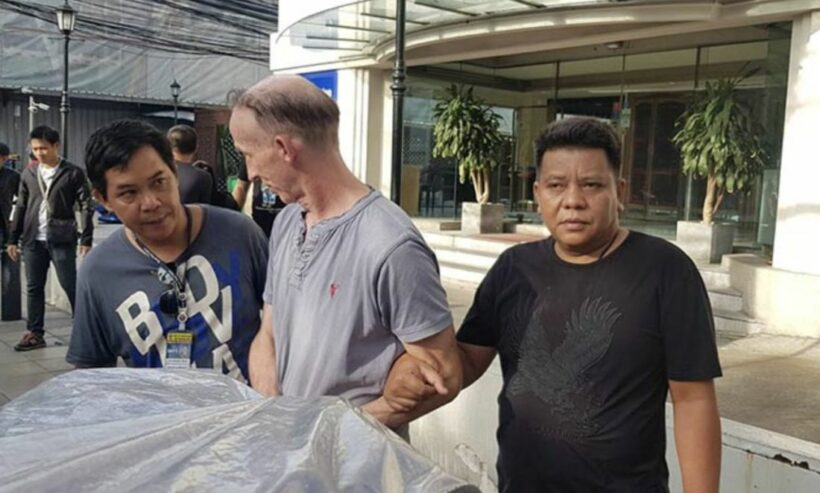 Photo : INN News
Footage from security cameras revealed information that helped lead police to the man, who was arrested a day later in his room. Police are investigating to learn the motive for the robbery and the mental state of the suspect.
SOURCE: thairesidents.com
Keep in contact with The Thaiger by following our
Facebook page
.