Thailand News: Preah Vihear land dispute update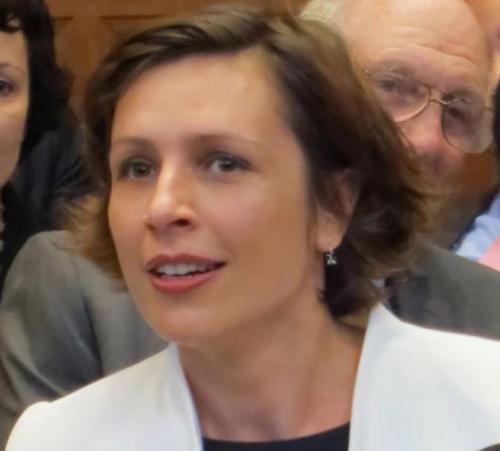 PHUKET MEDIA WATCH
– Thailand news compiled by Gazette editors for Phuket's international community
Romanian expert becomes star at the ICJ
Supalak Ganjanakhundee / Budsarakham Sinlapalavan / The Nation / Phuket Gazette
PHUKET: Alina Miron, co-counsel on the Thai legal team that is presenting the country's case in the Preah Vihear land dispute before the world court, smiled in surprise when told she had become a celebrity in Thailand.
Her strong presentation and photogenic appearance on the court's TV screens have left many people following the case impressed. Also, many are curious about Miron and how she came to be a member of the Thai team.
Thailand's agent in the case, Virachai Plasai, said that Wednesday's appearance was Miron's first before the world court, and that she did a great job of explaining Thailand's position on the maps Cambodia is using to make its case.
"I trust her when it comes to presenting this important topic to the court, and she did an impressive job," he said.
Virachai said he had spent a long time studying the maps with Miron, adding that her knowledge was very helpful. Miron is a Romanian with a solid educational background in public international law at universities in France, including the Universite Paris-Ouest Nanterre la Defense, Universite Paris-Ouest la Defense and Universite des Sciences Sociales.
In the world court case, Miron is serving as assistant to the team's lead counsel, Prof Alain Pellet. She has worked with Pellet on many cases, advocating on behalf of Slovenia, Russia, Greece and Nicaragua.
Miron speaks many languages. Romanian is her mother tongue, but she also speaks French and English fluently. Her command of Italian is also good.
Thai social media have been gripped by the "Alina Miron fever". Bloggers, along with Thai senators attending the trial at The Hague in the Netherlands, have praised Miron for her sound reasoning, which they believe will convince the world that Cambodia does not have the right to a 4.6-square-kilometre disputed area near the temple.
Appointed Senator Somchai Sawaengkarn posted a message on Facebook praising Miron's politeness and her technique of reasoning. He said her use of pictures and maps to make comparisons have made Thailand confident of winning the case. "[Another senator] could not help but compliment her, telling her in person that she was 'excellent'," Somchai said.
Senator Kamnoon Sithisamarn said Miron demolished Cambodia's argument, which is based on the Annex I map, dismissing it and turning the courtroom's attention to maps introduced by Thailand in the 1962 case.
A blogger called "Sai Trong Paksanam" said Miron pointed out credible and technical problems with Cambodia's Annex I map, saying it has been altered and contradicted geographically. Miron said the Thai team has found there are six different versions of the Annex I map.
The blogger received 5,000 "likes" and 2,310 "shares" 22 hours after posting.
Sermsuk Kasitipradit, a Thai PBS reporter, posted pictures of Miron and a message on his Facebook page and received 700 "likes".
"Miron fever" also gripped the Pantip website, thanks to blogger "BaaD" with his blog "Netizens praise Miron after her taking to pieces Cambodia's Annex I map".
On Twitter, @SupotNTV wrote that Miron was brave in making her observations, saying that "Cambodia's map is not accurate but I could not believe that the country has altered the map." Within 18 hours, this message was re-tweeted 232 times. @doubletoyy tweeted that though Miron is not Thai, she carried out her duty better than Thai officials. She posted pictures of Miron on
pic.twitter.com/DhCi9ewIOK
.
Cambodia-backed map was 'never endorsed'
The Nation / Phuket Gazette
PHUKET: Previous governments led by the Thai Rak Thai and People Power parties never accepted the 1:200,000-scale map used by Cambodia to make its case to the International Court of Justice (ICJ) in the Preah Vihear dispute, a legal adviser to former prime minister Thaksin Shinawatra said yesterday.
Noppadon Pattama dismissed any suggestion that the governments signed papers endorsing the use of the controversial map, which was largely blamed for Thailand's loss of the Preah Vihear Temple in 1962.
The map is in the spotlight again as the ICJ is holding hearings on Cambodia's request for the court to interpret its 1962 judgement. That judgement held that the ancient temple sits on Cambodian soil, but the status of the land in its vicinity was left unclear.
Noppadon yesterday maintained that a joint statement signed by the People Power Party-led government and Cambodia was made to protect Thailand's rights over the disputed area. "The members of Thailand's legal team are also involved in preparing that joint statement," he said.
Noppadon was referring to Virachai Plasai, the Thai ambassador to The Netherlands, and French lawyer Prof Alain Pellet. He also pointed out that because of that statement, Cambodia saw only the Preah Vihear Temple inscribed as a World Heritage site; the disputed area was not included.
Armed Forces Supreme Commander General Thanasak Patimakorn, meanwhile, said the border situation remained normal. "Thai and Cambodian soldiers enjoy good ties," he said.
Govt downplays ICJ query
Supalak Ganjanakhundee / Pakorn Puengnetr / Pravit Rojanaphruk / The Nation / Phuket Gazette
PHUKET: The question raised by Judge Abdulqawi Ahmed Yusuf after Wednesday's International Court of Justice (ICJ) hearing on the "vicinity" of Preah Vihear Temple reflected a personal interest of the judge, but sent no significant signals regarding the case, Foreign Minister Surapong Towichukchaikul said.
The judge asked Thailand and Cambodia to define the vicinity of Preah Vihear on maps or graphics of the area and show it to the court.
The court required a reply in written form from both sides by April 26, and the parties would have to submit responses to each other's definitions by May 3.
Some observers said the judge's question sent a signal that the court was willing to address the issue of the status of the temple's vicinity, and showed an inclination to accept the case for interpretation as requested by Cambodia.
Surapong said he asked Judge Yusuf in person during a reception party after the hearing on Wednesday about the significance and implications of the question.
The question reflected the personal interest of Judge Yusuf, not of the court's panel, but the judge would circulate the replies from both sides to the other 16 members of the court, Surapong said.
Thai agent Virachai Plasai said it was unusual for a judge to raise a question after a hearing session had ended, and to request answers in written form. Previously, the court or judges would ask questions during the hearing session and demand an immediate answer. "But we should not panic over the judge's question. It implies nothing for the whole case," Virachai told reporters.
Thailand and Cambodia are in conflict over their interpretation of the 1962 judgement by the ICJ that Preah Vihear Temple is situated in territory under the sovereignty of Cambodia. Under the judgement, Thailand was ordere Keep in contact with The Thaiger by following our
Facebook page
.
Never miss out on future posts by
following The Thaiger
.
News of American sued over bad Koh Chang hotel review has everyone talking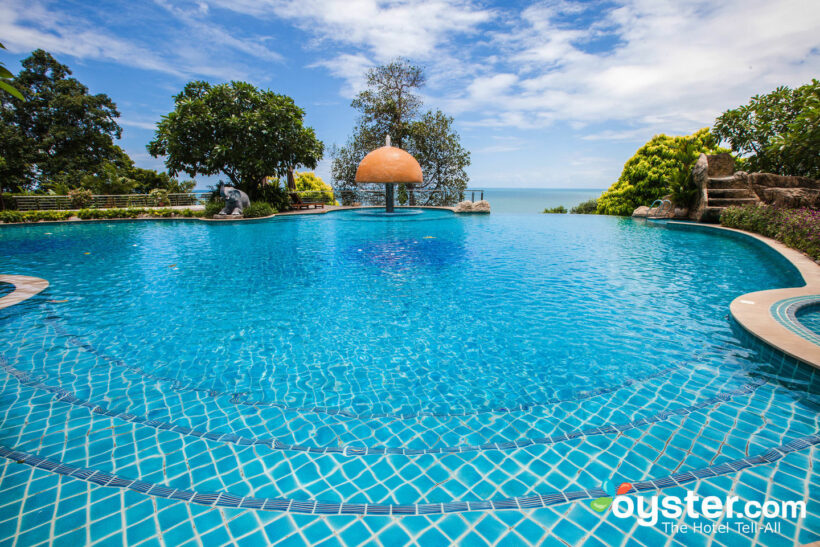 After news hit of an American being arrested and sued for defamation over leaving a bad review about a Koh Chang hotel on TripAdvisor, many are taking to the internet to voice their opinions on the issue. The Sea View Resort owners say it tried in vain to negotiated with Wesley Barnes after he posted the reviews, but he continued to post completely untrue comments.
The owners released a five-page statement after the news of it suing the American gained widespread attention. You can read their response HERE. Then, Barnes submitted his own response detailing the situation which was also published online.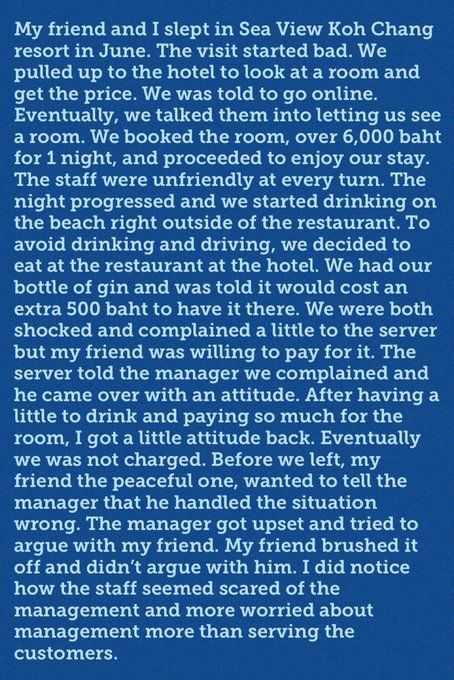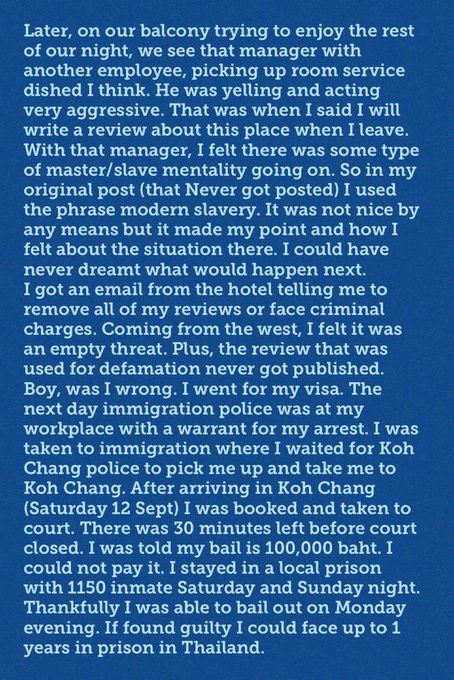 Now, the story has gained even more attention as netizens have begun posting their opinions on the controversial issue of Thailand's defamation laws. Below, are some of those posts on The Thaiger's Facebook page.
"Can someone clarify for me Thailand's position on people leaving honest bad reviews as my girlfriend says it's fine to leave a bad review of a business and it's not defamation if honest of course? I have heard people say that you simply can't leave bad honest reviews at all here but that sounds ridiculous. The thing about many Thais is that they think they're beyond reproach. They can't accept criticism because it's not aligned with their grandiose self-image. Many also have a torrid time when it comes to ownership of their own actions and decision making."
"OMG! He is arrested for a review.?! I know of an expat in Malaysia that wrote a bad review about a Thai-owned resort in Penang and he was sued as well. Be careful with what you share in that neck of the woods."
"It's one thing to leave a bad review but to throw in "modern slavery" remarks escalates to thai defamation law. He shouldn't be arrested for his comments but you need to respect the country laws no matter how crazy they seem compared to your own country. This press is going to negatively affect the business way more than that review would have done though."
"The owner should have settled with the review platforms privately and move on. I would hardly hold up Trip Advisor as a beacon of truth, however some people write extremely personal and vindictive comments that go beyond a review, in an attempt to gain product or refunds in return, this is an absolute fact, and hopefully this might make people think before they start writing reviews that are not exactly honest, I have read stories critical of the General Managers because they didn't contact the guests, some really petty reviews by rather petty people."
If Barnes is indeed found to be guilty of defamation, he could spend up to 2 years in prison and pay up to a 200,000 baht fine.
SOURCE: Chiang Rai Times
Keep in contact with The Thaiger by following our
Facebook page
.
Never miss out on future posts by
following The Thaiger
.
Phuket police arrest 6 after finding large amounts of methamphetamine in raid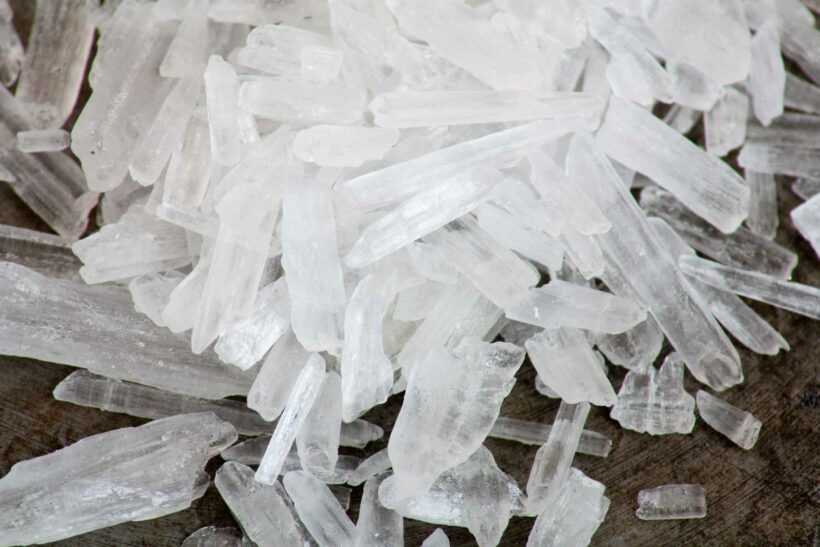 Phuket Provincial Police have arrested 6 people after finding large amounts of methamphetamine and other drugs during a raid. One suspect alone allegedly had 7.6 kilograms of crystal meth (ya ice) and over 12,500 methamphetamine pills (ya bah). 29 year old Surasak 'Bank' Wijit and 27 year old Panida 'Mei' Saeyang were arrested at an apartment car park in Soi Lookkaew, Moo 6, Rassada, in eastern Phuket, after they were found in possession of the drugs.
Police also found 2 mobile phones and a red Honda PCX, registered in Phuket, as evidence. Both suspects have been charged with posessing a Category 1 drug with the intent to sell.
Other suspects arrested at the same time include 36 year old from Chiang Rai, 42 year old Sarawut 'An' Srichanon, from Ranong and 31 year old Pornthep 'Iew' Thepchampa, who were charged with the same crimes in Chalong after police found more drugs in their possession. 33 year old Kamon 'Kung' Sae-ngow, was arrested as well after police found kratom juice and leaves at a house in Rassada. He was taken to Phuket City Police station and was charged with a Category 5 drug possession.
SOURCE:The Phuket News
Keep in contact with The Thaiger by following our
Facebook page
.
Never miss out on future posts by
following The Thaiger
.
Phuket Muay Thai fighter is the first Thai national to compete in UFC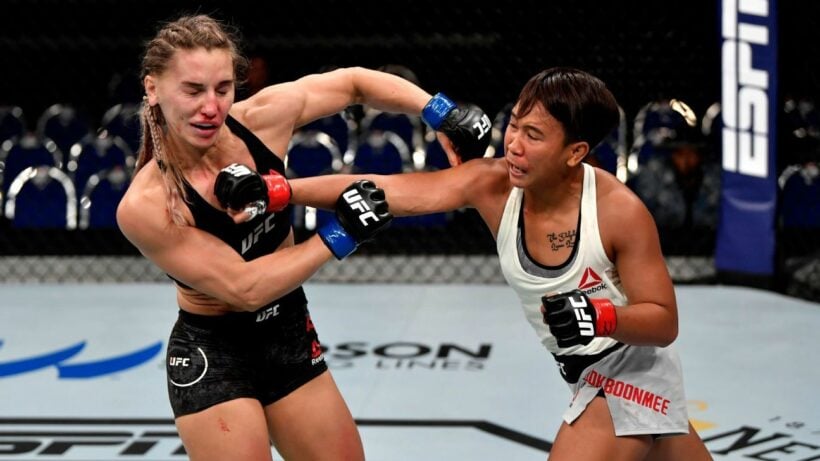 The upcoming Ultimate Fighting Championship Fight Night event in Abu Dhabi will feature Thailand's only national marking her third fight with the UFC, the world's largest mixed martial arts competition. 24 year old Loma Lookboonme, from Burirram in northeastern Thailand, will fight in the event on October 3, 2020.
Loma is a Muay Thai fighter who has adapted her MMA skills to fight in the UFC where she currently trains at the Tiger Muay Thai gym in Phuket. Loma qualified for the national team at the age of 19 and has fought in over 12 nations worldwide. She currently trains 6 days a week starting daily at 6:30am with a 3 kilometre run. In the UFC, she will be competing against China's Angela Lee who is the undisputed champion of the 52 kilogram fist weight category.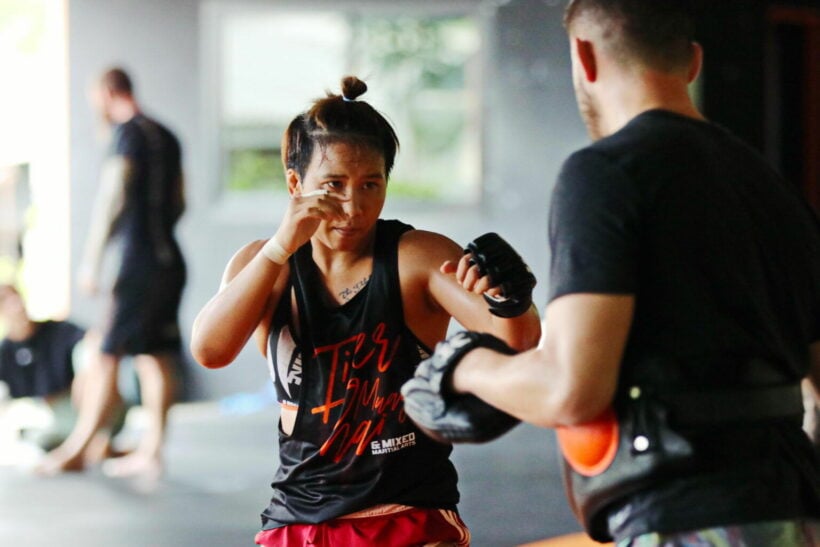 Loma's parents are former Muay Thai fighters and her 2 sisters currently compete as well. She reportedly started training at 8 years old after being inspired by her father, whom she describes as her "hero."
Like most Thais in such fighting sports, Muay Thai offers a way to rise out of poverty-and fighting for the UFC can be financially lucrative. But Loma says her only Thai sponsor is the gym where she trains, with the rest of her sponsors being from foreign brands. She says she is trying to get more Thai sponsors but feels that maybe she needs to win the UFC first before Thai brands notice her.
Loma lost her last fight and says her new opponent gives her nothing to lose. She says her goal is to get into the Top 10, but is not sure when it will happen. Loma says for now, it would be good to fight against someone in the Top 10 to help her prepare for her future.
FULL INTERVIEW: Thisrupt.co
Keep in contact with The Thaiger by following our
Facebook page
.
Never miss out on future posts by
following The Thaiger
.