Thailand News: Preah Vihear land dispute update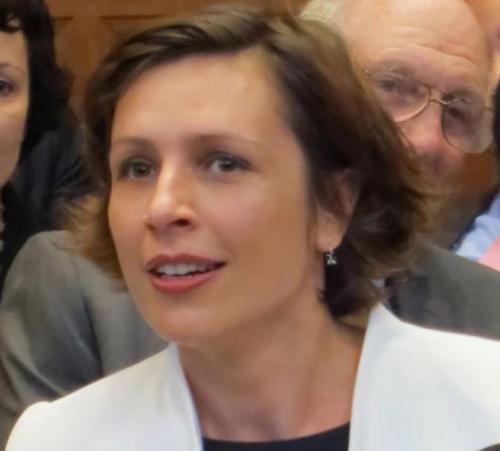 PHUKET MEDIA WATCH
– Thailand news compiled by Gazette editors for Phuket's international community
Romanian expert becomes star at the ICJ
Supalak Ganjanakhundee / Budsarakham Sinlapalavan / The Nation / Phuket Gazette
PHUKET: Alina Miron, co-counsel on the Thai legal team that is presenting the country's case in the Preah Vihear land dispute before the world court, smiled in surprise when told she had become a celebrity in Thailand.
Her strong presentation and photogenic appearance on the court's TV screens have left many people following the case impressed. Also, many are curious about Miron and how she came to be a member of the Thai team.
Thailand's agent in the case, Virachai Plasai, said that Wednesday's appearance was Miron's first before the world court, and that she did a great job of explaining Thailand's position on the maps Cambodia is using to make its case.
"I trust her when it comes to presenting this important topic to the court, and she did an impressive job," he said.
Virachai said he had spent a long time studying the maps with Miron, adding that her knowledge was very helpful. Miron is a Romanian with a solid educational background in public international law at universities in France, including the Universite Paris-Ouest Nanterre la Defense, Universite Paris-Ouest la Defense and Universite des Sciences Sociales.
In the world court case, Miron is serving as assistant to the team's lead counsel, Prof Alain Pellet. She has worked with Pellet on many cases, advocating on behalf of Slovenia, Russia, Greece and Nicaragua.
Miron speaks many languages. Romanian is her mother tongue, but she also speaks French and English fluently. Her command of Italian is also good.
Thai social media have been gripped by the "Alina Miron fever". Bloggers, along with Thai senators attending the trial at The Hague in the Netherlands, have praised Miron for her sound reasoning, which they believe will convince the world that Cambodia does not have the right to a 4.6-square-kilometre disputed area near the temple.
Appointed Senator Somchai Sawaengkarn posted a message on Facebook praising Miron's politeness and her technique of reasoning. He said her use of pictures and maps to make comparisons have made Thailand confident of winning the case. "[Another senator] could not help but compliment her, telling her in person that she was 'excellent'," Somchai said.
Senator Kamnoon Sithisamarn said Miron demolished Cambodia's argument, which is based on the Annex I map, dismissing it and turning the courtroom's attention to maps introduced by Thailand in the 1962 case.
A blogger called "Sai Trong Paksanam" said Miron pointed out credible and technical problems with Cambodia's Annex I map, saying it has been altered and contradicted geographically. Miron said the Thai team has found there are six different versions of the Annex I map.
The blogger received 5,000 "likes" and 2,310 "shares" 22 hours after posting.
Sermsuk Kasitipradit, a Thai PBS reporter, posted pictures of Miron and a message on his Facebook page and received 700 "likes".
"Miron fever" also gripped the Pantip website, thanks to blogger "BaaD" with his blog "Netizens praise Miron after her taking to pieces Cambodia's Annex I map".
On Twitter, @SupotNTV wrote that Miron was brave in making her observations, saying that "Cambodia's map is not accurate but I could not believe that the country has altered the map." Within 18 hours, this message was re-tweeted 232 times. @doubletoyy tweeted that though Miron is not Thai, she carried out her duty better than Thai officials. She posted pictures of Miron on
pic.twitter.com/DhCi9ewIOK
.
Cambodia-backed map was 'never endorsed'
The Nation / Phuket Gazette
PHUKET: Previous governments led by the Thai Rak Thai and People Power parties never accepted the 1:200,000-scale map used by Cambodia to make its case to the International Court of Justice (ICJ) in the Preah Vihear dispute, a legal adviser to former prime minister Thaksin Shinawatra said yesterday.
Noppadon Pattama dismissed any suggestion that the governments signed papers endorsing the use of the controversial map, which was largely blamed for Thailand's loss of the Preah Vihear Temple in 1962.
The map is in the spotlight again as the ICJ is holding hearings on Cambodia's request for the court to interpret its 1962 judgement. That judgement held that the ancient temple sits on Cambodian soil, but the status of the land in its vicinity was left unclear.
Noppadon yesterday maintained that a joint statement signed by the People Power Party-led government and Cambodia was made to protect Thailand's rights over the disputed area. "The members of Thailand's legal team are also involved in preparing that joint statement," he said.
Noppadon was referring to Virachai Plasai, the Thai ambassador to The Netherlands, and French lawyer Prof Alain Pellet. He also pointed out that because of that statement, Cambodia saw only the Preah Vihear Temple inscribed as a World Heritage site; the disputed area was not included.
Armed Forces Supreme Commander General Thanasak Patimakorn, meanwhile, said the border situation remained normal. "Thai and Cambodian soldiers enjoy good ties," he said.
Govt downplays ICJ query
Supalak Ganjanakhundee / Pakorn Puengnetr / Pravit Rojanaphruk / The Nation / Phuket Gazette
PHUKET: The question raised by Judge Abdulqawi Ahmed Yusuf after Wednesday's International Court of Justice (ICJ) hearing on the "vicinity" of Preah Vihear Temple reflected a personal interest of the judge, but sent no significant signals regarding the case, Foreign Minister Surapong Towichukchaikul said.
The judge asked Thailand and Cambodia to define the vicinity of Preah Vihear on maps or graphics of the area and show it to the court.
The court required a reply in written form from both sides by April 26, and the parties would have to submit responses to each other's definitions by May 3.
Some observers said the judge's question sent a signal that the court was willing to address the issue of the status of the temple's vicinity, and showed an inclination to accept the case for interpretation as requested by Cambodia.
Surapong said he asked Judge Yusuf in person during a reception party after the hearing on Wednesday about the significance and implications of the question.
The question reflected the personal interest of Judge Yusuf, not of the court's panel, but the judge would circulate the replies from both sides to the other 16 members of the court, Surapong said.
Thai agent Virachai Plasai said it was unusual for a judge to raise a question after a hearing session had ended, and to request answers in written form. Previously, the court or judges would ask questions during the hearing session and demand an immediate answer. "But we should not panic over the judge's question. It implies nothing for the whole case," Virachai told reporters.
Thailand and Cambodia are in conflict over their interpretation of the 1962 judgement by the ICJ that Preah Vihear Temple is situated in territory under the sovereignty of Cambodia. Under the judgement, Thailand was ordere
Want more from the Thaiger family?
📱 Download our app on Android or iOS for instant updates on your mobile
📧 Subscribe to our daily email newsletter
👍 Like/Follow us on Facebook
🔔 Subscribe to or Join our YouTube channel for daily video updates
'Safe zone' in Thailand for refugees fleeing Myanmar violence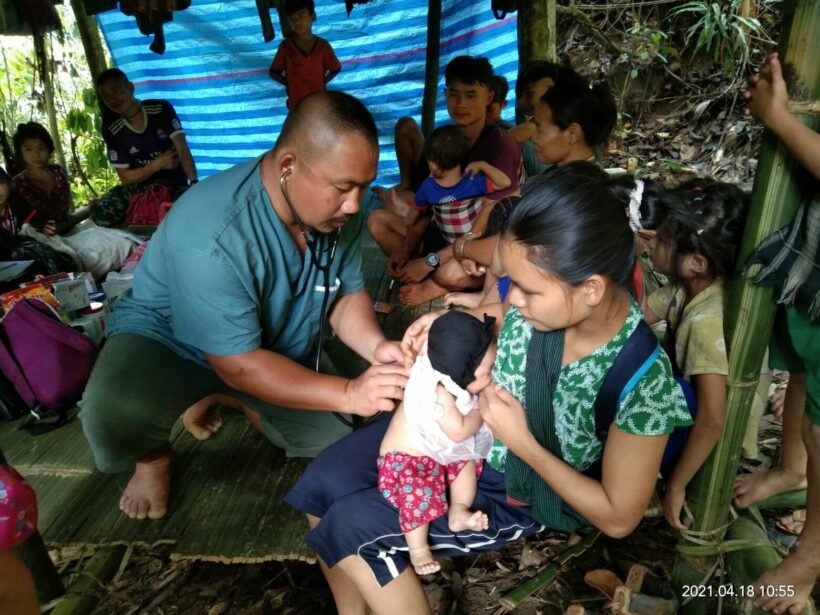 Due to the ongoing violence between the Myanmar military and ethnic troops, the Thai military has set up a "safe zone" for thousands of refugees in Mae Hong Son near the Salween River, the natural border between Thailand and Myanmar.
The prominent armed wing of the Karen National Union has openly supported the anti-coup movement in Myanmar, leading to clashes with the military junta. Recently, the Karen National Liberation Army reported took over a military outpost near the Thai border. Those just across the Salween River in Thailand said they could hear the gunshots and explosions.
Defence Ministry spokesperson Kongcheep Tantravanich says shelter and humanitarian assistance are being provided for around 2,200 people who have fled Myanmar.
Kongcheep says the "safe zone" is under tight security and only those authorised can enter. There are strict health and disease control measures are in place to prevent the spread of Covid-19.
His statement comes after the local civil rights group People of Salween River Basin Network called on the Thai government not to push refugees back, claiming that Thai soldiers had been ordered to tell the refugees to return to their home country due to a potential negative impact with border trade.
They say the Myanmar military has been carrying out airstrikes on Karen army bases and many Karen villagers fear for their safety.
Mae Hong Son governor, Sitthichai Jindaluang, also told a United Nations representative last week that refugees have been given shelter and assistance.
SOURCE: Bangkok Post
Want more from the Thaiger family?
📱 Download our app on Android or iOS for instant updates on your mobile
📧 Subscribe to our daily email newsletter
👍 Like/Follow us on Facebook
🔔 Subscribe to or Join our YouTube channel for daily video updates
Covid UPDATE: 1,630 new cases and 22 deaths, provincial totals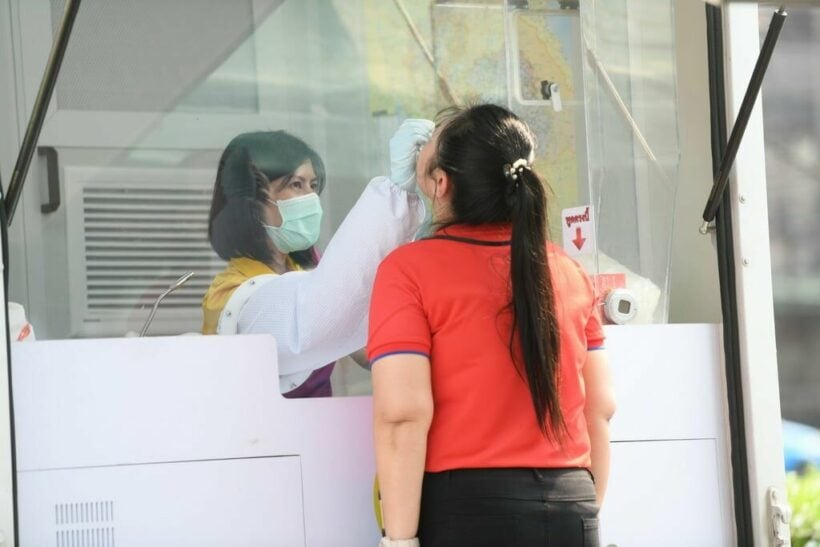 1,630 new Covid-19 cases and 22 coronavirus-related deaths were reported today in the Centre for Covid-19 Situation Administration's daily briefing. There are now 29,376 active Covid-19 cases. Since the start of the pandemic last year, the CCSA has reported 85,005 Covid-19 cases and 421 Covid-related deaths.
Out of the 22 deaths, most of the patients had chronic illnesses. Many contracted the virus from family members or close friends.
Most of the new cases were detected in Bangkok, particularly in districts with crowded communities and markets. While cases in Bangkok continue to be high, CCSA spokesperson Natapanu Nopakun says the number of new cases in most other provinces in Thailand is decreasing.
Health officials are rolling out proactive case finding campaigns in several high-risk communities, testing 9,000 to 10,000 per day, Nopakun says, adding that officials are working to provide the appropriate treatment as quickly as possible.
Those who test positive for Covid-19 and are asymptomatic must stay at an official field hospital for 14 days and then self-isolate at home for another 14 days.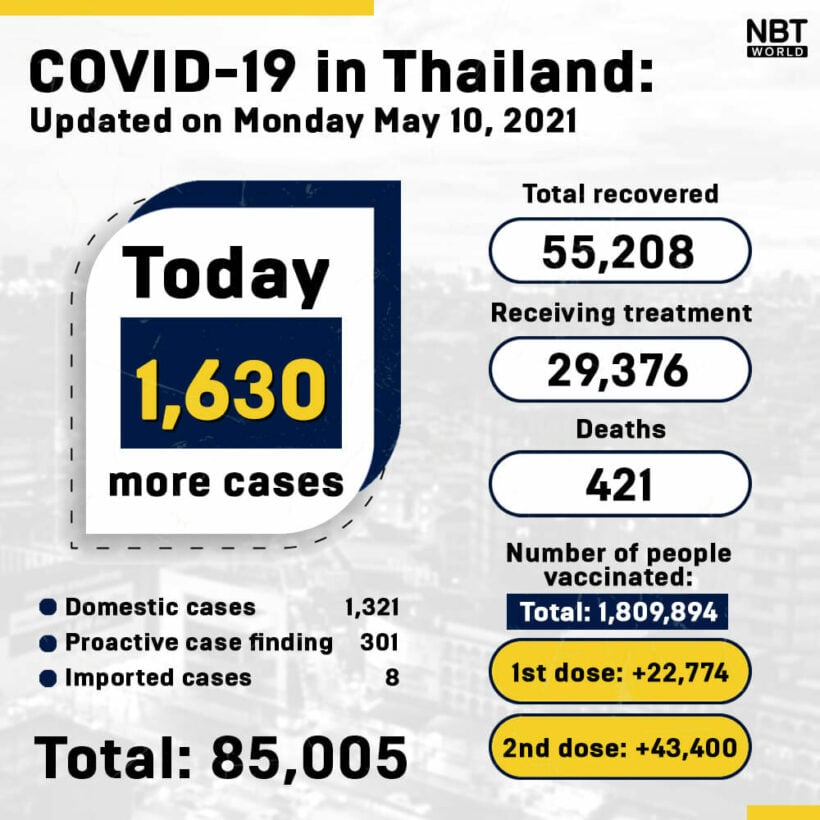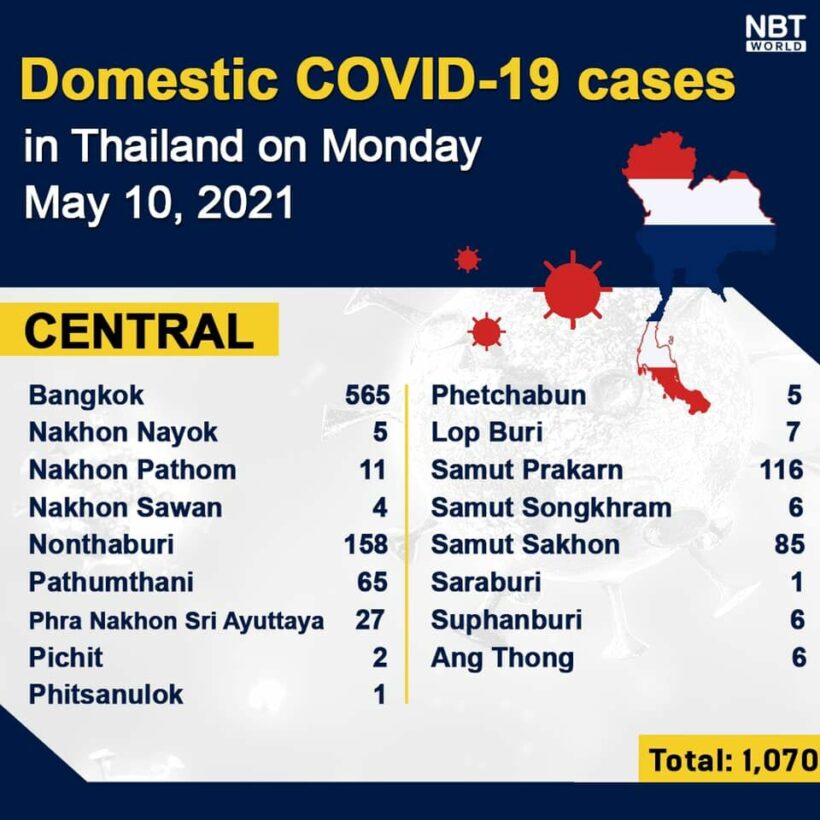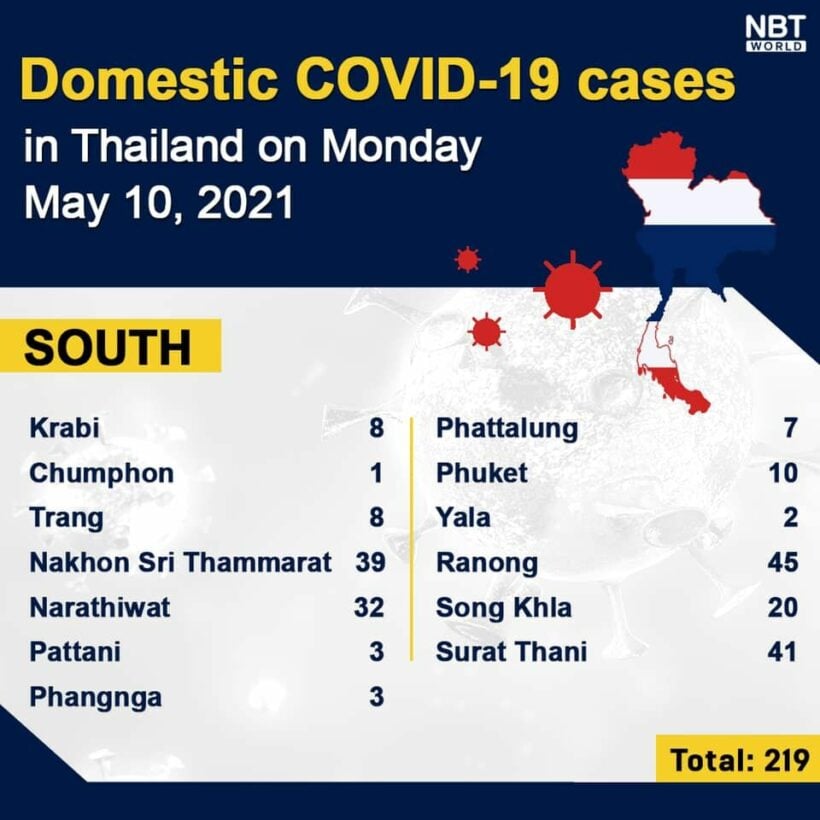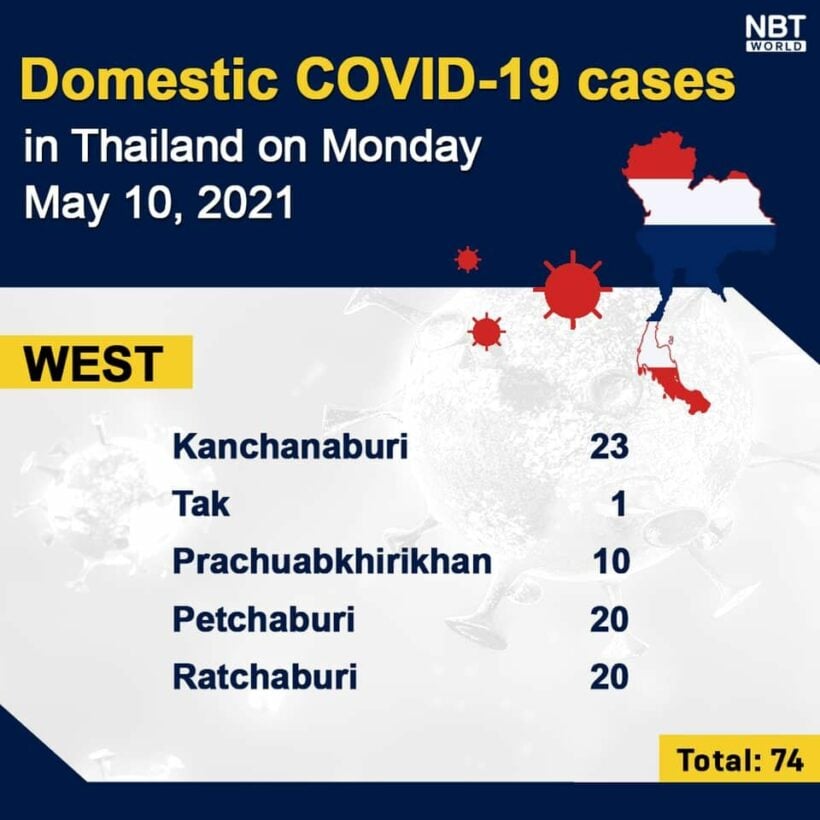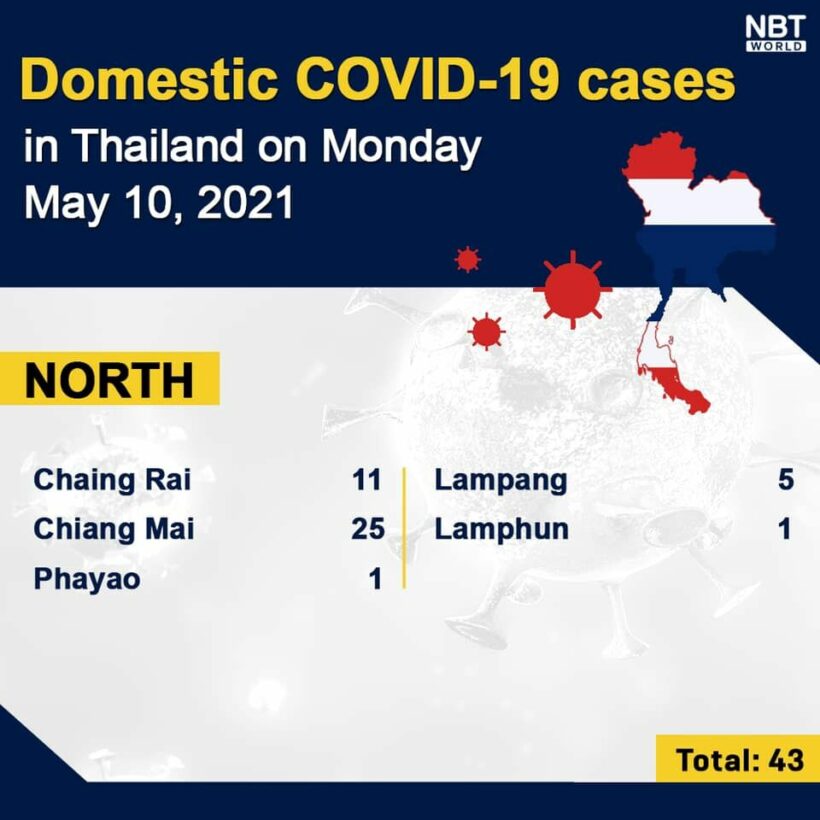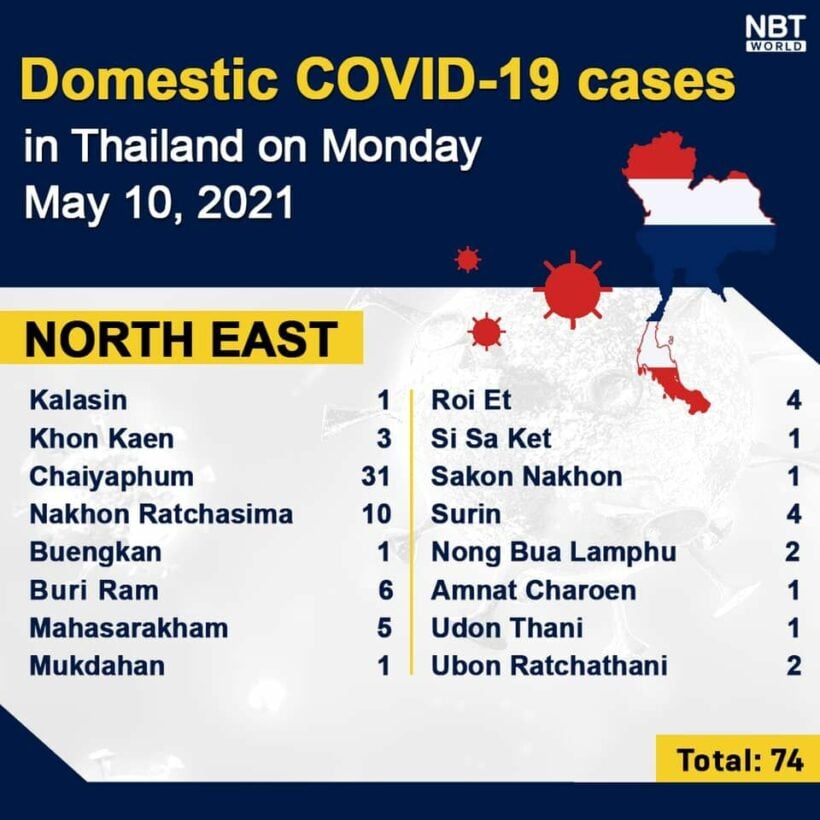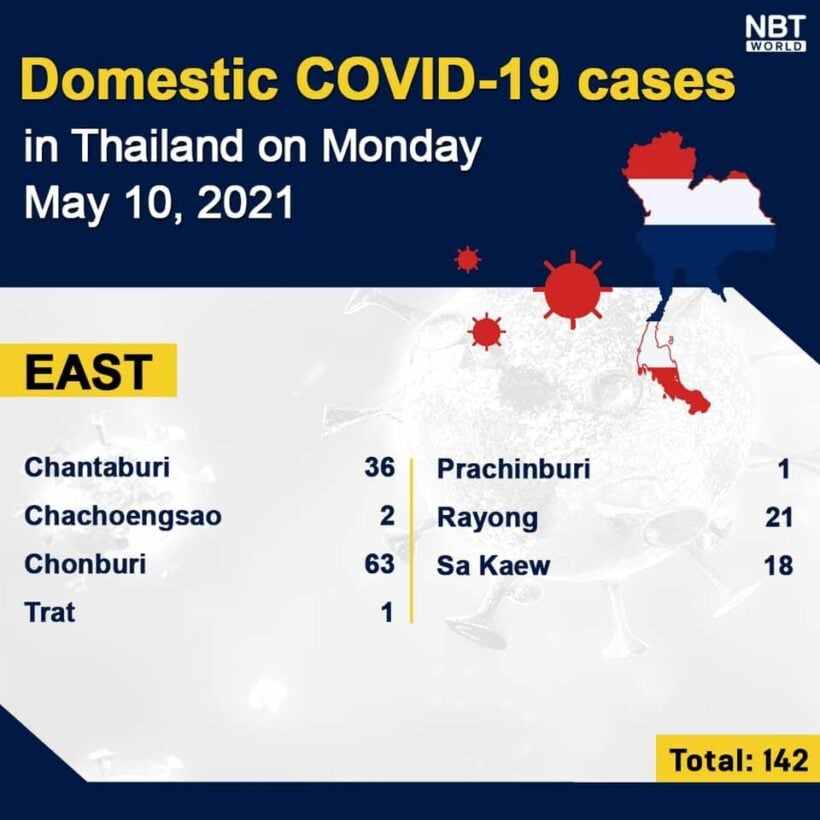 Want more from the Thaiger family?
📱 Download our app on Android or iOS for instant updates on your mobile
📧 Subscribe to our daily email newsletter
👍 Like/Follow us on Facebook
🔔 Subscribe to or Join our YouTube channel for daily video updates
Thailand donates cash, equipment to Laos to help combat Covid-19 outbreak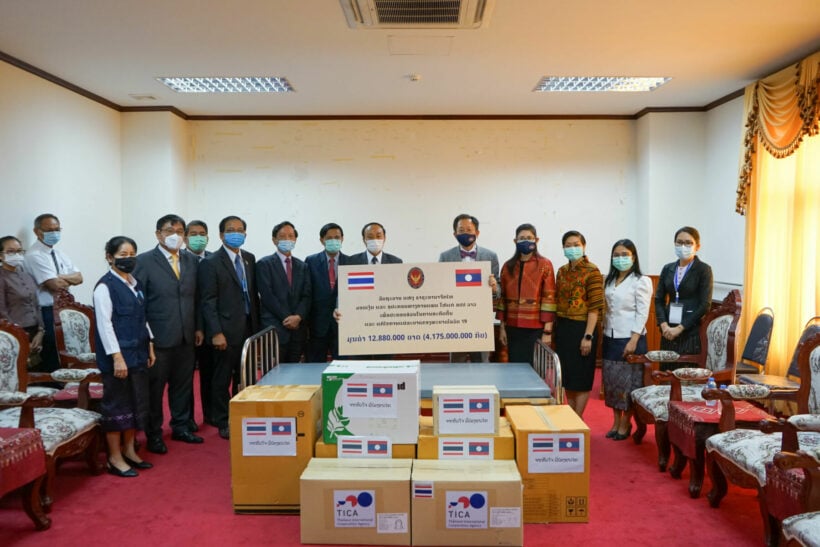 With Laos, just north of Thailand, under lockdown measures to control a spike of Covid-19 infections, the Royal Thai Embassy to Laos helping the country combat the outbreak and has donated cash and materials valued altogether at more than 16 million baht.
While cases have remained low in Laos since the start of the pandemic last year with active cases typically under 10, there was a spike in cases in mid-April and active cases are now at 1,302. The country reported its first coronavirus-related death yesterday.
Donations from Thailand help supply mobile biosafety labs to conduct swab Covid-19 testing and beds for Covid-19 patients as well as protective equipment such including 50,000 medical masks and more than 2,000 Personal Protective Equipment, or PPE, outfits.
An order of supplies valued at 8.5 million baht is set to be delivered by the end of the month. That order will have 2,000 more PPE outfits, Covid-19 test equipment, DNA/RNA extraction kits, and 2,500 test kits. Other equipment provided by Thailand include a defibrillator, patient monitoring machine, infrared thermometers, oxygen regulators, and pulse oximeters.
SOURCE: Nation Thailand
Want more from the Thaiger family?
📱 Download our app on Android or iOS for instant updates on your mobile
📧 Subscribe to our daily email newsletter
👍 Like/Follow us on Facebook
🔔 Subscribe to or Join our YouTube channel for daily video updates