Thailand News: Haad Yai blasts wound 10; Yingluck's fate decided today; Aftershocks continue; AMLO busts Bt1bn smuggling ring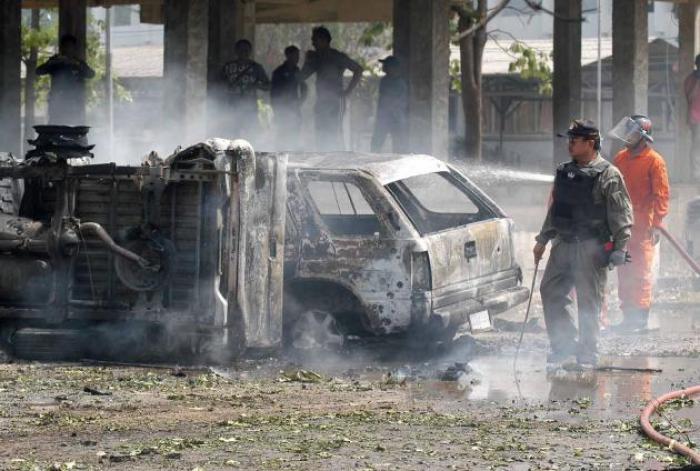 PHUKET MEDIA WATCH
– Thailand news compiled by Gazette editors for Phuket's international community
Two blasts rock Haad Yai, wounding 10 people
The Nation / Phuket Gazette
PHUKET: Two large bomb attacks were carried out yesterday in Haad Yai business district of Songkhla province, wounding 10 people and causing large fires and heavy property damage.
Initially it was reported that about five simultaneous bomb attacks had taken place after the first went off at 1.45pm, but later police and provincial authorities confirmed that there were just two.
Haad Yai police chief Pol Colonel Phassakorn Klanwan said multiple explosions of gas cylinders in a car, to which one of the bombs was attached, misled people into believing there were several simultaneous bomb attacks.
However, the first blast was a motorcycle-bomb planted at a convenience store on Phol Phichai Road across from Chunkgolpaktai Technological College, which wounded six, Phassakorn said.
No serious injuries
The second bomb, which went off 10 minutes later, was planted underneath a confiscated car parked near the construction site of police flats inside the Haad Yai police station complex, he said. None of the 10 victims, including two policemen, were seriously wounded, provincial Governor Krissada Bunraj said.
Phassakorn added that security camera footage would be used to identify who planted the bombs and when they were planted. Police bomb disposal personnel will release details about the type of bombs used.
Fires blazed at the two bomb sites for about an hour before they were extinguished and left many vehicles parked nearby heavily damaged.
A high-ranking security source said later that those behind the bomb attacks were the same group reported to have stolen vehicles – a motorcycle in Yala and a pick-up truck in Pattani.
They allegedly arrived in Hat Yai in the morning, and left after the bombs went off.
The source admitted that security had been lax, and exploited by the attackers.
Meanwhile, national police chief Pol General Adul Saengsingkaew has instructed local police units to be stationed at key locations to safeguard them, while Explosives Ordnance Disposal units were inspecting the sites and determining the sizes and types of both bombs.
PM's fate to be decided today
The Nation / Phuket Gazette
PHUKET: The Constitution Court will today hand down a historic verdict that will have a major influence on the prolonged political impasse, as it rules on whether to dismiss caretaker Prime Minister Yingluck Shinawatra from office in an abuse-of-power case.
"The hearing is over… the court has decided to rule on May 7 at noon," court president Charoon Intachan announced yesterday after hearing the testimony of Yingluck and three other witnesses in the case involving National Security Council (NSC) chief Thawil Pliensri's removal.
The case – one of two potential knockout legal moves against her premiership – comes as Thailand's political crisis reaches a critical juncture, with the anti-government People's Democratic Reform Committee (PDRC) still rallying on Bangkok's streets – albeit in diminished numbers – and Yingluck's supporters also threatening to rally to defend her.
If found guilty, Yingluck will lose her status as prime minister, and the ruling could oust her entire Cabinet, which would create a political vacuum, likely leading to more political turmoil.
Six months of political street protests have so far failed to force Yingluck from office, with the PDRC demanding that she stand down to pave the way for an appointed government that would institute reforms before the next polls.
Observers now believe the legal challenges against her appear poised to end her administration.
Interior Minister Charupong Ruangsuwan yesterday said the ruling Pheu Thai Party, of which he is leader, had worked out a plan to cope with a negative verdict from the court.
"If we [the whole Cabinet] are sacked [from office], there will be chaos. But we realise we will be [forced] out," he said.
The court yesterday heard the testimony of four witnesses in the case. The witnesses were Thawil, Senator Paiboon Nititawan – who had brought the case to court – former national police chief Wichean Potephosree, who replaced Thawil, and the PM.
Paiboon filed the legal complaint against Yingluck, accusing her of abusing her authority in moving Thawil to an advisory post so that General Priewphan Damapong, the brother of Khunying Potjaman Na Pombejra -Thaksin's ex-wife – could become the national police chief.
The Supreme Administrative Court had earlier ruled the removal to be an unlawful transfer, which led to Thawil's reinstatement as head of the NSC.
In his testimony, Paiboon asked the court to order the appointment of a new PM by constitutional means within seven days of its verdict, should it rule against the caretaker government.
Yingluck, who testified to the court in person, said: "I deny the allegation … I didn't violate any laws, I didn't receive any benefit from the appointment," she told the court.
Arguing against the allegation that she had had Thawil transferred to benefit her family, Yingluck told the court that Thaksin had already divorced Potjaman before Thawil's removal.
She also testified that she had assigned then-deputy PM Kowit Wattana to be in charge of the Royal Thai Police and security affairs.
She said she had not at the time considered the transfer of the police chief and the NSC chief, because she and her Cabinet trusted Kowit and believed that he had duly considered the matter. In defending her status, Yingluck said in an eight-point statement that her premiership and the Cabinet's status had in fact ended on the day the House of Representatives was dissolved last December.
Yingluck insisted that she and her Cabinet, which had already lost their status upon the dissolution of the House, would continue to perform their duties in a caretaker capacity under Article 181 of the Constitution until a new government was formed.
In his testimony yesterday, Wichean said his own transfer had been made with his consent.
"The transfer was [a result of] my disappointment that my [then] supervisor Pol Captain Chalerm Yoobamrung harshly blamed me. He said the police protected gambling dens and brothels. That [statement] damaged the people's faith. "When I [as the national police chief] was thus accused, I sought advice from Kowit Wattana saying I couldn't work with such a supervisor," he said.
Yingluck has also been charged by the National Anti-Corruption Commission (NACC) with neglect of duty in connection with the costly rice-subsidy scheme.
The NACC may decide whether to indict Yingluck tomorrow at the earliest, and by May 15 at the latest.
If indicted, the PM must be suspended from office and face an impeachment vote in the Senate, which could lead to a five-year ban from politics.
Possible scenarios:
Prime Minister Yingluck Shinawatra continues serving as caretaker PMYingluck is the only one who must vacate her postYingluck must leave her post but the caretaker Cabinet can continueYingluck and the ministers who took part in the Cabinet's resolution on the transfer of Thawil must step downYingluck and the entire Cabinet must goYingluck and th
— Phuket Gazette Editors
Keep in contact with The Thaiger by following our
Facebook page
.
Never miss out on future posts by
following The Thaiger
.
Cruise ships and yachts to dock in Thailand, visitors to enter on Special Tourist Visa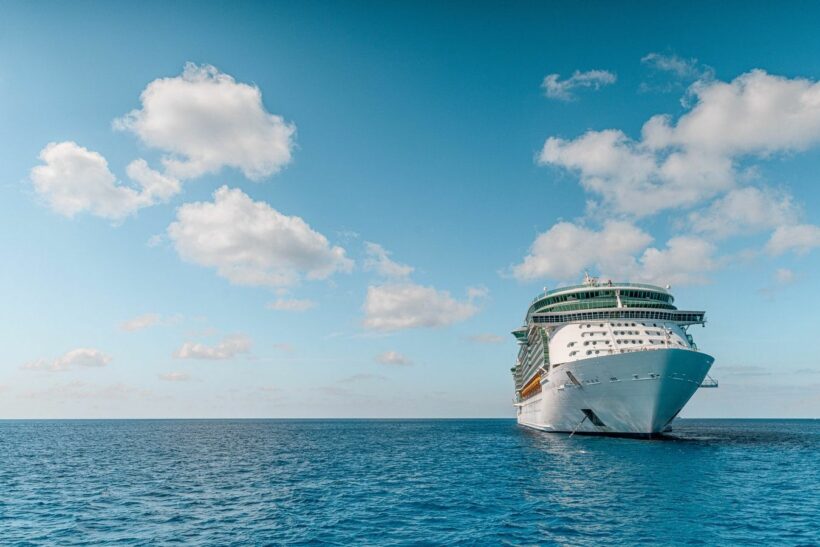 Cruise ships and yachts will be allowed to dock in Thailand and visitors will be allowed disembark under the Special Tourist Visa. The new measure hasn't been made official yet, but it will go into effect 30 days after it's published in the Royal Gazette.
The Cabinet approved the new guidelines yesterday which allows captains, crew and passengers travelling from countries considered at low risk for spreading Covid-19 to dock in Thailand and enter the country, according to deputy government spokesperson Traisuree Taisaranakul.
Visitors must go through a 14 day quarantine. Those on yachts will quarantine onboard before stepping onto Thai soil, according to the Bangkok Post. They must also have Covid-19 health insurance of $100,000 USD as well as local health and accident insurance. Proof of advance payment for anchoring the liner will also have to be provided.
The Special Tourist Visa allows a 90 day stay that can be renewed twice, adding up to around 9 months. So far, only 2 flights of foreigners on the Special Tourist Visa have arrived after a 7 month ban on international tourists.
SOURCES: Bangkok Post | Nation Thailand
Catch up with the latest daily "Thailand News Today" here on The Thaiger.
Keep in contact with The Thaiger by following our
Facebook page
.
Never miss out on future posts by
following The Thaiger
.
Fuel tanker explodes after collision in Buri Ram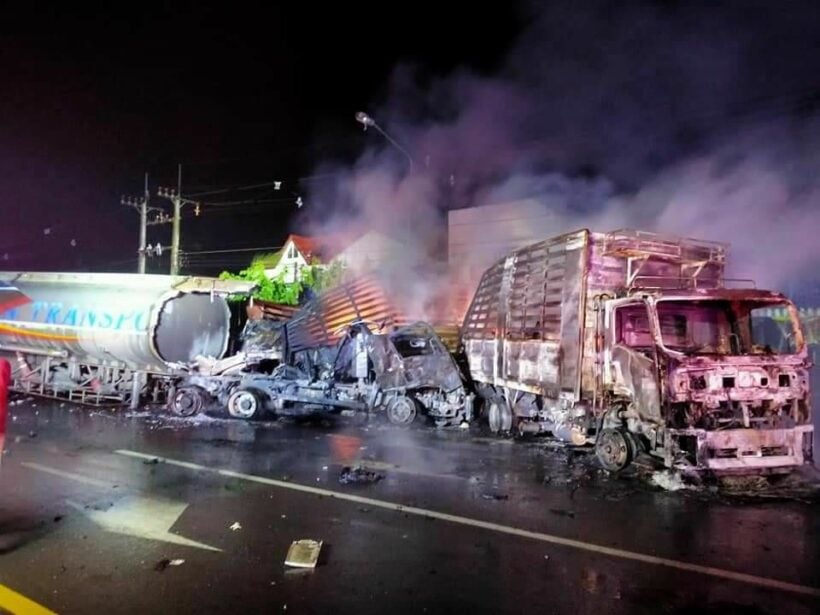 A fuel tanker has exploded after a collision with a trailer truck, causing both vehicles to be engulfed in flames in a series of explosions. Fuel from the 40,000-litre tank spilled out onto the road, spreading about 1 kilometre to nearby homes and into the sewers. People trying to douse the spreading flames found they were just pushing the flaming fuel further down the road, 20 cars, motorcycles and tuk tuks parked along the road were damaged or destroyed in the fire. Many people were injured, but there is no exact count.
The fuel tanker truck and the trailer truck collided on Highway 24 in the Isaan province Buri Ram. The drivers were able to flee before the first explosion. There were a series of explosions as the fuel spread and nearby residents fled their homes. People tried to put the flames out with tap water, but fire continued to spread.
50 fire engines responded to the fire and the road was closed off for a radius of 5 kilometres. It took firefighters more than 4 hours to extinguish the fire. The oil company was called to safely unload 30,000 litres of fuel that was left in the tanker.
SOURCE: Bangkok Post
Catch up with the latest daily "Thailand News Today" here on The Thaiger.
Keep in contact with The Thaiger by following our
Facebook page
.
Never miss out on future posts by
following The Thaiger
.
Is Koh Pha Ngan Thailand's best island?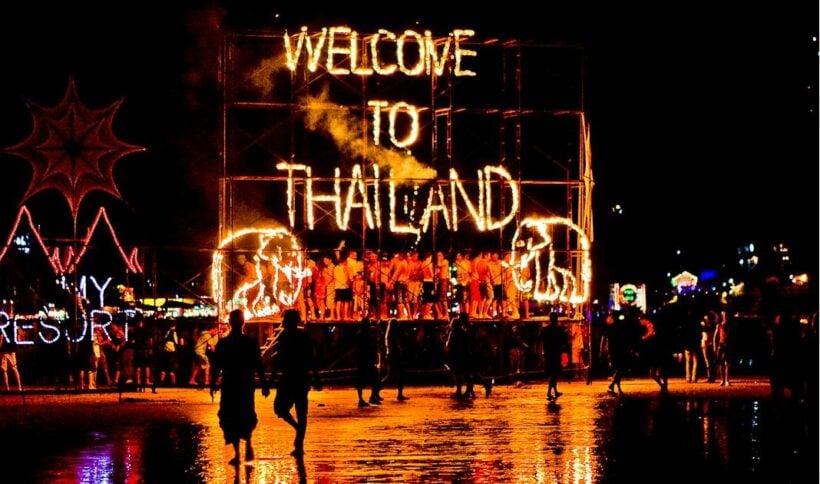 OPINION
Koh Pha Ngan was voted third best island in Asia in the 2020 Condé Nast's Readers Choice Awards. The island is widely known for its monthly Full Moon parties on Haad Rin beach, but Surat Thani governor Wichawut Jinto, who boasted about the island's recent rating, said there's more to Koh Pha Ngan than Haad Rin.
Condé Nast publishes a monthly travel magazine, Condé Nast Traveller, as well as GQ, Vanity Fair and Vogue. It's safe to say the publication's target audience is more interested in luxury resorts than dirt cheap party hostels and monthly beach raves. For example, for the best islands in the United States, Hilton Head Island in South Carolina was voted number 1. It's a golf lovers paradise and a popular vacation spot for suburban families.
A trip Koh Pha Ngan can be a completely different experience depending on where you go and what you do. Some stay on Haad Rin on the southeastern side of the island and have a trip like Hunter S. Thompson's drug-fueled "Fear and Loathing in Las Vegas," while some go to the western side for a yoga or healing retreat.
The Full Moon parties, which would draw more than 30,000 mostly foreign tourists, was put on pause due to the coronavirus pandemic restrictions in Thailand. But before the outbreak, the parties were known to be crazy with neon glow paint, fire jump rope and cheap buckets of alcohol and use of illicit drugs. The sand was so sticky that people were better off wearing shoes, and just about everyone pees (and pukes) in the ocean.
Even on the west side of the island, where it's more known for yoga and meditation retreats, things can sometimes get a little weird. A tourist said she did a "spiritual healing" ritual on the island known as a kambo cleanse where secretion from a South American frog is applied to burnt skin. She said "I feels like you're dying" but "it's great."
While the west side of the island has trendy resorts and bungalows, as well as a variety of yoga retreats and pricy vegan food, some people also live on a budget – a very tight budget. Some tourists even camped out on a hidden beach during the pandemic, a tourist claims. A local artist said he lives in a cave on the same beach.
Koh Pha Ngan topped Bali, Indonesia, which was number 9 on the list. Phuket was number 8 on the list and Koh Samui was number 10.
Here's what made the top 10 Asia islands in the Condé Nast Reader's Choice Awards 2020.
Cebu & Visayas, Philippines 95.83
Sri Lanka 95.45
Ko Pha Ngan, Thailand 95.30
Palawan, Philippines 95.22
Siargao Island, Philippines 95.19
Boracay, Philippines 95.06
Lombok, Indonesia 94.59
Phuket, Thailand 94.12
Bali, Indonesia 93.27
Koh Samui, Thailand 92.73
SOURCES: Condé Nast | Bangkok Post
Keep in contact with The Thaiger by following our
Facebook page
.
Never miss out on future posts by
following The Thaiger
.