Thailand News: Now free, PDRC leaders turn to Facebook; Rice farmers thankful for payments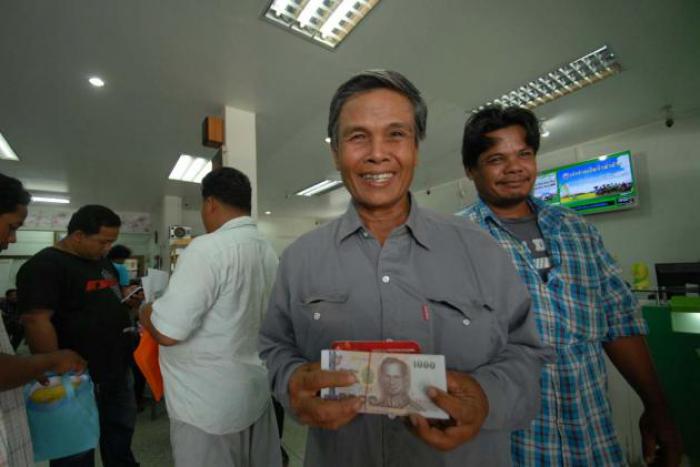 PHUKET MEDIA WATCH
– Thailand news compiled by Gazette editors for Phuket's international community
PDRC members tell their time in military lock-up
The Nation / Phuket Gazette
PHUKET: Members of the People's Democratic Reform Committee (PDRC) freed on Monday from several days of military detention after acknowledging sedition charges are now telling the world of the experience on social media.
Taya Teepsuwan posted on her Facebook page on Monday evening about her detention.
She said she had now arrived home after four days in military custody. She posted that "life in the military camp" had been another valuable experience.
In the post she said she couldn't take in any luggage except one lipstick. Soldiers supplied the detainees with soap, toothbrushes, and mosquito nets but forbade them to use any communication devices.
"It's a body and mind training [exercise] to stay in a new place without prior notice," Taya posted.
Other PDRC leaders were released from the military compound on Monday.
PDRC spokesman Akanat Promphan posted his family pictures on his Instagram: @akanat_promphan and Facebook page that "family is the most important [for] moral support. Thank you and miss the Great Mass of People's family."
Akanat's mother Srisakul Promphan also posted her son's picture on her Facebook page, saying she had not "seen King [Akanat's nickname] smile like this [for a] long time. He also has a moustache maybe, the military house had no shaver."
Taya's husband Nataphol Teep-suwan also posted on his Facebook page that this was the first time he had returned home without contacting his children for four days.
Yesterday was also the 15th wedding anniversary of Taya and Nataphol, and she posted: "Happy anniversary to my lovely husband. I'm glad to be sharing my life with you na ja. Fifteen years have passed and many more loving, exciting and precious times [are] to come ja."
Chitpas Kridakorn posted that she was missing all PDRC supporters. She posted on Instagram a picture of her hugging her mother after she arrived home.
Anchalee Paireerak told of her daily life after she had been freed from the military house. Her post included pictures of her having meals with her friends. Last Thursday, PDRC and red-shirt leaders, Pheu Thai and Democrat representatives and government representatives reported for a meeting chaired by General Prayuth Chan-ocha. They found themselves in the army's custody after the coup was declared.
Rice farmers thank NCPO for payments
The Nation / Phuket Gazette
PHUKET: Rice farmers, happy to receive money overdue for their pledged rice, thanked the National Council for Peace and Order (NCPO) for taking care of them.
In Kalasin, 1,000 farmers went to City Hall to show their gratitude for the NCPO and its attempt to restore national peace. They submitted further requests for aid to the council via Kalasin Governor Suwit Subongkot.
In Udon Thani, farmers presented flowers to Army officials at Prajak Silpakhom Camp to thank them.
Some 500 farmers in Nakhon Si Thammarat thanked the NCPO via Fourth Army Region chief Lt-General Walit Rojanapakdee, who urged the farmers to regain the world No 1 title for rice export.
A Khon Kaen farmer, Sirinan Srimungkhun, after collecting her Bt92,000 at a Bank for Agriculture and Agricultural Cooperatives (BAAC) branch in Muang district, said she thanked the NCPO for giving importance to rice farmers and helping them.
A Kanchanaburi farmer, Jamnong Madthong, 61, who was given Bt100,000, said he was thankful to NCPO chief, General Prayuth Chan-ocha, for his speedy help to farmers.
In Ang Thong, farmers queued up to receive money for their pledged rice yesterday. One farmer said he was happy to receive Bt150,000 cash as it would help him repay the cash he borrowed to buy fertilisers and pesticides, and leave him some for the next crop.
In Pathum Thani, BAAC Lat Lum Kaew branch paid Bt20 million to 94 farmers yesterday and said the remaining Bt115 million would be paid to farmers by next Monday. June 2.
In Nakhon Ratchasima, provincial Governor Winai Buapradit affirmed that the rice farmers should be paid by June 20.
In Songkhla, farmers in five districts got payments from BAAC branches and said they planned to pay for their children's education and invest in the next crop.
— Phuket Gazette Editors
Want more from the Thaiger family?
📱 Download our app on Android or iOS for instant updates on your mobile
📧 Subscribe to our daily email newsletter
👍 Like/Follow us on Facebook
🔔 Subscribe to or Join our YouTube channel for daily video updates
Illegal border crossings bringing in new Covid-19 infections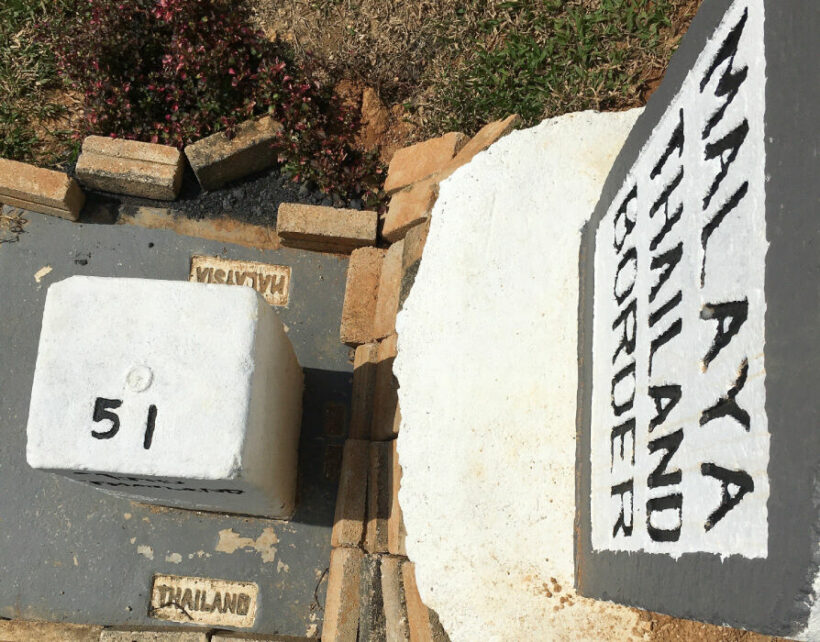 Authorities are worried about illegal border crossings into Thailand bringing in the Coronavirus after 5 recent Covid-19 infections from such crossings. Bypassing all health and security checkpoints along the border, 5 Thai nationals were identified today as being positive for Covid-19 after they snuck into the country, according to the Centre for Covid-19 Situation Administration.
Authorities nabbed 2 after border crossings from Malaysia illegally on April 28 and May 3rd, while another snuck across the Burmese border into Tak on May 2. The last 2 came from Cambodia on Thursday across the Sa Kaeo border. All 5 illegal border crossers are now in state hospitals for Covid-19 treatment.
According to CCSA data in the first four months of 2021 a total of 15,378 people were arrested by Thai authorities while sneaking across borders. Even after security forces increased patrolling along the borders, people managed to sneak in from Myanmar, Malaysia, Laos, and Cambodia. 6,700 of those who crossed the border were Burmese citizens, while another 1,700 of them were Thai nationals.
With nearly 400 lives lost to Covid-19 and over 83,000 people having been infected in the pandemic, the CCSA declared that Prime Minister Prayut Chan-o-cha and National Security Council Secretary-General Natthapol Nakpanich agree that these illegal border crossers without Covid-19 screening are a serious problem.
Many Thai people work in Malaysia and as the pandemic drags on they are sneaking across the border, desperate to make it home to their family. Another recent case found illegal Burmese border hoppers in a taxi en route to Hat Yai after they crossed into Thailand from the Malaysian border. They were trying to travel incognito across Thailand in order to cross the border again back into their home country of Myanmar.
The dilemma is even worse at the Burmese border as the often violent protests following the February 1 military coup has been pushing much of the country into poverty, and creating refugees who are flocking to the border in hopes of crossing over to safety. Many are seeking to escape the conflict and find work in Thailand.
SOURCE: Bangkok Post
Want more from the Thaiger family?
📱 Download our app on Android or iOS for instant updates on your mobile
📧 Subscribe to our daily email newsletter
👍 Like/Follow us on Facebook
🔔 Subscribe to or Join our YouTube channel for daily video updates
Thailand Consumer Confidence Index hits record low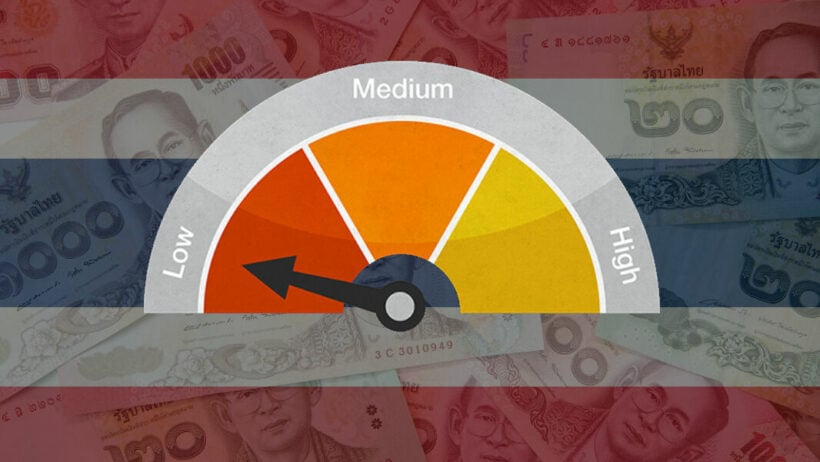 The University of the Thai Chamber of Commerce has reported that the Consumer Confidence Index has hit another new record low of 46.0 in April. The Covid-19 global pandemic has had a devastating effect on the economy and consumer confidence has fallen frequently to the lowest points that it has seen since 1998.
The president of the UTTC believes that consumers generally don't feel like there has been much of a recovery for the economy since the global pandemic began and without a stimulating event to motivate economic growth, the index is expected to continue to fall further. The university estimated that if the third wave of Covid-19 continues past the end of May the economy can expect to lose 400 to 600 billion baht.
The UTTC president stressed that the government should hasten to step up relief measures and make sure they continue relief and economic stimulus throughout the pandemic to avoid economic catastrophe. He predicted that the economy and the Consumer Confidence Index will continue on a downward slope without any hope of improvement until the vaccine rollout gets well underway towards herd immunity, and new Covid-19 infections are decreased dramatically.
Today saw another 2,101 new Covid-19 infections and 17 deaths in Thailand. Vaccination efforts are continually being stepped up, but still remain woefully slow.
The Consumer Confidence Index first started falling last year, with a drop below the previous record low in 1998 in April of 2020, when it fell to 47.2. A few months later, by July of last year, it had recovered significantly, climbing back over 50. But by March of this year, the index had fallen again to 48.5. With April's tumble of 2.5 points, the Consumer Confidence Index pushes once again to a new record low.
SOURCE: Thai Business News
Want more from the Thaiger family?
📱 Download our app on Android or iOS for instant updates on your mobile
📧 Subscribe to our daily email newsletter
👍 Like/Follow us on Facebook
🔔 Subscribe to or Join our YouTube channel for daily video updates
Thailand searches for cow vaccine for lumpy skin disease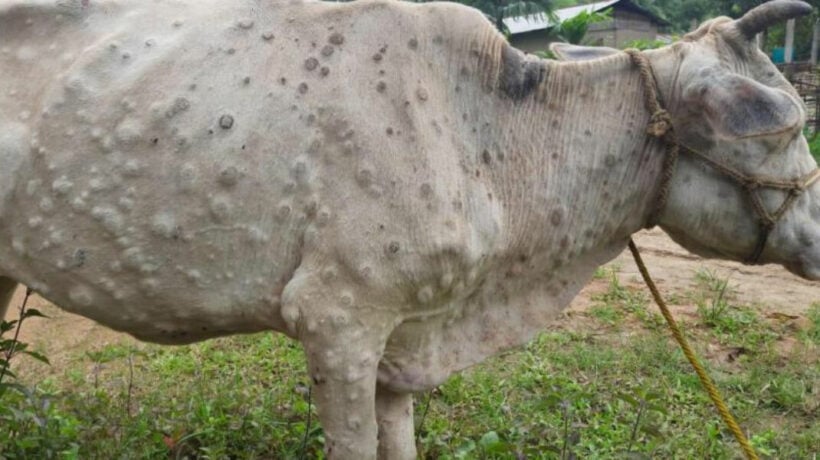 Move over Covid-19 there's a new disease sweeping the country as Thailand's cow population is afflicted with a lumpy skin disease. The Department of Livestock Development is now working on procuring vaccines from overseas manufacturers to import and treat the cattle population in Thailand. The lumpy skin is caused by pustules that are the most visible symptom, perhaps more detectable than other bovine signs such as drooling, loss of appetite and drowsiness.
The cow disease is spreading in the North, Northeast, and Central Plains area of Thailand and has been found in 18 provinces total. First identified in Roi Et, it has now spread in Chiang Rai, Kalasin, Kanchanaburi, Khon Kaen, Maha Sarakham, Nakhon Pathom, and Nakhon Phanom. The first case of the lumpy skin disease was reported in Don Daeng village last month and on April 9th officials reported it to the World Organisation for Animal Health.
The lumpy skin disease is found in cow pens and spread through flies, ticks, and mosquitoes, but the DLD says not to panic, it is not transmissible to humans. The department is distributing important information about symptoms and how the disease spreads to breeders and farmers in the area. They're requiring the breeders to monitor their cattle closely and have imposed measures to control the disease in heavy hit areas.
To prevent the spread of disease in livestock, traders are being requested to not buy and sell cattle within 50 km from disease-stricken regions. And for farmers caring for cattle, the DLD recommends spraying insecticide in all areas to prevent transmission via insects. Finally, in case the cattle were jealous of traveling humans, the DLD is advising farmers to prevent disease spread by isolating any new cow that comes into their farms with a 28-day bovine quarantine where they should be kept under nets to keep insects away.
SOURCE: Bangkok Post
Want more from the Thaiger family?
📱 Download our app on Android or iOS for instant updates on your mobile
📧 Subscribe to our daily email newsletter
👍 Like/Follow us on Facebook
🔔 Subscribe to or Join our YouTube channel for daily video updates