Thai dog rescue service named Rescue of the Year in global contest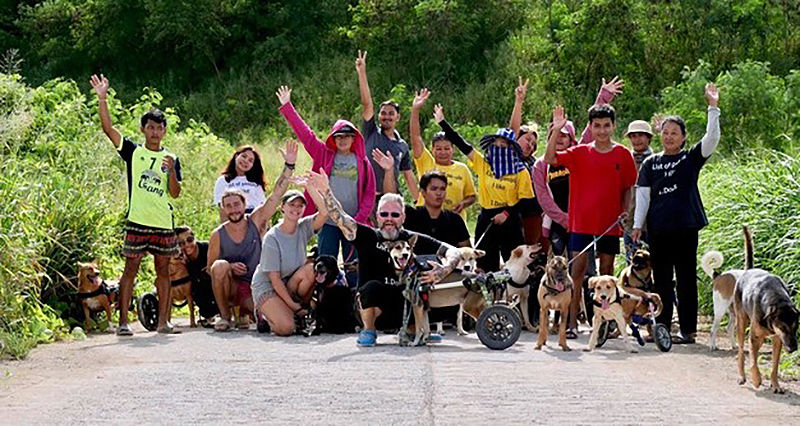 Walkin' Pets by HandicappedPets.com is proud to announce Thailand's own Michael Baines, and his rescue The Man That Rescues Dogs, as the first ever Walkin' Pets Rescue of the Year award. Michael Baines is the founder of the Man That Rescues Dogs and is a true champion for special needs dogs.
Michael Baines is a chef by profession and a dog rescuer by choice.
Michael has dedicated his life to Thailand since 2002, and in 2011 began rescuing soi dogs. For the first 5 years Michael worked the streets alone. Focusing his efforts on 80-100 stray dog that he fed and cared for every day. When he found a dog that was scared, hurt or in need of medical attention he would bring them into his home for further care. He quickly realised that the strays needed more than one person could offer alone.
In 2017, Michael joined forces with the local municipality and with the support of mayor K. Narongchai, he took over the local pound. Quickly expanding the existing 150sqm housing for 100 dogs into a 3500 sqm space called The Sanctuary. The Sanctuary has two on-site vets who manage their clinic where they can treat and heal dogs as well as perform spay and neutering operations at no charge. It takes a staff of 14 to run The Sanctuary.
They now care for 570 dogs, 20 of which are disabled and rely on their Walkin' Wheels wheelchairs for mobility. For his exceptional work and care of the dogs in need in Thailand Michael and his team have been selected as the 2020 Walkin' Pets Rescue of the Year.
The Man That Rescues Dogs and their 20 wheelchair dogs will all be included in the 2020 Walkin' Pets Calendar along with 13 other winners from around the world. This 5th annual contest features pets using their Walkin' Wheels wheelchair, helping to raise pet mobility awareness and celebrate the amazing spirit of these animals.
This year's contest featured the largest number of submissions in the competition's history. featuring entries from 27 different countries and 35 U.S. states! Submissions went far beyond dogs this year, with goats, cats, a duck and even a chicken getting in on the action! Highlighting importance of pet mobility for all whether furred or feathered!
All proceeds from the 2020 Walkin' Pets Calendar will be donated to the Handicapped Pets Foundation to help disabled and injured pets in need to get wheelchairs. The 2020 Walkin' Pets Calendar is US$12.95 and may be pre-ordered by calling a US number: (888) 253-0777 for an expected delivery date of mid-November.
Walkin' Pets by HandicappedPets.com is the proven leader in pet mobility, with a 19 year record of helping to put miracles in motion. Whether it be dogs, cats, goats or even ducks! Walkin' Pets products are designed to keep pets moving, so they can get back to what's important, enjoying their family and living an active, healthier lifestyle. At Walkin' Pets we don't make miracles, we just set them in motion.
For more information about The Man That Rescues Dogs visit their Facebook page or http://tmtrd.org/
Keep in contact with The Thaiger by following our
Facebook page
.
Thailand News Today, February 28, 2020. Daily TV news update.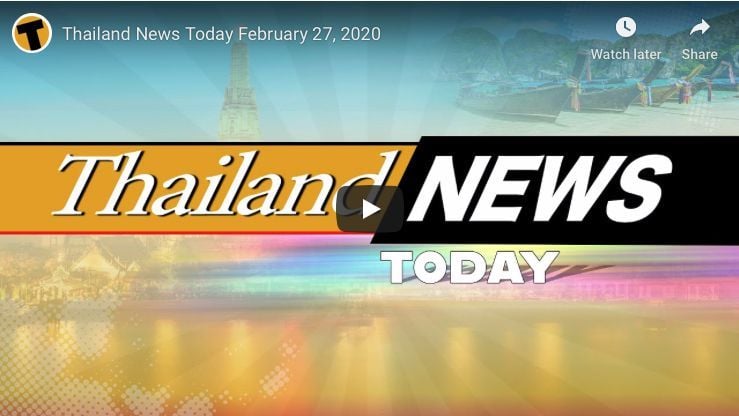 Shots fired in Nontha Buri mall
There was another gunman alert in a Bangkok mall yesterday afternoon….
Police rushed to the Central Plaza mall in Nontha Buri province, just northwest of Bangkok after reports of gunshots inside the mall around 4:20 yesterday afternoon.
There were no reports of death or injuries. A suspect was arrested and the mall is open again today.
PM says military to downsize, halve number of generals
PM Prayut Chan-ocha has announced that the Defence Ministry plans to downsize all three branches of the armed forces
He says he wants the armed forced to become more modern and efficient, and will cut the number of generals in half within eight years.
Speaking in parliament the PM also said it's necessary to strengthen the armed forces through procuring modern armaments, including submarines, to put them on a par with neighbouring countries.
Legend Siam, major Pattaya tourist attraction, closes its doors
The impact of coronavirus is reaching beyond just airlines and hotels and now having a far-reaching effect on other parts of the Thai tourist economy, Reuben Tuck reports
(Reuben VO)
Rogue policeman turned burglar recaptured in Chiang Mai
A former policeman who escaped a Chiang Mai hospital after being arrested for burglary has been re-arrested.
The ex-cop was assaulted by homeowners after he attempted to rob a home last weekend, which led to rescue workers taking him to hospital. He subsequently escaped , but was found hiding in a guesthouse in the city this morning.
Police say the accused burglar is now back in custody and awaiting trial.
PM "concerned" about campus rallies
Thai PM Prayut Chan-o-cha is expressing "concern" over growing support for student rallies at universities and now high schools.
Students, as well as high school-aged children, have been protesting the recent dissolution of the popular Future Forward party, and the possibility of confrontation and unrest.
The PM says he "understands the good intent of the students," but that he is "concerned that they might be misled by one-sided information and might be used as a tool as part of political agenda."
Prayut noted he didn't want a repeat of the "coloured political divide and eventual political unrest," a reference to the violent "red-shirt" and "yellow-shirt" factions.
Smoke from plantation fires continues to choke central and northern Thailand
Bangkok's air has improved a bit today….
Smoke from fires, mostly deliberately lit, continue to choke sections of central and northern Thailand today. Light winds are not blowing away the smog and haze produced by the smoke, particularly in the north where Chiang Mai and Chiang Rai have readings today from 'unhealthy' too 'very unhealthy' – in a range from 170 up to 240 (particles of PM2.5 microns per cubic metre of air).
Chiang Mai's air quality is the 2nd worst in the world today
Keep in contact with The Thaiger by following our
Facebook page
.
Thai minister Thammanat Prompao tells parliament he "never pled guilty" or "served time" over heroin drug charges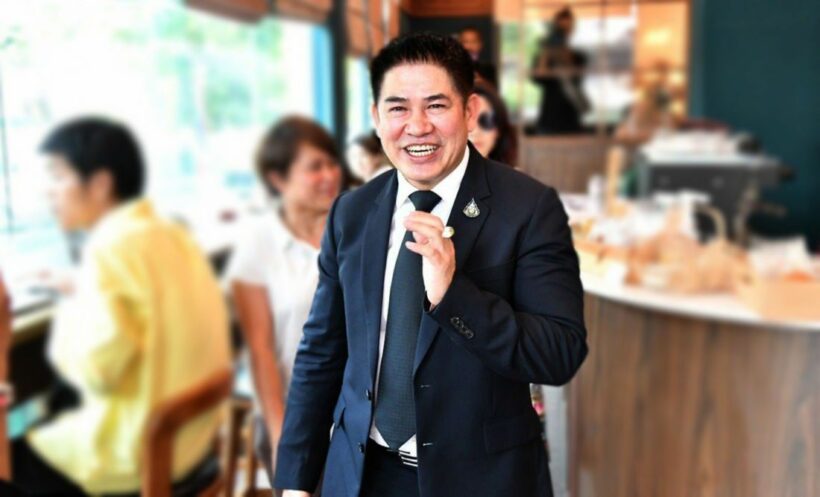 The Thai deputy agriculture minister Thammanat Prompao has re-ignited the controversy over his drug convictions in Australia by continuing to insist he "never pled guilty or served jail time for drug charges in Australia". His claims are contrary to the evidence provided by the Australian courts.
The ministers's denial follows the disbanded Future Forward Party publishing an Australian court ruling on its Twitter account. The tweet confirmed Thammanat's guilty plea and jail sentence for heroin trafficking back in 1995.
The tweet read… "Whoops! Dropped some files. Giving out files of evidence to rip off Thammanat's mask, who lacks the qualifications of being an MP."
Khaosod English reports that, under Thai laws, a person convicted for drug offences cannot serve as a minister in the Thai government.
Responding to questions in Parliament, Thammanat said…. "I did not admit to importing, exporting, producing, or selling heroin."
But the Twitter account from the disbanded party responded with links to a folder of evidence the party said it received from Australian authorities. The tweet has been retweeted nearly 70,000 times. The files, including court records in English, Thai translations, news clippings, and a Powerpoint presentation.
According to the court documents, Minister Thammarat, then under the name of Manat Bophlom, was one of two Thai men who "pleaded guilty to being knowingly concerned in the importation of heroin" and were sentenced to prison for six years in 1995.
The opposition claim Thammanat's criminal records effectively barred him from serving in the Thai Cabinet, but the politician vehemently denied the allegations in spite of the documented evidence.
The revelations originally came to light when the Australian Sydney Morning Herald, an award-winning newspaper recognised for its excellent journalism, published an article outing the Thai minister and the train of events that lead to his heroin convictions. You can read the original SMH article HERE.
Speaking almost an hour at the censure debate Thursday, Thammanat continually repeated his denial and accused the Future Forward of misleading translation.
"I thought it's going to be something exciting, but I've seen it all. Your translation which says that I had confessed to trafficking charges is not true because there is nowhere in a certified translation that says I did."
"That charge only carries a life sentence, so if I had been sentenced as the debater says, I must have died and reborn again."
Putting the motion of no-confidence against him was Future Forward MP Theeratchai Pantumas, who said Thammanat was "concealing and twisting the truth in a world-class humiliating affair."
Phalang Pracharath MPs also objected to the documents being aired inside the Parliament.
Thammanat, who entered politics as a Phayao MP, said he had already gone through the vetting process and maintained that his eligibility is not affected since he is not being prosecuted by the Thai judiciary.
"Thailand was never a colony. The debater is speaking as if we are surrendering our sovereignty to Australia. The reference to a court order from another country is not applicable to the Thai government."
• The embattled minister threatened to sue more than 100 media outlets last year for mentioning or reposting the Sydney Morning Herald story. Read about that HERE.
• The new government coalition considered demoting the Agriculture Minister over the allegations, HERE.
SOURCE for this story: Khaosod English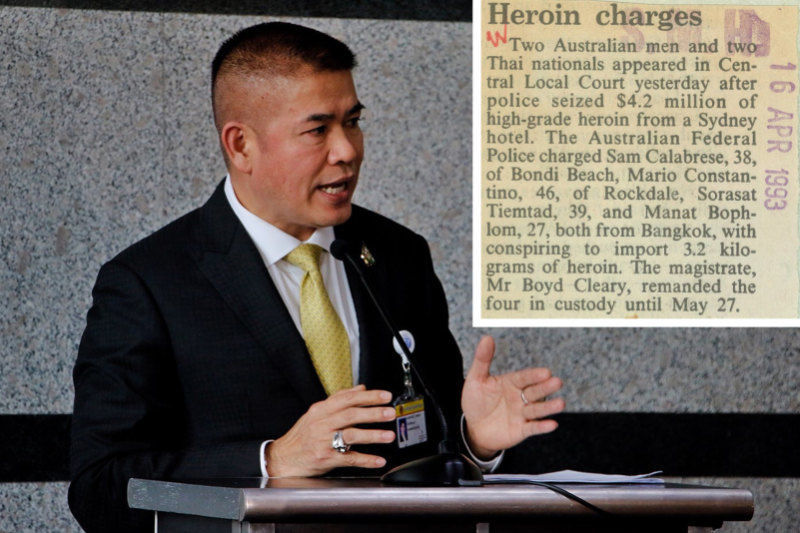 Keep in contact with The Thaiger by following our
Facebook page
.
'Watching the Thais' – understanding Thai culture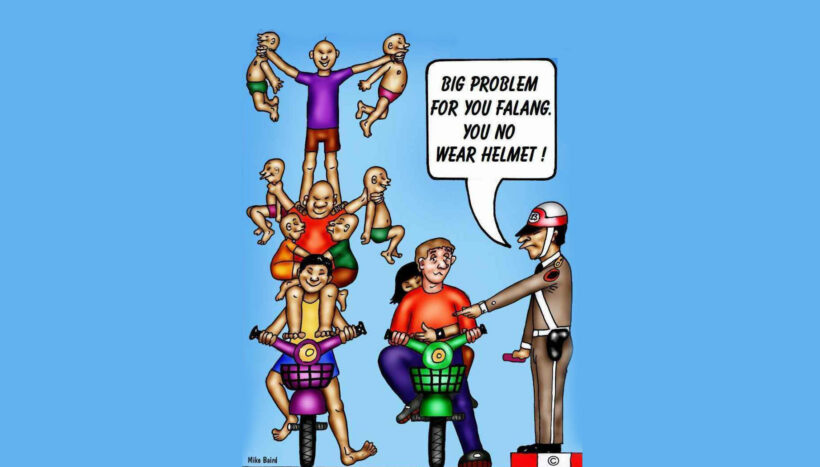 Why does a Thai smile at you after crashing into the back of your car?

 Why do Thais deplore walking?
The heat, the heat.
What about the weather? 

 Why is everything done as a pack? 

What is all this 'face' stuff about?
Lies?

 Confrontation? 

Sleeping and shopping?
Just what is it with the Thais? 

What's it all about?
Author and academic Tom Tuohy answers all these questions and much more in his new book about the Thais and all their quirks. I wish I had read it before I learned the hard way.
"The psychology and general atmosphere whilst using public transport in Thailand is also interesting to think about. When you happen to find yourself on, for example a regular Thai bus, some general considerations need to be noted.
"The same driver will invariably drive as if he has a prior appointment (which he's only just remembered), with some mysterious benefactor who is going to alter his and his family's life radically. It is apparently for this reason that he will proceed to slam hard on the brakes at every juncture.
"It amazes me how these drivers wait till the last second to do this, instead of gently easing on the brakes when approaching a junction. What results is a collective surge of passengers moving forward en-masse like an unintentional human, as opposed to Mexican Wave: grandma on her weekly visit to feed the ducks in Lumpini Park gets a new seat on the floor; Somchai, the 7-11 employee gently and apologetically extricates himself from the cleavage of Navaporn, the cute SCB teller; students from nearby colleges hang on for dear life, hoping their hair isn't messed up and make-up isn't smudged when they collide with the stainless steel handrails.
"The unflappable ticket-collector, almost always a woman, moves slowly down the bus, click-clacks open and shut her klaxon-like metal pencil case full of five- and one-baht coins, and carries on collecting the money as if nothing ever happened. 'Mai pen rai!' the elderly gentleman mumbles in the corner. 'Amen brother' I say quietly to myself as I pick myself up off the floor!"
(Watching the Thais, Chapter Three, Thais and Movement , Keep on Walking, Johnny Walker)
If you are one of the forty million or so expected visitors to Thailand this coming year, or an expat interested in moving to the country, this book is a must for you. The book is divided into ten chapters, each one detailing some of the virtues as well as common misconceptions about living and working in Thailand.
Common questions asked by visitors are also dealt with: why do Thais walk so slowly? Why do they like spicy food? Why are they always smiling? Why does nothing seem to upset them?
Towards the end of the book, a series of blogs discuss deeper aspects of living and working in Thailand e.g. the state of Thai education, cross-cultural communication, the Thai floods, marriage to a Thai, and the way the Thai riots in 2010 were presented by the foreign media. If you are planning to spend any length of time in the country and really want to understand the Thai modus operandi, this book will give you a great insight into the uniquely Thai way of thinking and being.
"This is a book I wish I'd read before I went to Thailand for the first time (although it hadn't been written then). Even now, 23 years later, it taught me things I didn't know."
(Timothy Hallinan, author of the Poke Rafferty and Junior Bender series of books)


"Watching the Thais" is a great resource for anyone with an interest in the magnificent kingdom of Thailand. A great read – informative and entertaining.
(James Newman – Author of Bangkok Express and The White Flamingo)
"Though he doesn't yet qualify as an Old Thailand Hand with two decades in residence, he has lots of personal impressions of the Land of Smiles. Tom, Ajarn Tuohy, is well read on the subject."
(Bernard Trink, Nite Owl columnist for the Bangkok Post)
To buy the book, click HERE or HERE
Keep in contact with The Thaiger by following our
Facebook page
.