South policy flaws exposed by violence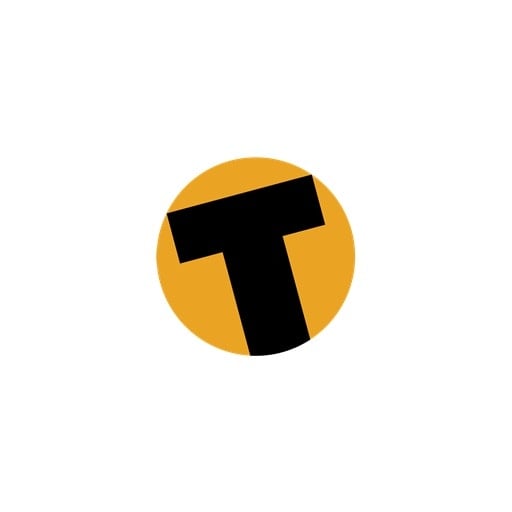 PHUKET MEDIA WATCH
– Thailand news selected by Gazette editors for Phuket's international community
South policy flaws exposed by violence
The Nation / Phuket Gazette
PHUKET: Although violence in the deep South seemed to decrease during June-September, it swept back ferociously in the month of October when six schools and two tambon administrative organisation offices were burned down. Most recently, four Pattani restaurants/karaoke bars were bombed in less than a week following the Tak Bai 10th anniversary.
Col Pramote Promin, spokesperson for the Internal Security Operations Command (Isoc) Region 4, on Saturday blamed separatists for the bombings. They were a response to national intelligence reports that insurgents threatened to launch attacks ahead or after the Tak Bai anniversary (October 25) and security officers tried their best to be on watch – but the insurgents shifted to less-guarded targets.
Similar bomb components
Explosive Ordnance Disposal (EOD) reported the bomb components in the latest attacks were similar to those used in the May 24 incident in which 20 bombings occurred in Pattani province two days after the National Council for Peace and Order (NCPO) seized power, suggesting the Friday attacks were the work of the same group. Officials felt the national security-originated approach to solve southern unrest by the NCPO and the government hadn't been successful so far in achieving even a passable result.
Among the announced "new tasks" was the peace dialogue with separatists but, until now, the master plan had not been officially approved. Also the plan was unable to garner public attention or local residents' participation. Most works were about fighting for media space or the solving of internal problems such as state agencies' unity and budgetary integration, while the concrete result in the region wasn't so clear-cut, neither was a scheme to repair the deep South's roads by asphalt-para rubber mix.
The "old tasks" that had been long-standing were also not solved or clearly addressed. Sore points included:
l The Tak Bai incident in which 78 anti-government protesters "died from suffocation": people continued to wonder why the government couldn't re-investigate the case or boost the victims' confidence by having the cases brought to court via the National Human Rights Commission mechanism. Other cases in which state officers might be involved should also be re-investigated to ensure investigations were treated to the same standard as those of civilian suspects. If the officers were found guilty and punished accordingly, it would boost people's faith in the state.
l Lifting of the emergency decree and the "taking people home" project allowed misguided insurgents/ sympathisers to turn a new leaf. They were implemented only in a small scale but managed to get some local support. However they didn't yield the psychological effect among the wider public that the government was sincere because many major cases – like the Tak Bai incident or the alleged torturing of people to get confessions – remained unclear.
l Many new incidents centred around violence, despite state officers' explanations they stemmed from mistakes. They included the case in which an officer manning a checkpoint in Narathiwat's Bacho district shot at a suspect car and hit a 10-year-old girl; and the case in which a para-military volunteer shot dead a 14-year-old boy in Narathiwat's Sri Sakhon district while allegedly believing their outpost was being attacked. The volunteer then allegedly placed a gun in the boy's hand.
l Many locals believed officials were involved in drug trafficking, illegal gasoline business and pirate goods smuggling because these crimes were widespread in the region but remained untouched. Checkpoints were set up on roads, but people wondered why traffickers passed through or avoided detection. The case of Pattani-based businessman Sahachai Jiansermsin, a suspected illegal gasoline trader who managed to flee from police custody after receiving a 21-month jail term for possessing forged state documents, didn't get much attention from the government. Local authorities' investigations led to the punishment of one policeman for neglect of duty as the policeman was the one guarding Sahachai at the court. Sahachai's case only convinced people the government wasn't sincere in seriously tackling illegal businesses in the region.
l Although special law implementation empowered police and military officers to provide security and limited people's freedom and rights – it seemed these laws hadn't limited culprits' freedom to launch attacks, leaving local people with little confidence in the state. The emergency decree had been renewed every three months for 37 times already. These incomplete tasks prompted people not to co-operate with the state – therefore projects like the Thung Yang Daeng project that hoped to get the public support might not be successful or might be adopted just to get budget. If the state was unable to solve the old conditions, to stop creating new conditions, and to restore public confidence, it would be difficult to get public co-operation and the region's situation would not improve permanently but just shift from one target to another.
— Phuket Gazette Editors
Keep in contact with The Thaiger by following our
Facebook page
.
Never miss out on future posts by
following The Thaiger
.
News of American sued over bad Koh Chang hotel review has everyone talking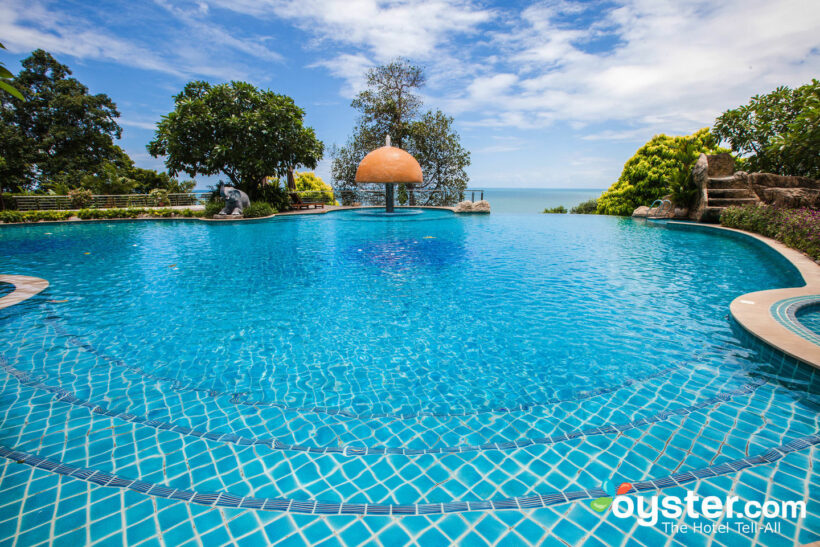 After news hit of an American being arrested and sued for defamation over leaving a bad review about a Koh Chang hotel on TripAdvisor, many are taking to the internet to voice their opinions on the issue. The Sea View Resort owners say it tried in vain to negotiated with Wesley Barnes after he posted the reviews, but he continued to post completely untrue comments.
The owners released a five-page statement after the news of it suing the American gained widespread attention. You can read their response HERE. Then, Barnes submitted his own response detailing the situation which was also published online.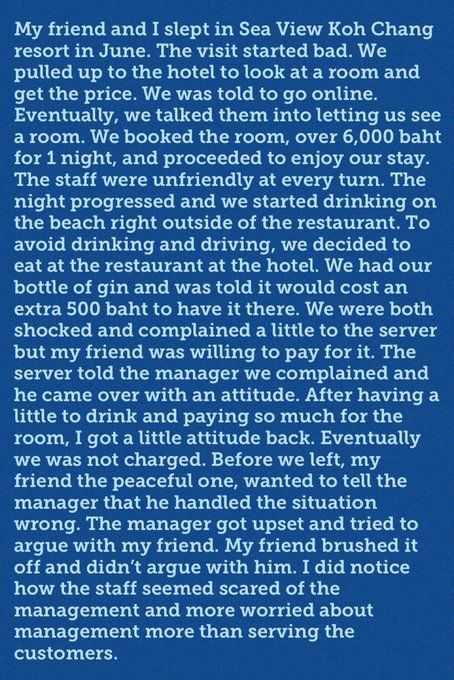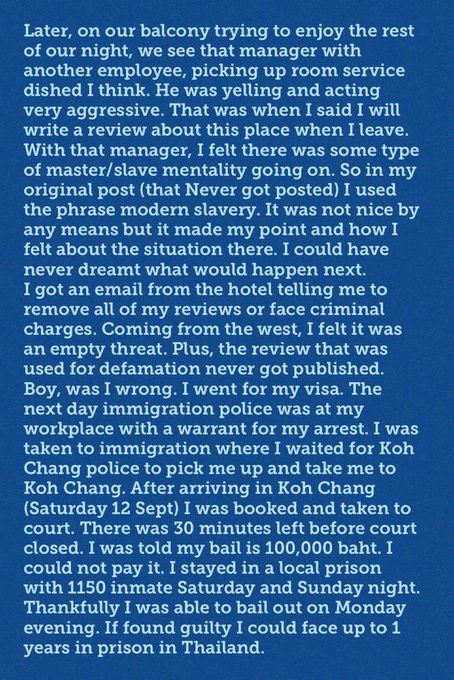 Now, the story has gained even more attention as netizens have begun posting their opinions on the controversial issue of Thailand's defamation laws. Below, are some of those posts on The Thaiger's Facebook page.
"Can someone clarify for me Thailand's position on people leaving honest bad reviews as my girlfriend says it's fine to leave a bad review of a business and it's not defamation if honest of course? I have heard people say that you simply can't leave bad honest reviews at all here but that sounds ridiculous. The thing about many Thais is that they think they're beyond reproach. They can't accept criticism because it's not aligned with their grandiose self-image. Many also have a torrid time when it comes to ownership of their own actions and decision making."
"OMG! He is arrested for a review.?! I know of an expat in Malaysia that wrote a bad review about a Thai-owned resort in Penang and he was sued as well. Be careful with what you share in that neck of the woods."
"It's one thing to leave a bad review but to throw in "modern slavery" remarks escalates to thai defamation law. He shouldn't be arrested for his comments but you need to respect the country laws no matter how crazy they seem compared to your own country. This press is going to negatively affect the business way more than that review would have done though."
"The owner should have settled with the review platforms privately and move on. I would hardly hold up Trip Advisor as a beacon of truth, however some people write extremely personal and vindictive comments that go beyond a review, in an attempt to gain product or refunds in return, this is an absolute fact, and hopefully this might make people think before they start writing reviews that are not exactly honest, I have read stories critical of the General Managers because they didn't contact the guests, some really petty reviews by rather petty people."
If Barnes is indeed found to be guilty of defamation, he could spend up to 2 years in prison and pay up to a 200,000 baht fine.
SOURCE: Chiang Rai Times
Keep in contact with The Thaiger by following our
Facebook page
.
Never miss out on future posts by
following The Thaiger
.
Phuket police arrest 6 after finding large amounts of methamphetamine in raid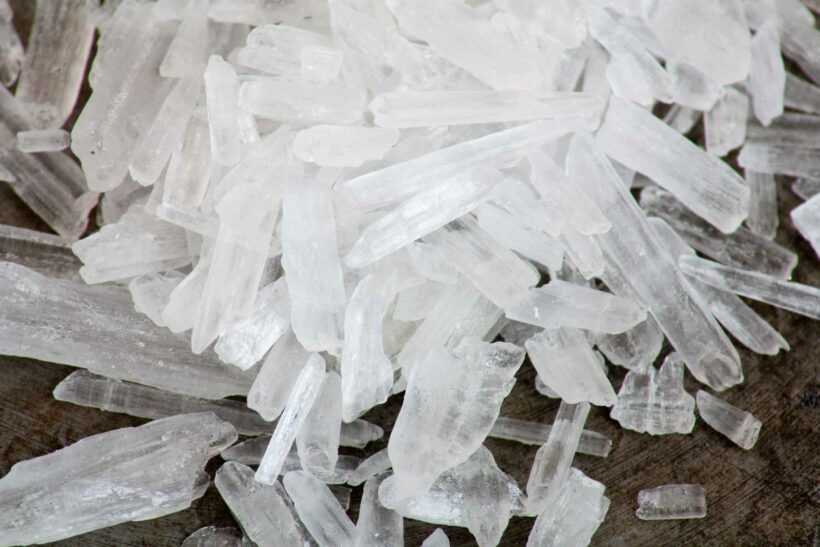 Phuket Provincial Police have arrested 6 people after finding large amounts of methamphetamine and other drugs during a raid. One suspect alone allegedly had 7.6 kilograms of crystal meth (ya ice) and over 12,500 methamphetamine pills (ya bah). 29 year old Surasak 'Bank' Wijit and 27 year old Panida 'Mei' Saeyang were arrested at an apartment car park in Soi Lookkaew, Moo 6, Rassada, in eastern Phuket, after they were found in possession of the drugs.
Police also found 2 mobile phones and a red Honda PCX, registered in Phuket, as evidence. Both suspects have been charged with posessing a Category 1 drug with the intent to sell.
Other suspects arrested at the same time include 36 year old from Chiang Rai, 42 year old Sarawut 'An' Srichanon, from Ranong and 31 year old Pornthep 'Iew' Thepchampa, who were charged with the same crimes in Chalong after police found more drugs in their possession. 33 year old Kamon 'Kung' Sae-ngow, was arrested as well after police found kratom juice and leaves at a house in Rassada. He was taken to Phuket City Police station and was charged with a Category 5 drug possession.
SOURCE:The Phuket News
Keep in contact with The Thaiger by following our
Facebook page
.
Never miss out on future posts by
following The Thaiger
.
Phuket Muay Thai fighter is the first Thai national to compete in UFC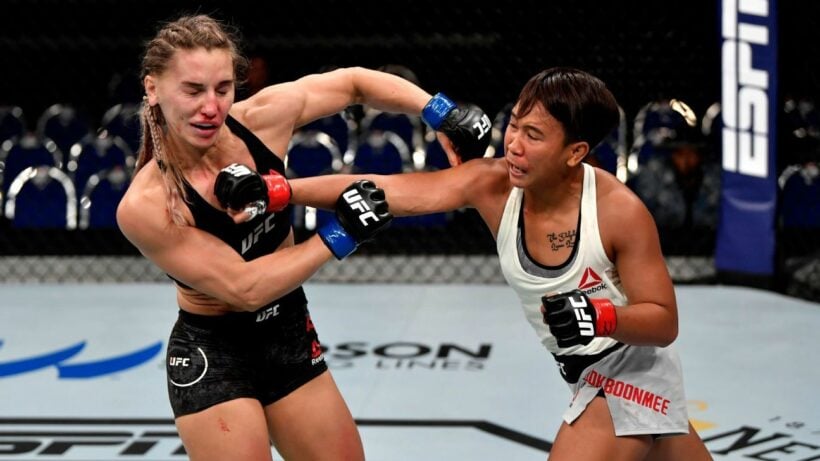 The upcoming Ultimate Fighting Championship Fight Night event in Abu Dhabi will feature Thailand's only national marking her third fight with the UFC, the world's largest mixed martial arts competition. 24 year old Loma Lookboonme, from Burirram in northeastern Thailand, will fight in the event on October 3, 2020.
Loma is a Muay Thai fighter who has adapted her MMA skills to fight in the UFC where she currently trains at the Tiger Muay Thai gym in Phuket. Loma qualified for the national team at the age of 19 and has fought in over 12 nations worldwide. She currently trains 6 days a week starting daily at 6:30am with a 3 kilometre run. In the UFC, she will be competing against China's Angela Lee who is the undisputed champion of the 52 kilogram fist weight category.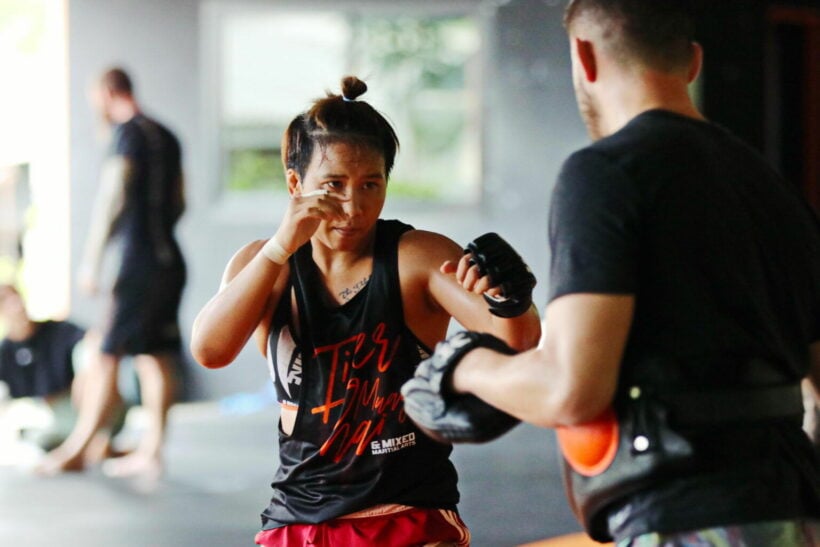 Loma's parents are former Muay Thai fighters and her 2 sisters currently compete as well. She reportedly started training at 8 years old after being inspired by her father, whom she describes as her "hero."
Like most Thais in such fighting sports, Muay Thai offers a way to rise out of poverty-and fighting for the UFC can be financially lucrative. But Loma says her only Thai sponsor is the gym where she trains, with the rest of her sponsors being from foreign brands. She says she is trying to get more Thai sponsors but feels that maybe she needs to win the UFC first before Thai brands notice her.
Loma lost her last fight and says her new opponent gives her nothing to lose. She says her goal is to get into the Top 10, but is not sure when it will happen. Loma says for now, it would be good to fight against someone in the Top 10 to help her prepare for her future.
FULL INTERVIEW: Thisrupt.co
Keep in contact with The Thaiger by following our
Facebook page
.
Never miss out on future posts by
following The Thaiger
.