Thailand
Some claim "invisible Western hands" back Thailand's pro-democracy movement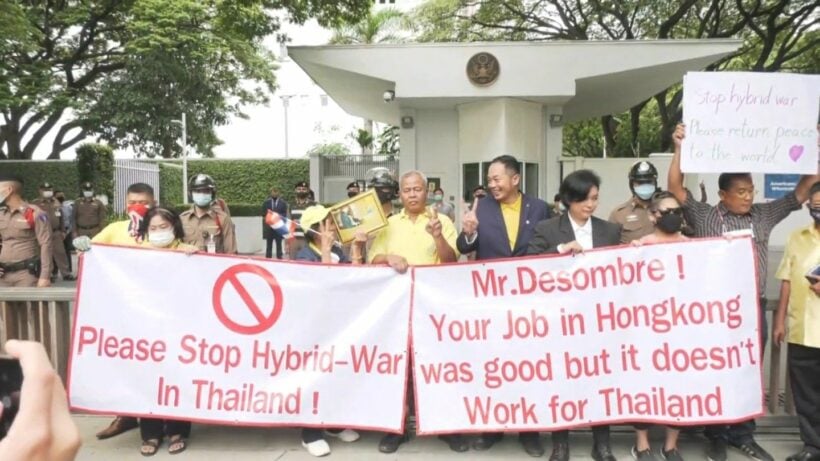 As the pro-democracy movement spreads, some are speaking out and accusing Western countries – specifically the United States – of "interfering" with Thai politics and backing the student-led protests. A commentator for the Chinese Community Party tabloid Global Times even said the Thai youth are being used as "cannon fodder by the US and its proxies."
Pro-democracy activists say this isn't the case and their movement spurs from years of discontent with Thailand's politics. Activists are calling on reform on both the military-run government and the monarchy as well as a rewrite of the 2017 Constitution. They're also pushing PM Prayut Chan-o-cha to resign.
Thai PBS says conspiracy theorists have named the United States as the main "foreign hand" backing the pro-democracy protests.
In the opinion piece published in the Global Times, Yu Qun, deputy director of the Military Diplomacy Research Center at China's National University of Defense Technology, said he believes the United States government is trying to overthrow Thailand's current political system.
The Thai government and mainstream media believe that anti-government forces in the country have colluded with the US and other Western countries to use young people with the ultimate goal to overthrow the current political system in Thailand. Those forces aim to bring in pro-West political proxies to rule the country with Western-styled democracy. It is essentially a "color revolution."
This is in line with the US' general practice. The US manipulated color revolutions in the former Soviet Union, the Middle East, and other countries and regions for its political intentions, leaving many countries in a mess, threatening regional and world peace and stability.
It is unclear whether the Thai young generation, who are currently being used as cannon fodder by the US and its proxies, actually understand that a color revolution is not as beautiful nor peaceful as portrayed.
Some royalists have also accused the US of a so-called "hybrid war." Last week, a group gathered outside the United States Embassy in Bangkok and called on the American government to stop interfering with Thailand politics. One sign read "Stop hybrid war. Please return peace to the world."
Last year, Thailand's then-Army Commander-in-Chief General Apirat Kongsompong warned that Thailand was facing "hybrid warfare" waged by a "ill-intentioned politicians." He also accused some of the "foreign educated" academics with leftist views of being "masterminds" behind many anti-government and anti-military activities.
Some recently accused the US government of backing Thailand's recent student protests after photos of a former US Ambassador to Thailand and pro-democracy student leader were shared online. The US Embassy then released a statement saying embassy personnel regularly meet with many different people throughout Thailand and the meetings do not imply endorsement of any views.
"The United States government is not funding or otherwise providing support to any of the protests in Thailand. The United States does not support any individual or political party; we support the democratic process and the rule of law."
SOURCES: Thai PBS | Global Times| US Embassy Bangkok