Shark bite or sharp rocks? Hua Hin swimmer dragged from water with injuries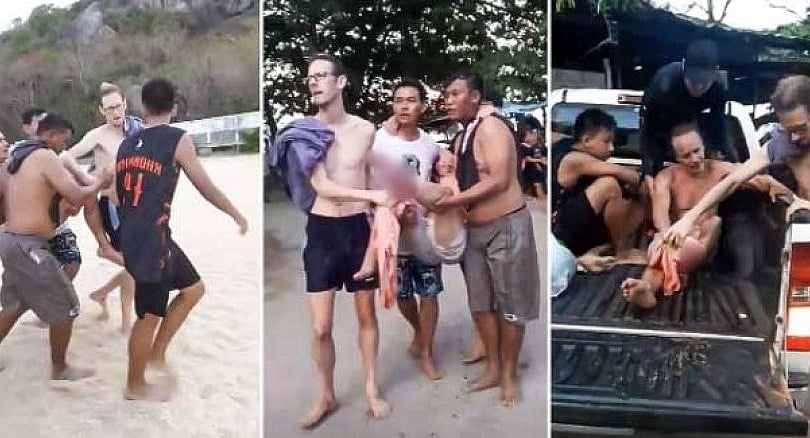 Video footage posted to social media on Sunday claimed that a foreign man was been bitten by a shark at a beach in Hua Hin.
The clip, which has now been removed, showed a man being carried out of the water having suffered multiple injuries to one of his feet.
The incident was said to have taken place at Sai Noi beach, south Hua Hin, with the unnamed foreigner being rushed to hospital for treatment.
However, some people commenting online questioned the claims of the injuries being the result of a shark attack and said the injuries could have been caused by sharp rocks on the seabed.
Others said the injuries were clearly bite marks, with speculation that they were caused by a black tip reef shark.
Commenting about the incident on Facebook, Edwin Wiek, who runs the Wildlife Friends Foundation Thailand in Phetchaburi province, said that sharks found in the Gulf of Thailand "are big enough to bite but too small to fight."
Another Facebook user, Aaron Gimli Myers wrote: "Never seen or heard of such aggressive behaviour from a tipped reef shark before, pretty fast and shy animals. Potentially a small bull shark? Have seen them while diving off the islands so not that far for one to travel really and also very aggressive creatures".
Marilyn Rose commenting said: "Ouch! That looks nasty! There are shark in the area as I've seen local fisherman catch them at Takiab, but they're only usually close to shore at night and don't tend to attack humans unless they feel threatened. There are also some pretty nasty rocks at Sai Noi on which my better half broke his toe. To be honest though, it does look more like a bite".
UPDATE: Thaivisa has been informed that medical staff who treated the foreign man said the injuries were not consistent with that of a shark bite and were likely to be caused by rocks.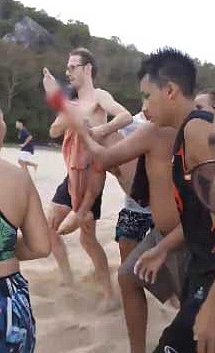 - The Thaiger & The Nation
Phetchaburi: Kalasin man arrested for alleged rape of a five year old, ten years ago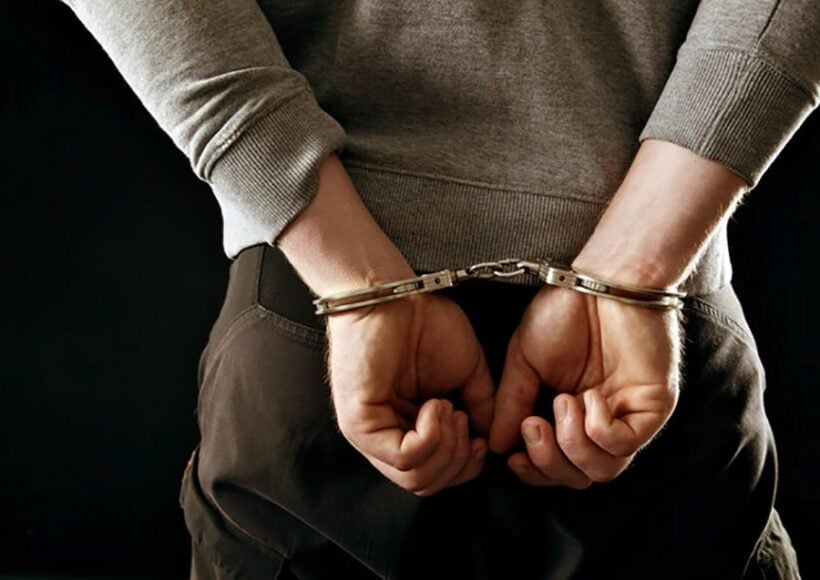 File photo
The Nation is reporting that a Kalasin 39 tear old man has been arrested in Phetchaburi this morning while on the run. He has been arrested over allegations relating to the rape of a five year old girl in Bangkok 10 years ago.
39 year old Sa-nguan Kisarung from Kalasin, was arrested at his rented room in Tambon Khao Yai in Phetchaburi's Cha-am district at 2am. He was arrested under a warrant issued by the Thonburi Court on March 18, 2009.
He is alleged to have raped the girl at a workers' quarters while working at a construction site on Soi Ekkachai 133 in Bangkok's Bang Bon district on December 13, 2008.
SOURCE: The Nation
Khao Sam Roi Yot caves get pro-active with safety audit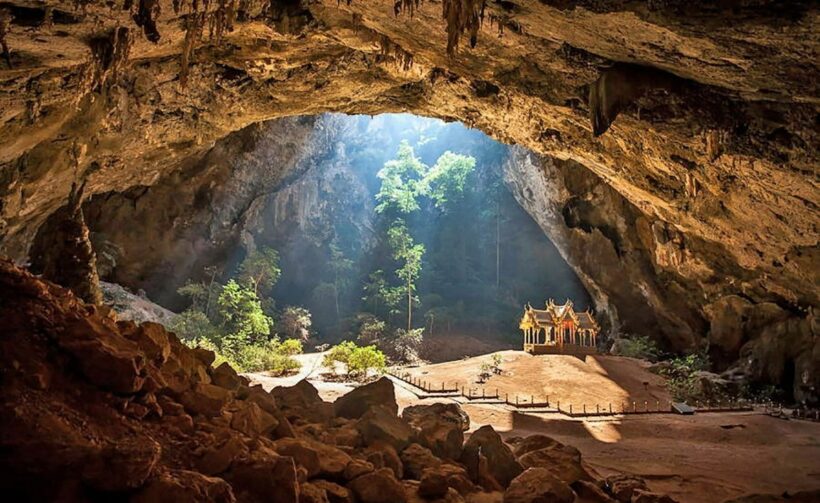 Khao Sam Roi Yot national park in Prachuap Khiri Khan province has accelerated the exploration of four caves to gather information on cave conditions as a database to determine safety measures for tourists.
Khao Sam Roi Yot national park chief Rungroj Assawakultharin disclosed that Sam Roi Yot National Park is exploring those caves in order to prepare information on their current conditions.
The four caves include Phraya Nakhon cave, Kaew cave, Sai cave and Men cave. They are open to visitors from 8.30 a.m. to 4 p.m. every day. Khao Sam Roi Yot National Park has provided staff to ensure safety at the caves.
However, a preliminary survey of Kaew cave found no water flowing through it but the path is quite twisted, thus tourists will need the help of officials to visit it.
STORY: National News Bureau of Thailand


Thai Tourism Ministry pays 66,000 baht to Norwegian shark attack victim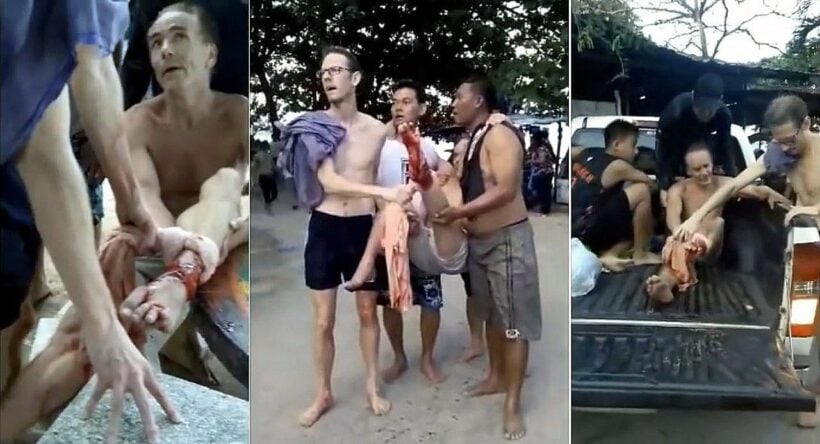 PHOTO: ThaiVisa
The Thai Tourism Ministry has paid out over 66,000 baht to the Norwegian shark attack victim who was attacked by a mysterious sea creature back on April 1.
NewTV is reporting that the Ministry of Tourism and Sports paid the man bitten on the leg near Hua Hin in April 66,966 baht.
54 year old Werner Danielson received the money with his Thai wife before he flew back to Norway on Sunday. However, due to a problem with his insurance running out the payment still leaves him more than 200,000 short.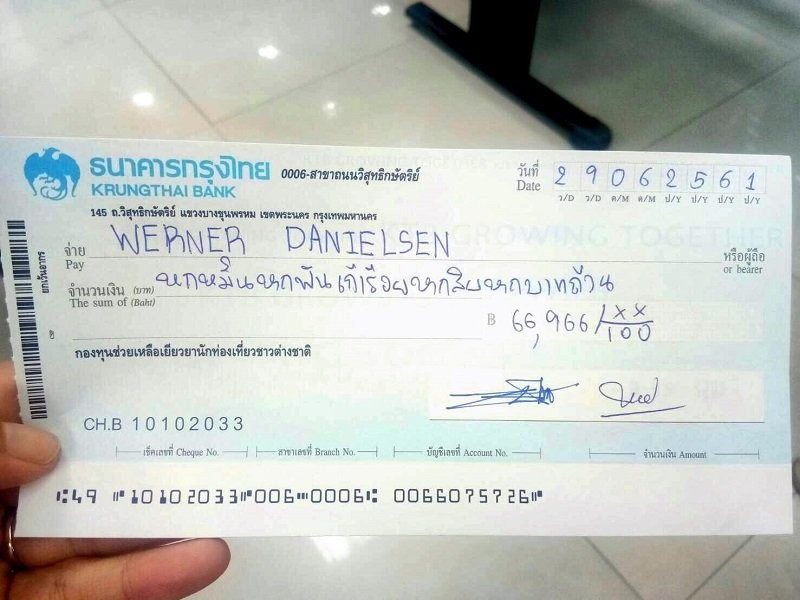 PHOTO: newtv.co.th
His three day stay in a Hua Hin hospital cost Werner 300,000 baht. The pay out came from a Tourism Ministry fund after consideration by a committee.
Meanwhile deputy governor of Prajuab Khirikhan Chotnarin Kertsom said that a shark prevention net at the Sai Noi Beach in Khao Tao district would cost 500,000 baht.
Discussions are still ongoing about finally installing that nearly three months after the tourist was bitten on the left leg on April 1.

Original story HERE.