Shark bite or sharp rocks? Hua Hin swimmer dragged from water with injuries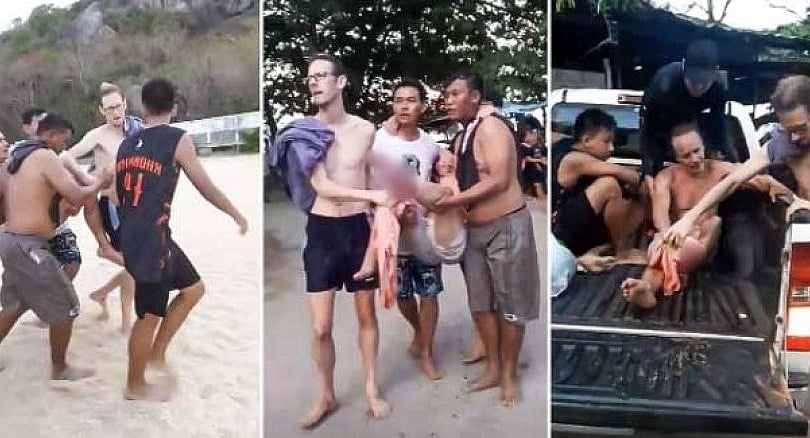 Video footage posted to social media on Sunday claimed that a foreign man was been bitten by a shark at a beach in Hua Hin.
The clip, which has now been removed, showed a man being carried out of the water having suffered multiple injuries to one of his feet.
The incident was said to have taken place at Sai Noi beach, south Hua Hin, with the unnamed foreigner being rushed to hospital for treatment.
However, some people commenting online questioned the claims of the injuries being the result of a shark attack and said the injuries could have been caused by sharp rocks on the seabed.
Others said the injuries were clearly bite marks, with speculation that they were caused by a black tip reef shark.
Commenting about the incident on Facebook, Edwin Wiek, who runs the Wildlife Friends Foundation Thailand in Phetchaburi province, said that sharks found in the Gulf of Thailand "are big enough to bite but too small to fight."
Another Facebook user, Aaron Gimli Myers wrote: "Never seen or heard of such aggressive behaviour from a tipped reef shark before, pretty fast and shy animals. Potentially a small bull shark? Have seen them while diving off the islands so not that far for one to travel really and also very aggressive creatures".
Marilyn Rose commenting said: "Ouch! That looks nasty! There are shark in the area as I've seen local fisherman catch them at Takiab, but they're only usually close to shore at night and don't tend to attack humans unless they feel threatened. There are also some pretty nasty rocks at Sai Noi on which my better half broke his toe. To be honest though, it does look more like a bite".
UPDATE: Thaivisa has been informed that medical staff who treated the foreign man said the injuries were not consistent with that of a shark bite and were likely to be caused by rocks.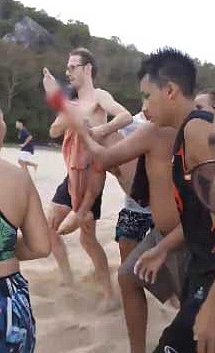 Read more headlines, reports & breaking news in Hua Hin. Or catch up on your Thailand news.

Drivers of fatal migrant truck arrested in Phattalung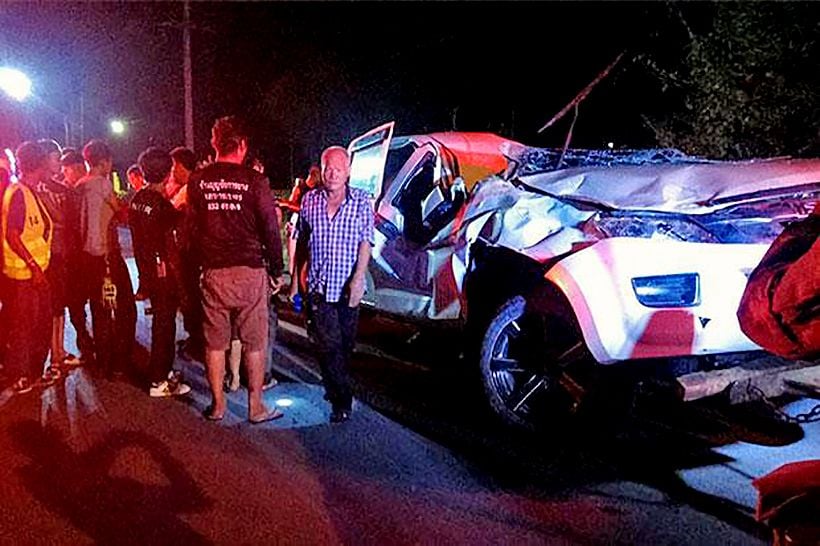 by Thanyawee Chansuksri. PHOTO: Chaiwat Satyaem
Two brothers from Phatthalung have been arrested in their province over their alleged role in the pickup-truck crash in Prachuap Khiri Khan on November 30. The incident led to two deaths and 12 injuries of illegal Burmese migrant workers.
Suspects, 29 year old Anurak Khongdaeng and 27 year old Sompong Khongdaeng, for whom the Prachuap Khiri Khan Court had issued arrest warrants for aiding illegal migrants to avoid arrest, were taken into custody in Tambon Tha Khae, in Mueang Phatthalung, where they had fled to after the night crash last Friday.
The brothers also had reportedly stopped in the Khuan Khanun district to clean up their getaway pickup  in an attempt to avoid police detection and destroy evidence.
Their vehicle was one of two pickups used to transport 26 Burmese, who had trekked through the Tanaosri mountain-range forest and crossed a natural border into Thailand, heading to a labour market in Malaysia.
Two year battle for hospital compensation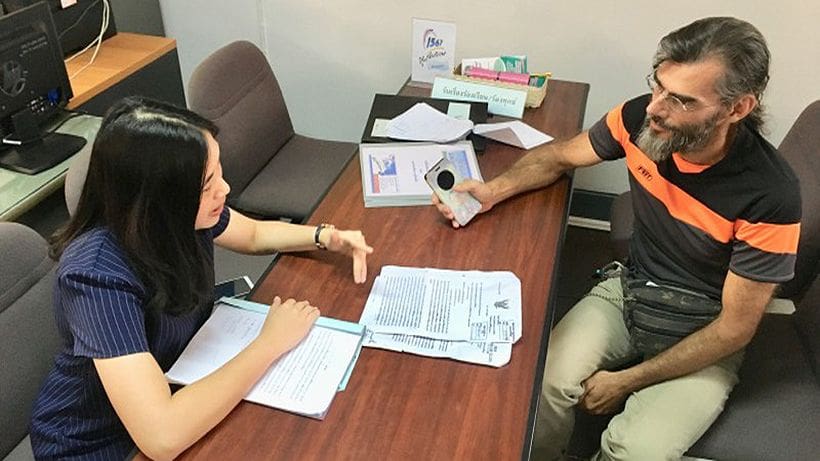 Thai media 77jowo is reporting that the Hua Hin Hospital and the Department of Public Health have agreed to return more than 20,000 baht to a man from the Netherlands who claims he was ripped off by the hospital because he was a foreigner.
Back in September 2016 a man, Erwin Buse, complained to the government watchdog Damrongtham in Prajuap Khiri Khan that he had been obliged to pay 300 baht for each visit to the hospital and an unexplained 858 baht "admission fee". The man, a former engineer, was suffering from prostate cancer at the time.
He claims that he was ripped off because he was a foreigner. By that time he had already been in Thailand ten years and had a Thai wife.
But he says justice was slow in coming. He recounted that visits to the hospital were painful round trips of 200 kilometers on a motorcycle. He says the hospital kept on coming up with excuses not to pay him.
But 77Jowo reported good news for Mr Buse on a recent visit to the Prajuap Damrongtham office. He was told by the office that he would be receiving 20,000 baht from the Hua Hin Hospital and the Department of Public Health by the end of this month. The fight has been dragging on for two years.
Thai media is reporting that Mr Buse now suffers from intestinal cancer, has no job and looks after goats. His Thai wife runs a salon in Makham Khong, Koh Lak, they said.
SOURCE: 77Jowo
400,000 baht Hua Hin shark net comes loose again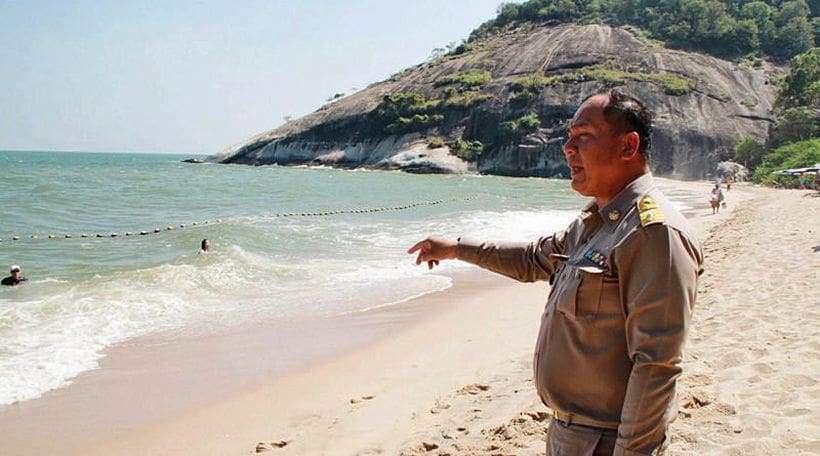 Talknewsonline is reporting that the shark net installed along Sai Noi Beach in Hua Hin has come loose for the second time and floated ashore.
The net was installed back in September after a Norwegian tourist Werner Danielsen was bitten by an alleged shark while swimming at the beach last April.
Official visited the beach yesterday after a local hotel manager called to say the net had come loose from its anchoring buoys in heavy seas. Officials confirmed that it was the second time the net had become detached but that it would be fixed by next week.
The net was installed at a cost of 400,000 baht after much debate following the attack by what was thought to be a bull shark. Mr Danielsen, who has a Thai wife and visits Thailand each year, needed expensive treatment in two hospitals and racked up bills of a reported 300,000 baht during his recovery.
Read more about that incident HERE.
SOURCE: Talknewsonline