Same-sex civil union bill ready for Cabinet in two months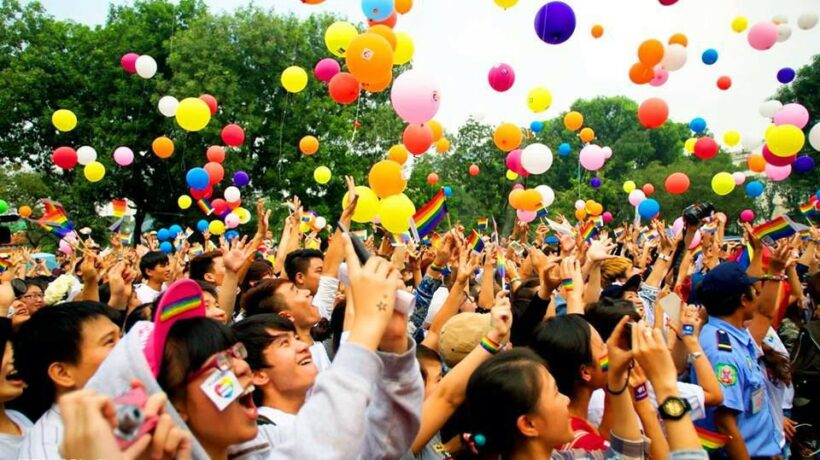 A same-sex civil partnership law should be drafted and discussed before next year's elections.
Pitikarn Sitthidech, the Rights and Liberties Protection Department chief, saystThe law, allowing same-sex couples to formally register as life partners, should be drafted by September.
It would then be submitted to Deputy PM and Justice Minister ACM Prajin Juntong, who would decide whether it should go to the Cabinet, she said.
Pitikarn says the sub-panel drafting the legislation that's been hailed by some as a progressive step towards the legalisation of gay marriage would meet on July 25 to review its 63 articles. Panel members were likely to make adjustments, she said, some based on the experiences of other countries that have adopted similar legislation, such as Mexico, South Africa, Canada, Australia and Britain.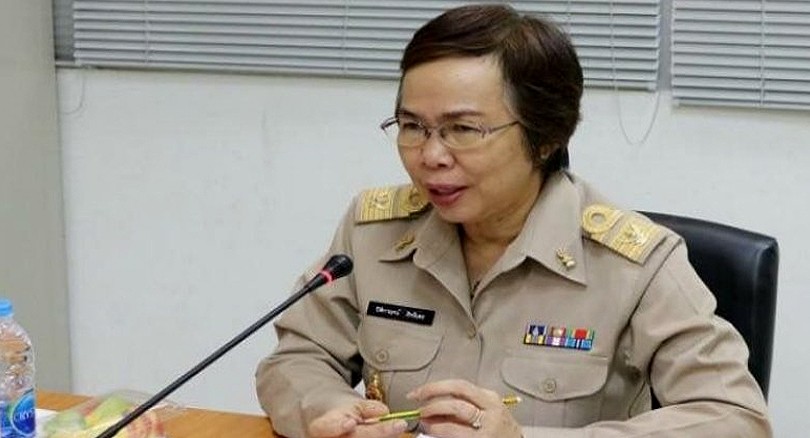 Pitikarn Sitthidech – Rights and Liberties Protection Department chief 
The bill will then be forwarded to the Rights Department's law development committee for further tweaking in September, and then to Prajin, Pitikarn said. She pointed out that the process in some countries had taken up to 10 years, but Prajin wanted to fast-track Thailand's version because of the many LGBT (lesbian, gay, transgendered and bisexual) citizens who deserve the same rights as everyone else.
Pitikarn said Prajin had insisted that the authors of the legislation understand the situation in society well and the sensitivities involved. He wanted guidelines set out to support the status of same-sex life partners registered in other countries who were now living in Thailand to ensure they enjoyed the rights to which they were entitled.
Prajin wanted it made clear which agency would handle registrations once the law comes into effect. And he expects the law to lay the foundation for the legalisation of gay marriage.
"Since the ministry began moving forward on this law, we have received good feedback from the LGBT community and a 60,000-name petition expressing support for the action, as well as much useful information," Pitikarn said.
"I believe many more people are passively supporting this law – the many who haven't yet expressed their LGBT status."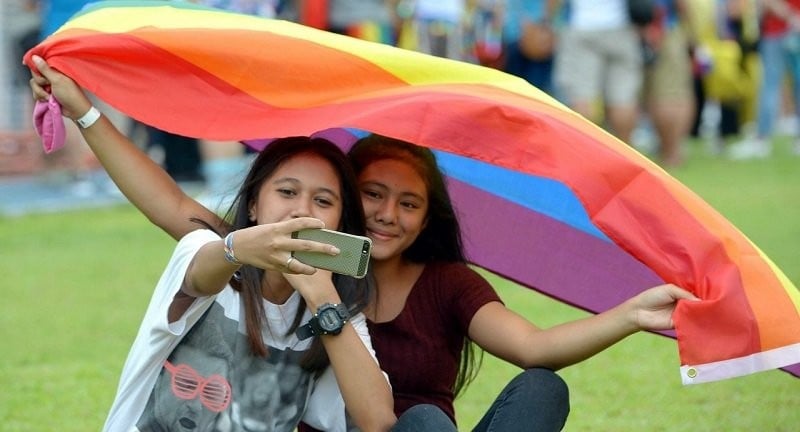 SOURCE: The Nation


Read more headlines, reports & breaking news in Thailand. Or catch up on your Thailand news.
Strong baht a concern for Thai hotel sector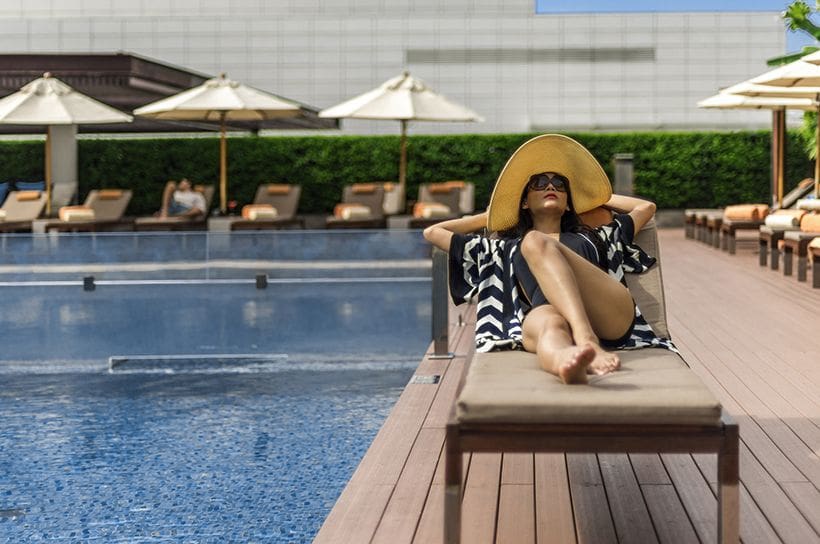 by Bill Barnett
Thailand's baht performance against Asian currencies in 2018, was unmatched, with the exception of the Japanese yen.
Commenting on the trend financial news Bloomberg have highlighted that in 2019, a further 4% in growth this year have it sitting at the top of the table.
Oddly, one of the underlying factors stimulating the baht's appreciation is the recovery in tourism arrivals which has a double-digit impact on the country's GDP.
While the elections remain a wild card on forward expectations, the reality is that the currency has not been hit like the Chinese yuan, which has been disrupted by a threatened U.S. China trade war and slowdown in its economy.
Despite higher than expected tourism numbers in 2018, hotel owners are cautiously optimistic on the prospects for the year.
In reality, despite rising prices for visitors, the economic climate is leading many property developers turning to hospitality assets as the real estate market remains volatile. The general view is that sustainable cash flow as part of their business mix is good and that tourism fundamentals remain strong.
Still, looking at nearby competitors such as Vietnam, which is rapidly growing from a cub into a tourism tiger, the issue of affordability is concerning. Currency swings remain a real and present factor in demand, so expect hoteliers to keep watching currency levels closely in 2019.
Chinese tourists spend big during Chinese New Year holiday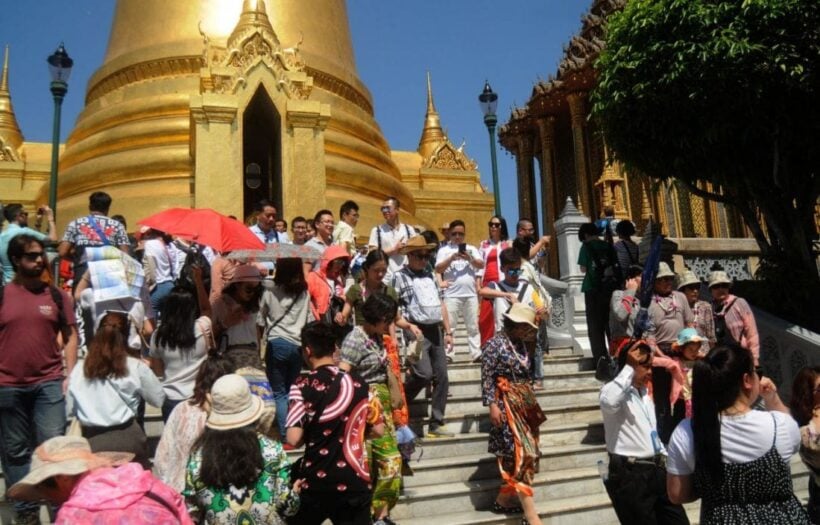 Spending by Chinese tourists during the Chinese New Year holiday around the world was the highest in Thailand.
Alipay, a leading digital payment platform offered by Ant Financial, an affiliate of Alibaba Group has done the sums. The transactions were recorded between February 4-10, and data drawn from the 54 international markets where Alipay is accepted.
The number of transactions in Thailand ranked second worldwide after Hong Kong, and topped the list in Southeast Asia with an average spending of 1,646 yuan (7,650 baht).
The high spending was put down to convenience stores and duty-free shops accepting Alipay and offering special promotions for Alipay users.
King Power Duty Free recorded a 50 per cent increase in transactions thanks to discounts for Alipay users, while transactions at convenience stores also rose by 38 per cent due to their "Alipay corner".
Chinese visitors are also now able to get tax refunds at 7-Eleven branches in the capital.
Chinese spenders, although spending less time per holiday, spend more per person, per day than other tourist demographics entering the country.
Read a previous story about tourist spending patterns HERE.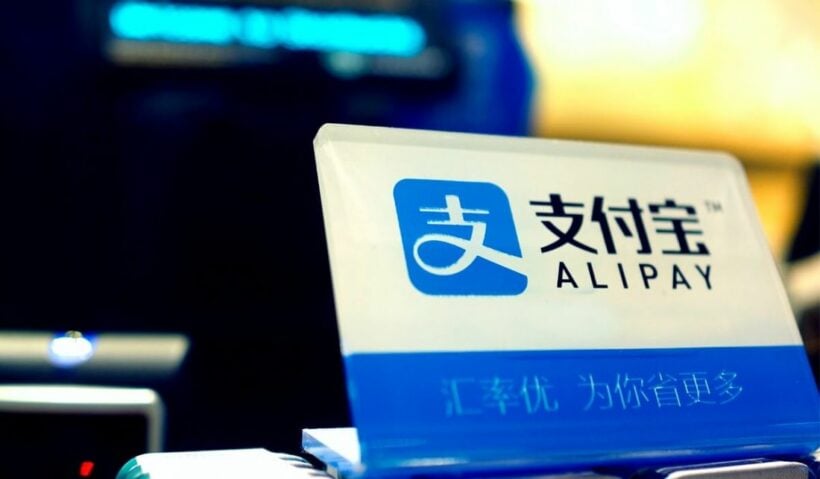 Top 10 Phuket fitness options – get fit on a tropical paradise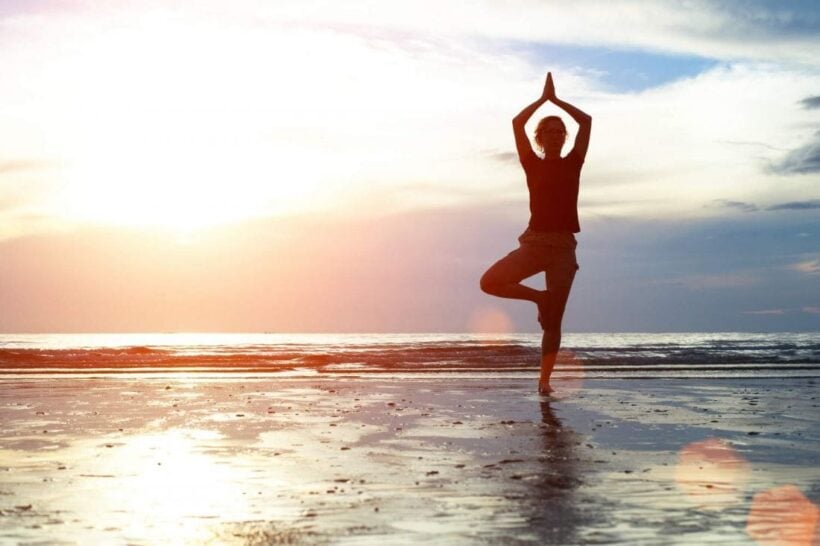 by Krix Luther
Living and working in Phuket for more than 11 years as a full-time Personal Trainer, I have had the pleasure of watching the island develop and make its mark on the wider Health and Fitness industry. I can comfortably say it is becoming an important Health, fitness and wellness hub of South East Asia.
The island has an incredible amount to offer, so much so, you could get lost if you don't know exactly what you're looking for. Knowing what is what, what to do, where to start and which is best for you and your fitness journey, can be a daunting task.
Here's a snapshot of what the island has to offer, whether you're a beginner, average gym rat, fitness enthusiast or pro athlete. You will find something that suits you. 
So, in no particular order, here are the Top 10 Phuket fitness options.
1. Phuket Detox Centres
Phuket Detox Centre? At first, most people think a Detox centre is some sort of Drug Rehab facility. Although a lot of detox centres in Phuket will state they can aid their clients in overcoming some addictions, their primary objective is to help people cleanse and detoxify the body through different variations of fasting and or dieting.
(The Thaiger recommends you should consult with a medical professional before undertaking any detox treatment)
Phuket detox centres offer similar options. Full fast (which means eating nothing but supplements), Juice cleanse, Raw Food Diet and Healthy Eating. There are plenty of other programs available around the island.
Included in these programs are, yoga, meditation and fitness/movement classes, morning beach walks, wellness talks and a variety of other holistic practices, all tailored to help the body heal itself, emotionally, spiritually, mentally and physically.
I have worked with pretty much every major detox centre on the island, and they all have their own niche,  styles and methods.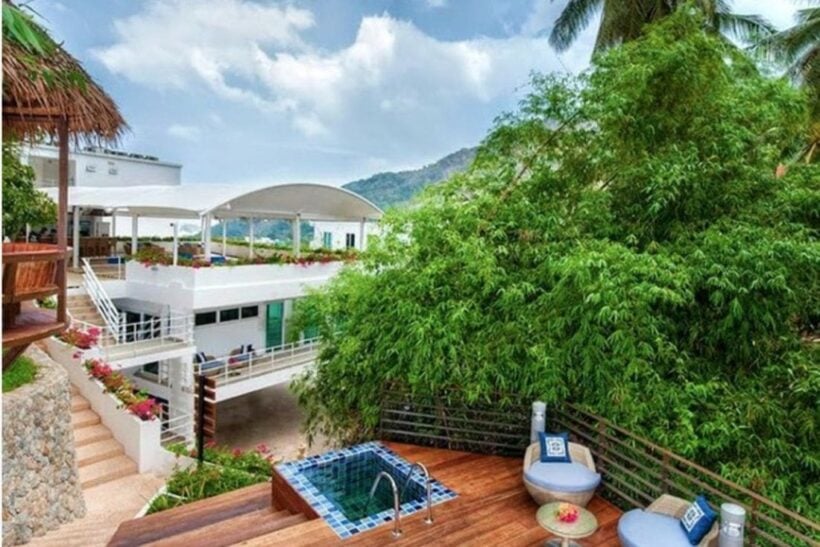 2. Phuket Muay Thai Camps
Thai Boxing (Muay Thai) is Thailands national sport and is huge in Phuket. 13 years ago there was only a handful of local Muay Thai Gyms in Phuket. It wasn't until a gym called Rawai Muay Thai decided to build a professional website, social media presence and advertise Muay Thai training in Phuket to westerners abroad.
Watching its explosive success, it wasn't long until more gyms popped up doing the same thing. Sinbi Muay Thai, Tiger Muay Thai, Dragon Muay Thai, etc. Then with the growing popularity of UFC, some of these Muay Thai Gyms started hiring MMA coaches along with Brazilian Jujitsu specialists and trainers with wrestling backgrounds. I believe Phuket Top Team were the first to do this followed by Tiger, now you have dedicated MMA gyms like AKA Thailand joining the island.
Muay Thai Gyms in Phuket seem to be popping up as fast as 7 Elevens, some are closing with equal speed as well. But if you are looking to better your Muay Thai game or just would like to get fit by trying something new, then you can check out the list of well established Muay Thai gyms in HERE.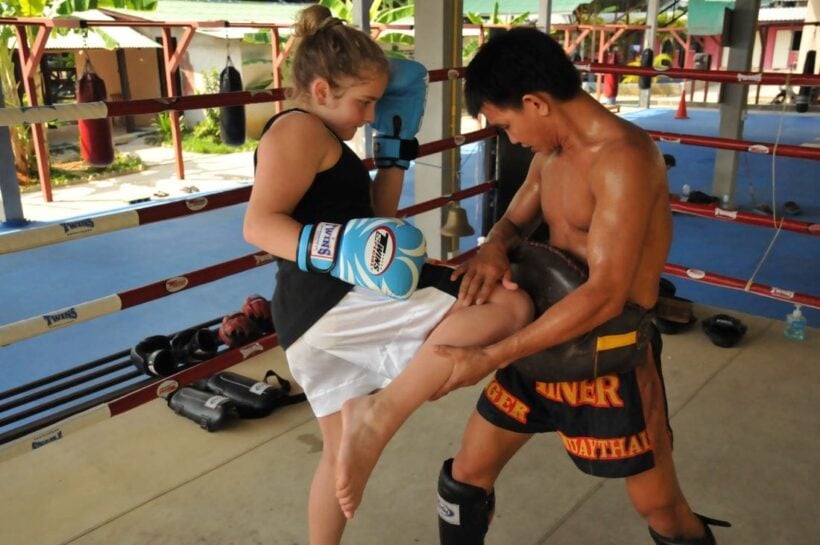 3. Phuket Fitness Centres
There are a lot of gyms now that are just 100% dedicated to fitness classes. Like Phuket Cross Fit, Yoga, TRX, Circuit & HIIT training, correction workouts, workshops and more. They don't have a regular weightlifting facility or gym membership where you can just rock up and hit the weights whenever you want. It is just a pure class schedule fitness centre.
The main open Phuket fitness centres I would say are Titan Fitness and Unit 27. By "open" I mean you can pop in for 1 class or buy into monthly or block packages. Then there is Phuket Fit, and Phuket Cleanse that is more closed and comprehensive, what I mean by that is they include on-site accommodation and meals, and you can not just walk in for the one-off session, you have to be booked into their program.
All are great facilities. If this is something that's more of an interest to you, then you can check them out HERE.
4. Phuket Gyms
Phuket has a vast selection of high-end gyms, with top-notch equipment and facilities as well as your old school dirty, rough, broken equipment, no hygiene, Rocky Balboa style gyms. Whichever your preference, Phuket has a gym that suits your needs and budget. So if you are just looking to join a gym on your visit then here is a list of the best gyms in Phuket.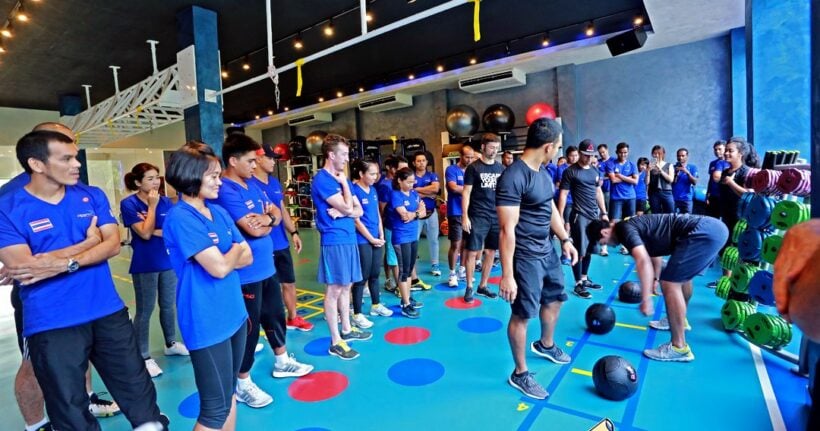 RPM Health Club, Koh Kaew – PHOTO: Phuket Index
5. Phuket Personal Trainers
There are a lot of Personal Trainers in Phuket but only a few freelance ones. Most are attached to a gym or fitness centre and cannot work outside these places. Many people wonder, is a personal trainer worth it? In my biased opinion, the answer would be "Yes… if you can find a good one."
You can read my article here on "what makes a good trainer." So you can make your own assessment of the trainer you hired or are about to hire.
6. Phuket Yoga Retreats
Just like personal trainers, there are a lot of yoga instructors in Phuket and few Freelance ones like my friend Kim White. But there are also some great Phuket yoga retreats. These yoga retreats are similar to the detox centres, they are enclosed facilities with accommodation, food, yoga classes along with other holistic heal classes and workshops.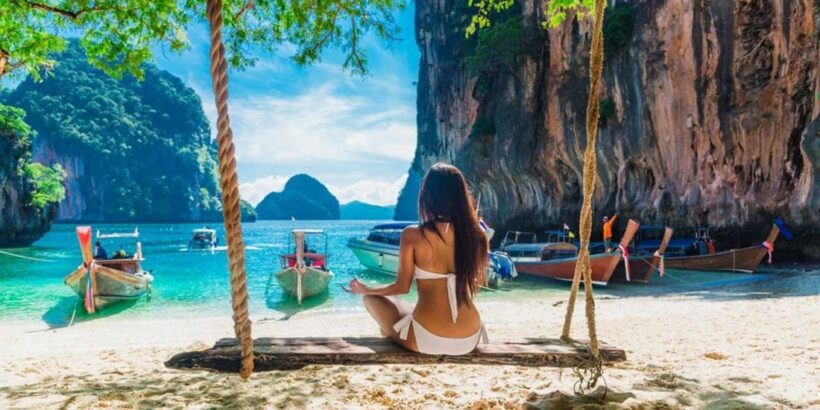 PHOTO: Yoga Health Journal
7. The Great Outdoors
One of the best things about Phuket is that it's beautiful, the oceans, the beaches, and nature surrounded it. Despite the island's obsession with getting rid of single-use plastics it still has fantastic places to swim and snorkel.
You can hire a bike and cycle around the mountain roads and be mesmerised by the stunning views, or you can join in the Clean The Beach Boot Camp and have a great workout on the beach once every two weeks, exercising in the sand, the ocean and nature. There is nothing like kicking off the shoes and training in your bare feet. Enjoy the beaches, rainforests, walks and activities around the island. It's warm and hot all year round (with a bit of rain between May and November).  Here's a list of our Top 10 beaches.
As a last resort, and you're not a 'bicycle' sort of person, rent a motorbike and let the engine do the hard work for you. Make sure you wear a helmet (it's law), have the appropriate health or travel insurance and appropriate driving license.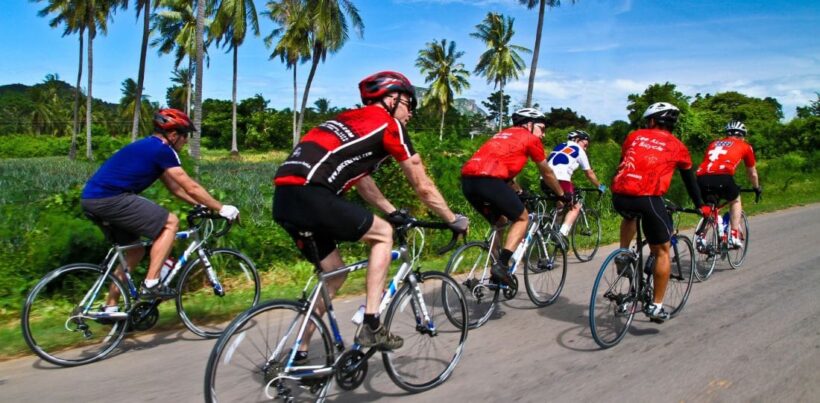 8. Meditation
In the health and fitness industry, meditation is very much underrated, but there are a lot of physical benefits of meditation, not just mental/psychological ones. And in Phuket, there is a great place to learn how to meditate or take your meditation to the next level at the Phuket Meditation Centre.
If it's something you were curious about then I would highly recommend trying it out. They have free introductory classes every Tuesday and Thursday. 
9. Phuket Free Diving/Scuba Diving
Just like the great outdoors there are some great spots to do a bit of diving in Phuket. Whether you are a hardcore free diver or looking to get your first Scuba Diving certificate, then Phuket has some great options for you. Make sure your divers are accredited and check their experience in diving around the island.
10. Massage, Ice Baths, Sauna
If you going to train hard, then you best recover hard. There is nothing like booking a fitness holiday and overtraining in the first week and getting injured. Phuket has some great relax and recovery facilities, from massages to Sauna and Ice Baths and even float therapy in a sensory deprivation tank. These are great for reducing stress, lowering cortisol levels and preventing you from seeing those classic signs and symptoms of overtraining.