PM Yingluck orders budget airlines to move to "Bangkok LCC'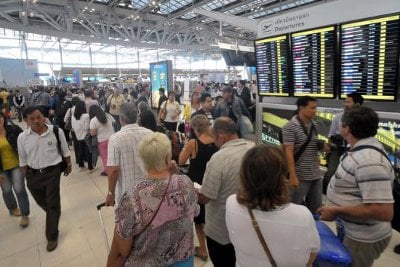 PHUKET (The Nation): In a move that will affect all tourists flying from Bangkok to Phuket on low-cost airlines, Prime Minister Yingluck Shinawatra has ordered all low-cost carriers (LCCs) to move operations to Don Mueang Airport.
The move is aimed at improving air and runway traffic at Suvarnabhumi Airport, but the plan is unlikely to ease the current turmoil frustrating countless travellers.
The shift of LCCs to Don Mueang was announced by Deputy Prime Minister and Tourism and Sports Minister Chumpol Silapa-archa yesterday in response to a growing outcry from departing Suvarnabhumi passengers, many of whom have missed or nearly missed their flights because of congestion at the airport.
People familiar with the problem doubt whether the long-planned move of LCC services to Don Mueang will ease the current crisis at Suvarnabhumi, where renovation work has cut the capacity of immigration checkpoints by two-thirds.
Officials contacted by The Nation yesterday could not say for certain when the renovation work would be completed.
Mr Chumpol admitted that the current problem of passenger congestion stemmed from the fact that only one of Suvarnabhumi's three immigration gates was operating.
International passengers are now being advised to arrive at the airport at least three hours before their flight leaves, rather than the worldwide standard of two hours.
Mr Chumpol said news of the passenger bottleneck reached him only on Wednesday. He said he could not get involved with the problem but gave assurances that the transfer of LCCs to Don Mueang Airport would help reduce the congestion.
He is now working with the Ministry of Tourism and Sports, the Tourism Authority of Thailand, Tourist Police, and Airports of Thailand (AOT) to help increase personnel by 30 to 40.
Deputy Transport Minister Chatchart Sithipan said yesterday that the ministry would increase the number of officers at Suvarnabhumi's immigration desks to help relieve congestion in the short term.
AOT, as the airport operator, has been assigned the task. In addition, the ministry is coordinating with police to help out.
In the long term, he said the airport would deploy technologies such as an e-passport system that takes less time to clear passengers, especially Thais. This would also resolve the problem of congestion at the airport during rush hours. Currently, Suvarnabhumi has annual traffic of 48 million passengers, in excess of its capacity of 45 million.
An Immigration Police source said increasing checkpoint staff was not the answer. "All checkpoints are being manned to full capacity. The problem is not shortage of personnel," the source said.
A source at the Transport Ministry said the government had already planned to move all domestic and international LCC flights to Don Mueang Airport as a long-term strategy to resolve congestion at Suvarnabhumi Airport.
"It's believed that the government must encourage low-cost airlines with incentives to move their services to Don Mueang Airport," said the source, adding that AirAsia alone had from 82 to 90 flights a day.
Apart from AirAsia, major low-cost airlines using Suvarnabhumi Airport are Bangkok Airways and Orient Thai.
Somchai Sawasdipol, acting director of Suvarnabhumi Airport, said he had coordinated with immigration officials to solve the problem of long queues and would pay 100,000 per day as an incentive for immigration officials to work overtime.
There are currently 124 immigration counters dedicated for inbound passengers and 80 for outbound travellers.
Maiyarat Pheerayakoses, president of the Association of Domestic Travel, said she had no problem with the government's move to shift all LCC flights to Don Mueang. However, she said the government should be mindful of passengers making connecting flights.
As a long-term solution, she said she did not mind having two airports in Bangkok. It is common in other nations to have separate domestic and international airports. However, transport connection between the two must be developed well to make it convenient for passengers.
The new phase of construction development at Suvarnabhumi should proceed quickly so as to be ready to serve the growing number of passengers after the implementation of the Asean Economic Community (AEC) in 2015, she said.
Speaking of the current congestion, she said the problem was due to mismanagement by the Immigration Bureau at the airport. She urged the agency to tackle the problem quickly by increasing the number of officers working at the airport.
Don Meuang Airport reopened on March 4 after being inundated by the worst floods to hit Thailand in 50 years late last year.
Nok Air has already resumed its operations at Don Meuang.
— The Nation
Keep in contact with The Thaiger by following our Facebook page.
Never miss out on future posts by following The Thaiger.
PM Prayut postponing Covid‐19 vaccination citing paperwork issues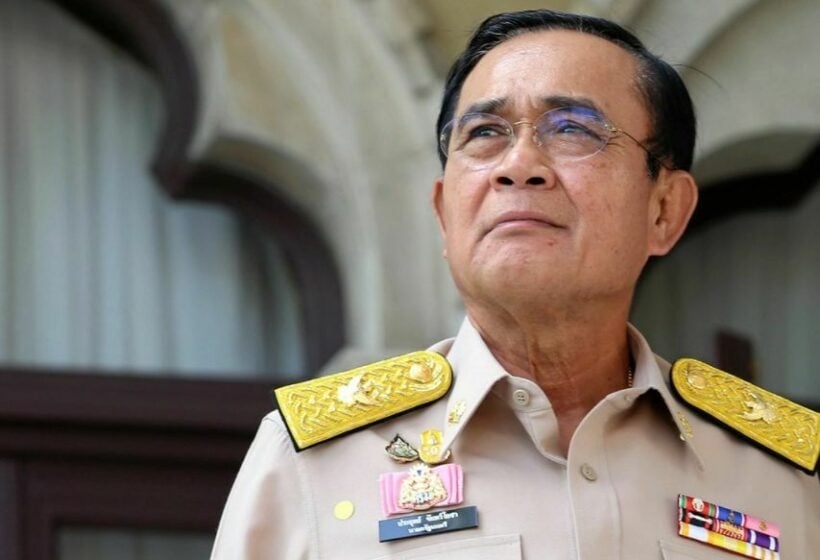 Thailand's PM Prayut Chan-o-cha is postponing his inaugural Covid‐19 vaccination citing paperwork issues with the AstraZeneca vaccine shipment. According to Khaosod English, the vaccine shipment was sent to Thailand last Wednesday from South Korea, but was missing the additional required paperwork.
Prayut was supposed to receive the vaccine tomorrow, but the highly‐publicised event will not be happening. According to Khaosod English, an official at the Secretariat of the Prime Minister has also confirmed the news of the postponement without citing a reason.
Although the Sinovac vaccine is also being administered in Thailand, healthcare officials say Prayut is too old to receive it as its age limit is 60. Prayut is 66 years old, which is well over the oldest age that can receive the vaccine.
The Sinovac vaccine drive is set to commence on Monday, 2 weeks behind schedule. Those frontline health workers, hospitality workers and vulnerable groups will receive the vaccines first.
Meanwhile, Phuket is waiting for the green lightto start administering vaccines and has already held a vaccine administration rehearsal overseen by Phuket Vice Governor Pichet Panapong along with other health officials.
Pichet says the first vaccine round of 4,000 doses should arrive early in March, with the 2nd and 3rd set of doses, 16,000 and 48,000 respectively, to arrive in April and May.
The government pandemic center reported 72 new confirmed infections on Friday, after first only reporting 45 new cases. 37 of those cases were locally-transmitted, and one 6 year old Thai girl returning from the UK was found to have tested positive for the virus. Samut Sakhon, again, reported over half of the new cases yesterday, as it remains the epicentre of Thailand's second wave of the coronavirus outbreak.
The total virus tally in Thailand sits at 25,764, with 83 fatalities. The Centre for Covid-19 Situation Administration has not yet announced the amount of new cases for today.
There is no word yet on when PM Prayut will be rescheduled to receive the AstraZeneca vaccine.
SOURCE: Khaosod English
Keep in contact with The Thaiger by following our Facebook page.
Never miss out on future posts by following The Thaiger.
Thailand News Today | Week In Review | February 26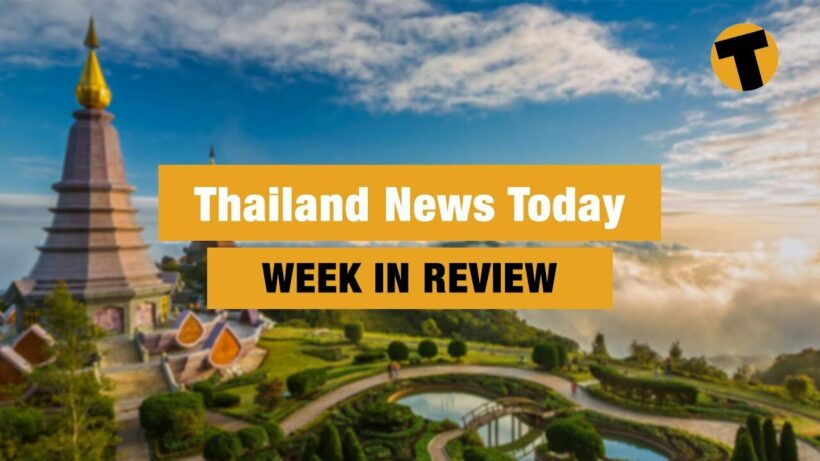 Thailand News Today usually covers five days of the news week. This week only four days as today (Friday) is a public holiday. Now we have a weekend edition which goes over the biggest, or best stories, from the past week. Out every Saturday afternoon, catch up with Jett and Tim's major Thai news stories. Welcome to the Thailand News Today Week in Review. Tim and Jett give you a quick recap of the main news stories.
To get all the latest news and information about Thailand, go to https://thethaiger.com. Like and subscribe our YouTube channel too. Go on, right now 🙂
You can also LIKE our Facebook page https://facebook.com/thethaigernews to get even more information about Thailand.
Keep in contact with The Thaiger by following our Facebook page.
Never miss out on future posts by following The Thaiger.
45 new cases today, 37 local‐Covid‐19‐Update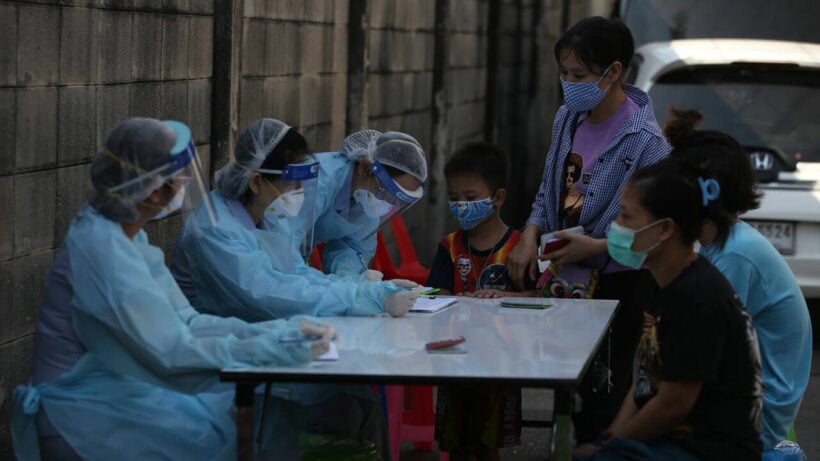 Thailand reports 45 new cases of Covid-19cases today, with 37 infections being locally-transmitted. 8 of those infections were imported, raising the total amount of infections since the pandemic began to 25,809.
The Department of Disease Control reports that 32 cases were confirmed at hospitals with 5 confirmed through active case finding in communities.
Samut Sakhon province, the 2nd wave epicentre, reported over half of the new cases at 19. 14 of those cases were confirmed at hospitals and 5 were detected in Myanmar communities. Bangkok has reported 3 new cases, Nakhon Nayok reported 5, Chai Nat 3, Nakhon Pathom 3, Saraburi 2, Prachuap Khiri Khan 1, and Samut Prakan 1.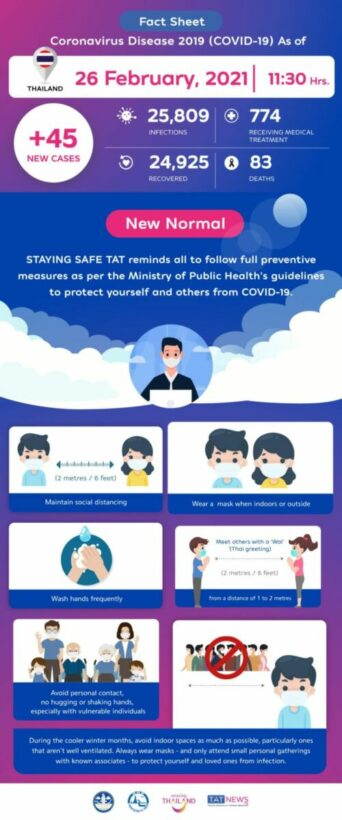 The 8 imported cases were those under quarantine arriving from Pakistan, Bangladesh, the UK, Germany, France, The Netherlands, and Kuwait. The case from the UK was that of a 6 year old Thai schoolgirl.
Globally, Covid-19 cases rose by 444,466 over the past day to 113.54 million. The worldwide death toll increased by 10,552 to 2.52 million. The United States still has the most cases at 29.5 million, with the most deaths at 520,785.
SOURCE: Bangkok Post
Keep in contact with The Thaiger by following our Facebook page.
Never miss out on future posts by following The Thaiger.