Phuket Gazette Thailand News: Thailand a smuggler's paradise for abused Rohingya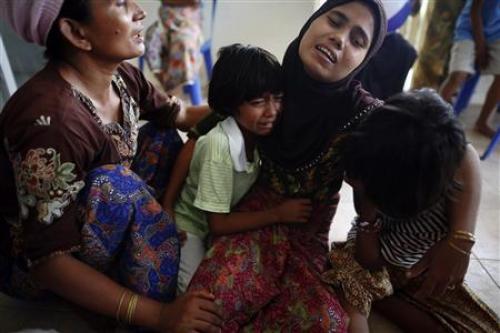 PHUKET MEDIA WATCH
– Thailand news selected by Gazette editors for Phuket's international community
Thailand a smuggler's paradise for abused Rohingya
Reuters / Phuket Gazette
PHUKET: The beatings were accompanied by threats: If his family didn't produce the money, Myanmar refugee Abdul Sabur would be sold into slavery on a fishing boat, his captors shouted, lashing him with bamboo sticks.
It had been more than two months since Sabur and his wife set sail from Myanmar with 118 other Rohingya Muslims to escape violence and persecution. Twelve died on the disastrous voyage. The survivors were imprisoned in India and then handed over to people smugglers in southern Thailand.
As the smugglers beat Sabur in their jungle hideout, they kept a phone line open so that his relatives could hear his screams and speed up payment of $1,800 to secure his release.
"Every time there was a delay or problem with the payment they would hurt us again," said Sabur, a tall fisherman from Myanmar's western Rakhine state.
He was part of the swelling flood of Rohingya who have fled Myanmar by sea this past year, in one of the biggest movements of boat people since the Vietnam War ended.
Their fast-growing exodus is a sign of Muslim desperation in Buddhist-majority Myanmar, also known as Burma. Ethnic and religious tensions simmered during 49 years of military rule. But under the reformist government that took power in March 2011, Myanmar has endured its worst communal bloodshed in generations.
A Reuters investigation, based on interviews with people smugglers and more than two dozen survivors of boat voyages, reveals how some Thai naval security forces work systematically with smugglers to profit from the surge in fleeing Rohingya. The lucrative smuggling network transports the Rohingya mainly into neighboring Malaysia, a Muslim-majority country they view as a haven from persecution.
Once in the smugglers' hands, Rohingya men are often beaten until they come up with the money for their passage. Those who can't pay are handed over to traffickers, who sometimes sell the men as indentured servants on farms or into slavery on Thai fishing boats. There, they become part of the country's $8 billion seafood-export business, which supplies consumers in the United States, Japan and Europe.
Some Rohingya women are sold as brides, Reuters found. Other Rohingya languish in overcrowded Thai and Malaysian immigration detention centers.
Reuters reconstructed one deadly journey by 120 Rohingya, tracing their dealings with smugglers through interviews with the passengers and their families. They included Sabur and his 46-year-old mother-in-law Sabmeraz; Rahim, a 22-year-old rice farmer, and his friend Abdul Hamid, 27; and Abdul Rahim, 27, a shopkeeper.
While the death toll on their boat was unusually high, the accounts of mistreatment by authorities and smugglers were similar to those of survivors from other boats interviewed by Reuters.
The Rohingya exodus, and the state measures that fuel it, undermine Myanmar's carefully crafted image of ethnic reconciliation and stability that helped persuade the United States and Europe to suspend most sanctions.
At least 800 people, mostly Rohingya, have died at sea after their boats broke down or capsized in the past year, says the Arakan Project, an advocacy group that has studied Rohingya migration since 2006. The escalating death toll prompted the United Nations this year to call that part of the Indian Ocean one of world's "deadliest stretches of water."
EXTENDED FAMILIES
For more than a decade, Rohingya men have set sail in search of work in neighboring countries. A one-way voyage typically costs about 200,000 kyat, or $205, a small fortune by local standards. The extended Rohingya families who raise the sum regard it as an investment; many survive off money sent from relatives overseas.
The number boarding boats from Myanmar and neighboring Bangladesh reached 34,626 people from June 2012 to May of this year – more than four times the previous year, says the Arakan Project. Almost all are Rohingya Muslims from Myanmar. Unprecedented numbers of women and children are making these dangerous voyages.
A sophisticated smuggling industry is developing around them, drawing in other refugees across South Asia. Ramshackle fishing boats are being replaced by cargo ships crewed by smugglers and teeming with passengers. In June alone, six such ships disgorged hundreds of Rohingya and other refugees on remote Thai islands controlled by smugglers, the Arakan Project said.
Sabur and the others who sailed on the doomed 35-foot fishing boat came from Rakhine, a rugged coastal state where Rohingya claim a centuries-old lineage. The government calls them illegal "Bengali" migrants from Bangladesh who arrived during British rule in the 19th century. Most of the 1.1 million Rohingya of Rakhine state are denied citizenship and refused passports.
Machete-wielding Rakhine Buddhists destroyed Sabur's village last October, forcing him to abandon his home south of Sittwe, capital of Rakhine state. Last year's communal unrest in Rakhine made 140,000 homeless, most of them Rohingya. Myanmar's government says 192 people died; Rohingya activists put the toll as high as 748.
Before the violence, the Rohingya were the poorest people in the second-poorest state of Southeast Asia's poorest country. Today, despite Myanmar's historic reforms, they are worse off.
Tens of thousands live in squalid, disease-ridden displacement camps on the outskirts of Sittwe. Armed checkpoints prevent them from returning to the paddy fields and markets on which their livelihoods depend. Rohingya families in some areas have been banned from having more than two children.
Sabur's 33-member extended family spent several months wandering between camps before the family patriarch, an Islamic teacher in Malaysia named Arif Ali, helped them buy a fishing boat. They planned to sail straight to Malaysia to avoid Thailand's notorious smugglers.
Dozens of other paying passengers signed up for the voyage, along with an inexperienced captain who steered them to disaster.
DYING, ONE BY ONE
The small fishing boat set off from Myengu Island near Sittwe on February 15. The first two days went smoothly. Passengers huddled in groups, eating rice, dried fish and potatoes cooked in small pots over firewood. Space was so tight no one could stretch their legs while sleeping, said Rahim, the rice farmer, who like many Rohingya Muslims goes by one name.
Rahim's last few months had been horrific. A Rakhine mob killed his older brother in October and burned his family's rice farm to the ground. He spent two months in jail and was never told why. "The charge seemed to be that I was a young man," he said. Rakhine state authorities have acknowledged arresting Rohingya men deemed a threat to security.
High seas and gusting winds nearly swamped the boat on the third day. The captain seemed to panic, survivors said. Fearing the ship would capsize, he dumped five bags of rice and two water tanks overboard – half their supplies.
It steadied, but it was soon clear they had another problem – the captain admitted he was lost. By February 24, after more than a week at sea, supplies of water, food and fuel were gone.
"People started dying, one by one," said Sabmeraz, the grandmother.
The Islamic janaza funeral prayer was whispered over the washed and shrouded corpses of four women and two children who died first. Among them: Sabmeraz's daughter and two young grandchildren.
— Phuket Gazette Editors
Keep in contact with The Thaiger by following our
Facebook page
.
Never miss out on future posts by
following The Thaiger
.
Thailand beaches may limit visitors until Covid-19 vaccine is available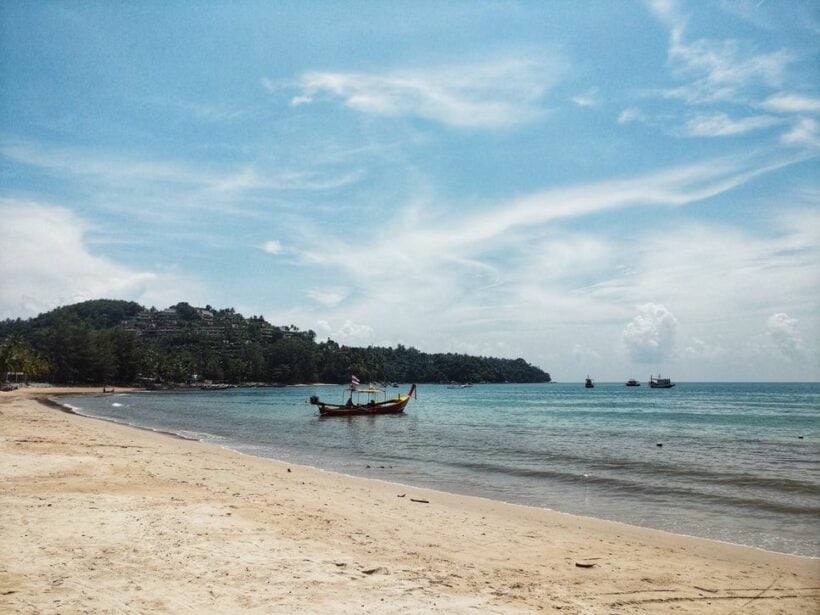 Beaches and national parks might not fully open to international tourists until a Covid-19 vaccine is available. Around 120 to 150 tourists departing from China are set to arrive in Phuket on October 8 after a 6 month ban on international tourists. They'll have to go through a 14 day state quarantine, but after that, they may not be able to enjoy some of the island's beaches. A report from Bloomberg says it's "unlikely" beaches and parks will fully open to overseas travellers until a vaccine is out.
Thailand's borders won't fully reopen to international tourists until a vaccine is widely available to the public, according to Tourism Council of Thailand president Chairat Trirattanajarasporn. For the time being, only tourists on select charter flights with a 90 day Special Tourist Visa can enter the country.
"It's good for the country to reopen even if it's just for trial … Once we've tested our reopening plan for a month, we can assess how to go forward and allow more visitors to come in."
The new Special Tourist Visa is an effort intended to help revive Thailand's tourism industry which has been crippled by the coronavirus pandemic. According to Bloomberg, the sector makes but about a fifth of the nation's economy. Last year, the tourism industry generated 1.9 trillion baht with about 40 million foreign visitors. With travel restrictions in place to control the spread of the coronavirus, Chairat predicts tourism revenue will drop 82.6% to 336.5 billion baht by the end of the year.
"Businesses that rely on foreign tourists, especially in Phuket, Samui, Pattaya and Chiang Mai, will continue to close in the coming months because there would only be a small group of people coming in after the reopening."
SOURCE: Bloomberg
Keep in contact with The Thaiger by following our
Facebook page
.
Never miss out on future posts by
following The Thaiger
.
Thailand News Today | Phuket re-opens, TripAdvisor review saga, Samut Prakhan chem spill | Sept 30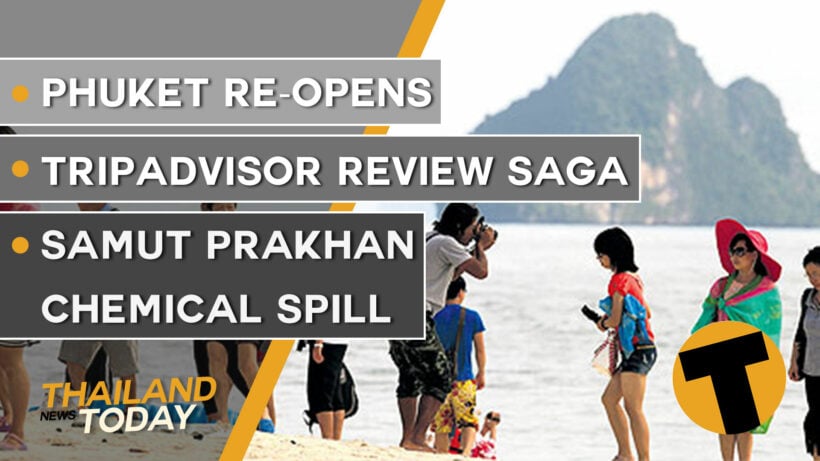 Daily TV news about Thailand. Updates and all the latest information from thethaiger.com.
Phuket prepares to welcome first Chinese tourists in over 6 months
The first group of tourists to arrive under Thailand's new Special Tourist Visa scheme will land in Phuket on October 8.
The flight from Guangzhou in southern China will carry 120 tourists, who will spend their first 14 days in alternative state quarantine. They are reported to be travelling under the government's new STV.
The resort islands of Phuket and Koh Samui will be the first to welcome travellers under the Special Tourist Via scheme. Guangzhou has not recorded any new cases of the Covid-19 virus for a prolonged period.
The CCSA reports that there will be a limit of 300 foreign tourists admitted each week, but this will be reviewed after the first phase of the re-opening. All arrivals will be subject to 14 day quarantine.
Minister calls for all complaints against Sarasas schools to be monitored amid abuse allegations
The Education Minister is asking the Office of the Private Education Commission to closely monitor all complaints filed against all Sarasas Witaed School branches around the country.
34 out of 42 of the schools have had complaints filed against them. Allegations of abuse first emerged when the actions of an abusive teacher at a branch of the school in the central province of Nonthaburi, just north of central Bangkok, were captured on CCTV.
Additional complaints made against several other branches of the private school allege harsh punishment, the charging of fees not sanctioned by the Education Ministry, and the use of unqualified teachers. The Thonburi school was also accused of using babysitters as teachers
The man who wrote the bad reviews for Koh Chang's Sea View Resort has a criminal record
In the ongoing stoush between the American, Wesley Barnes, and Koh Chang's Sea View Resort, it's now been revealed that Mr Barnes has been of interest to the US judicial system in the past, being accused of firing a weapon at a bar in Jackson County, Missouri.
Wesley Barnes, who has been working in Thailand as a teacher, posted a number of negative reviews on different platforms, including Trip Advisor, allegedly accusing the Koh Chang resort of "modern day slavery", amongst other complaints. He stayed at the resort in June this year.
But this isn't the first time Mr Barnes has come to the attention of police.
In the US there was an incident which is now public record. There was an official police complaint against the 34 year old in 2017. He was accused of firing a weapon near Waldo Bar, and later at a convenience store, told people he was a federal agent prior to the initial incident.
Of course the man's criminal record doesn't prevent him from posting negative reviews but provides just a little more context to the ongoing saga between the hotel and Mr Barnes.
PM dismisses rumours of alliance with opposition to form new government
Thai PM Prayuth Chan-o-cha has rubbished rumours that the ruling coalition parties plan to join forces with the opposition Pheu Thai party to form a new government.
While the PM initially didn't respond to the question, instead bidding reporters a good day and walking away, he did mumble that he had enough "headaches" with one of his coalition partners.
Meanwhile Deputy PM, Prawit Wongsuwan, also dismissed the question, accusing the media of being behind the speculation. Under the current constitution the Thai PM is elected by a parliamentary majority, and not automatically coming from the leader of the party with the most number of votes. But a coalition between Prayut and Pheu Thai does seem, at face value, extremely unlikely.
Around 10 villagers hospitalised after chemical spill in Samut Prakan
Around 10 people were hospitalised after a chemical tank spilled at a village in Samut Prakan, just southeast of Bangkok.
Those near the spill reported feeling nauseous and some had trouble breathing. Officials do not known what chemical was in the tank.
The 1 metre tank had been taken into the forest by 2 employees at a second hand shop who hoped they could take it apart and sell the scrap metal. The 2 employees fainted when the tank spilled. Trees and grass in a 100 metre radius of the chemical spill also died.
The chemical let off a strong odour and Thai media says the fumes spread to a nearby village. Those at the second hand shop, close by to the chemical spill, started to feel nauseous and some had trouble breathing. Some people reported skin rashes after the incident. Around 10 villagers, including children, were sent to hospital.
Keep in contact with The Thaiger by following our
Facebook page
.
Never miss out on future posts by
following The Thaiger
.
Thailand farmers hope to grow and export cannabis by next year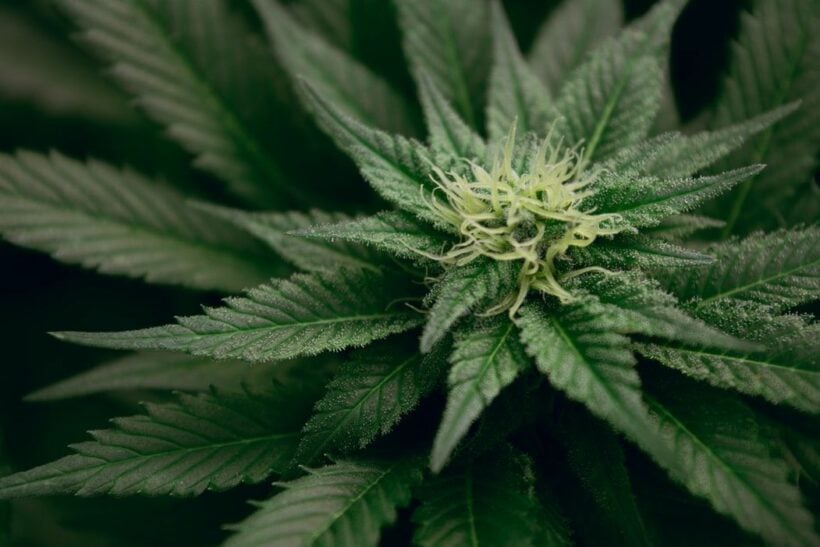 Under a proposed law, Thailand farmers would be allowed to grow cannabis and hemp for export without going through cannabis certified universities or medical institutes. The National Farmers Council president Praphat Panyachatrak says he hopes the new law will be in place by next year. The legislation is still being reviewed by the Public Health Ministry and National Legislative Assembly, but Praphat says he expects an announcement will be made soon.
Thailand's recent rush to decriminalise and even legalise marijuana follows the Bhumjaithai Party joining the government coalition in 2019, headed by current Health Minister Anutin Charnvirakul. His elected MPs provide essential votes for the fragile coalition. His party ran on a platform of legalising marijuana.
Thailand has been gearing up for the global cannabis trade with talk of classifying medical cannabis as an economic crop. The classification would allow the plant to be exported to other countries. The government has also talked about adding a variety of cannabis cultivars to keep up with the demanding cannabis industry.
The National Farmers Council has been advocating for the cultivation of cannabis and Praphat says the new law will make it easier for farmers to grow the plant. He adds that farmers would be able to get a permit to grow cannabis as soon as they got an order from overseas.
Recreational marijuana is still illegal in Thailand and is considered a Category 5 narcotic. Those charged with distributing cannabis face 2 to 10 years in prison and a fine from 40,000 baht to 200,000 baht. Those caught distributing over 10 kilograms of cannabis face up to 15 years in prison and a fine from 200,000 baht to 1,500,000 baht.
SOURCE: Nation Thailand | Chiang Rai Times
Keep in contact with The Thaiger by following our
Facebook page
.
Never miss out on future posts by
following The Thaiger
.