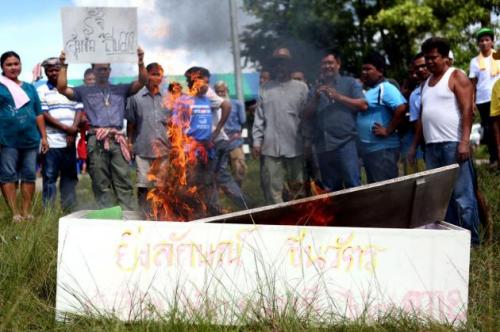 PHUKET MEDIA WATCH
– Thailand news compiled by Gazette editors for Phuket's international community
Close eye on rallies as talks with government fail
The Nation / Phuket Gazette
PHUKET: Authorities are keeping a close eye on protesting rubber farmers amid fears they may step up the rallies currently being held in several southern provinces following the government's decision to reject their demand for intervention in the price of raw rubber sheets, while only granting them subsidy relief.
The protest situation has not changed in the last three days. Announcing the results of tense negotiations on Wednesday evening between farmer groups and the government, Deputy Prime Minister Kittiratt Na-Ranong said yesterday that the annual Bt1,260 per-rai subsidy for farmers owning 10 rai of rubber plantations would be extended to 25 rai.
However, he made no mention of the protesters' key demand that the price of raw rubber sheets, which averages at around Bt70 at present, be boosted to a minimum of Bt101 or Bt120 maximum. Speaking at a Government House press conference, he said those qualifying for the subsidies, in the case of 10-rai plantations extended to cover 25 rai, must not be engaged in rubber farming on state-owned properties. The whole process of seeking an additional budget of Bt10.6 billion, in addition to the Bt22 billion already approved for the 10-rai cases, would take no more than two weeks, he added.
The annual Bt1,260 subsidy will be transferred to the bank accounts of rubber farmers who have registered for it, and would not be paid in the form of cheaper fertilisers and other farming subsidies, Kittiratt said, as was understood by some protesting farmers. He said the price of raw rubber sheets might rise to Bt90 in October. "We must let the price be decided by the market mechanism," he added.
A special government committee was set up yesterday to solve problems with the price of rubber in the long run. The 10-member panel will today travel to Nakhon Si Thammarat to meet a group of rubber farmers at Twin Lotus Hotel to find a way to end the ongoing protest as well as open the blocked roads, Deputy Prime Minister Pracha Promnog said.
A group of protesters in Prachuap Khiri Khan brought 200 car tyres and a fuel drum to a rally site by a Phetkasem Route section at the 413-kilometre marker in Bang Saphan district where they were gathering. They did not say openly what they would do with the tyres and no details were available whether the drum was empty or if it contained something.
Police later dispersed this group of protesters and arrested 10 people. There were bottles thrown at the police during a charge but no serious injuries were reported.
Meanwhile, protesters in Nakhon Si Thammarat agreed to allow access to the railway section of the Ban Toon intersection, though their rally continued at a nearby site. Iad Seng-iad, a protest leader, said the movement would be taken to another level if the government is unable to meet their demands within the seven-day deadline.
Separately, Trang airport officials, guarding against a group of protesters holding a rally nearby, yesterday called on the authorities to provide protection fearing the rubber growers might decide to seize the airport. Songkhla provincial authorities have beefed up security around the Songkhla City Hall and Hat Yai Airport.
Confirming that flights were still operating as usual, Trang Airport director Thaworn Saengamphai said the protesters in Trang's Huay Yot district, which entered its third day yesterday, had made no moves to block the airport yet. As many as 200 police officers are on a standby to handle the situation from possibly escalating.
A special law to enable rescue operations during emergencies has come into effect at the airport and the City Hall compound of Nakhon Si Thammarat, Governor Wiroj Jiwarangsan said. He said anyone found trespassing into both compounds or holding any rally there would face three months imprisonment and/or a Bt6,000 fine.
In Songkhla, provincial officials and police beefed up security at strategic locations, including the City Hall, where all cars are being strictly checked and all visitors have to get their ID cards scanned for record. Security has also been beefed up at Hat Yai Airport.
Meanwhile, Provincial Police Region 9 called on the protesters to gather peacefully and respect other people's rights, adding that police officers manning rally sites will only be equipped with standard crowd-control equipment and would not carry weapons or explosives. He also warned protesters that the punishment for blocking roads was three years in prison and/or a fine of Bt60,000.
In addition, Songkhla protest leaders have warned that if the national policy committee does not accept their demand of boosting the prices of rubber products, they would get protesters from all 14 rubber-growing provinces to escalate their movement. The rubber growers are demanding that the price of ribbed smoked sheets (RSS) be increased to Bt101 per kilogram; raw sheet to Bt92/kg; rubber latex to Bt81; and pure scrap rubber to Bt83. The national police committee was set to discuss the situation yesterday.
In a related development, Nok Air tweeted yesterday that the Nakhon Si Thammarat airport had closed its entrance from the direction of Tha Phae Market and passengers were advised to use the Bang Pu intersection. The airline also urged passengers to show up earlier as a precaution.
Trang airport calls for protection from rubber growers protest
The Nation / Phuket Gazette
PHUKET: Trang airport authorities on Thursday called for protection due to fears that protesting rubber growers might up their movement and seize the airport. Songkhla also beefed up security around the City Hall and Hat Yai airport as a precaution.
Affirming that flights were still operating as usual, Trang airport director Thaworn Saengamphai said the rubber growers' protest, which has been in place for the past three days at the Andaman Intersection in Tambon Khao Kob, Huai Yod district where 200 crowd control police remain on hand, had not shown any indiciations that they would move to block the airport. However, Thaworn had already put precautionary measures in place, including closing all entrances to the airport except the eastern gate on Trang Palian Road because of insufficient police manpower. Thaworn apologised to travellers for the inconvenience.
First Tourist Court opens in Pattaya Thursday
The Nation / Phuket Gazette
PHUKET: Thailand's first tourist court opened in Chon Buri's Pattaya City on Thursday, as part of a move to reassure travellers of their safety while visiting the country.
From 4.30pm to 8.30pm, foreign visitors could file civil and criminal complaints at this specialised court, so the cases would be tried faster that in an ordinary court hence a verdict could be delivered before the plaintiffs leave the country.
Consideration of cases will be cut to one day for uncomplicated disputes from the usual six months, while consideration of felony cases could be cut to weeks instead of months.
With officials capable of speaking foreign languages to help out, the specialised court would encourage negotiation
— Phuket Gazette Editors