Phuket Gazette Thailand News: Rubber protests flare; Trang Airport fears; Tourist Court opens in Pattaya; Film fest loses to lese majeste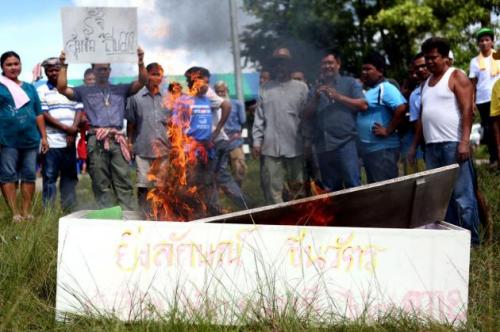 PHUKET MEDIA WATCH
– Thailand news compiled by Gazette editors for Phuket's international community
Close eye on rallies as talks with government fail
The Nation / Phuket Gazette
PHUKET: Authorities are keeping a close eye on protesting rubber farmers amid fears they may step up the rallies currently being held in several southern provinces following the government's decision to reject their demand for intervention in the price of raw rubber sheets, while only granting them subsidy relief.
The protest situation has not changed in the last three days. Announcing the results of tense negotiations on Wednesday evening between farmer groups and the government, Deputy Prime Minister Kittiratt Na-Ranong said yesterday that the annual Bt1,260 per-rai subsidy for farmers owning 10 rai of rubber plantations would be extended to 25 rai.
However, he made no mention of the protesters' key demand that the price of raw rubber sheets, which averages at around Bt70 at present, be boosted to a minimum of Bt101 or Bt120 maximum. Speaking at a Government House press conference, he said those qualifying for the subsidies, in the case of 10-rai plantations extended to cover 25 rai, must not be engaged in rubber farming on state-owned properties. The whole process of seeking an additional budget of Bt10.6 billion, in addition to the Bt22 billion already approved for the 10-rai cases, would take no more than two weeks, he added.
The annual Bt1,260 subsidy will be transferred to the bank accounts of rubber farmers who have registered for it, and would not be paid in the form of cheaper fertilisers and other farming subsidies, Kittiratt said, as was understood by some protesting farmers. He said the price of raw rubber sheets might rise to Bt90 in October. "We must let the price be decided by the market mechanism," he added.
A special government committee was set up yesterday to solve problems with the price of rubber in the long run. The 10-member panel will today travel to Nakhon Si Thammarat to meet a group of rubber farmers at Twin Lotus Hotel to find a way to end the ongoing protest as well as open the blocked roads, Deputy Prime Minister Pracha Promnog said.
A group of protesters in Prachuap Khiri Khan brought 200 car tyres and a fuel drum to a rally site by a Phetkasem Route section at the 413-kilometre marker in Bang Saphan district where they were gathering. They did not say openly what they would do with the tyres and no details were available whether the drum was empty or if it contained something.
Police later dispersed this group of protesters and arrested 10 people. There were bottles thrown at the police during a charge but no serious injuries were reported.
Meanwhile, protesters in Nakhon Si Thammarat agreed to allow access to the railway section of the Ban Toon intersection, though their rally continued at a nearby site. Iad Seng-iad, a protest leader, said the movement would be taken to another level if the government is unable to meet their demands within the seven-day deadline.
Separately, Trang airport officials, guarding against a group of protesters holding a rally nearby, yesterday called on the authorities to provide protection fearing the rubber growers might decide to seize the airport. Songkhla provincial authorities have beefed up security around the Songkhla City Hall and Hat Yai Airport.
Confirming that flights were still operating as usual, Trang Airport director Thaworn Saengamphai said the protesters in Trang's Huay Yot district, which entered its third day yesterday, had made no moves to block the airport yet. As many as 200 police officers are on a standby to handle the situation from possibly escalating.
A special law to enable rescue operations during emergencies has come into effect at the airport and the City Hall compound of Nakhon Si Thammarat, Governor Wiroj Jiwarangsan said. He said anyone found trespassing into both compounds or holding any rally there would face three months imprisonment and/or a Bt6,000 fine.
In Songkhla, provincial officials and police beefed up security at strategic locations, including the City Hall, where all cars are being strictly checked and all visitors have to get their ID cards scanned for record. Security has also been beefed up at Hat Yai Airport.
Meanwhile, Provincial Police Region 9 called on the protesters to gather peacefully and respect other people's rights, adding that police officers manning rally sites will only be equipped with standard crowd-control equipment and would not carry weapons or explosives. He also warned protesters that the punishment for blocking roads was three years in prison and/or a fine of Bt60,000.
In addition, Songkhla protest leaders have warned that if the national policy committee does not accept their demand of boosting the prices of rubber products, they would get protesters from all 14 rubber-growing provinces to escalate their movement. The rubber growers are demanding that the price of ribbed smoked sheets (RSS) be increased to Bt101 per kilogram; raw sheet to Bt92/kg; rubber latex to Bt81; and pure scrap rubber to Bt83. The national police committee was set to discuss the situation yesterday.
In a related development, Nok Air tweeted yesterday that the Nakhon Si Thammarat airport had closed its entrance from the direction of Tha Phae Market and passengers were advised to use the Bang Pu intersection. The airline also urged passengers to show up earlier as a precaution.
Trang airport calls for protection from rubber growers protest
The Nation / Phuket Gazette
PHUKET: Trang airport authorities on Thursday called for protection due to fears that protesting rubber growers might up their movement and seize the airport. Songkhla also beefed up security around the City Hall and Hat Yai airport as a precaution.
Affirming that flights were still operating as usual, Trang airport director Thaworn Saengamphai said the rubber growers' protest, which has been in place for the past three days at the Andaman Intersection in Tambon Khao Kob, Huai Yod district where 200 crowd control police remain on hand, had not shown any indiciations that they would move to block the airport. However, Thaworn had already put precautionary measures in place, including closing all entrances to the airport except the eastern gate on Trang Palian Road because of insufficient police manpower. Thaworn apologised to travellers for the inconvenience.
First Tourist Court opens in Pattaya Thursday
The Nation / Phuket Gazette
PHUKET: Thailand's first tourist court opened in Chon Buri's Pattaya City on Thursday, as part of a move to reassure travellers of their safety while visiting the country.
From 4.30pm to 8.30pm, foreign visitors could file civil and criminal complaints at this specialised court, so the cases would be tried faster that in an ordinary court hence a verdict could be delivered before the plaintiffs leave the country.
Consideration of cases will be cut to one day for uncomplicated disputes from the usual six months, while consideration of felony cases could be cut to weeks instead of months.
With officials capable of speaking foreign languages to help out, the specialised court would encourage negotiation
— Phuket Gazette Editors
Want more from the Thaiger family?
📱 Download our app on Android or iOS for instant updates on your mobile
📧 Subscribe to our daily email newsletter
👍 Like/Follow us on Facebook
🔔 Subscribe to or Join our YouTube channel for daily video updates
Pattaya fisherman surprised by friendly whale shark visit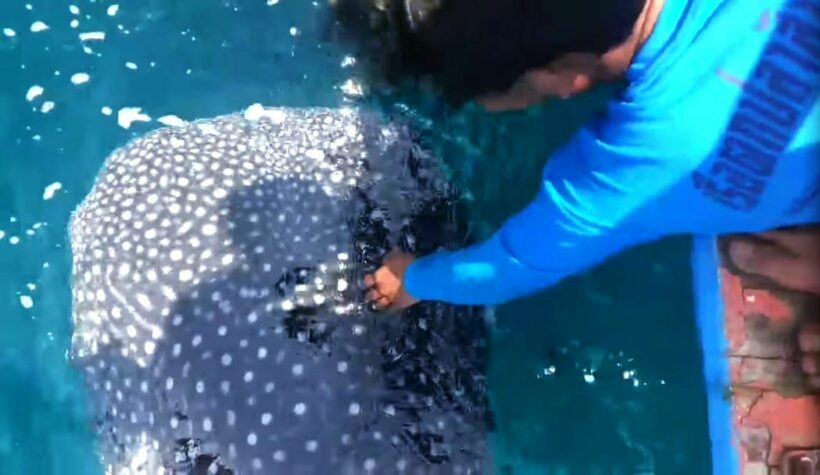 A local Pattaya fisherman had a shocking surprise visitor and was conscious enough to record a video to share with the world. The man, a fisherman for 10 years, posted 2 videos to Facebook on Wednesday of what appears to be a friendly whale shark casually visiting his fishing boat. Sightings in Pattaya of the majestic sea creature are relatively rare.
Whale sharks are the largest known fish species still living on Earth. They average from 5.5 to 10 metres in length, but the largest shark ever confirmed had a length of 18.8 metres.
The man, who goes by Mai Yud Yoo Ning Naklua (ไม่หยุดอยู่นิ่ง นาเกลือ) was sailing near Pai Island when the shark approached. The shark spent several minutes floating just inches from the boat and could be seen with shark suckers flanking it. The whale shark swam around the back of the boat and the man was able to capture a 3-minute video of the shark and another 49-second video where he can be seen getting up close and personal with the sea creature as it surfaced.
The Facebook video can be viewed on his original post, seen here. The man's post showed his excitement, as he described that it was his first time experiencing this in his 10 years on a fishing boat.
"This is my first time seeing a whale shark. I have been a fisherman for ten years and have heard many stories but this is my first opportunity to see one and share it with the world."
Locals in the Koh Larn area believe the appearance of this friendly fish is a sign that the environment is thriving. Covid-19 has prevented the throngs of tourists that normally flood the area, and with the reduction in traffic and boats churning the water, marine life such as whale sharks can safely return. In the waters off the coast of Pattaya, it appears that nature is healing.
SOURCE: The Pattaya News
Want more from the Thaiger family?
📱 Download our app on Android or iOS for instant updates on your mobile
📧 Subscribe to our daily email newsletter
👍 Like/Follow us on Facebook
🔔 Subscribe to or Join our YouTube channel for daily video updates
Pattaya fishing boat capsized in storm, 2 crew rescued, 2 missing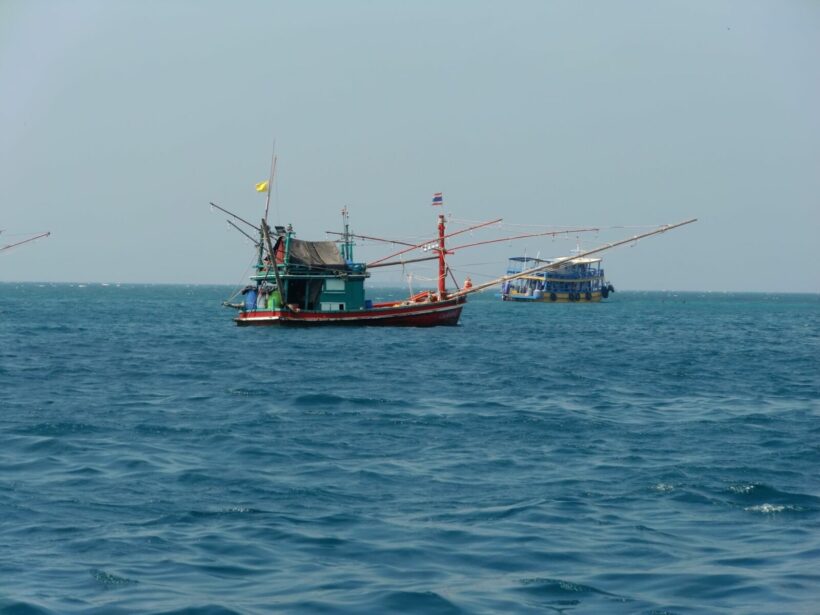 2 members of a fishing boat crew are still missing after a strong storm that capsized their boat off the Pattaya coast. Yesterday morning 2 people on board the boat were rescued after it was flipped in the high waves but confirmed that 2 more crew were aboard the ship and have not been found. The accident took place off Nongprue near the island of Pai.
The unnamed boat captain and another crew member were picked up by another local fishing boat in the area, but they were reported to have spent quite a while in the open water first, clinging to debris to stay afloat about 1.6 kilometres from the shore. The two crew members missing in the storm were a 60 year old man and a 31 year old man.
The captain of the boat that rescued the 2 men recalled rough waters and torrential downpours with a huge wave that capsized the fishing boat. He found the men shouting for help, holding on for dear life to big empty water jugs floating on the sea surface.
The Royal Thai Navy was contacted about the capsizing yesterday morning and naval officers searched all day for the 2 missing crew members without any luck. They continued the search this morning.
About 50 kilometres away, Rayong saw a similar tragedy in the same heavy storm, while rains pounded many parts of Thailand. A fishing boat there was also capsized in the storm with one crew member rescued. A second crewman was later found dead and a third is still lost at sea as rescue workers search.
Chon Buri has been particularly hard hit in the recent stormy weather in Thailand with high wind alerts and heavy rain. The Thai Meteorological Department is forecasting many more storms to come and is advising all local fishermen on small fishing boats to stay on land, especially overnight when the storms have been intensifying.
SOURCE: The Pattaya News
Want more from the Thaiger family?
📱 Download our app on Android or iOS for instant updates on your mobile
📧 Subscribe to our daily email newsletter
👍 Like/Follow us on Facebook
🔔 Subscribe to or Join our YouTube channel for daily video updates
Owner of 2 unsupervised pit bulls warned by mayor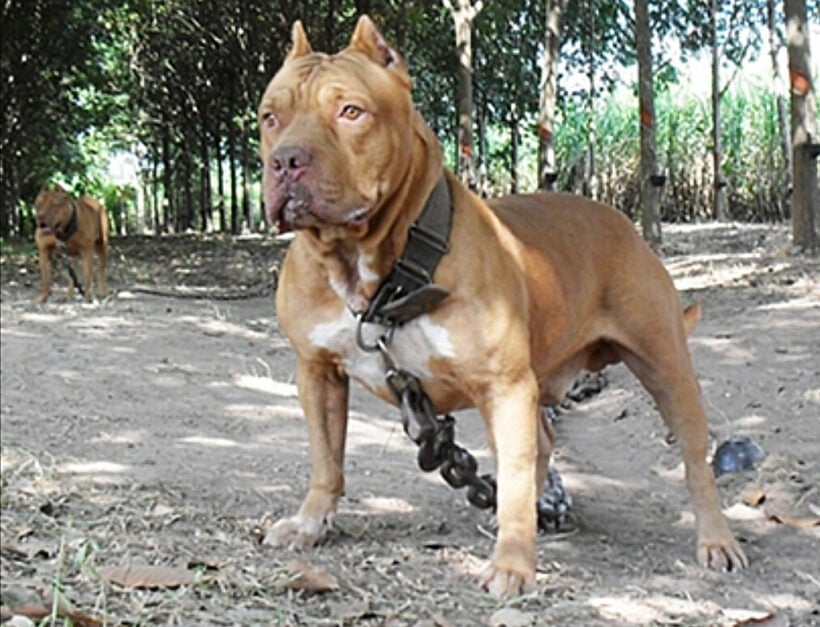 An unidentified owner of two pit bulls who reportedly allows them to wander freely near a public beach in the Bangsaen area of Pattaya has received a warning from Sane Suk Mayor Narongchai "Tui" Khunplome. making statements through his public relations accounts on social media and in local news outlets, the mayor stated that he had received multiple complaints from residents about the two pit bulls wandering around. They feared for the safety of the children and elderly people in the area, wanting to avoid attacks after the recent death of a pit bull owner who was mauled to death by his own pet. Residents also mentioned the possibility of a car or motorbike crash injuring or killing the pit bulls and possibly people.
The dogs were originally thought to be strays but were later determined to have an owner who allows them to wander freely, unaccompanied by a leash or any supervision. Local law forbids pets to be in public without an owner and also requires that owners clean up any droppings that their pets leave.
The owner of these pit bulls was singled out but not name publicly. The dogs were not reported to have attacked anyone or been aggressive in any way and the majority of complaints were just concerned citizens. The mayor's post on social media garnered 900 responses both for and against the wandering pit bulls and received more than 7000 likes.
Stray animals are a common problem in Thailand and around the Pattaya area. It is feared that the Covid-19 pandemic created more abandoned animals as people moved out of Chon Buri. Many strays have settled into areas vacated by tourists, and several areas around Pattaya are dealing with the surge in stray animals, especially Banglamung.
It is against Thailand's religious and cultural beliefs to put down strays, but there's a lot of debate over a solution. Soi Dog Foundation advocates for spaying or neutering animals and also vaccinating them before releasing them back into their natural habitat. This avoids animal shelters where conditions can become inhumane due to overcrowding, and also may prevent more aggressive dogs from claiming local territories. It is agreed that aggressive dogs should be removed from the public.
SOURCE: The Pattaya News
Want more from the Thaiger family?
📱 Download our app on Android or iOS for instant updates on your mobile
📧 Subscribe to our daily email newsletter
👍 Like/Follow us on Facebook
🔔 Subscribe to or Join our YouTube channel for daily video updates