Phuket Gazette Thailand News: Protesters storm Army HQ; Replacing Yingluck is not an option; Abhisit could take Suthep's place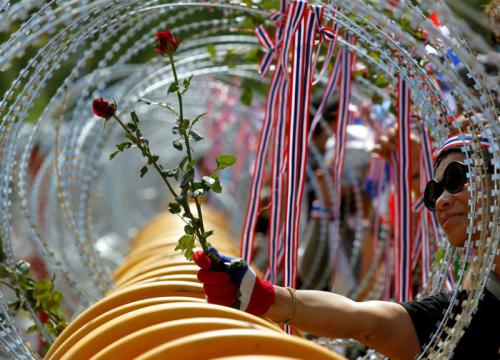 PHUKET MEDIA WATCH
– Thailand news compiled by Gazette editors for Phuket's international community
Protesters storm Army HQ
The Nation / Phuket Gazette
PHUKET: In a symbolic move, hundreds of anti-government protesters stormed the Army headquarters on Rajdamnoen Nok Road yesterday and briefly occupied the lawn of the headquarters.
The move was one of the more dramatic moments in their campaign to topple the Yingluck Shinawatra government.
Protesters led by leaders of Students and People Network for Thailand's Reform started marching from their base in Nang Lerng at around 11:30am and arrived outside the Army office around noon.
About 80 men standing hand in hand gathered and pushed down the front gate. Some climbed over the gate. The protesters were warned by their leaders not to break into any buildings or offices. They gathered on the front yard of the army headquarters building with many posing for photographs within the grounds. Former yellow shirt leader Chamlong Srimuang and Pajun Tamprateep, a former close aide to Privy Council President Prem Tinsulanonda were seen at the site.
Leader Uthai Yodmanee took a stage on a truck and demanded Army Chief Gen Prayuth Chan-ocha and the army to declare what side it is on.
A representative of the Royal Thai Army told the protesters the military would not use any force against the protesters. Moreover, the military had prepared first aid kits and drinking water for the visitors. The protesters later submitted a letter to the Army's commander-in-chief and left the site around two hours later to return to their base.
Meanwhile, thousands of protesters composing members of the Business Club for Democracy, as well as alumni and current students of many educational institutes gathered at about 11am at Asoke Skytrain station before marching to the US Embassy.
Democrat leader Abhisit Vejjajiva and former finance minister Korn Chatikavanij joined the rally. Posting a photo of himself riding on the Skytrain on his Facebook page, Abhisit said "See you at Asoke."
They then marched to the US Embassy on Wireless Road. The protesters waved placards, some of them said "Stop serving Thaksin regime", and "Get Out, Thaksin's servants". People along the road took photos, blew whistles and waved the national flag.
At the US embassy, protest representatives submitted a note to the US government, saying that the Yingluck government was not legitimate.
Police stepped up security at the US Embassy earlier out of fear that a third-party group may use the confusion during the protest to attack the embassy.
Police were deployed from the Metropolitan Police Division 5, Lumpini Police station, Special Branch Police, the 191 Task Force and Arintharat commando unit to guard the embassy from early in the morning. Police also guarded the US ambassador's residence and the consular office.
In another rally, a group of people who called themselves "patriots" led by Srivara Issara, the owner of Charn Issara building began a cheerful parade heading to the headquarters of the Pheu Thai Party. About 300 police were deployed outside the party office after protest leaders announced their plan.
OPINION: For Pheu Thai, replacing Yingluck is not an option
The Nation / Phuket Gazette
PHUKET: House dissolution seems far more practical than making her resign
If not Yingluck Shinawatra, then who? This is the question haunting the Pheu Thai Party right now. From being a heroine ushered onto centre stage in a highly romanticized manner, PM Yingluck has seen her popularity plunge as fast as it initially skyrocketed. The amnesty push, according to a host of non-partisan commentators, was a political blunder on a scale rarely seen. Her innocent and conciliatory image had shielded her from accusations she was her older brother's "puppet", but the scandalous rush to pass a bill that would absolve him (even albeit along with his political enemies) has stripped her of that immunity.
Polls indicate that few people believed Yingluck when she vowed to bury the amnesty agenda. Although some protesters have returned home, the dents to her image could turn out to be permanent. A juxtaposition of incidents has made it difficult to take her pledge seriously, meaning she's got a lot more to do to convince the growing number of doubters. The just-ended censure debate did not help that cause.
First came the leaked audio clip in which Thaksin discussed a legislative and executive plan to bring him home. Then an amnesty bill that had not originally included him was altered to do so. Last but not least, the Pheu Thai-dominated House of Representatives rammed the revamped bill through after just one day of debate – or opposition protest, to be exact. Through all of this, Yingluck tried to stay aloof. She began by insisting that amnesty had nothing to do with the government, only to take a dramatic and questionable U-turn by finally saying the government was "withdrawing" the bill.
If Yingluck is a "puppet", she has not done a good job in the role. If she is not a puppet, she is bad at proving so. Being Thaksin's sister has made her task difficult, of course. But that doesn't mean a bill advocated by her party and paving the way for him to return home a free man had to be rushed through Parliament at an hour when much of Thailand was sleeping.
While Yingluck's political "innocence" was winning hearts, attacks ricocheted off her without fail. Now, scepticism has eaten into her image and the previously harmless ridicule by rivals is taking a bigger and bigger toll. She is politically bruised and obviously anxious, prompting speculation that her brother might have to prop somebody else up in her place.
The question is, "Who?" The other influential Shinawatra sibling, Yaowapa Wongsawat, has always been mentioned as a replacement candidate, but switching from Yingluck to her would be a drastic change. Yaowapa is far more confrontational, and certainly doesn't command as much public adoration as the incumbent.
Will Somchai Wongsawat, Yaowapa's husband and a former prime minister, be brought back? Though he doesn't seem confrontational, his active involvement with the red shirts would certainly bring him more torrid times as premier. Suvarnabhumi Airport was taken over by protesters while he was at the country's helm in late 2008 – and that was at a time when Thai politics was not nearly as complex or super-heated.
Any other candidate deemed closely associated with the Shinawatras would face big trouble. Giving the highest executive post to an ally of Pheu Thai is also unthinkable. The late Samak Sundaravej was as far as Thaksin would go when it came to a non-Shinawatra at the country's helm. It's unimaginable for the prime minister's post to be handed on a plate to, say, Banharn Silapa-archa.
The national impasse seems to have brought Pheu Thai to a major impasse of its own. Can Yingluck continue? That's a big question, but the bigger ones are "If not House dissolution, then what?" and "If not her, then who?"
Abhisit could take Suthep's place if protest leader arrested
The Nation / Phuket Gazette
PHUKET: Democrat leader Abhisit Vejjajiva has suggested that he is ready to become a leader of the anti-government protest if former Democrat MP Suthep Thaugsuban is arrested.
Asked if he was
— Phuket Gazette Editors
Keep in contact with The Thaiger by following our
Facebook page
.
Singha grabs a 90% stake in Thailand's Santa Fe restaurant chain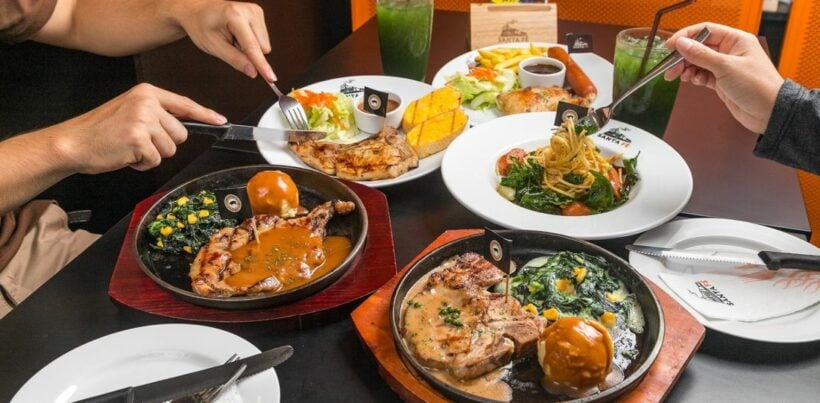 (…or is that a 90% 'steak'?)
PHOTOS: Wongnai
DealStreetAsia, an investor news site reporting on Asian business, confirms that Singha Corporation has purchased a majority stake in the Thai restaurant chain, Santa Fe. It's understood that Singha purchased the shares held by Lakeshore Capital for approximately US$50 million or 1.53 billion baht, giving it a 90% stake in the chain seen in most Thai shopping centres.
The Nation reports that Singha will now oversee over 110 restaurants across Thailand in one of the country's biggest food industry deals of the year. The company first turned its attention to the food industry two years ago, launching Food Factors Company under the Boon Rawd Brewery group.
WongnaiFood Factors aims to make 5 billion baht over 3 years under the stewardship of Piti Bhirombhakdi. The company has an ambitious long-term target of 10 billion baht a year, along with plans to be listed on the stock exchange.
The Santa Fe chain was established in 2003 by Surachai Charn-Anudet's KT Restaurant Company, with the aim of becoming a major competitor to Sizzler, the American chain brought to Thailand by Minor Food.
SOURCE: The Nation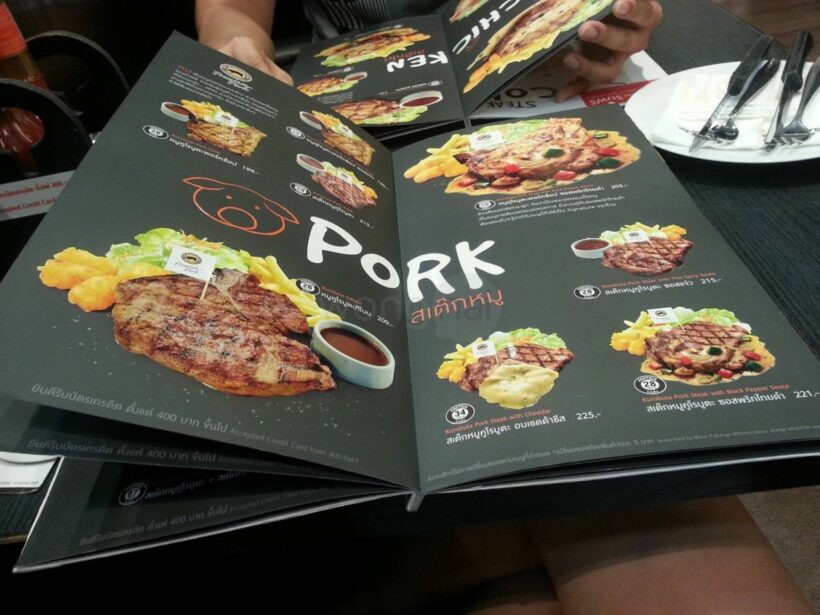 Keep in contact with The Thaiger by following our
Facebook page
.
TAT says 'all go' for tourism discount campaign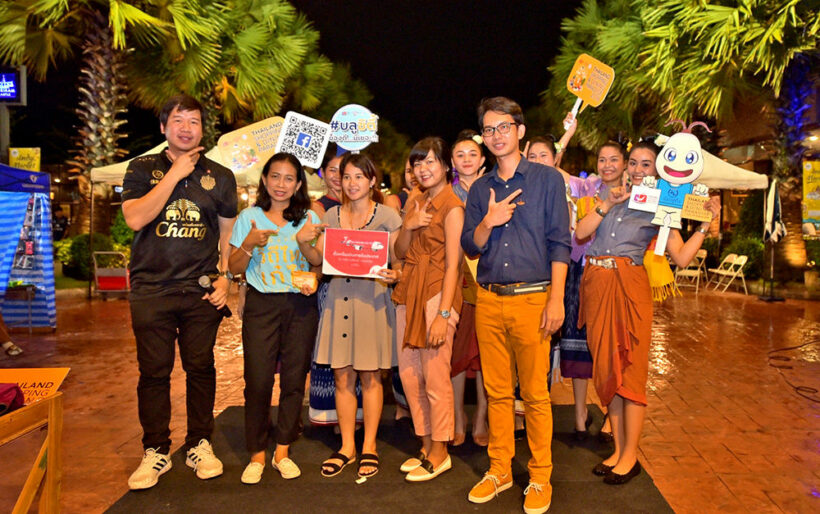 PHOTO: Thailand Shopping and Dining Paradise
The Tourism Authority of Thailand's governor says that the TAT will introduce two domestic tourism promotional measures – a 100 baht nationwide tourism campaign, and "shocking-price weekday" discounts.
The 100 baht campaign will offer some 40,000 products and services at only 100 baht each. Registration is required and will be open on November 11-12 and December 11-12, 2019, for up to 10,000 people each day on the the TAT website, starting at midnight each day.
The weekday discount campaign, valid Mondays to Thursdays will run from November 1 until December 3, offering up to 70% discounts on selected tourism products. The TAT will open an online store offering the same discounts. Eligible purchases made with the government's wallet app will also receive a 15% VAT rebate.
The TAT says they are now ensuring the readiness of the system to accommodate registrations, after issues found during the previous 'Chim Shop Chai' campaign for Thais in a recent successful economic stimulus package from the government. In that campaign the government handed out 1000 baht gift to Thais with the stipulation it had to be spent in another province. 12 million Thais registered for the program.
The governor says he is confident these measures will provide an ongoing economic boost following the success of the Chim Shop Chai campaign, spiking revenue 10-20% during the campaign.
SOURCE: National News Bureau of Thailand
Keep in contact with The Thaiger by following our
Facebook page
.
Thailand road toll: 554 dead this month, 11,462 this year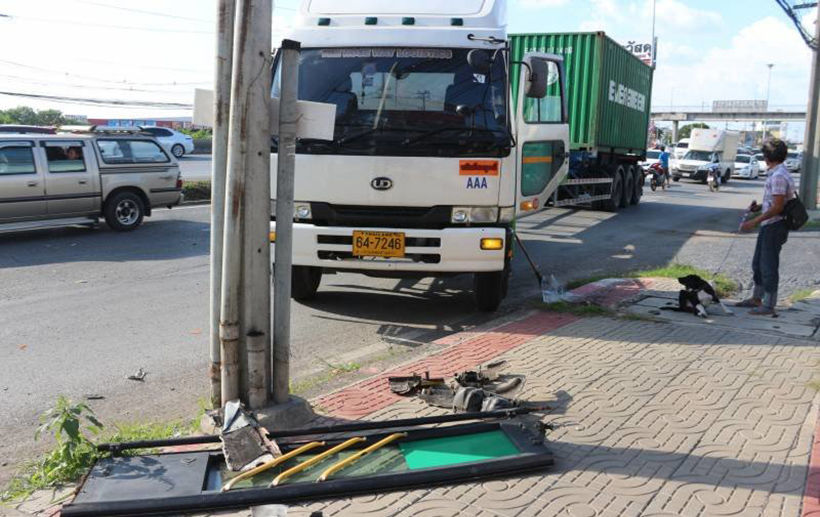 PHOTO: U-Turn crash in Bangkok – Daily News
Daily news reports fatalities at the scene of accidents yesterday claimed the lives of 21 people. Yesterday was a busy day on Thailand's roads at the end of a long weekend.
They say the numbers reported are only those that die at the scene. In reality, when hospital deaths and all regions report their stats, the figures end up much higher.
So far this October 554 have died at the scene of accidents resulting in a yearly total nationwide of 11,462. Thailand is recognised by the World Health Organisation as the fifth highest road toll in the world, per capita.
Figures are reported daily by Daily News who highlight the need to be vigilant at U-turns in their story about this air-conditioned bus (above)on Route 29 that collided with the back of a container truck.
Seven passengers on the bus were injured in the accident on Pahonyothin Road near the Kesri 5 housing estate in Klong 1, Klong Luang district north of Bangkok. The truck driver was trying to execute a U-turn at the time.
SOURCE: Daily News | ThaiVisa
Keep in contact with The Thaiger by following our
Facebook page
.