Phuket Gazette Thailand News: Protesters storm Army HQ; Replacing Yingluck is not an option; Abhisit could take Suthep's place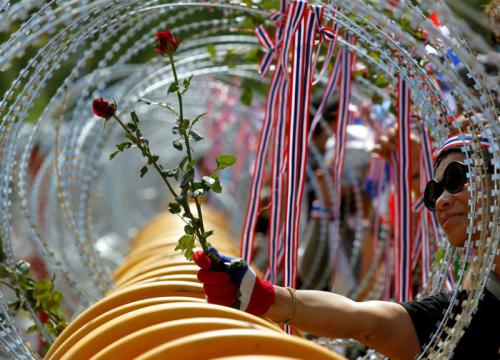 PHUKET MEDIA WATCH
– Thailand news compiled by Gazette editors for Phuket's international community
Protesters storm Army HQ
The Nation / Phuket Gazette
PHUKET: In a symbolic move, hundreds of anti-government protesters stormed the Army headquarters on Rajdamnoen Nok Road yesterday and briefly occupied the lawn of the headquarters.
The move was one of the more dramatic moments in their campaign to topple the Yingluck Shinawatra government.
Protesters led by leaders of Students and People Network for Thailand's Reform started marching from their base in Nang Lerng at around 11:30am and arrived outside the Army office around noon.
About 80 men standing hand in hand gathered and pushed down the front gate. Some climbed over the gate. The protesters were warned by their leaders not to break into any buildings or offices. They gathered on the front yard of the army headquarters building with many posing for photographs within the grounds. Former yellow shirt leader Chamlong Srimuang and Pajun Tamprateep, a former close aide to Privy Council President Prem Tinsulanonda were seen at the site.
Leader Uthai Yodmanee took a stage on a truck and demanded Army Chief Gen Prayuth Chan-ocha and the army to declare what side it is on.
A representative of the Royal Thai Army told the protesters the military would not use any force against the protesters. Moreover, the military had prepared first aid kits and drinking water for the visitors. The protesters later submitted a letter to the Army's commander-in-chief and left the site around two hours later to return to their base.
Meanwhile, thousands of protesters composing members of the Business Club for Democracy, as well as alumni and current students of many educational institutes gathered at about 11am at Asoke Skytrain station before marching to the US Embassy.
Democrat leader Abhisit Vejjajiva and former finance minister Korn Chatikavanij joined the rally. Posting a photo of himself riding on the Skytrain on his Facebook page, Abhisit said "See you at Asoke."
They then marched to the US Embassy on Wireless Road. The protesters waved placards, some of them said "Stop serving Thaksin regime", and "Get Out, Thaksin's servants". People along the road took photos, blew whistles and waved the national flag.
At the US embassy, protest representatives submitted a note to the US government, saying that the Yingluck government was not legitimate.
Police stepped up security at the US Embassy earlier out of fear that a third-party group may use the confusion during the protest to attack the embassy.
Police were deployed from the Metropolitan Police Division 5, Lumpini Police station, Special Branch Police, the 191 Task Force and Arintharat commando unit to guard the embassy from early in the morning. Police also guarded the US ambassador's residence and the consular office.
In another rally, a group of people who called themselves "patriots" led by Srivara Issara, the owner of Charn Issara building began a cheerful parade heading to the headquarters of the Pheu Thai Party. About 300 police were deployed outside the party office after protest leaders announced their plan.
OPINION: For Pheu Thai, replacing Yingluck is not an option
The Nation / Phuket Gazette
PHUKET: House dissolution seems far more practical than making her resign
If not Yingluck Shinawatra, then who? This is the question haunting the Pheu Thai Party right now. From being a heroine ushered onto centre stage in a highly romanticized manner, PM Yingluck has seen her popularity plunge as fast as it initially skyrocketed. The amnesty push, according to a host of non-partisan commentators, was a political blunder on a scale rarely seen. Her innocent and conciliatory image had shielded her from accusations she was her older brother's "puppet", but the scandalous rush to pass a bill that would absolve him (even albeit along with his political enemies) has stripped her of that immunity.
Polls indicate that few people believed Yingluck when she vowed to bury the amnesty agenda. Although some protesters have returned home, the dents to her image could turn out to be permanent. A juxtaposition of incidents has made it difficult to take her pledge seriously, meaning she's got a lot more to do to convince the growing number of doubters. The just-ended censure debate did not help that cause.
First came the leaked audio clip in which Thaksin discussed a legislative and executive plan to bring him home. Then an amnesty bill that had not originally included him was altered to do so. Last but not least, the Pheu Thai-dominated House of Representatives rammed the revamped bill through after just one day of debate – or opposition protest, to be exact. Through all of this, Yingluck tried to stay aloof. She began by insisting that amnesty had nothing to do with the government, only to take a dramatic and questionable U-turn by finally saying the government was "withdrawing" the bill.
If Yingluck is a "puppet", she has not done a good job in the role. If she is not a puppet, she is bad at proving so. Being Thaksin's sister has made her task difficult, of course. But that doesn't mean a bill advocated by her party and paving the way for him to return home a free man had to be rushed through Parliament at an hour when much of Thailand was sleeping.
While Yingluck's political "innocence" was winning hearts, attacks ricocheted off her without fail. Now, scepticism has eaten into her image and the previously harmless ridicule by rivals is taking a bigger and bigger toll. She is politically bruised and obviously anxious, prompting speculation that her brother might have to prop somebody else up in her place.
The question is, "Who?" The other influential Shinawatra sibling, Yaowapa Wongsawat, has always been mentioned as a replacement candidate, but switching from Yingluck to her would be a drastic change. Yaowapa is far more confrontational, and certainly doesn't command as much public adoration as the incumbent.
Will Somchai Wongsawat, Yaowapa's husband and a former prime minister, be brought back? Though he doesn't seem confrontational, his active involvement with the red shirts would certainly bring him more torrid times as premier. Suvarnabhumi Airport was taken over by protesters while he was at the country's helm in late 2008 – and that was at a time when Thai politics was not nearly as complex or super-heated.
Any other candidate deemed closely associated with the Shinawatras would face big trouble. Giving the highest executive post to an ally of Pheu Thai is also unthinkable. The late Samak Sundaravej was as far as Thaksin would go when it came to a non-Shinawatra at the country's helm. It's unimaginable for the prime minister's post to be handed on a plate to, say, Banharn Silapa-archa.
The national impasse seems to have brought Pheu Thai to a major impasse of its own. Can Yingluck continue? That's a big question, but the bigger ones are "If not House dissolution, then what?" and "If not her, then who?"
Abhisit could take Suthep's place if protest leader arrested
The Nation / Phuket Gazette
PHUKET: Democrat leader Abhisit Vejjajiva has suggested that he is ready to become a leader of the anti-government protest if former Democrat MP Suthep Thaugsuban is arrested.
Asked if he was
— Phuket Gazette Editors
Keep in contact with The Thaiger by following our
Facebook page
.
Never miss out on future posts by
following The Thaiger
.
Burmese child contracted Covid-19 while crossing the border, report says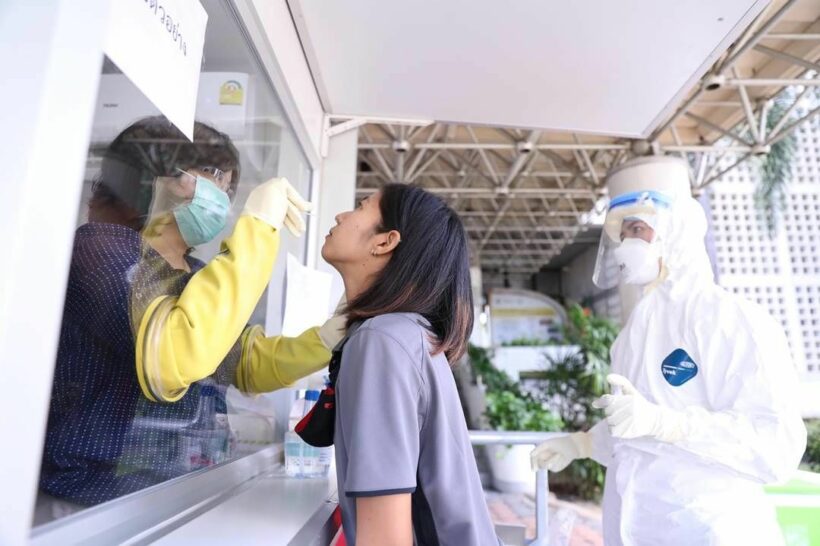 The 2 year old Burmese child, who tested positive for Covid-19 after leaving Thailand, may have contracted the virus while travelling from Thailand to Myanmar, according to a report from Thailand's Ministry of Public Health Disease Control Department.
The department says they suspect the child was exposed to the virus while crossing the border from the Mae Sot border district in Tak to Myanmar's Myawaddy town. The child's parents worked in Ayutthaya and quit their jobs last month. The department says the toddler probably contracted the virus around September 4 to September 10 while the family was travelling.
The family crossed natural, unofficial passageways into Myanmar. The news website Xinhua says it was an "apparent intent to evade anti-pandemic measures at the Mae Sot border checkpoint."
Those in Thailand who came in close contact with the family tested negative for the virus. 146 people who worked with the family at Ayutthaya migrant worker camps all tested negative for Covid-19. Those in close contact with the family in the Nakhon Ratchasima province, where the parents worked prior to Ayutthaya, tested negative as well. 2,635 people in Mae Sot tested negative for Covid-19.
Health officials are still investigating 2 apparent local transmissions of Covid-19. Earlier this month, a Bangkok DJ tested positive for Covid-19, breaking Thailand's 100 day streak without a local transmission. The DJ tested positive for G strain of the virus, a more infectious strain that is typically found in imported cases detected during state quarantine rather than local transmissions. Health officials do not know where the DJ contracted the virus.
A Uzbek football player for the Buriram United team recently tested positive for Covid-19. He was asymptomatic and tested negative for the virus multiple times during quarantine after he arrived to Thailand. Although it seems like a local transmission, some health officials speculate the virus has a longer incubation period than 14 days.
SOURCE:Xinhua
Keep in contact with The Thaiger by following our
Facebook page
.
Never miss out on future posts by
following The Thaiger
.
Thailand News Today | Amnesty finishes, protest round-up | September 21, 2020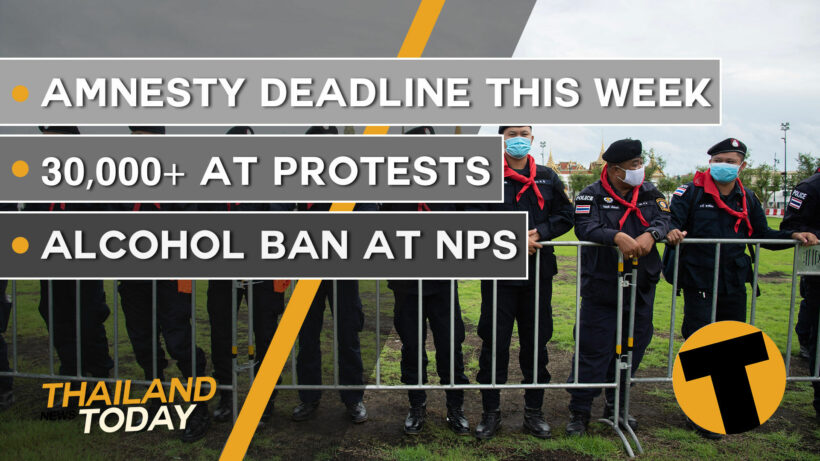 Daily video news about Thailand with Tim Newton
Get a visa or go to jail.
Thai Immigration Tourists, and anyone else with a lapsed visa, ha ve only 5 days to renew their visa or they could get arrested. The current visa amnesty ends on September 26 and there isn't going to be another sudden announcement for another grace period, according to immigration officials. Those who overstay will face arrest and be deported back to their home countries. Immigration officials estimate there are more than 150,000 foreign nationals who need to have their tourist visas renewed. Immigration officials said today that people without a valid visa after September 26 could face jail.
"Overstaying the tourist visa is punishable by both a jail term and fine under the Immigration Act."
Some foreigners who arrived on tourist visas earlier in the year have been in Thailand since late March when the Thai borders closed and many international flights were cancelled due to the world coronavirus pandemic. The visa amnesty was renewed twice since many people were unable to their home countries, but now the amnesty is coming to an end this Saturday.
There were hopes that the end of the visa amnesty could co-incide with the introduction of the new Special Tourist Visa so that those either unable to leave, due to lack of flights or problems returning to their home countries, could 'roll over' onto the new 90 day visas. But that has not been announced at this stage and remains just wishful thinking. The best thing you can do, if you don't currently have a valid visa to stay in Thailand, is urgently contact your embassy, make an appointment online at your nearest Immigration office, or speak to a professional visa agent. But, be warned, there are plenty of scammers posting official looking urgent posts in social media offering to issue you with a visa so you can stay in Thailand. Do your homework before spending money with any visa agent.
Weekend protest rallies draw 30,000 people but no formal response
Protesters gathered from early Saturday morning at the Thammasat Tha Prachan campus. Although officially denied permission to hold their protest on the Campus grounds, the demonstrators stormed the campus's gates, without resistance from onlooking police or security officials. By the afternoon the crowd had reached some 30,000 people, less than the 50,000 expected but a lot more than the 15,000 expected by government officials in the lead up to the Saturday rally. Largely peaceful the protesters sat in the wet season drizzle to listen to speeches and performances before marching together to the adjacent royal parade grounds of Sanam Luang. Here the protest continued under the watchful eye of police, all unarmed, who barricaded off sensitive areas of the historic parade grounds and access to the Grand Palace.
The protest continued into the night and punctuated the themes of political freedom, new Democratic elections, the dissolution of the Thai parliament and, controversially, reforms to the country's revered monarchy. On Sunday morning there was a symbolic placement of a brass plaque to commemorate the event, seen as a replacement to a similar plaque that commemorated the Siam Revolution in 1932 that mysteriously vanished in 2017. The protesters then marched to the Privy Council to officially hand over a copy of their 10 point manifesto.
Meanwhile, 45,000 books – a collection of speeches and poems by some of the protest leaders – were seized in a nearby Bangkok house. The books were to be handed out to protesters. 5 people were arrested at the time.
Alcohol banned at national parks after complaints of trash and drunk tourists Alcohol is now banned at national parks after tourists allegedly got drunk at a waterfall and others left a load of trash by their campsite. Just last week, trash left at a campsite at Khao Yai National Park was boxed up in a parcel and sent back to the campers. Other tourists were allegedly drunk and making a lot of noise at the Namtok Samlan National Park, Varawut says. He says both groups of tourists face charges for their actions.
• Alcohol is banned at national parks for the time being
• Loud noise is not allowed after 9pm and noise must be stopped at 10pm
• When renting a tent, tourists must provide identification, address and phone number
Keep in contact with The Thaiger by following our
Facebook page
.
Never miss out on future posts by
following The Thaiger
.
MP files complaint against 3 opposition MPs for allegedly joining the protest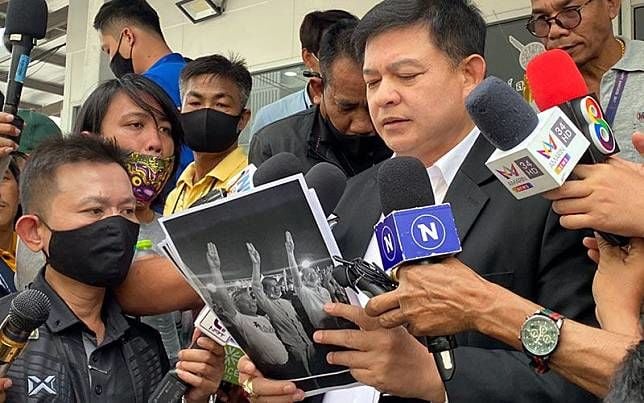 A member of parliament filed a complaint against 3 opposition MPs for allegedly joining the weekend's pro-democracy protest where activists demanded reform of the Thai Monarchy. He's also putting together a legal team aimed at dissolving the members' 3 opposition parties.
Palang Pracharat MP Sira Jenjakha says he has a photo of the 3 members raising their hands in a 3 finger salute, a symbol of resistance against the military run government. He says the protest was illegal, and the location, the Royal Field next to the Grand Palace, is off limits to unauthorised people.
He filed the complaint with the Chanasongkhram police against Mongkolkit Suksintharanont, of the Thai Civilized Party, Peerawit Ruangluedolapark, of the Thai Rak Thai Party and Nattha Boonchai-insawat of the Kao Klai Party.
A legal team assigned by Sira will collect evidence and file a petition with the Constitutional Court calling on the dissolution of the 3 opposition parties: Thai Civilized Party, Thai Rak Thai Party and Kao Klai Party.
He says he also plans to ask the House Speaker to investigate the 3 members to determine if they breached the parliament's ethical conduct.
SOURCE: Thai PBS
Keep in contact with The Thaiger by following our
Facebook page
.
Never miss out on future posts by
following The Thaiger
.