Phuket Gazette Thailand News: Court drops Lese Majeste; Police deny beating Lak Si shooter; Bt3bn Australia-bound heroin bust in Ranong; Activists slam Thai seafood slavery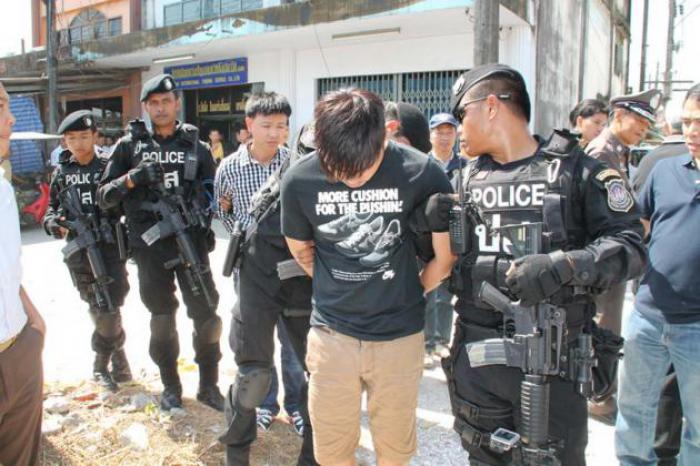 PHUKET MEDIA WATCH
– Thailand news compiled by Gazette editors for Phuket's international community
Court drops Lese Majeste case over lack of strong proof
The Nation / Phuket Gazette
PHUKET: The Court of Appeal gave an alleged lese majeste offender the benefit of the doubt yesterday and acquitted him after the man's computer notebook – confiscated by police – was found to have been activated twice while he was in detention.
The court said the information in the computer, which was presented as evidence, might have been changed, as it had been activated prior to the day it was sent for examination.
Computer programmer Surasak Phuchaisaeng, 43, also known as Suraphak Phuchai-saeng, said he was relieved after hearing the ruling and hoped |it would set a precedent for others.
Suraphak was arrested and detained for 14 months before the court of first instance found him not guilty on October 31, 2012. He was accused of being behind a post defaming His Majesty.
Although the court of first instance had found him not guilty, the prosecutors continued to fight through the Court of Appeal.
Suraphak said he had no plan to sue police who arrested him, leading to 14-months in jail.
The Appeal Court had said that as there was no foolproof evidence that Suraphak was the person behind the messages, he must be acquitted.
Police deny beating confession from Lak Si shooter
The Nation / Phuket Gazette
PHUKET: Police yesterday denied they had beaten the so-called "popcorn gunman" suspect to extract a confession that he was involved in the shooting incident at Laksi one day before the February 2 election.
Puangtip Bunsanong, lawyer for Wiwat Yodprasit, who is widely known as the "popcorn gunman", claims her client was assaulted by police to force him to confess to the charges.
National police chief Pol General Adul Saengsingkaew insisted that Wiwat was not a scapegoat as some observers had claimed.
Pol Colonel Athip Pongsiwapai, superintendent of Thung Song Hong Police Station, said the claim that the police beat the suspect to make him confess was groundless. He said the suspect had the right to change his statement and it would be up to the court's judgement.
"We have solid evidence, footage from a security camera and images from the social media networks. It is impossible that police who arrested him beat him up," he said.
Athip said police would check evidence which would be used to seek court approval for issuing an arrest warrant for Sumet, or Men, Trakulwunnu, an anti-government protest guard chief at the Chaeng Wattana rally base.
Police want Sumet on charges of illegally harbouring Wiwat after he allegedly committed a crime.
The court earlier rejected a police request to issue an arrest warrant for Sumet without giving a reason, Athip said.
Moves to block CAPO funds
The Nation / Phuket Gazette
PHUKET: A Senate committee has asked the Election Commission (EC) to suspend approval for the Centre for the Administration of Peace and Order (CAPO)'s use of central funds, on constitutional grounds.
Appointed Senator Air Chief Marshal Veeravit Kongsak, chairman of the Committee on Corruption and Promotion of Good Governance, said he has endorsed an urgent request to EC chairman Supachai Somcharoen to consider suspending the use of Bt2.3 billion in funds by the CAPO.
He said the request was based on a sub-panel's scrutiny of the police and the Budget Bureau concerning the use of funds by the CAPO. The caretaker Cabinet had earlier sought EC approval of funding for CAPO's activities.
The panel found the CAPO had used the central fund before the government received EC approval, which is a breach of Article 181 (2) of the Constitution.
Pro-govt group tears down Army bunker
The Nation / Phuket Gazette
PHUKET: The Bangkok-based pro-government faction, the People's Radio Media Group, pulled down a military checkpoint near the National Anti-Corruption Commission (NACC) office in Nonthaburi yesterday.
The group pulled apart the checkpoint in Tiwanon 37 Road after the NACC barred all protesters, except group leader Sornrak Malaithong, from entering the NACC building. Sornrak presented an additional statement relating to his request that the NACC launch an ethical probe into the National Human Rights Commission (NHRC).
The NHRC had approved an enquiry into a red-shirt rally between March 12 and August 19, 2010.
Sornrak said his group would block all NACC gates with barriers today and not allow any officials from the NACC to work.
First Army Division Commander Maj-General Wara Boonyasit said demonstrators led by the People's Radio for Democracy group had demolished the bunker and tent of the security checkpoint at noon.
As a result, the Army had to relocate the post, Wara said.
He said his division would now deploy a mobile unit to check security at the spot regularly.
Wara said the Army set up the checkpoint to prevent assailants from firing M79 grenades at the NACC office.
2 nabbed with Australia-bound heroin
The Nation / Phuket Gazette
PHUKET: A total of 147 kilograms of grade-A heroin, with a street value of more than Bt3 billion, was discovered hidden in a frozen-seafood container heading to Australia from Ranong.
Two men – one Malaysian and the other Thai, both in their 40s – were also arrested in the drug bust that stemmed from a month-long operation between Thai and Australian police.
Pol General Pongsapat Pongcharoen, secretary-general of the Office of the Narcotics Control Board (ONCB), told the press that Malaysian national Yi Yong Ho and his Thai accomplice Kritsana Meenant used a marine-life export company's office in tambon Bang Rin to repackage the narcotics to send along with the seafood products to Australia.
The Australian Federal Police had previously contacted their Thai counterparts to inquire about a large batch of heroin would be sent to Australia, so Thai police decided to investigate the case, Pongsapat said.
The investigation team learned that a group of Malaysian suspects, particularly Yi, had made several trips from Malaysia to Bangkok and Ranong last November, he said. Then the team learned that the man had returned to Ranong in February, possibly for further planning and making connections.
On Tuesday night, Yi and Kritsana returned to Ranong to take the drugs to the company's office for repackaging, Pongsapat said.
The Thai police team had been tailing the pair for nearly a month and decided to arrest them at this point. The seized heroin carried the Lion on Globe logo, which reportedly originated from Myanmar, and was found packed in 420 small packets and hidden in 23 boxes of seafood, Pongsapat said. The total amount of heroin seized weighed 147kg and could fetch up to Bt3 billion in Australia.
<!- — Phuket Gazette Editors
Want more from the Thaiger family?
📱 Download our app on Android or iOS for instant updates on your mobile
📧 Subscribe to our daily email newsletter
👍 Like/Follow us on Facebook
🔔 Subscribe to or Join our YouTube channel for daily video updates
Illegal border crossings bringing in new Covid-19 infections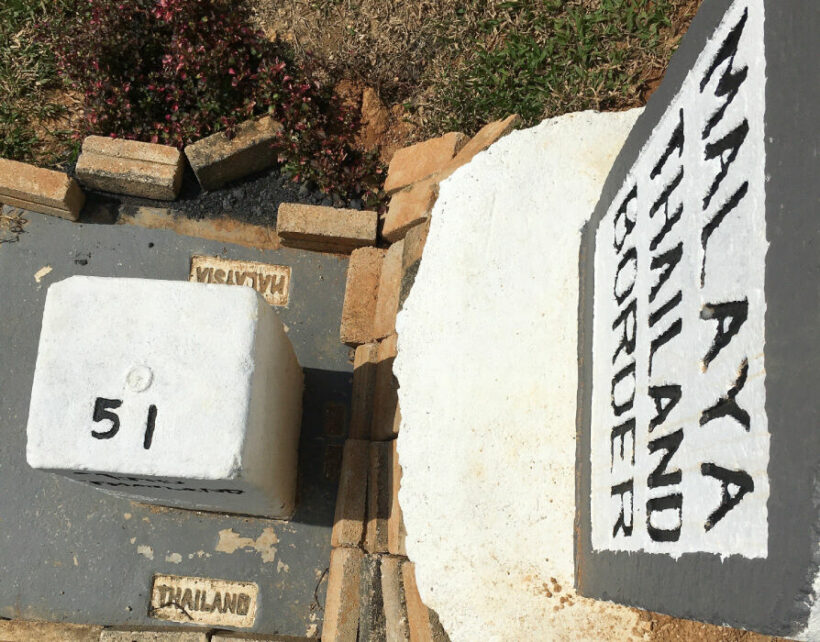 Authorities are worried about illegal border crossings into Thailand bringing in the Coronavirus after 5 recent Covid-19 infections from such crossings. Bypassing all health and security checkpoints along the border, 5 Thai nationals were identified today as being positive for Covid-19 after they snuck into the country, according to the Centre for Covid-19 Situation Administration.
Authorities nabbed 2 after border crossings from Malaysia illegally on April 28 and May 3rd, while another snuck across the Burmese border into Tak on May 2. The last 2 came from Cambodia on Thursday across the Sa Kaeo border. All 5 illegal border crossers are now in state hospitals for Covid-19 treatment.
According to CCSA data in the first four months of 2021 a total of 15,378 people were arrested by Thai authorities while sneaking across borders. Even after security forces increased patrolling along the borders, people managed to sneak in from Myanmar, Malaysia, Laos, and Cambodia. 6,700 of those who crossed the border were Burmese citizens, while another 1,700 of them were Thai nationals.
With nearly 400 lives lost to Covid-19 and over 83,000 people having been infected in the pandemic, the CCSA declared that Prime Minister Prayut Chan-o-cha and National Security Council Secretary-General Natthapol Nakpanich agree that these illegal border crossers without Covid-19 screening are a serious problem.
Many Thai people work in Malaysia and as the pandemic drags on they are sneaking across the border, desperate to make it home to their family. Another recent case found illegal Burmese border hoppers in a taxi en route to Hat Yai after they crossed into Thailand from the Malaysian border. They were trying to travel incognito across Thailand in order to cross the border again back into their home country of Myanmar.
The dilemma is even worse at the Burmese border as the often violent protests following the February 1 military coup has been pushing much of the country into poverty, and creating refugees who are flocking to the border in hopes of crossing over to safety. Many are seeking to escape the conflict and find work in Thailand.
SOURCE: Bangkok Post
Want more from the Thaiger family?
📱 Download our app on Android or iOS for instant updates on your mobile
📧 Subscribe to our daily email newsletter
👍 Like/Follow us on Facebook
🔔 Subscribe to or Join our YouTube channel for daily video updates
Thailand Consumer Confidence Index hits record low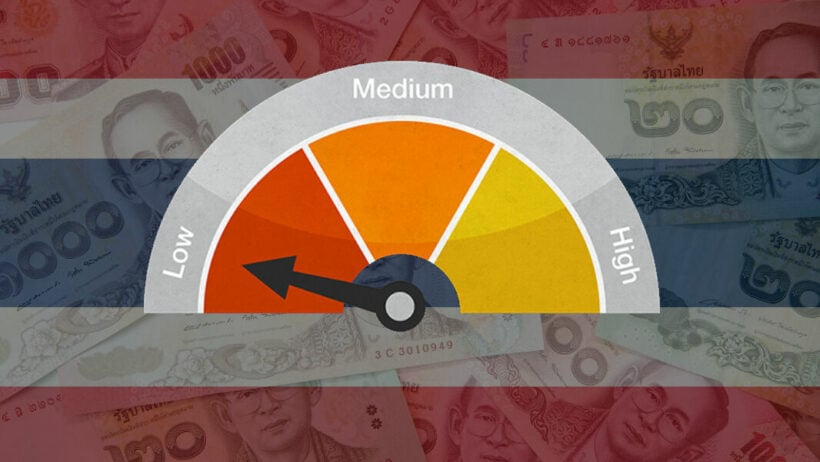 The University of the Thai Chamber of Commerce has reported that the Consumer Confidence Index has hit another new record low of 46.0 in April. The Covid-19 global pandemic has had a devastating effect on the economy and consumer confidence has fallen frequently to the lowest points that it has seen since 1998.
The president of the UTTC believes that consumers generally don't feel like there has been much of a recovery for the economy since the global pandemic began and without a stimulating event to motivate economic growth, the index is expected to continue to fall further. The university estimated that if the third wave of Covid-19 continues past the end of May the economy can expect to lose 400 to 600 billion baht.
The UTTC president stressed that the government should hasten to step up relief measures and make sure they continue relief and economic stimulus throughout the pandemic to avoid economic catastrophe. He predicted that the economy and the Consumer Confidence Index will continue on a downward slope without any hope of improvement until the vaccine rollout gets well underway towards herd immunity, and new Covid-19 infections are decreased dramatically.
Today saw another 2,101 new Covid-19 infections and 17 deaths in Thailand. Vaccination efforts are continually being stepped up, but still remain woefully slow.
The Consumer Confidence Index first started falling last year, with a drop below the previous record low in 1998 in April of 2020, when it fell to 47.2. A few months later, by July of last year, it had recovered significantly, climbing back over 50. But by March of this year, the index had fallen again to 48.5. With April's tumble of 2.5 points, the Consumer Confidence Index pushes once again to a new record low.
SOURCE: Thai Business News
Want more from the Thaiger family?
📱 Download our app on Android or iOS for instant updates on your mobile
📧 Subscribe to our daily email newsletter
👍 Like/Follow us on Facebook
🔔 Subscribe to or Join our YouTube channel for daily video updates
Thailand searches for cow vaccine for lumpy skin disease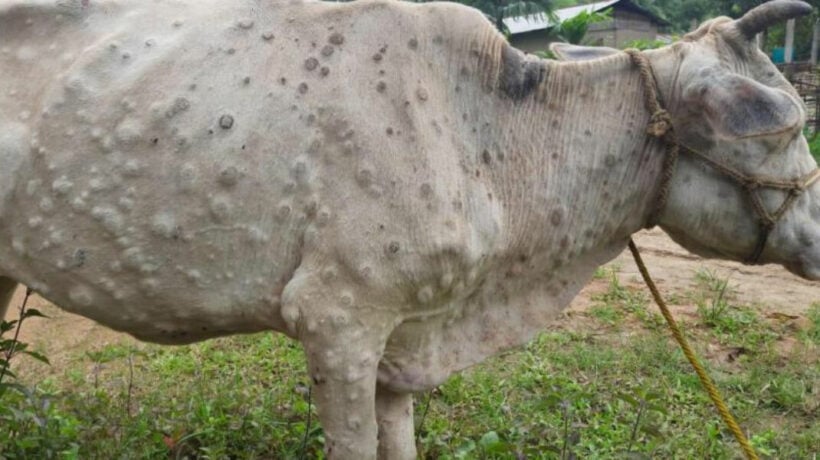 Move over Covid-19 there's a new disease sweeping the country as Thailand's cow population is afflicted with a lumpy skin disease. The Department of Livestock Development is now working on procuring vaccines from overseas manufacturers to import and treat the cattle population in Thailand. The lumpy skin is caused by pustules that are the most visible symptom, perhaps more detectable than other bovine signs such as drooling, loss of appetite and drowsiness.
The cow disease is spreading in the North, Northeast, and Central Plains area of Thailand and has been found in 18 provinces total. First identified in Roi Et, it has now spread in Chiang Rai, Kalasin, Kanchanaburi, Khon Kaen, Maha Sarakham, Nakhon Pathom, and Nakhon Phanom. The first case of the lumpy skin disease was reported in Don Daeng village last month and on April 9th officials reported it to the World Organisation for Animal Health.
The lumpy skin disease is found in cow pens and spread through flies, ticks, and mosquitoes, but the DLD says not to panic, it is not transmissible to humans. The department is distributing important information about symptoms and how the disease spreads to breeders and farmers in the area. They're requiring the breeders to monitor their cattle closely and have imposed measures to control the disease in heavy hit areas.
To prevent the spread of disease in livestock, traders are being requested to not buy and sell cattle within 50 km from disease-stricken regions. And for farmers caring for cattle, the DLD recommends spraying insecticide in all areas to prevent transmission via insects. Finally, in case the cattle were jealous of traveling humans, the DLD is advising farmers to prevent disease spread by isolating any new cow that comes into their farms with a 28-day bovine quarantine where they should be kept under nets to keep insects away.
SOURCE: Bangkok Post
Want more from the Thaiger family?
📱 Download our app on Android or iOS for instant updates on your mobile
📧 Subscribe to our daily email newsletter
👍 Like/Follow us on Facebook
🔔 Subscribe to or Join our YouTube channel for daily video updates