Phuket Gazette Thailand News: Bangkok prepares for shutdown; Economic fears grow; Vote me out, dares Yingluck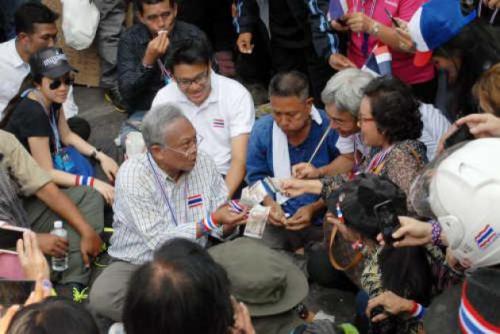 PHUKET MEDIA WATCH
– Thailand news compiled by Gazette editors for Phuket's international community
PDRC march a warm up for shutdown
The Nation / Phuket Gazette
PHUKET: Anti-government protesters from the People's Democratic Reform Committee (PDRC) marched through Bangkok yesterday in a warm-up for their "Bangkok shutdown" next week.
PDRC leader Suthep Thaugsuban led thousands of demonstrators from the main rally site at Democracy Monument, passing through Baan Mor, Pak Klong Talat (flower market), Phahurat, and Charoen Krung Road before returning to Rajdamnoen Avenue. As usual, during his march, people lined up to present Suthep with flowers and donations.
PDRC spokesman Akanat Prompan said the protest route covered eight kilometres. The march took six hours from 10am to 4pm when protesters arrived back at Democracy Monument.
The Students and People's Network for Thailand's Reform (STR), a splinter group of the PDRC, did not join the rally.
Vote against me if you want me out: Yingluck
The Nation / Phuket Gazette
PHUKET: Caretaker Prime Minister Yingluck Shinawatra yesterday urged her political opponents to go to the polls if they want to remove her from office.
I would like to ask everyone to practice tolerance and let time heal the problem. Problems facing the country are getting more complicated and cannot be solved in one day. If you don't want the government to return to power, you have to fight us in the election. Transform rallies into a force of checks," she said.
On her Facebook page, she said an election was the best medicine to cure political conflicts and the best mechanism to settle issues in a democratic system.
After the House was dissolved, the government could not implement measures to tackle economic problems such as boosting GDP through government spending, so private investment has been unresponsive.
Foreign tourists cancelled their bookings and many countries had warned their citizens against visiting Thailand.
"Let's talk and even though we have different opinions we do not need to be divided. Please do not pass on these conflicts to our children. Turn our differences into a force to solve problems for the country," she said.
Yingluck reportedly stayed at home to rest with her family while monitoring the moves of the People's Democratic Reform Committee to enlist protesters to join the "shutdown" rally on January 13.
Hundreds of provincial police have been mobilised from Bung Kan, Ratchaburi and Nan to stand watch at her home.
Paradorn Pattanatabut, secretary-general of the National Security Council, said security agencies have kept the premier informed on developments of the PDRC rally by briefing her every 15 minutes.
People wary of economic impact
The Nation / Phuket Gazette
PHUKET: Most people are worried the economy will be crippled by the Bangkok Shutdown, according to Suan Dusit Poll.
About 54 per cent of the 1,159 people polled in Greater Bangkok said they were afraid the mass rallies planned by the anti-government movement to paralyse the capital would strangle economic activity.
About three out of four of the respondents were apprehensive about the escalation of the situation.
When asked about their feelings toward the Bangkok Shutdown, 47 per cent asked all sides to think about the public's common interest.
The opinion survey was conducted from Thursday to Saturday.
Panda Lin Hui on the brink of giving birth
The Nation / Phuket Gazette
PHUKET: Much-adored giant panda Lin Hui is expected to give birth, possibly in the next 72 hours, a senior government veterinarian said at 2pm yesterday.
According to her latest urine test and her behaviour, the expectant mother – now in Chiang Mai Zoo – shows several signs of being close to delivery.
Surveillance cameras follow Lin Hui's movement around the clock, so as long as she is not in a blind spot, the birth will be caught on camera, said chief veterinarian Borriphat Siriarunrat.
Policeman killed, three injured by speeding motorist
The Nation / Phuket Gazette
PHUKET: A traffic policeman in Phetchaburi was killed and three people were wounded after they were hit by a speeding car in Cha-am district.
Pol Sr Sgt Major Phichai Ngernlard, of Cha-am police station, was hit while he was getting into his car, after directing traffic for a passing royal motorcade. The driver of the speeding vehicle, Wasant Saengphloy, 22, also sustained injuries. He has been charged with causing death and injury through reckless driving.
Quoting eyewitnesses, police said Wasant's speeding sedan lost control on a sharp curve and veered off the road, before ploughing into the policeman and three pedestrians. CCTV footage of the accident went viral on social media.
VN man caught smuggling endangered species
The Nation / Phuket Gazette
PHUKET: A Vietnamese national has been arrested at Aranya Prathet border checkpoint in Sa Kaew province for allegedly attempting to smuggle a number of two endangered living animal species into the country.
The suspect, identified as Abdol Gani, was taken into custody by a local Army paramilitary rangers unit after being charged with possessing live animals without permission, and attempting to smuggle 10 Asian black-chested leaf turtles. Also found in his possession were 19 Chinese crocodile lizards, an indigenous species to China.
Immigration police said the man admitted that he planned to sell the lizards at to illegal wildlife traders in Bangkok's Chatuchak Market (Weekend Market) for Bt2,000 and Bt1,000, respectively. The man, who claimed he worked as a property broker in Vietnam, will be prosecuted by the local forestry and wildlife protection office.
— Phuket Gazette Editors
Keep in contact with The Thaiger by following our
Facebook page
.
Points deduction system for drivers to be introduced mid-December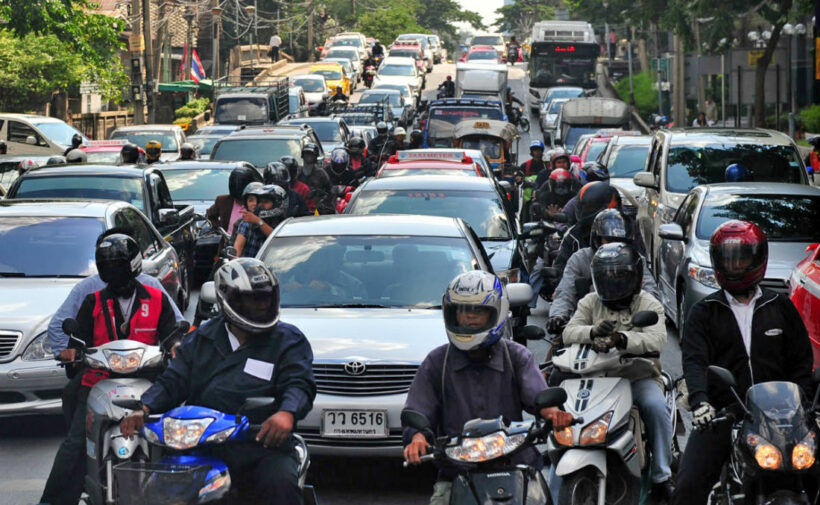 The point deduction system, for traffic and road infringements, is tentatively scheduled for activation for motorists and motorcyclists in mid-December. It is hoped that the system will help reduce road fatalities and injuries on Thai roads.
The deputy commander of Highways Police Command says that every licensed driver will be given an allocation of 12 points. Each time the driver commits a traffic law violation, points will be deducted. When there are no points left, the driver's license will be suspended for 90 days, after which the driver or motorcyclist will have to undergo training administered by the Land Transport Department to get their licence back, and another 12 points.
Those who don't attend the training, however, will have their licence returned after 90 days, but with only 8 points.
Points to be deducted differ, depending on the offence. Offences are divided into four categories:
• One point deduction
Using a cell-phone while driving; exceeding the speed limit; not wearing crash helmets for motorcyclists; not wearing seat belts; not giving way to emergency vehicles, riding on the sidewalk and not stopping for pedestrians on zebra crossings.
• Two points deduction
Running a red light; driving on the wrong side of the road; reckless driving; driving while his/her license is suspended and drunk driving.
• Three points deduction
Organising or promoting street racing without permission; hit-and run; driving while under the influence of narcotics; driving while under the influence of alcohol exceeding 150mg per ml.
• Four points deduction
Driving under the influence of alcohol exceeding 200mg per ml, drunk driving in a way which may cause serious injuries or death to the other people; driving in a manner disregarding the safety of the other people or causing trouble to other people.
SOURCE: Thai PBS World
Keep in contact with The Thaiger by following our
Facebook page
.
Opposition hits out at government's military spending in 2020 budget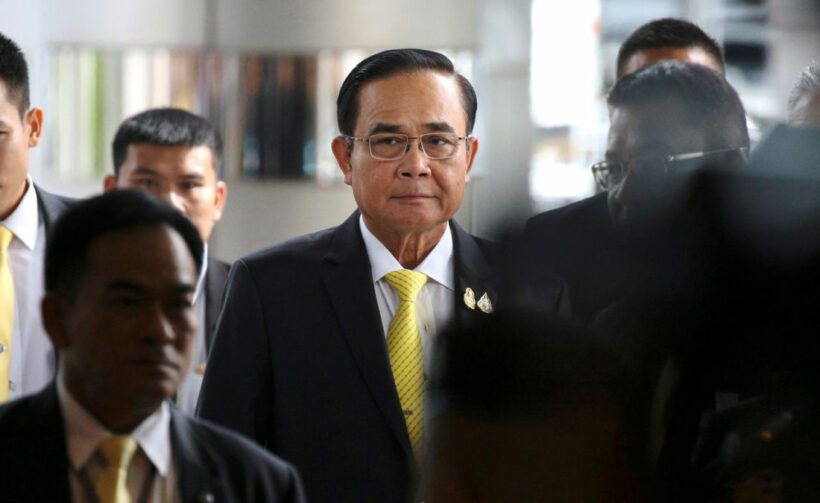 PHOTO: Reuters | The Business Times
The opposition is accusing the government of being more concerned with military arms than the daily struggles of Thai citizens. During a debate in Parliament on the budget bill, the government was accused of caring more about the growth in military spending than citizens' financial woes.
The opposition levied the attack after PM General Prayut Chan-o-cha delivered the 3.2 trillion baht bill to the House of Representatives. The debate on the 2020 budget is expected to continue for two more days and if approved by Parliament, the bill will come into force early next year.
The PM says the budget aligns with the "20 year strategy" to improve the living standards of the nation's citizens while growing the economy, but opponents accuse him of making defence spending a priority.
The leader of the opposition, Sompong Amornvivat, claims that in the five years the PM has been in power, total spending has hit 14.3 trillion baht, with loans of 2.2 trillion baht, without any significant growth in the economy. He accuses the government of spending more than 6 billion baht on defence, with the Interior Ministry getting 25 billion baht more than last year.
It's also understood that the government has also put 518.8 billion baht aside, which it can spend as it wishes, without the consent of Parliament.
The government's tourism stimulus plan, whereby domestic tourists would be given cash incentives, also came under fire as Sompong declared it a waste of money that would do nothing to boost productivity.
The subject of the PM's oath-taking fiasco reared its head again, as the leader of the Seree Ruam Thai Party, Pol General Sereepisut Temiyavej declared the PM and his government unfit to rule or propose a budget bill as a result of it.
Anudit Nakorntab from the Pheu Thai party said the government should postpone unnecessary spending on military arms while the country's citizens battle economic hardship, accusing the previous junta-led administration of also prioritising the military in its spending.
SOURCE: The Nation
Keep in contact with The Thaiger by following our
Facebook page
.
Academics warn of high cost of Thai ban on agri-chemicals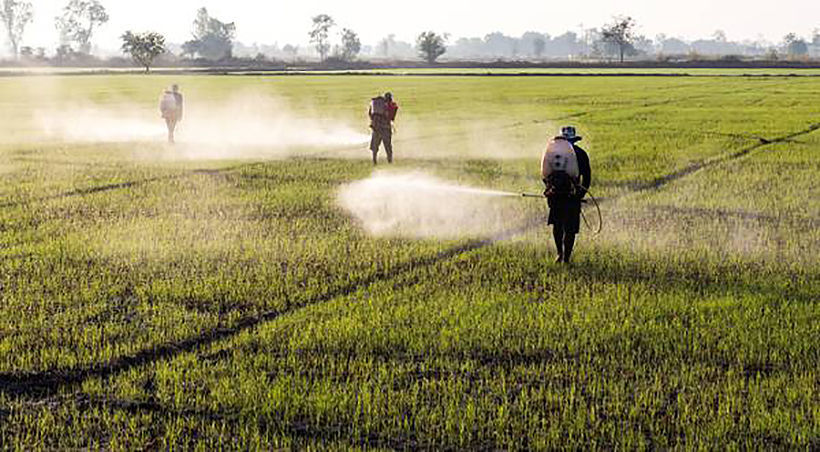 The chairman of the Thai Sugarcane Farmers Association, Thongkam Cheongklad, says a ban on the weed-killer paraquat would have a severe impact on production costs. Academics and Thai sugarcane farmers have also expressed their concern over the ban, saying it could cost the industry up to 570 billion baht.
The Nation reports that up to 1.2 million people working in the sugarcane industry are understood to be against the ban, saying the proposed paraquat substitute is both expensive and ineffective.
The president of the Thailand Society of Sugarcane Technologists, Kitti Choonhawong, says Thailand has approximately 11 million rai dedicated to sugarcane plantations, generating about 300 billion baht a year.
He claims that a ban on agri-chemicals may lower sugar production, which in turn would affect sugar factories and cause the export market to lose as much as 94.6 billion baht. Thailand is currently the world's second biggest sugar exporter, behind Brazil.
A research director from the Thailand Development Institute says the ban could ultimately mean the country is not allowed to produce enough food, unless chemical fertilisers are still allowed if chemical pesticides are banned.
Viroj Na Ranong says production costs will still rise however, along with labour costs, adding that the government needs to do its homework.
"The government has to implement measures based on research, not on social trends and politics."
It's understood that The National Hazardous Substances Committee will meet on October 27 to decide if a ban on three chemicals currently used in farming will go ahead. The substances involved are paraquat, glyphosate and chlorpyrifos and the proposal is for them to be banned from December 1.
SOURCE: The Nation
Keep in contact with The Thaiger by following our
Facebook page
.