Phuket Gazette: Thai sports news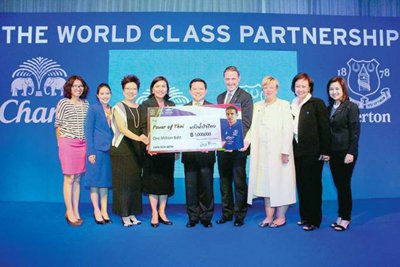 PHUKET MEDIA WATCH
– Thailand news compiled by Gazette editors for Phuket's international community
Thai Premier League can follow in EPL's footsteps: Everton chief
Phuket Gazette / The Nation
PHUKET: The Thai Premier League could one day become as successful as the English Premier League (EPL), but the country has to be patient, Everton's chief executive officer Robert Elstone said on Monday.
"If you have proper planning, patience, the right people and the right resources, then why not?" he said during a dinner talk in Bangkok organised by ThaiBev, the makers of Chang Beer, who are also Everton FC's shirt sponsors.
Elstone, visiting as part of the partnership with ThaiBev, suggested that Thai youngsters should begin their football training at the age of four or five, as beginning at 14 or 15 is too late.
"Thai football should not be 'afraid' of becoming successful. You should be setting a lot of benchmarks. The most important thing is to catch the boys at a young age and have patience in waiting for their success. I think it will take at least 10 years," he said.
The Everton boss also delivered a talk on "Football Freakonomics" and shared his experience at the helm of a top-class club in the EPL, which he hopes can help the development of Thai football clubs.
He said the EPL made an enormous amount of money and had increased its value "like crazy" – a success story that was achieved in just 20 years.
"The EPL brings in £60 million every single Saturday afternoon. This is a phenomenal number… 1,300 per cent more than it was when the EPL was first formed in 1992. The business has grown 13-fold in 20 years. It is the most important barometer to measure its success," he said.
ThaiBev CEO Thapana Sirivadhanabhakdi agreed that the figures Elstone reeled off showed the value of the EPL contribution to the economy. Nobody thought football could generate 3 billion baht over just one Saturday, he said.
"Over the past two years, I think the Thai Premier League has grown faster than the EPL. All I wish is for Chang to have an opportunity to play a vital role in developing Thai football. I want to see Thai football make good progress," Thapana said.
Chang became the first Thai brand to support an English football club with its shirt sponsorship of Everton. The partnership, which started in 2004 and is now in its ninth season, represents one of the longest in English football history.
"A partner like Everton, a top-class club, is crucial in the development of our footballers' skills at the youth, club or national level. The Chang-Everton partnership is vital for achieving our goal," Thapana said.
Meanwhile, there is a possibility that the two partners may revive the "Chang Thai to Everton" project soon.
"We have talked with Chang about the possibility of reviving the project to send young Thais to Everton. In that project, we helped young rising stars [Teerathep Vinothai, Sompong Sorleb, et al] of the Thai national team train at Everton. Outstanding young players from the Chang Cadet Cup competition held in October will be selected for training at our Finch Farm Academy," Elstone said.
Elstone also presented ThaiBev with Bt1 million in funds for flood relief raised from joint Chang-Everton initiatives under the "Power of Thai" project. The money was raised during the Everton-Norwich City match last year.
While in Thailand, Elstone also joined senior ThaiBev executives to donate sports equipment to Pamai Uthit 9 School in Nonthaburi which was badly affected by heavy floods last year.
Olympic greats see golden Games
Phuket Gazette / The Nation
PHUKET: Three former Olympians led by Somluck Kamsing, the first Thai to win an Olympic boxing gold medal, have talked up Thailand's prospects in the upcoming London Games.
The country is fielding 37 athletes in 19 disciplines in the world's biggest sporting event, from July 27 and August 12 in the English capital, including Phuket badminton star Maneepong Jongjit in the men's doubles..
Since Somluck's groundbreaking success at the Atlanta 1996 Olympics, Thailand have won at least one gold medal in subsequent editions of the Games. However, some fear that the Thai team may return home empty-handed this time, with no standout medal prospect in the roster.
Thailand are in a transition phase in many sports including boxing and weightlifting, the two disciplines in which the country has a good record. Flyweight Somjit Jongjohor and weightlifter Prapawadee Jaroenrattanatarakoon will not defend the Olympic titles they won in Beijing four years ago as the former has retired, while the latter was surprisingly axed from the team.
However, Somluck, along with 2004 Olympic weightlifting champion Pawina Thongsuk and Buttree Puedpong, who clinched the silver medal in Beijing in taekwondo, expressed confidence in the current team at an event hosted by Thailand Post yesterday, where the public were encouraged to give support to athletes through postcards.
In boxing, the Thai squad of three fighters, Sailom Ardee, Kaew Pongprayoon and Chatchai Butdee, have limited experience winning titles in the SEA Games, but Somluck believes the trio has what it takes to succeed in London.
"If you are able to book a berth in the Games, it shows that you are a good fighter. But if they are to succeed, they have to sacrifice a lot of things and train hard to improve their skills. I believe the efforts they put in will not be in vain. If I could win the gold, why can't they?"
Somluck, whose famous phrase was "I'm not boasting", believes mental attitude is an important factor in tournaments like the Olympic Games.
"Back then, people thought I was exaggerating when I said I would win the gold. But I just said it because I was really confident of my ability.
"So, I want the three boxers to have the same mindset and believe in themselves. Self-belief decides the outcome, particularly in top-level boxing. When you step into the ring, you must not fear anyone," said the 39-year-old.
Many pundits believe that taekwondo is the country's best hope for a medal at the Games, and 22-year-old Buttree echoes that sentiment. She is backing the Thai squad of three exponents, Rangsiya Nisaysom, Pen-ek Karaket and Chanatip Sornkham, to win the country's first Olympic gold in the Korean martial art.
"I think they all have an equal chance to win the gold as each is a highly capable athlete. I can't say who has the best chance because it all depends on the draw and how they perform on the competition day.
"For me, everything clicked on that day and I still can't believe that I made it to the final in the Olympics. I hope one – or all of them, if possible – can go one better than me this time and taste Olympic glory," said Buttree, who lost to the favourite Wu Jingyu of China in the women's 49kg category.
Despite the country's relatively inexperienced squad in the weightlifting competition, Pawina, who became the first Thai woman to win Olympic gold, in Athens – where Udomporn Polsak also took gold – was optimistic that they would clinch at least one medal.
"The athletes have been training well for months, so they have a decent chance of coming home with a medal, if not a gold. There is not much difference in the statistics between our athletes and the Chinese, who are our main opponents."
— Phuket Gazette Editors
Keep in contact with The Thaiger by following our Facebook page.
Never miss out on future posts by following The Thaiger.
Public Health Minister gets first Covid-19 vaccine shot in Thailand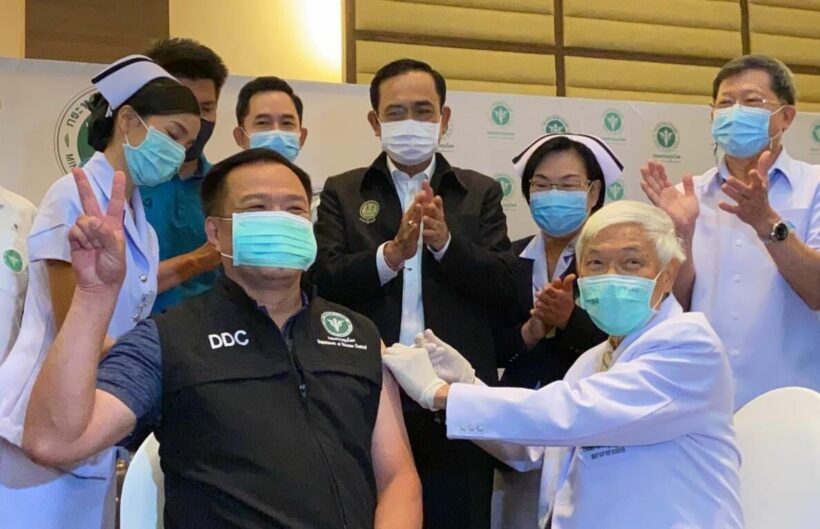 Thailand's Covid-19 vaccine campaign started with Public Health Minister Anutin Charnvirakul who was jabbed with China's Sinovac vaccine. PM Prayut Chan-o-cha was initially planned to be the first to kick off Thailand's immunisation plan with the AstraZeneca vaccine, but due to problems with paperwork, the prime minister's injection was postponed. Doctors advised Prayut to get the AstraZeneca vaccine due to his age. Prayut is 66 and doctors say the Sinovac vaccine has been declared safe for people ages 18 to 59.
Both shipments of the Sinovac and AstraZeneca vaccines arrived last week, the AstraZeneca vaccine still needs to be endorsed by the Medical Science Department. Anutin says the pharmaceutical company has not submitted documents and samples needed for the endorsement.
Along with Anutin, a number of other government officials and health professionals were vaccinated against the coronavirus. Anutin's shot was administered by Thailand's top virologist Yong Poovorawan.
SOURCE: Bangkok Post
Keep in contact with The Thaiger by following our Facebook page.
Never miss out on future posts by following The Thaiger.
Royal Thai Police accused of "ticket" promotion system to buy senior positions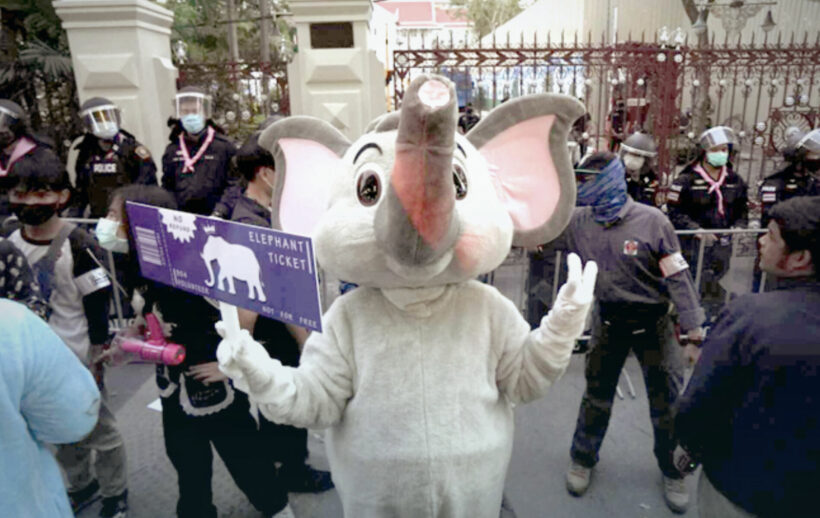 The Royal Thai Police are being accused of using so-called "elephant tickets" to buy their way into promotions and pay their way up the police force's chain of command. The corruption among the police force and the buying of positions without meeting the requirements for a promotion has been a longtime problem, according to the Bangkok Post.
The "elephant ticket" issue was recently brought to light by an opposition MP at a censure debate who said it fast tracked the promotion system and allowed some people who were unqualified and undeserving to raise their rank. Some Thais have protested the "elephant ticket." Many gathered in front of the Royal Thai Police headquarters in Bangkok last week, including one person who dressed up as an elephant.
At the censure debate on February 19, Move Forward Party MP Rangsiman Rome called out PM Prayut Chan-o-cha, who chairs the Police Commission overseeing the Royal Thai Police, and said the prime minister allowed the "elephant ticket" promotions. Prayut later said there were problems within the police force and that he would handle it.
Police who want a promotion need a ticket, which is basically just a reference or a stamp of approval from a senior officer or even a politician or business person. To get an "elephant ticket," some can pay for the ticket. A source told the Post that positions for police superintendents cost between 5 to 10 million baht.
Others can get a ticket by doing favours for their superior or even just serving their superior for a long time, sources told the Bangkok Post. The higher the position a senior officer has, the more tickets they have to give out.
To read the full special report by the Bangkok Post, click HERE.
Keep in contact with The Thaiger by following our Facebook page.
Never miss out on future posts by following The Thaiger.
Woman talks about the life of a Thai "pretty" after model's death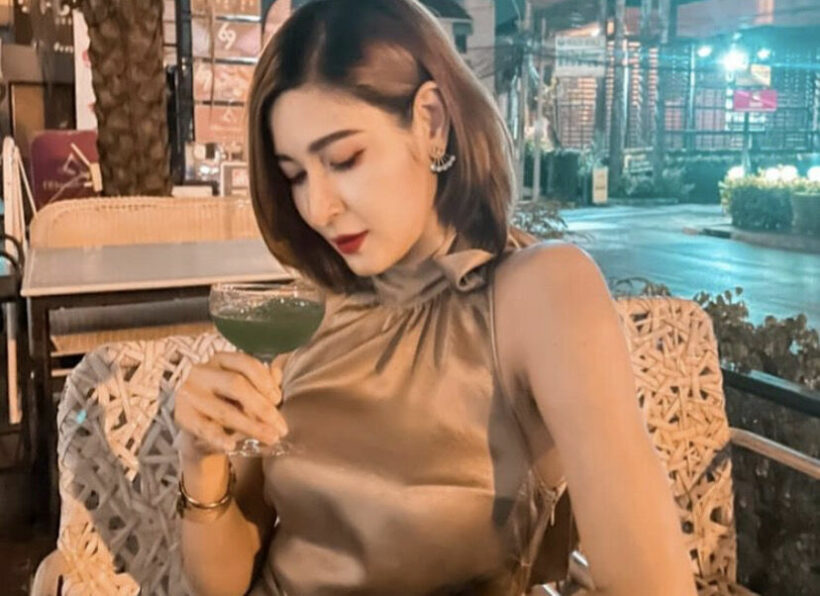 Following the news of a model who died after working as a hostess at a Bangkok party, Thai media spoke with a woman, known in Thailand as a "pretty," about what it's like to work in the lucrative, yet shady Thai model entertainment industry where many work as hostesses at parties and events that often involve alcohol, drugs and sex work.
"Miss Cake" told the Thai news outlet Daily News that pretties are sent to parties by "modelling agencies." The parties are even categorized depending on if drugs or sex are involved. Apparently the parties are either "En-Up," "En-V" or just "En" for entertainment. En-Up means drugs are involved, while En-V means the pretties will offer sexual services. Other pretties work at promotional events like auto shows. Since nightclubs and other entertainment venues in Bangkok have been closed due to the pandemic, many of the parties are now held at private homes.
If a pretty is working at an En-Up party, Miss Cake says that means there will be ecstasy, known as "khanom," the Thai word for a dessert or snack. She says good "khanom" shipped from overseas costs around 900 to 1,000 baht while the poor quality, Thai-made drugs cost 500 baht. Just about every pretty takes drugs, she says. If mixed with ketamine, Miss Cake says it can be dangerous.
Daily News spoke with Miss Cake following the death of a 33 year old Witchayaporn "Wawa" Wisetsombat who worked died in a hospital after working as a hostess at a party in Bangkok's Chatuchak district. She had been hired by a modelling agency to serve drinks at a private party. Her younger sister told the Bangkok Post that Wawa was a product presenter and never sold sex or used narcotics. Doctors told the Post Wawa died from respiratory and blood system failure. They are still waiting for the results for a toxicology test.
The death of another model back in 2019 shed light on the abuse and danger many pretties face in the industry. 25 year old Thitima "Lunlabelle" Noraphanpiphat died from "extreme alcohol intoxication," according to an autopsy report. Her dead body was found in the lobby of a Bangkok condominium. 6 people were found guilty for involvement in Lunlabelle's death.
Abuse is common in the industry and many women working as pretties are often pressured into drinking excessive amounts of alcohol. The work of pretties is looked down upon in Thai society. Due to the stigma, many due not file complaints when they are abused.
SOURCE: Thai Visa
Keep in contact with The Thaiger by following our Facebook page.
Never miss out on future posts by following The Thaiger.