Phuket Gazette: Gender inequality; Public debt; 4 Forbes' heroes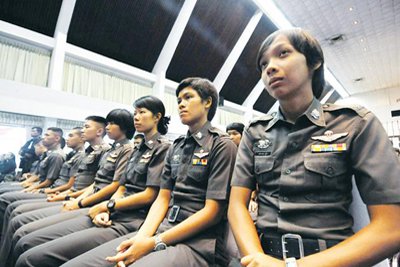 PHUKET MEDIA WATCH
– Thailand news compiled by Gazette editors for Phuket's international community
Gender inequality still a problem among police cadets, say female students
Phuket Gazette / The Nation

PHUKET: The Royal Police Cadet School is proud of a recent workshop it conducted on ending violence against women in the community.
However, in practice, its female students still experience gender discrimination at the school, claiming some of their male peers have even given them the silent treatment for their attempt to prove that women and men are equal.
"Most male cadets here have a really strong gender perspective. They can't bear the fact that women can shoulder a rifle like they do," a female cadet said sadly.
Speaking on condition that she be identified only as 'Tuk', she said gender discrimination was so severe she once decided to call the course quits.
"I felt uncomfortable. Apart from many strict rules, there were certain issues about female nature. For example, when I have my periods, I always have a bad stomach ache but they failed to understand why I couldn't join their normal training," Tuk recounted.
Four years ago, she entered the school with its first batch of female cadets. At the time, there were about 20,000 female applicants but only 60 emerged the best in both physical and academic tests.
Tuk couldn't stand the pressure in school, so she decided to leave during her third year.
"Most Armed Forces Academies Preparatory School (AFAPS) graduates who study here tend to not accept female cadets as they think women ruined their system," one male student at the Royal Police Cadet School admitted. He agreed to give the interview on condition his name be withheld.
The student said about 70 per cent of male students still had a bad attitude towards female police. Some might express their feelings clearly, such as not stopping to bow to more senior female cadets, even though such action violates regulations.
When graduates from boys-only schools move to higher-educational institutes, their attitudes about gender equality do not pose much of a problem because most institutes have graduates from girls-only and co-ed schools.
However, at the Royal Police Cadet School, most students are still male – 80 per cent of the current students at this school coming from the AFAPS. It was big news when 80 Royal Police cadets voluntarily joined the three-day training over the past weekend to increase their knowledge of the nature, extent, and seriousness of crimes perpetrated against women.
"Some male cadets changed their masculine attitudes after women proved they could do everything men do. But there are still extreme individuals who won't talk or participate with us," said Key, a third-year female cadet, who hesitated before speaking softly.
Tuk, who resumed her study at the Royal Police Cadet School, reckoned that things had changed in a better way. Yet, when asked whether the workshop on ending violence against women would erase wrong gender perspectives, Tuk gave a firm "No".
Anek Anonthawan, a teacher at the Royal Thai Cadet School, insisted that the girls' presence at the institution so far has benefited the males.
"At first, there were heated debates on whether girls should be accepted as police cadets. But we explained to students that police need policewomen to work on sensitive cases and all understood it." Anek said.
Nattaporn Seedajai, an administrative teacher, said the school's practices had been adjusted to ensure they suited the physique of both males and females.
"Female cadets have colored and softened the atmosphere here," Nattaporn said.
However, the less tough physical training has not made male police cadets happy and has led to anti-female cadet feeling in the school.
"Police cadets used to be proud of their system, their programmes. But when things changed, they blamed the girls," a male police cadet said.
Although Nattaporn has welcomed the girls to his school, he still apparently believes females can't be as strong as males. "I respect a female police cadet's spirit, but I feel pity for a little girl who has to be trained hard like men," Nattaporn said.
He also felt sorry for female cadets who may not be allowed to join an award ceremony where the royally-granted swords are presented and all male graduates attend.
"To date, no female police officers have got the swords even though their male peers receive one each. So, I am not really sure whether female graduates from our schools will be allowed to join the ceremony. I love them all but I won't be able to help in this regard," Nattaporn said.
Govt warned over surge in public debt
Phuket Gazette / The Nation

PHUKET: The government must address the rising level of public debt and cut populist spending to free up funding for investment in infrastructure projects, participants in a seminar said.
The Finance Ministry projects that public debt will rise to about 54 per cent of gross domestic product in the next four years, up from about 42 per cent currently. The debt-to-GDP ratio is considered safe as long as it is below 60 per cent, according to the ministry's Public Debt Management Office.
But economist-turned-politician Trairong Suwankiri yesterday warned that if the Finance Ministry's assumed GDP growth rate of about 4-5 per cent did not materialize, public debt would be much higher than projected.
"So if average GDP growth in the next four years is about 2-3 per cent, the country will face a problem of unsustainable public debt," he said at seminar hosted by the Thammasat Economics Association.
The current and past governments have run fiscal deficits in an effort to bolster the economy in the face of the global financial crisis and last year's severe floods. The government plans to run a deficit of about Bt400 billion this year and Bt300 billion next year.
High public debts can sink a country quickly, as seen in the case of the late-1990s financial crisis in Argentina, which had public debt of only 50 per cent of GDP, Trairong said.
Greece, so far, has been kept afloat only by bail-outs from the European Union, he said.
By continuing to waste a lot of money on the rice-pledging scheme this year, the government will add to the public debt, Trairong said.
Former finance minister Somkid Jatusripitak urged the government to invest more in infrastructure projects, education, and research and development to support sustainable growth.
Short-term economic stimulus will not lead to sustainable growth, he said.
Thailand could take advantage of the Asean single market if the country can improve its competitiveness through productive investment. Thailand's competitiveness now lags behind those of Singapore and Malaysia, Somkid said.
He warned that political conflict would lead to a further erosion of the country's competitiveness as the right people are not put into the right jobs because of nepotism and other forms of corruption.
"The country now lacks consciousness; people do not know what is right and what is wrong," he lamented.
Bhanupong Nidhiprabha, dean of Thammasat University's economics faculty, said fiscal stimulus was the right solution, as the global economy is slowing, but cautioned that public spending must be well targeted.
Teerana Bhongmakapat, former dean of Chulalongkorn University's economics faculty, warned the government not to be complacent over public debt. O
— Phuket Gazette Editors


Read more headlines, reports & breaking news in Thailand. Or catch up on your Thailand news.
3.6 million coronation souvenir coins ordered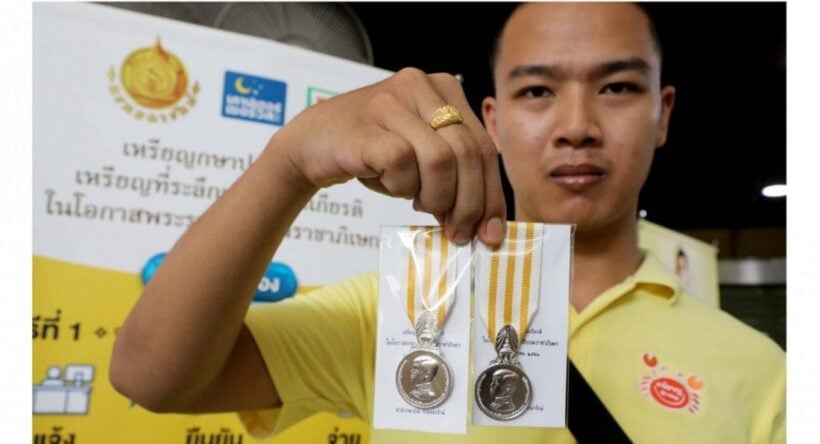 The Treasury has reported that orders have been placed for more than 3.6 million souvenir coins of different models that are being especially minted to mark the May 4 coronation of His Majesty the King.
The orders include 200 for the highest value platinum coins worth 1 million baht apiece, and 10,000 for gold coins, department chief Amnuay Preemonwong said.
The department has also extended the booking deadline from April 4 to May 10, while the coins will be delivered from June 1 onwards, he said.
A large number of people have been showing up to place orders at the Treasury Department on Rama VI Road in Bangkok as well as at its related offices in provinces, including the pavilions set up in Chiang Mai and Songkhla.
The department will produce limited quantities of three types of souvenir coins without engraved values.
Only 1,000 platinum coins, worth 1 million baht apiece, will be minted; no more than 100,000 pieces of the blackened and sandblasted silver coins worth 5,000 baht apiece will be minted; and 100,000 pieces of the blackened and sandblasted copper coins, worth 3,000 baht apiece will be minted.
The department will also produce three types of commemorative coins with engraved values as follows: 50,000 gold coins with 19,000 baht denomination priced at 40,000 baht apiece; 100,000 silver coins with 1,000 baht denomination selling at 3,000 baht apiece; and 5 million cupronickel coins with 20 baht denomination going for 20 apiece.
The department will also produce 500,000 sets of commemorative medals priced at 1,600 baht each.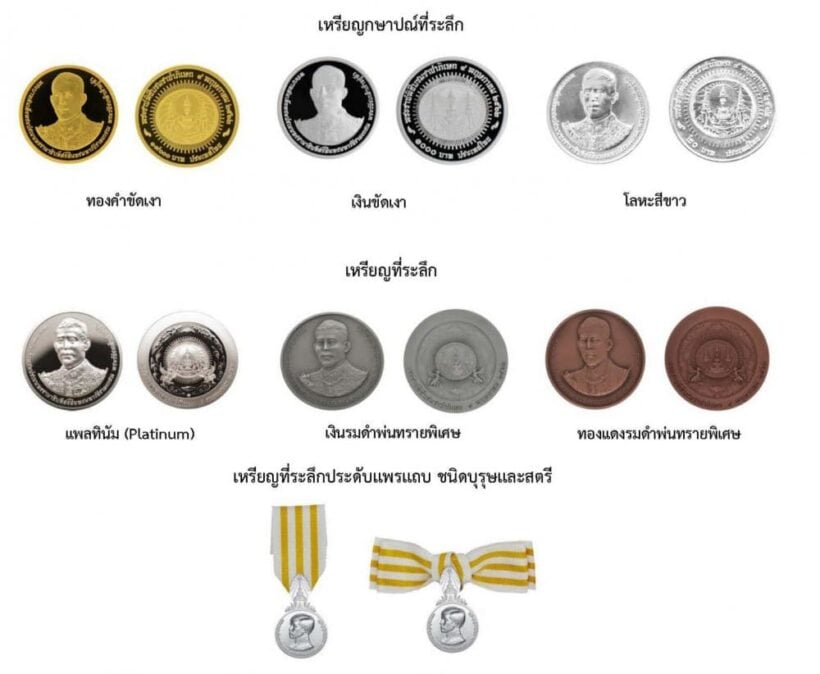 SOURCE: The Nation
Driver killed and 10 Burmese workers injured in Tak crash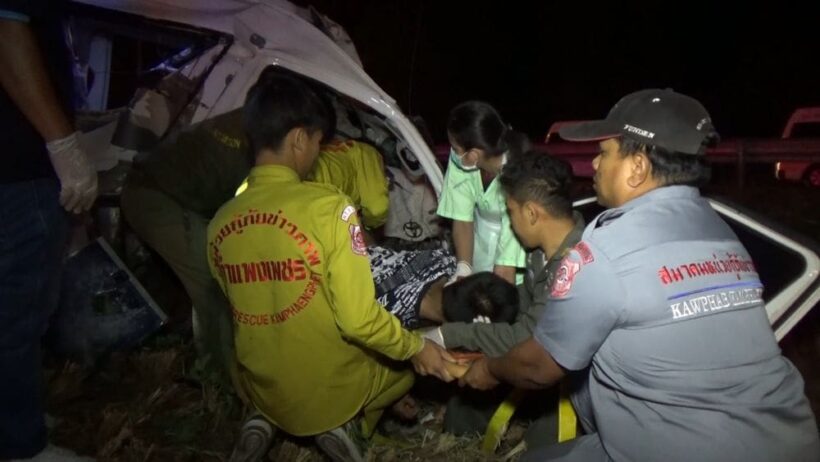 by Pipat Jongmeekwamsook
A van driver has been killed and 10 migrant workers injured after the passenger van careered into a roadside ditch and hit a tree in Khamphaeng Phet in Thailand's central west today.
The 27 year old van driver was killed and 10 Burmese workers were injured when their vehicle crashed in Khamphaeng Phet's Kosamphee Nakhon district early this morning (Thursday).
Police believe the driver, Thongpoon Chanachan, fell asleep at the wheel and died instantly in the collision. He was taking the migrant workers from Bangkok to renew their visa in Tak.
Rescue workers found the Toyota van with the wrecked front section stuck to the toppled tree when they arrived at the scene on Phaholyothin Highway at 4.30am.
They had to use heavy equipment to extract two of the injured passengers from the wreckage. The other slightly injured passengers told police that they left Bangkok at 10.30pm on Wednesday to renew their visa in Tak's Mae Sot district, on the border with Myanmar. All the passengers were asleep when the crash happened.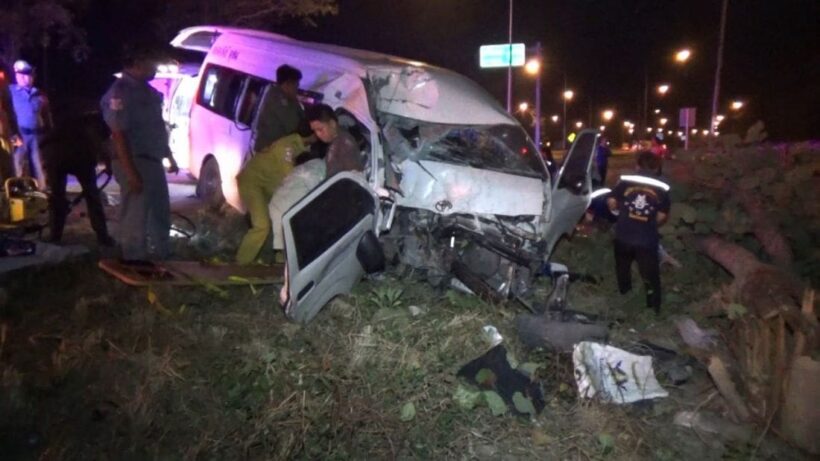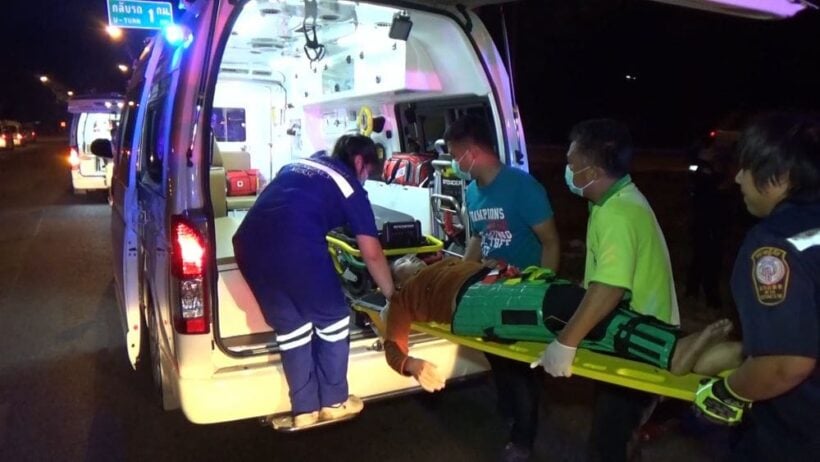 SOURCE: The Nation
Why the Chinese are infinitely more important than Western tourists to Thailand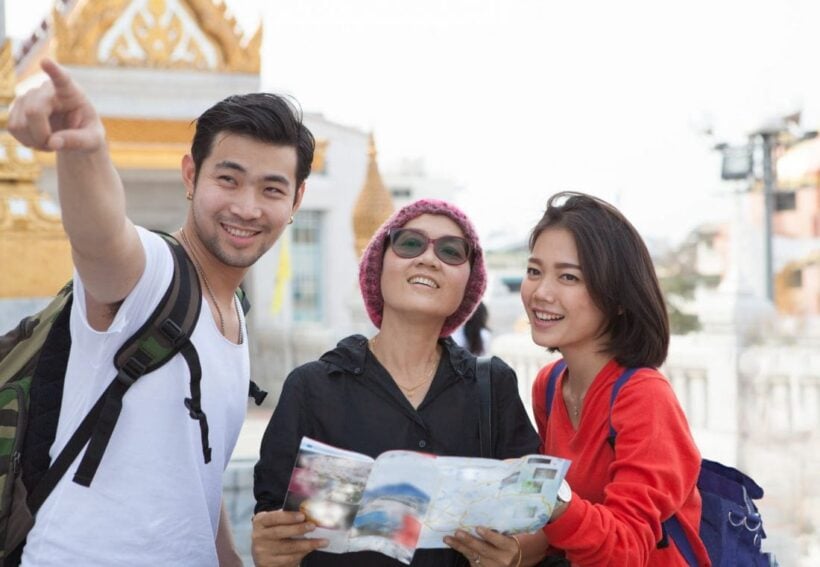 OPINION by Dan Cheeseman – Dan About Thailand
We need to wake up and smell the roses, us Westerners are no longer an important group for the Thailand tourism industry – in fact, we are what you would call 'niche' – and with good reason.
The Chinese are here in numbers and not only will this continue to grow but they also outspend Europeans per capita by 53% when in Thailand.
There are more Chinese…
The Chinese now account for 57.48% of all tourists in Thailand and what makes this even more staggering is only 8.7% currently have passports (120 million).
According to Jing Travel this could double by 2020 – that means 240 million Chinese able to travel (363% of the UK population – 66 million). They also go on to state that first time Chinese travellers are more likely to travel more close to home to begin with, so places like Vietnam and, you guessed it, Thailand.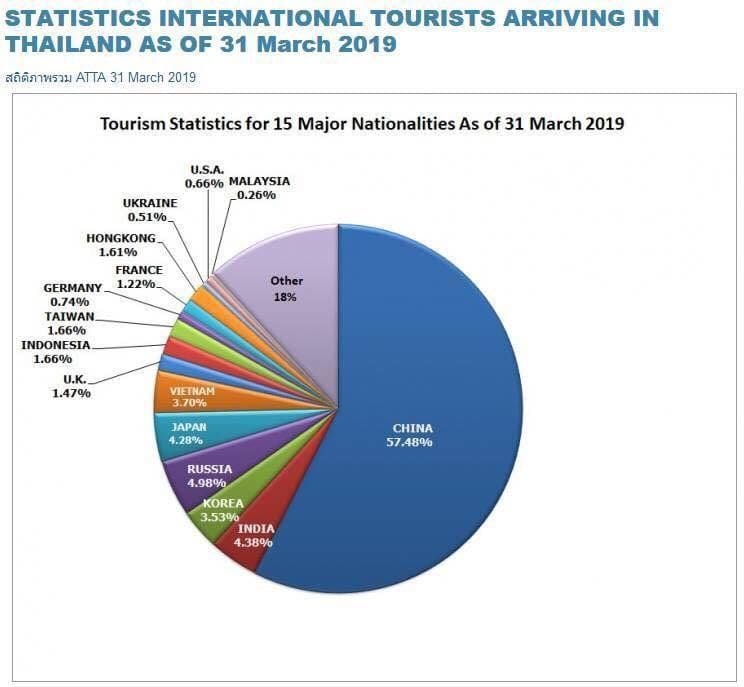 And the Chinese share of the pie will only grow.
No wonder Thailand are forecasting tourism to grow from the 38 million now to over 79 million by 2030.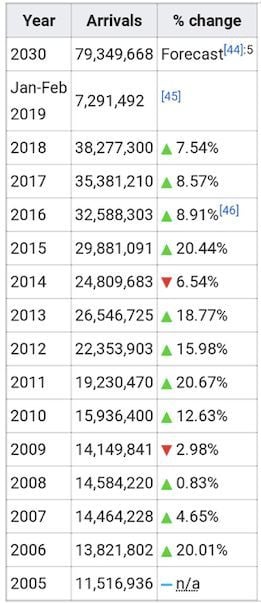 The Chinese Spend More…
Quite often I hear the European retaliation that they would like to see the spend levels per capita of Chinese, suggesting it to be low. This could not be further from the truth as shopping is an important factor for when they go on holiday.
The Chinese expenditure into Thailand is US$15,342,000,000 each year, which is more than any other nation. The average spend per day for a Chinese tourist in Thailand is US$192 – which is 53% more than the average Europeans US$125 daily spend.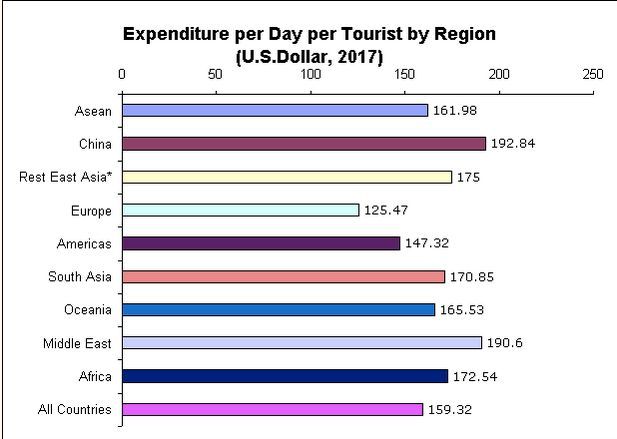 Read the rest of the story… Dan About Thailand