Phuket Business: Why Facebook was never a sure thing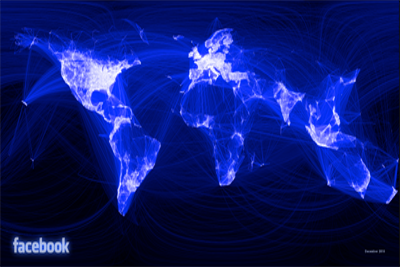 PHUKET: Personally speaking, I have never been one to jump on the Facebook band wagon. I just do not get the whole 'let the world know what you are doing on an hourly basis' scenario.
Don't get me wrong, this is a very useful application when, like ourselves, we enjoy the sun-soaked shores and we want to keep in touch with friends and loved ones back home.
Facebook has grown to become the largest social media network site in the world and, with over 900 million users worldwide, its potential seemed endless.
However, following its recent IPO, Facebook's stock price dropped in value. Was this unexpected?
Facebook, on one hand, would seem like an advertiser's paradise, access to 900 million people in one swoop. What went wrong?
We have to ask where do Facebook's profits come from? They don't charge subscribers so practically all their income comes from advertising. The last time I logged on to Facebook, there weren't the usual pop-ups that you would normally get from other websites.
Initially valued at between US$28-$35 per share, it seems that this valuation was severely overpriced and gave Facebook a value of US$105 billion.
When the share price dropped as soon as it began trading, it was evidence that investors didn't believe Facebook is a US$105 billion company.
If we look simply at Facebook's price to earnings ratio, at $38 a share, Facebook has a P/E (a measure of how much profit a share buys) of almost 100 times the projected earnings for the next 12 months.
By comparison, Google Inc. trades at 13 times the projected earnings. Subsequently the
initial IPO offerings saw the share price drop by 25% for some investors.
As the stock fell, there was a long list of questions, ranging from whether the underwriters priced the shares too high to how well prepared Nasdaq was to handle the biggest Internet IPO ever.
"It was just a poorly done deal and it just so happens to be the biggest deal ever for Nasdaq and they pooched it. That's the bottom line here," said Joe Saluzzi, co-manager of trading at Themis Trading in Chatham, New Jersey.
An IPO ought to leave investors confident that the system of share allocation is fair, the price is right, and the company is forthright. The Facebook IPO achieved none of these goals.
The good news is that individual investors who were denied a piece of the IPO can now buy Facebook shares for about $32 as of May 24th.
But, as with all stock picking, if this episode should teach us one thing, it is that due diligence needs to be done on any stocks that you may be intending to buy.
As this has shown us, even the largest of companies, and what many people deem as
being a safe bet, isn't always a sure thing.
There is no such thing as a sure thing. As markets remain volatile, there are still good stocks that can be had at the right price.
However, this is an area where expertise needs to be sought, as a few wrong picks could mean a significant loss.

For more information regarding this article please contact: Alyman@montpeliermalaysia.com
Anthony Lyman is a Senior Financial consultant for the Montpelier Group
— Anthony Lyman
Keep in contact with The Thaiger by following our Facebook page.
Never miss out on future posts by following The Thaiger.
Slow return of foreign tourism makes more redundancies inevitable – Airlines Association of Thailand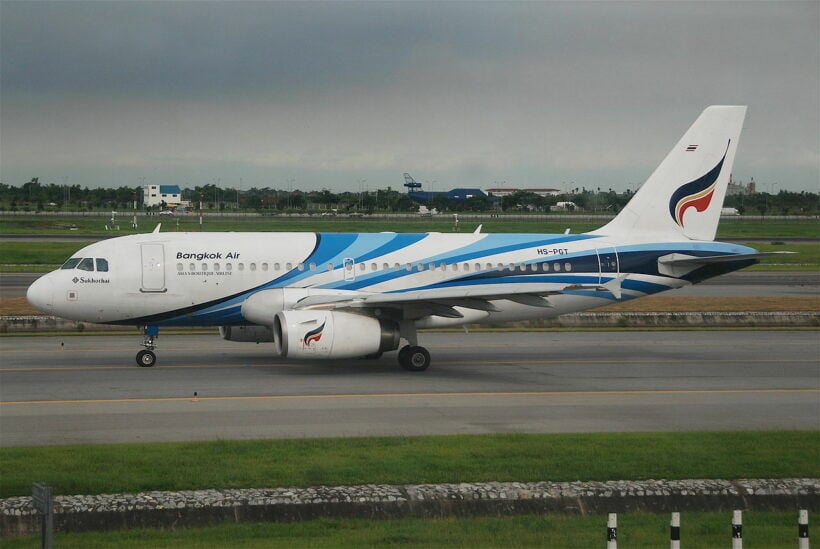 The president of the Airlines Association of Thailand says further layoffs in the sector are inevitable, due to the slow return of international tourism. In a Bangkok Post report, Puttipong Prasarttong-Osoth says the sluggish revival of foreign tourism, now not expected until the last quarter of the year, means all carriers continue to face financial hardship. And while there was a surge in the domestic market during the last quarter of 2020, the return of the virus in late December brought demand to a grinding halt.
"We suffered a tremendous domestic impact during the second wave, and it will take months to climb back to its peak again. While re-opening for international markets will likely occur with few countries that have bilateral agreements with Thailand first, as health safety is a big issue for local communities."
Significant layoffs have already happened over the course of the pandemic, with staff numbers at 7 carriers under the AAT umbrella now standing at 16,000, down from between 25,000 and 30,000, prior to Covid-19. Bangkok Airways has cut 20% of its workforce and only has 30% of its fleet in operation. Puttipong, who is also the airline's president, says it transported just 300 passengers a day during the month of January. Peak passenger numbers prior to the pandemic were around the 5,000 mark. Covid-19 has also led to the demise of low-cost carrier Nok Scoot, which went out of business in June 2020.
Puttipong predicts that Thailand's aviation sector could take 4 years to get back to anything like the 40 million foreign arrivals of 2019. He says all carriers will need to look at cost-saving initiatives as the only means of long-term survival. Thai Air Asia is one of 7 airline members of the AAT calling for a 14 billion baht soft loan. The carrier has been pushing the government to re-open, warning that Thailand risks losing its status as an international hub.
The Bangkok Post reports that the AAT plans to submit 3 requests to state agencies this week. They are calling for the vaccination programme to be extended to airline workers as a matter of priority, for the rapid introduction of a vaccine passport policy, and for the Transport Ministry to prepare the necessary regulations for international flights.
Puttipong has welcomed the recent decision to reduce quarantine for vaccinated arrivals, pointing out that the 14-day quarantine was the most significant hurdle preventing the return of foreign tourists.
"It's quite impossible for tourists and business travellers to take 14-day quarantines before and after trips. They might have money to spend, but they don't have the luxury of time to be kept in isolation for almost a month."
SOURCE: Bangkok Post
Keep in contact with The Thaiger by following our Facebook page.
Never miss out on future posts by following The Thaiger.
Facebook removes "information-influencing" pages linked to Thai military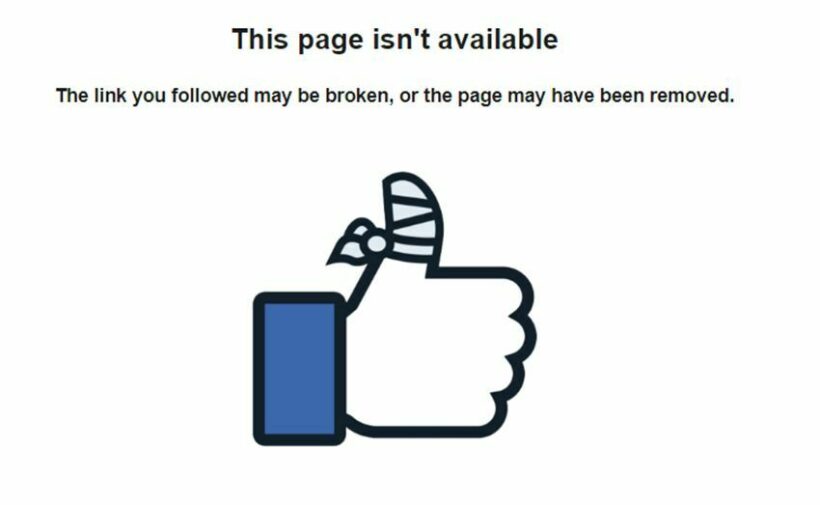 Facebook has confirmed the removal of 185 accounts run by the Thai military and allegedly involved in information-influencing. The social media giant says the accounts were deleted for engaging in what it calls, "coordinated inauthentic behaviour". In total, 77 accounts, 72 pages, and 18 groups have been removed from the platform, in addition to 18 Instagram accounts. It's the first time Facebook has taken such action against accounts linked to the Thai government.
The accounts were associated with the Thai military and were targeting people in the southern provinces, Facebook said its regular report on coordinated inauthentic behavior. The south of the country has been the scene of decades-long conflict, with insurgent groups in the majority-Muslim, Malay-speaking region calling for independence. To date, around 7,000 people have died in the ongoing struggle.
Facebook says the deleted accounts were most active last year and used both fake and real accounts to manage pages and groups, both openly military pages and pages that hid their links to the military. Some of the fake profiles pretended to be people from the southern provinces.
The report mentioned a post by the now-removed account named "comprehending the operation" in Thai. The page posted the logo for Amnesty International Thailand and wrote "The NGO never cares about ordinary citizens because they have no role in society. Normal people are not famous. Any case is not big news. They are not worth the investment of foreigners so they will not do anything to help. This is why we don't see anything from the NGO."
On another now-removed account, named "truth about my home Pattani" in Thai, a post said "Muslim leader declares southern border is a peace zone. The southern separatists started a movement by spreading the idea that Thailand is under control by different believers so that people would come and fight for their religion. This was declared that the action clearly violates Islam faith."
When contacted by Reuters, the military had no comment on the removal of the Facebook accounts, with a spokesman saying the organisation does not comment outside of official press conferences.
The head of Cybersecurity Policy at Facebook, Nathaniel Gleicher, has confirmed the reasons behind the platform's decision.
"This is the first time that we've attributed one of our takedowns to links to the Thai military. We found clear links between this operation and the Internal Security Operations Command. We can see that all of these accounts and groups are tied together as part of this operation."
He adds that the accounts had spent around US$350 on advertising on both Facebook and Instagram. One or more of the pages had about 700,000 followers and at least one of the groups had 100,000 members. Gleicher says the accounts were removed because of their misleading behaviour and not because of the content being posted. The content included support for the military and the monarchy, with allegations of violence and criticism of insurgent groups in the south.
It's not the first time accounts linked to the Thai military have been removed by a social media platform. In October, Twitter removed 926 accounts it says had links to the army and posted pro-military and pro-government content. The Thai army has denied any involvement with the accounts in question. In November, Twitter also suspended an account posting pro-monarchy content that was found to have links to the palace and to thousands of other accounts posting similar content.
To read the February 2021 Coordinated Inauthentic Behavior Report, click HERE.
Keep in contact with The Thaiger by following our Facebook page.
Never miss out on future posts by following The Thaiger.
Airline executive arrested for failure to pay wages of 150 workers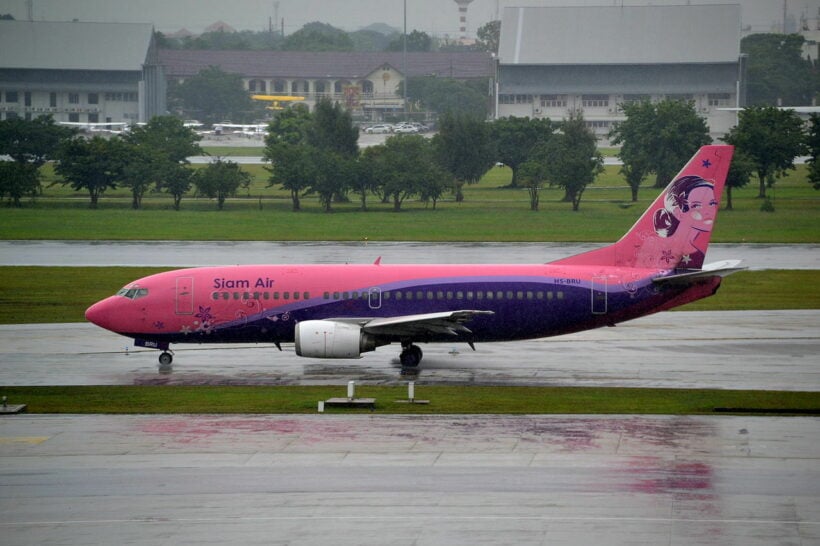 An airline executive has been arrested in the central province of Samut Songkhram, after complaints from150 employees that they had not been paid. Chawengsak Noiprasan, who had a court warrant issued against him in October, was taken to Don Muang police station from a property in the Bang Khan Take sub-district. He is a board member of Siam Air Transport.
The airline began operations in October 2014 with services out of Don Mueang to Hong Kong, using 2 Boeing 737-300s. 2 Boeing 737-800s were added to its fleet in late 2015. It expanded by adding Zhengzhou and Guangzhou in China to its network in early 2015. In late 2015, the airline launched flights to Macau and Singapore. In 2017, the airline ceased all operations.
But according to an article in the Bangkok Post, the carrier operates a number of scheduled and charter flights from Bangkok's Don Mueang Airport. The Post reports that, as Chawengsak signs the company's legal paperwork, all legal matters concerning the airline fall to him.
The Metropolitan Police Bureau says the executive has admitted to ignoring a 30 day notice issued by the labour inspector and ordering the payment of wages to 150 workers. It's understood he is also wanted in relation to 7 other cases.
The authorities sought Chawengsak's arrest following complaints from employees who say they haven't received their wages for 2 months. It's understood the airline had previously deferred salary payments for over 8 months. 150 workers filed an official complaint with Don Mueang police and also approached media outlets, asking them to pressure the airline into paying the money owed.
SOURCE: Bangkok Post
Keep in contact with The Thaiger by following our Facebook page.
Never miss out on future posts by following The Thaiger.