Phuket Muay Thai fighter is the first Thai national to compete in UFC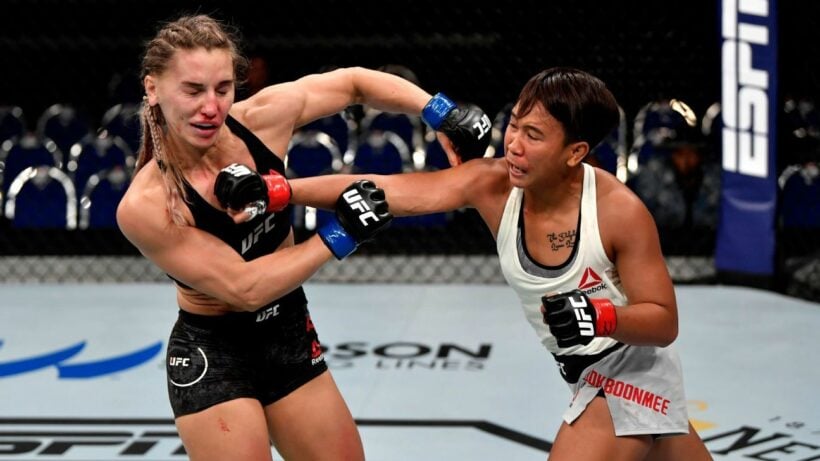 The upcoming Ultimate Fighting Championship Fight Night event in Abu Dhabi will feature Thailand's only national marking her third fight with the UFC, the world's largest mixed martial arts competition. 24 year old Loma Lookboonme, from Burirram in northeastern Thailand, will fight in the event on October 3, 2020.
Loma is a Muay Thai fighter who has adapted her MMA skills to fight in the UFC where she currently trains at the Tiger Muay Thai gym in Phuket. Loma qualified for the national team at the age of 19 and has fought in over 12 nations worldwide. She currently trains 6 days a week starting daily at 6:30am with a 3 kilometre run. In the UFC, she will be competing against China's Angela Lee who is the undisputed champion of the 52 kilogram fist weight category.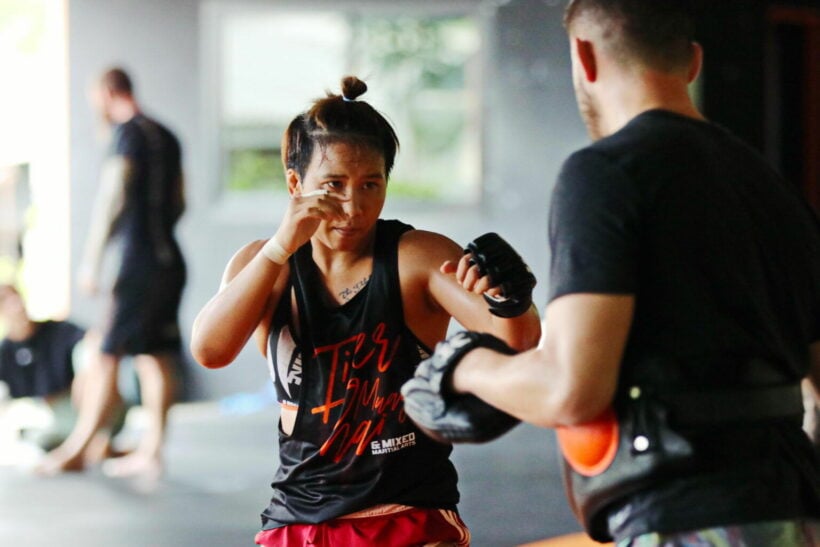 Loma's parents are former Muay Thai fighters and her 2 sisters currently compete as well. She reportedly started training at 8 years old after being inspired by her father, whom she describes as her "hero."
Like most Thais in such fighting sports, Muay Thai offers a way to rise out of poverty-and fighting for the UFC can be financially lucrative. But Loma says her only Thai sponsor is the gym where she trains, with the rest of her sponsors being from foreign brands. She says she is trying to get more Thai sponsors but feels that maybe she needs to win the UFC first before Thai brands notice her.
Loma lost her last fight and says her new opponent gives her nothing to lose. She says her goal is to get into the Top 10, but is not sure when it will happen. Loma says for now, it would be good to fight against someone in the Top 10 to help her prepare for her future.
FULL INTERVIEW: Thisrupt.co
Want more from the Thaiger family?
📱 Download our app on Android or iOS for instant updates on your mobile
📧 Subscribe to our daily email newsletter
👍 Like/Follow us on Facebook
🔔 Subscribe to or Join our YouTube channel for daily video updates
Tuesday's full moon will be a SUPER full moon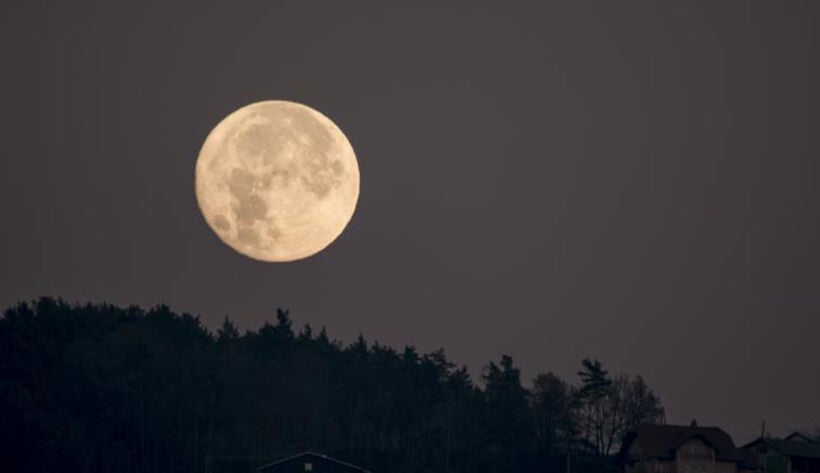 Tonight there will be a full moon. But not just ANY full moon, a SUPER full moon. Whoooaaa!
Whilst Koh Pha Ngan's monthly full moon party has been shelved for the meantime, we can still appreciate this monthly phenomenon (well, not quite monthly). The The National Astronomical Research Institute of Thailand says that the April astronomical phenomenon coincides with the perigee – the point in the orbit of the Moon which is nearest to the earth – so that the full moon will appear larger-than-usual. But we're only talking a few percent bigger and brighter.
This fluctuation in the full moon's distance from Earth is caused by the fact that the moon's orbit around the Earth isn't perfectly circular but very slightly elliptical. If the full moon occurs closer to the perigee (the closest point to Earth on this slightly elliptical orbit), it can appear bigger than if it occurs closer to the apogee (the farthest point).
If you're a flat-earther you'll have to come up with your own explanation.
The NARIT says tonight's the moon will rise in the east from 7pm (of course the Moon always rises in the east). Of course the clouds from the early arrival of the wet season in parts of Thailand will either make the viewing impossible or perhaps more spectacular.
The NARIT has a few tips to get a great photo of tonight's phenomenon… Use telephoto lens with focal length over 300mm and set your camera's ISO at 400 or over.
And if you miss this supermoon, we'll do it all again next month on May 26. This one will be even closer to the Earth and therefore slightly bigger, although the difference will still probably be impossible to spot.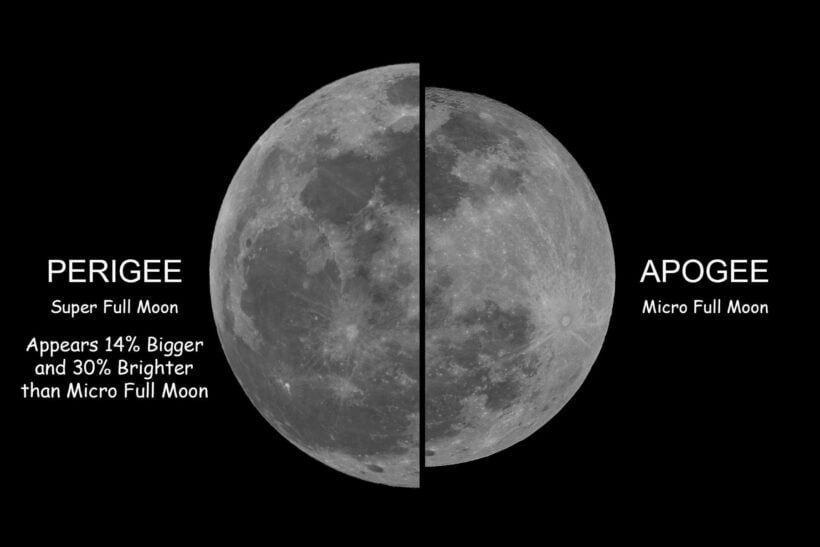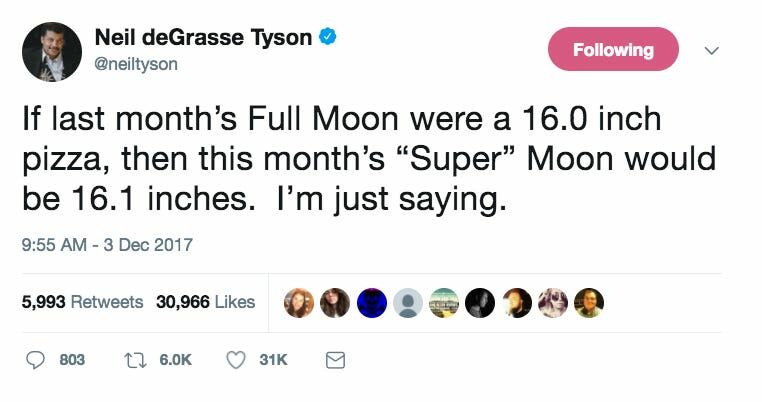 For more information, visit HERE.
Want more from the Thaiger family?
📱 Download our app on Android or iOS for instant updates on your mobile
📧 Subscribe to our daily email newsletter
👍 Like/Follow us on Facebook
🔔 Subscribe to or Join our YouTube channel for daily video updates
Lest we forget – ANZAC Day 2021 for Australians and New Zealanders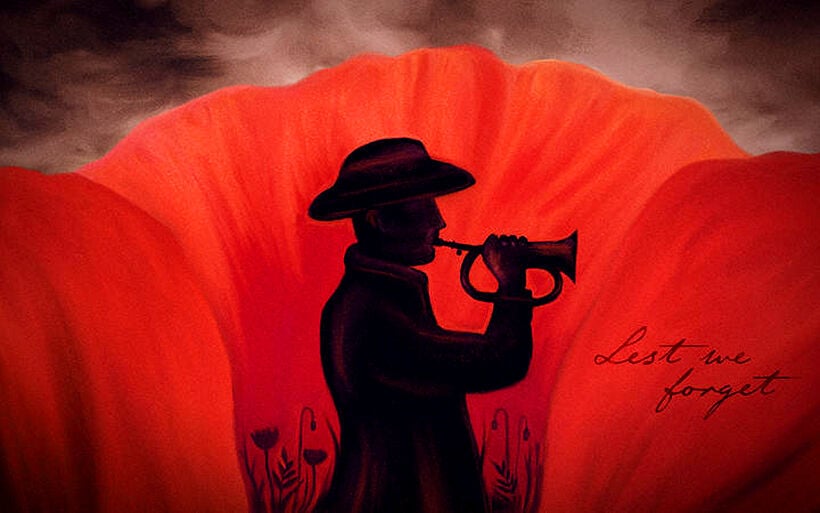 ANZAC Day, April 25, is when Australians and New Zealanders commemorate and remember those who fought for their countries and the Commonwealth with the origins of the event forged in the crucible of war at Gallipoli in Turkey in 1915. It is the most solemn day in the annual calendar of those two countries and usually commemorated with dawn services in both countries, by expats around the world, at at Gallipoli in Turkey.
Again, this year, Aussies and Kiwis are honouring the fallen at a distance, in Thailand and in other countries as well where social distancing is currently the norm. But the spirit of the 'diggers' and other soldiers lives on as we thank them for the service to their nations.
"They shall grow not old, as we that are left grow old
Age shall not weary them, nor the years condemn
At the going down of the sun and in the morning
We will remember them."
Below, Mick Clarke, the manager at Hellfire Pass war cemetery and museum in Kancahaburi, western Thailand near the Burmese border, lays a wreath at dawn this morning.
PHOTOS: Military History Kanchanaburi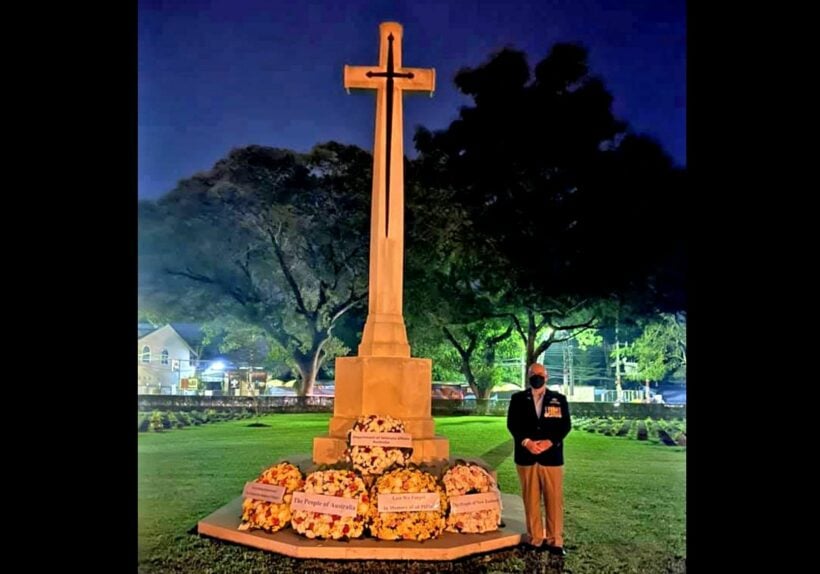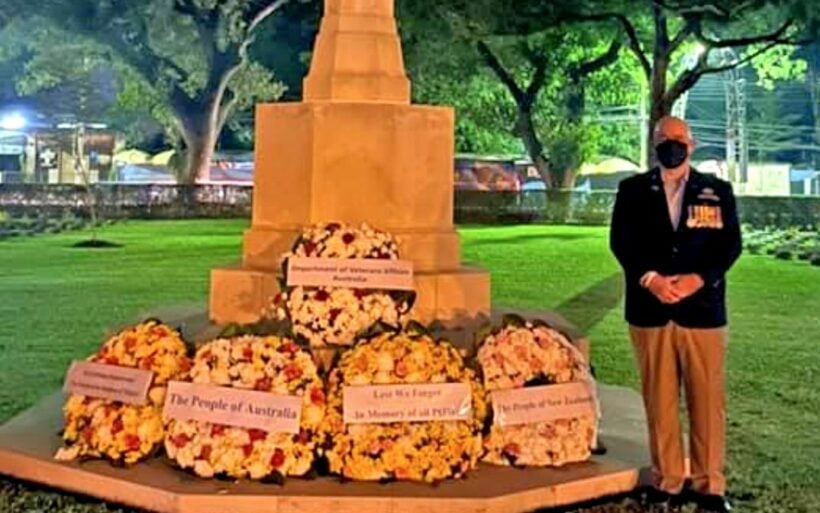 Want more from the Thaiger family?
📱 Download our app on Android or iOS for instant updates on your mobile
📧 Subscribe to our daily email newsletter
👍 Like/Follow us on Facebook
🔔 Subscribe to or Join our YouTube channel for daily video updates
Burmese students to hold Bangkok cultural event to support Civil Disobedience Movement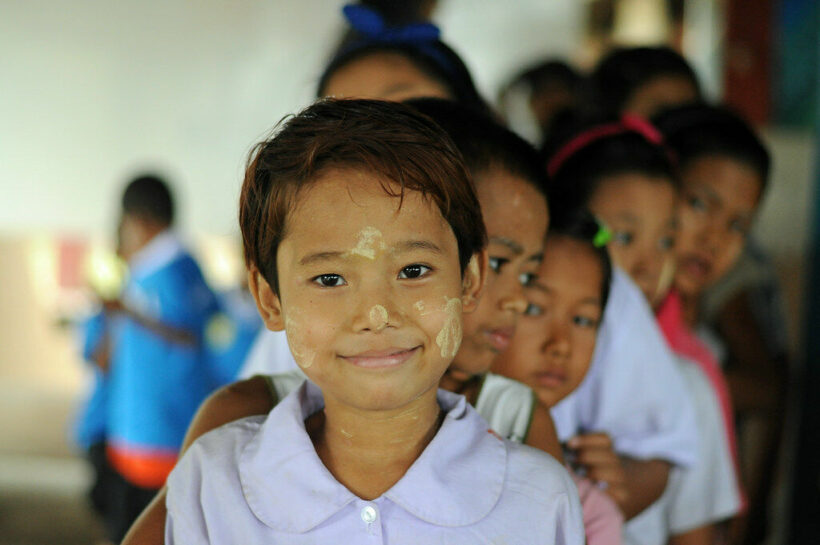 Burmese students in Thailand are holding an art and culture concert to raise awareness and funds for the Civil Disobedience Movement. The concert, called "Myanmar Spring," will be held on April 24 at the Bangkok Art and Culture Centre. The event will help fund the movement, which has staged protests over the February 1 coup in Myanmar by the military. It will honour the families of internally displaced individuals and of those who have lost their lives in the conflicts.
Last Friday, the Myanmar military allegedly killed 82 civilians, according to the Assistance Association for Political Prisoners, an advocacy group. The military then told the families of those killed that they would have to pay US$85 to recover their loved ones' bodies, according to Bago University Students' Union's Facebook page as well as Radio Free Asia's Burmese service.
Eyewitnesses in Bago say the Burmese military used grenades, RPGs, and assault rifles to quell anti-coup protestors, forcing many villagers and activists to flee and go into hiding. Military security forces are going through the neighbourhoods now and have cut off internet access. Since the February 1 coup, the military has been systematically cracking down against peaceful protesters, detaining 3,000 civilians and killing over 700 more.
NGO Human Rights Watch had published a call for the EU to take action and implement strict sanctions on the Burmese military on Thursday. And yesterday the US Embassy in Myanmar joined the call, posting on Twitter, urging peace.
The art and cultural event will also be held virtually on the same day. Anyone wishing to support the event outside of attending can buy t-shirts at the food festival being held on April 13. The orchestral music concert will be performed by a group of student volunteers and others. There will also be a poetry recital and other heartfelt performances, which the artists say will reflect the struggles for democracy in Myanmar.
Information on tickets and performances for "Myanmar Spring" is on their Facebook page HERE.
SOURCE: Thai PBS World
Want more from the Thaiger family?
📱 Download our app on Android or iOS for instant updates on your mobile
📧 Subscribe to our daily email newsletter
👍 Like/Follow us on Facebook
🔔 Subscribe to or Join our YouTube channel for daily video updates