Human Rights Watch says Thailand abuses lèse majesté law to silence protesters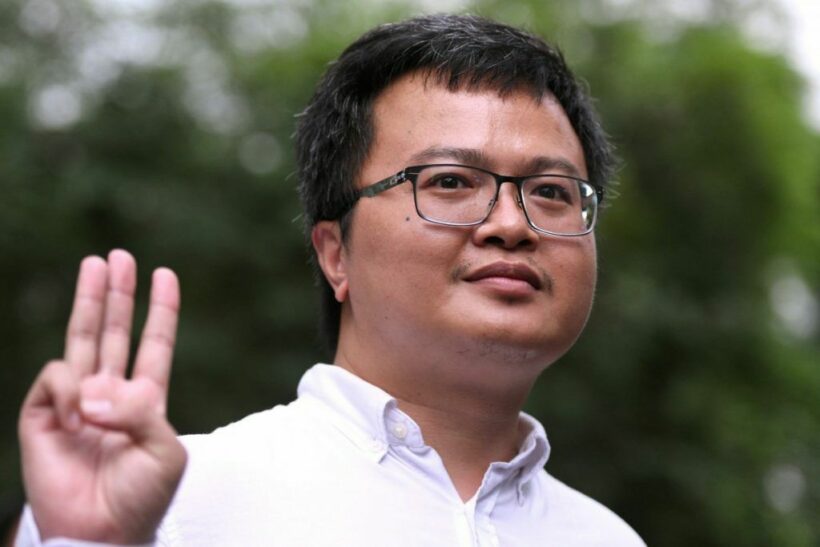 The Human Rights Watch is speaking up against Thailand's use of the lèse majesté law after 4 prominent pro-democracy activists were denied bail by the Bangkok Criminal Court and ordered into pretrial detention for allegedly insulting or defaming the Thai Monarchy. The HRW says the activists could be in detention for years until their trials are concluded.
At a time of ongoing political protests calling on monarchy reform, Thai authorities have been "abusing" the draconian lèse majesté law by using it to "aggressively clamp down on speech they don't like," according to HRW's Asia director Brad Adams.
"Holding people in pretrial detention for peaceful expression portends a return to the dark days when people simply charged with this crime end up spending years in jail while their trials drag on interminably."
The lèse majesté law, under Section 112 of Thailand's Criminal Code, carries a punishment of up to 15 years in prison for insulting or defaming the Thai Monarchy. The activists, Arnon Nampha, Parit Chiwarak, Somyot Pruksakasemsuk and Patiwat Saraiyaem, also face sedition charges which carries a penalty of up to 7 years in prison.
Thailand went around 3 years without a lèse majesté charge in court. With the recent student-led pro-democracy movement gaining traction late last year, many making statements considered taboo in Thai society, PM Prayut Chan-o-cha called for Thai authorities to bring back the lèse majesté prosecutions, according to the HRW. At least 58 people have been faced lèse majesté charges related to activities at pro-democracy rallies or comments online since November, the HRW says.
United Nations human rights experts also spoke out against Thailand's use of the law, saying the country has severely used the law to "curtail criticism of the monarchy." They says they were "alarmed" by the recent case where a Thai woman was sentenced to more than 43 years in prison for insulting the royal family.
Adams says the Thai government should address protesters' demands rather than arresting them.
"The authorities should immediately end their heavy-handed enforcement of the lèse majesté law and engage in a dialogue with United Nations experts and others about amending the law to bring it into compliance with Thailand's international human rights law obligations."
Keep in contact with The Thaiger by following our Facebook page.
Never miss out on future posts by following The Thaiger.
Civil rights activist contests new version of NGO bill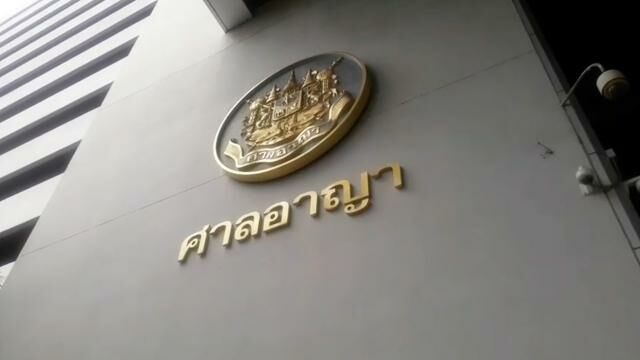 A civil rights activist is accusing Thailand's cabinet of revising a law without gaining the public's input. The new version of the bill, which is supposed to dictate transparency in the promotion and development of civil society organisations, includes the words "non‐profit," while the original version does not.
The bill is also supposed to provide oversight of NGOs who may receive financial assistance from overseas sources. According to Bangkok Post, an unnamed source says such NGOs are under scrutiny, especially the ones who accuse Thai authorities of violating human rights and then use such claims to seek funds.
Sappasit Khumprapan, chairman of the Centre for the Protection of Children's Rights Foundation, is also the chairman of a subcommittee drafting the bill. He says he will challenge the bill in the Constitutional Court if the word "non‐ profit" is not dropped before it is sent to the House of Representatives. Sappasit says the law is "extremely rightist" and says it should be improved before reaching the House.
Civil society organisations under the revised law must register as non‐profit entitites with the Interior Ministry's Department of Provincial Administration while disclosing their audited accounts, annual income taxes and fund sources each year.
But deputy government spokeswoman, Rachada Dhnadirek, says the law is intended to increase the monitoring of NGOs.
"The draft law is intended to promote transparency and accountability, not to stifle their activities."
Rachada says if these NGOs receive funds from non-Thai citizens or organisations, they are limited to spending the money on activities allowed by Thai law. So far, despite Thailand having thousands of NGOs, only 87 have been registered.
Thailand's PM Prayut says the law must not be discussed in detail to prevent confusion and misunderstandings. The proposed bill will be submitted for public hearings, with input from those hearings to be sent to the Council of State for review.
SOURCE: Bangkok Post
Keep in contact with The Thaiger by following our Facebook page.
Never miss out on future posts by following The Thaiger.
Indonesian and Thai foreign ministers meet with Myanmar counterpart, seek peace after coup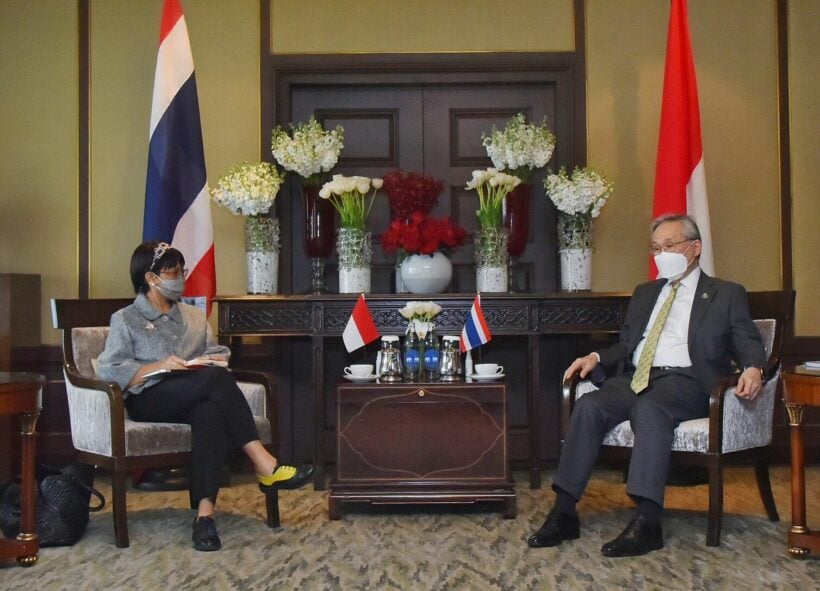 To seek a peaceful solution in Myanmar after the country's military seized power, foreign ministers of Indonesia and Thailand met with the new, military-appointed foreign minister of Myanmar Wunna Maung Lwinat at Bangkok's Don Mueang Airport for a brief, 20 minute discussion.
Both the Indonesian and Thai counterparts say they want peace, but the Indonesian foreign minister says Thailand has a "special position" to play because of its proximity to Myanmar and the number of Burmese nationals in Thailand. The Thai-Myanmar land border is 2,400 kilometres long. There are around 2 million Burmese people who live in Thailand.
With the elected civilian government pushed out and many political leaders arrested, including Aung San Suu Kyi, who won the election for state counsellor in a landslide and also served as the foreign minister, there have been daily protests in Myanmar. A strike on Monday shut a number of businesses. Burmese nationals living in Thailand have even held demonstrations in Bangkok. Some rallied outside the US Embassy in Bangkok, calling on the American government to step in.
The meeting between the 3 foreign ministers was the first overseas visit for a senior Myanmar official since the military coup on February 1. A spokesperson for the Thai Foreign Ministry, Tanee Sangrat, says the ministry insists on peace and stability in Myanmar and hopes to see the situation improve.
"It was also a good opportunity for Thailand to directly listen to Myanmar about issues that Myanmar prioritizes, as well as exchanging opinions on issues important to the people for both countries."
At a press conference in Jakarta, Indonesian Foreign Minister Retno Marsudi said she asked her Myanmar counterpart to "prioritise the safety and wellbeing" of the people. She says all 10 members of the Association of Southeast Asian Nations must respect the principles in the ASEAN Charter which outlines principles of democracy as well as protection for human rights and fundamental freedoms.
"This shuttle diplomacy is surely not easy to do during the times of pandemic, but Indonesia has to do it because there are some principles that must be respected…Indonesia chooses not to stay silent…To do nothing is not an option."
Indonesia has been pushing for a special ASEAN foreign ministerial session to discuss the Myanmar situation. Thai and Indonesian foreign ministers also discussed potentially holding an informal ASEAN meeting in August. The forum has not met in person since the Covid-19 pandemic.
SOURCE: Kyodo News
Keep in contact with The Thaiger by following our Facebook page.
Never miss out on future posts by following The Thaiger.
Behind bars: government ministers among 29 jailed for Yingluck protests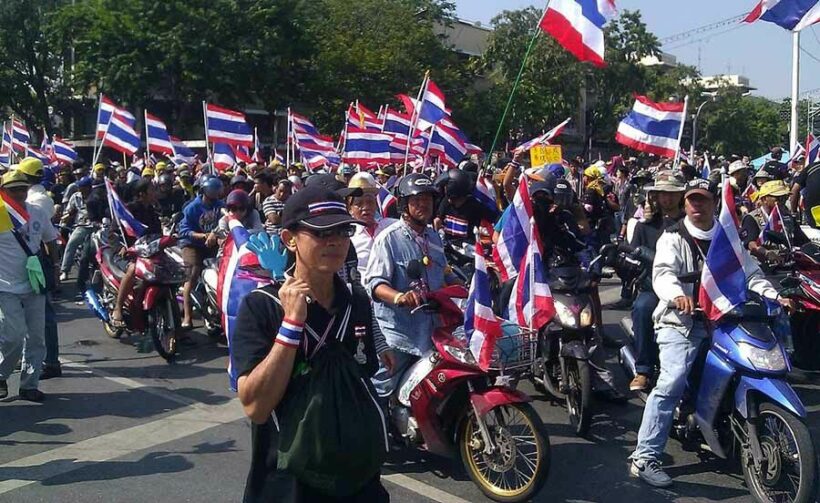 A number of government ministers have been jailed for their part in protests against the government of Yingluck Shinawatra that crippled Bangkok and ultimately led to the 2014 military coup. Yesterday, the Criminal Court handed prison sentences to 29 former members of the People's Democratic Reform Committee, some of whom were serving in the current administration.
Former politician and former deputy PM, Suthep Thaugsuban, has been sentenced to 5 years' imprisonment for leading the protests against the Yingluck government during 2013 and 2014. Education minister Nataphol Teepsuwan has received a prison sentence of 6 years and 16 months, while the deputy Transport Minister Thaworn Senniam received a 4 year sentence. Buddhipongse Punnakanta, former Digital Economy and Society Minister, has been sentenced to 7 years' imprisonment.
In total, 29 ex-PDRC members have been found guilty of charges including terrorism and insurrection and handed sentences from 4 months to 11 years. They are now barred from holding political office, meaning PM Prayut Chan-o-cha may be looking at a Cabinet reshuffle. He has held the position of PM since seizing power in the 2014 military coup that ended the PDRC protests.
SOURCE: Nation Thailand
Keep in contact with The Thaiger by following our Facebook page.
Never miss out on future posts by following The Thaiger.