Thailand
Fisherman reels in body of young student in northern Thailand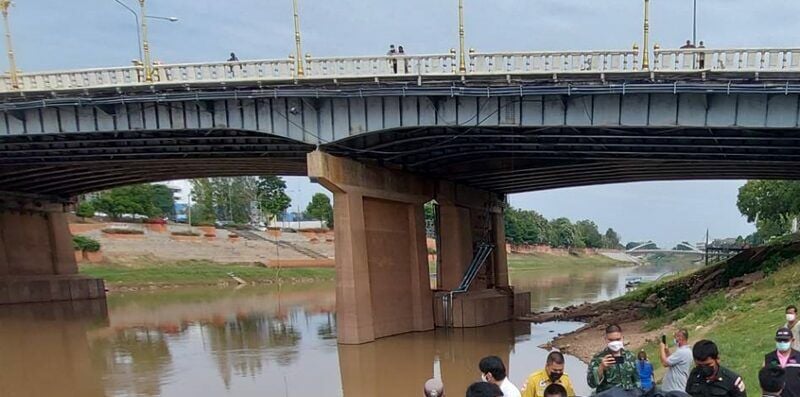 A fisherman pulled ashore the body of a 21 year old woman from the Nan River in Phitsanulok province in northern Thailand this morning.
At 10.30am, officers from Mueang Phitsanulok Police Station received a report that a young woman's body was found by a fisherman on the Naresuan Bridge over the Nan river in front of Wat Ratchaburana. Police, doctors from Naresuan University Hospital, and rescue workers rushed to the scene.
Police found the deceased lying face down on the riverbank wearing a black t-shirt and jeans with a fishing hook attached to her clothes. Doctors believe she drowned and estimated that she died around eight hours prior.
The deceased was identified as 21 year old Sunit [surname withheld], a third year student at Pibulsongkram Rajabhat University. Sunit's identity has been confirmed by relatives.
The fisherman, 58 year old Naret [surname withheld] said that he drove a motorbike from his house to the Naresuan Bridge to go fishing early this morning.
Naret threw his fishing line into the middle of the Nan river and felt the line jerk on something big. He tried to reel it in and was shocked to discover a human corpse. The fisherman pulled the body onto the riverbank and rang the police straight away.
One of Sunit's friends said that she, Sunit, and a group of students went to drink at a bar in downtown Phitsanulok last night. Once the bar closed, they headed back to their student accommodation in a pickup truck.
The friend said that Sunit asked the driver to stop when they got to the Naresuan bridge. Sunit said she wanted to get out of the car because her boyfriend would pick her up from the bridge, the friend told police.
Sunit's friends did not think anything of it and let her out of the car. Sunit said "goodbye" and immediately jumped off the bridge, said her friend.
Sunit's friends went down to the river but could not see her. The students notified the rescue services who also couldn't find her.
Doctors say that Sunit was receiving treatment for depression at Buddha Chinnarat Hospital and deemed her death a suicide.
The deceased's family do not suspect any foul play so are taking Sunit's body to perform religious rites straight away instead of having an autopsy carried out first.