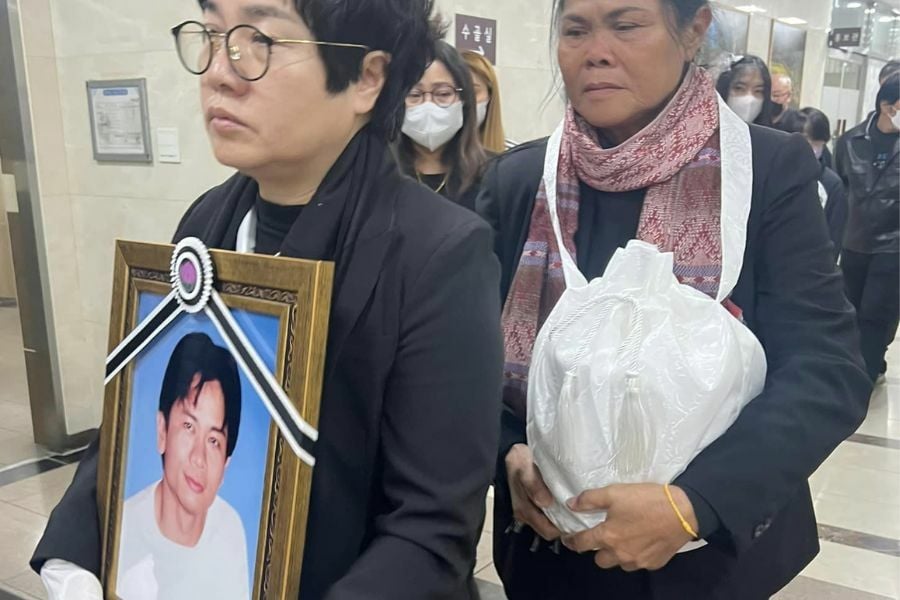 The family of an illegal Thai worker who tragically died at a pig farm in South Korea travelled to the country to seek compensation from the employer.
The 67 year old worker, named Boonchu, lost his life while working at a farm owned by 60 year old Kim, who reportedly attempted to conceal the death by leaving the worker's body on a mountain in Pocheon city in the Gyeonggi province.
Police believe Boonchu died because of poor health exacerbated by his unsanitary living conditions rather than being murdered. However, Kim was afraid of prosecution for hiring an illegal worker and chose to hide Boonchu's body.
The death and the living conditions of Boonchu not only gained the attention of Thais but also Korean residents and officials. People argued that employers should provide good welfare and take care of their employees, even if they are illegal workers, as it is a basic human right.
The death raised concerns over the treatment of migrant workers in South Korea. Boonchu's family has taken legal action against the employer, seeking compensation for their loss. The case is likely to draw attention to the plight of migrant workers, who often face difficult and dangerous working conditions.
Boonchu's family members, including his wife, 59 year old Mali, travelled to South Korea on Saturday, March 11 to hold a funeral for him and to initiate legal action against Kim.
The Director of the Protection of Thai Nationals Abroad Division, Amnart Prapleewan, gave an interview with Thai media about the case yesterday, saying the South Korean government is taking the situation seriously, despite Boonchu's status as an illegal worker, due to the significant attention it has garnered.
Amnart urged Thai people seeking work abroad to follow the legal process and apply for legal jobs. He said…
"Boonchu is an example of the potential consequences of working illegally in foreign countries. Thailand does not ban residents from working abroad because we understand that some families have financial problems and need to work in other countries where they can earn more, like South Korea. What I want everyone to think about is the transportation fee to go to work there and the living condition there—whether it is worth it or not."
ORIGINAL STORY: Dead body of illegal Thai worker found on mountain in South Korea
A South Korean employer was arrested for concealing the death of an illegal Thai worker and leaving his dead body on a mountain. The cause of the death is under investigation. The South Korean police believe the man died of a health issue as his accommodation was unhygienic.
The dead body of the 67 year old Thai man named Boonchu, who worked illegally in South Korea, was found on a mountain in Pocheon city in the Gyeonggi province. The spot was about 200 meters from a pig farm where Boonchu worked and lived.
South Korean police officers discovered a tractor car belonging to Boonchu's employer, a 60 year old South Korean man named Kim, about 100 meters away from his body.
According to a report from a Thai Facebook page, Poetry of B*tch, Boonchu's wife, who lives in Thailand, had not been able to contact her husband since March 1 and asked Thai people in South Korea to check on him at Kim's farm.
A group of Thai people in the country contacted Kim on March 3 to ask about Boonchu. Kim claimed he did not know where Boonchu was, suggesting he may have escaped or been arrested by police.
The group did not believe Kim's claim was believable because of Boonchu's hardworking and honest nature. Boonchu had worked at the farm for 10 years. He only focused on work, and never travelled or consumed alcohol. He earned 2 million won (53,000 baht) per month and gave most of his income to his wife in Thailand. He planned to travel back to Thailand in April.
The Boonchu's Thai friends decided to visit the farm the next day to look for him, but Kim did not let them in. So, they filed a complaint with the police saying that Boonchu was missing.
The police thought Boonchu had been arrested due to the serious suppression of illegal workers in the country. However, his name did not appear on the arrest history. An investigation at Kim's farm started and officers found Boonchu's dead body on the mountain.
According to Kim, he found Boonchu dead in the barn at the farm. He was scared of prosecution for hiring illegal workers, so he took the dead body to the mountain with a tractor and left the body there.
Police reported the initial investigation's result found there was no trace of murder and the cause of the death would be officially announced after the autopsy, which would take about two to three weeks.
It is suspected that Boonchu died as a result of a congenital disease or other health issues exacerbated by his unsanitary living conditions. Boonchu had been living in a 3×3-meter room, half of it was a kitchen, for 10 years. His room was located next to a pig pen and was exposed to toxic gases from pig waste.
Illegal Thai workers in South Korea are known as Little Ghosts among Thai people. The South Korean Immigration Office reported at the beginning of February that 100,000 Thai people were working illegally in the country.
Government spokesperson Ratchada Thanadirek urged the little ghosts to return to Thailand as the immigration measures in the country would get more serious. Ratchada announced that Thai workers could return to their home country without punishment and a 30 million won (800,000 baht) fine if they travelled before February 28.
The authorities also suggested Thai people who desired to work in South Korea go through the legal processes, as the illegal workers were unable to access any insurance or advantages and earned very low wages.

Join the conversation and have your say on Thailand news published on The Thaiger.
Thaiger Talk is our new Thaiger Community where you can join the discussion on everything happening in Thailand right now.
Please note that articles are not posted to the forum instantly and can take up to 20 min before being visible. Click for more information and the Thaiger Talk Guidelines.