Drafting of new Constitution to begin after New Year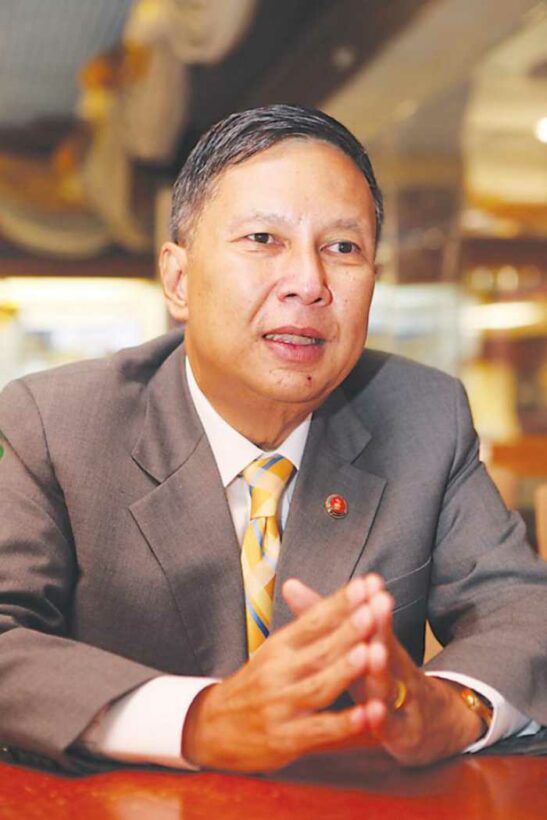 PHUKET MEDIA WATCH
– Thailand news compiled by Gazette editors for Phuket's international community
Drafting to begin after New Year: CDC
The Nation / Phuket Gazette
PHUKET: Borwornsak said 2015 was the most appropriate time to start the process after charter drafters receive opinions and proposals on reforms from the National Reform Council on December 19, while the CDC's public opinion collection process, including speaking with political parties, is scheduled to be completed by December 29.
The CDC president promised yesterday that the charter drafters would work independently and would not be influenced or pressured by the junta.
Questions over the body's independence were raised after the National Council for Peace and Order appointed junta adviser Meechai Ruchuphan to the NCPO's advisory subcommittee on constitution progress and monitoring.
Some people have speculated that the subcommittee will interfere in the drafting process and intimidate the drafters.
But Borwornsak said setting up the subcommittee was in accordance with the interim constitution's Section 36, which stated the CDC should send its draft version of the new constitution to the NCPO and Cabinet for consideration. They could then offer suggestions for amendments.
He said any interference by the junta in the process would be difficult to hide from the public because there were 36 charter drafters, and as a result that was unlikely to happen.
He was willing to meet with Pheu Thai representatives because the party did not reject the CDC request to hear its opinions on reform and the constitution.
Borwornsak said he saw no benefit in meeting parties that clearly demonstrate an unwillingness to cooperate in the process.
The CDC recently set up a subcommittee to collect public opinions on the drafting of the constitution, explaining that public feedback is vital in creating a lasting constitution.
Borwornsak said the drafters would use a statistical approach to help them ensure that all opinions from society, including political factions, were heard.
'New charter will give us a better future'
The Nation / Phuket Gazette
PHUKET: Kamnoon Sidhisamarn, a key member of the Constitution Drafting Committee (CDC), says he is determined to help create a charter that does not just serve this generation but also ensures security and happiness for future generations.
He also admitted that though he cannot deny his anti-Thaksin Shinawatra sentiments, which he is known for, he will try to be very neutral when drafting this charter.
"I cannot change people's minds or what they think of me. I can't deny being anti-Thaksin either, but would like to call on the public to see me as a human who has two children. I pledge that this constitution will be a neutral one that ensures our children have better, secure lives," the political columnist turned lawmaker said.
A former law graduate who also oversees legal affairs for the National Reform Council (NRC), Kamnoon said there have been many cases in which previous constitutions have been wrongly interpreted in the legal sense and many articles have been misunderstood and wrongly implemented.
Therefore, he said, working on "intent of law and literature" is very important for this charter and how it is implemented in the future. Kamnoon is also chairman of CDC's subcommittee in charge of Intent of Law and Literature.
"The intent of law needs to be written clearly in order to prevent misinterpretation and also for people to have a clear idea of what the law means," he said.
He explained that his work for this subcommittee would cover two aspects: recording the intent of law; and arranging and reviewing the related literature.
The subcommittee has been keeping records since the first day the CDC began working and will be recording all evidence throughout the process of drafting the new charter.
The CDC will also arrange for political parties and political groups to participate and offer suggestions for the new charter, Kamnoon said, adding that the committee was open-minded and wanted to see this constitution passed on to future generations.
"Certainly every side we have invited to take part in the forum have different ideas about what should be inserted in the constitution, so the committee will have to make reasonable decisions. Also, the most important thing is that we have to be able to explain everything to the public," he said.
When asked how the public and political parties could meet to discuss ideas while martial law is still in effect, Kamnoon said the CDC realised that this might be an obstacle, so the committee and the NRC would meet with the NCPO to find solutions.
However, he said he did not think it was time to lift martial law yet, adding that maybe the NRC would open other channels for people to offer ideas, such as via radio stations.
"Everybody, especially the junta, understands that eventually martial law will be lifted for elections to be held. I believe the military is doing what it can to prevent disputes or conflicts that could affect the country," he said. Also, he was not certain that disputes would not erupt again once martial law is lifted.
"We will have to observe and evaluate the end result and see if it's positive or negative, and whether the government has been able to accomplish the road map it has promised," Kamnoon said. Though he expressed concern about heavy criticism the junta has faced recently, he also called on the public to understand that the authorities' aim is to help the country achieve stability.
"Of course, the military staged a coup and it can now be considered dictatorship. However, the junta is also doing its best to promote democracy in the Kingdom," he said, citing recent problems in which the junta banned many public forums and had some TV shows suspended.
He admitted that although the new charter may not offer absolute solutions to help turn Thailand into an ideal country, he said four key organisations – CDC, NRC, the National Legislative Assembly and the government – were trying to create a new structure for the country.
He explained that the new charter would focus on reform and create a new political structure that works hand in hand with developing the country and bringing it forward.
Moreover, he said, each side should move toward reconciliation and work on reducing if not eradicating inequality in society, because a good constitution focuses on the people rather than on the content of articles.
Academics and writers explain why martial law should end
The Nation / Phuket Gazette
PHUKET: A group of 102 academics, writers, poets and members of the civic sector yesterday issued a statement citing reasons martial law must be annulled.
The statement said the May 22 coup by the National Council for Peace and Order (NCPO) had gravely deprived the rights and liberty of the people especially when anti-coup activists were apprehended for exercising freedom of expression.
More than 600 people whom the NCPO believed belong to the rival political group were summoned to report themselves and a group of 200 academics, journalists and social activists were rounded up.
About 33 seminars and activities have either been cancelled or the content of seminars meddled with, it said.
People have been living under an atmosphere of fear of injustice over the past half-year, the statement said. They had not been able to exercise freedom of expression under such circumstances.
Martial law has been used to harass the poor, forcing them off state land, while refusing to take legal action against capitalists for some land grabs – such as dispelling villagers of Non Daeng village in Buri Ram province, Kon San village in Chaiyaphum, and Klong Saipattana in Surat Thani – it claimed.
Protesters calling for energy reform had been rounded up, including villagers and academics campaigning for the removal of master plans on forests, it said.
Some of the people who gave signatures to support the statement include Prapas Pintobtaeng and Pitch Pongsawat of Chulalongkorn University's political science faculty, writer Sananchit Bangsapan, and Suchart Sawatsri, editor of literary magazine Chor Karaked.
— Phuket Gazette Editors

Join the conversation and have your say on Thailand news published on The Thaiger.
Thaiger Talk is our new Thaiger Community where you can join the discussion on everything happening in Thailand right now.
Please note that articles are not posted to the forum instantly and can take up to 20 min before being visible. Click for more information and the Thaiger Talk Guidelines.