"Don't rush to legalise marijuana"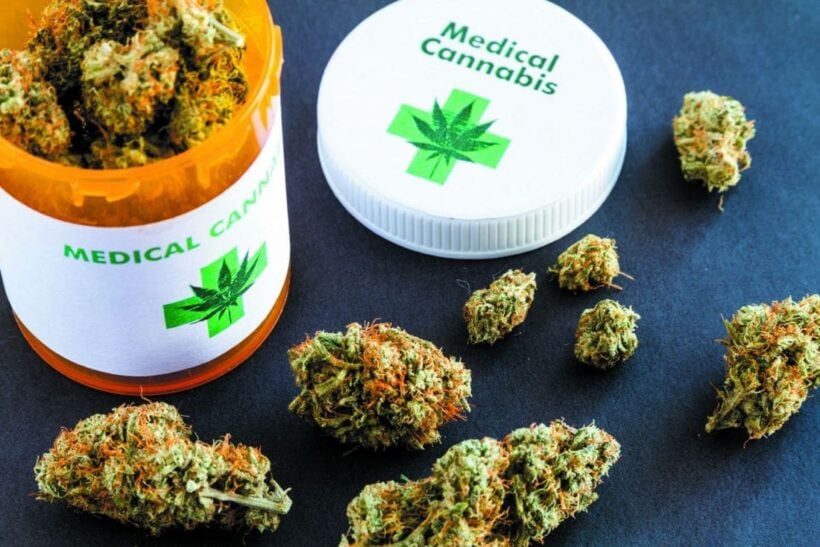 by Chularat Saengpassa
A medical lecturer is cautioning policy-makers against rushing to legalise marijuana, even if it's just for medical use.
"Beware of becoming stupid, poor and hurt" read the title of a social-media comment posted by Assistant Professor Dr Thira Woratanarat in response to calls to fast-track medical-marijuana legislation.
The Nation reports that Thira, who works at Chulalongkorn University's Faculty of Medicine, also posted details about findings from foreign studies, which show that cannabis does not quite live up to some of the claims.
Last week, Government Pharmaceutical Organisation chairman Dr Sopon Mekthon told a seminar that cannabis extracts would be ready for use as early as next January, if the Food and Drug Administration were to issue an announcement declaring it legal for medicinal purposes.
Professor Dr Thiravat Hema-chudha, a senior medical lecturer at Chulalongkorn University, has also been calling on Thailand to act quickly, pointing out that Britain took just six weeks to effectively legalise marijuana for medical use. Both have mentioned the many medical benefits of marijuana. Yet Thira is unconvinced.
"I don't know if they are looking for research funds or if they have any hidden agenda, but I want to present academic information," Thira said on social media, without mentioning anyone by name.
Thira says he is speaking out of concern that policymakers may not have received well-rounded information before making a decision that would affect an entire nation.
"The impacts will be huge," he predicted.
According to him, a meta-study had already examined more than 1,000 academic articles in a systematic review of medical cannabinoids.
"Cannabis extracts may ease chronic pain, but the effects are no better than alcohol consumption. If one has a 0.8 blood-alcohol level, one will not feel that much pain either," Thira said.
He added that it should also be noted that most studies touting cannabis as a painkiller have monitored its impacts for no more than two months.
"Studies monitoring the impacts longer than two months have found that cannabis is not an effective painkiller," Thira said.
The medical lecturer reckoned the meta-study had concluded that cannabinoids helped with nausea and vomiting after chemotherapy, and delivered some improvement in spasticity.
"But before we start growing cannabis in the hope of developing medicines based on cannabinoids, we need to conduct comprehensive and large-scale research first. Proceed carefully to determine if efforts will be worth it and cost-effective," Thira said.
"Policymakers need to consider social impacts too."
He added that the largest concern was the proposal to remove cannabis from the list of narcotics.
"How will you control the use of marijuana then? Are you sure it will not leak out of the patients-only stream to the general public?" he asked.
Personally, he said, he does not believe Thailand should push hard for the legalisation of marijuana.
"Many countries that have legalised marijuana have started realising that this move is leading to many problems," he said.
He explained that it will be difficult to control the substance once it is declared legal for medical purposes, because some people might start complaining about pain just to get their hands on the narcotic.
"If marijuana is abused, there could be an increase in road accidents and sexual crime," he said.
"We should not be taking such a risk."
Thiravart yesterday argued that one should have the courage to step outside the box and push for development based on what is useful.
"We can develop and apply, but of course, we need to conduct extensive research to ensure that our efforts will be fruitful and effective," he said.
Thiravat said he will speak in favour of legalising marijuana when he attends a meeting with the Public Health Ministry-appointed panel on the legalisation of narcotics today.
"But I will insist that we put in place strict control measures to ensure marijuana is used for medical purposes only," he said.
Separately, the National Legislative Assembly plans to hold a public forum to gather opinions on October 30 on the draft drug law that aims to legalise marijuana. More than 16,400 people have already shared their opinion on the plan via an online survey conducted from October 1 to October 15, and of them, 99 per cent back the idea of legalising some narcotics for a good purpose.

STORY: The Nation
Keep in contact with The Thaiger by following our
Facebook page
.
"Come and see" – Ministry invites diplomats to see coconut-picking monkeys in action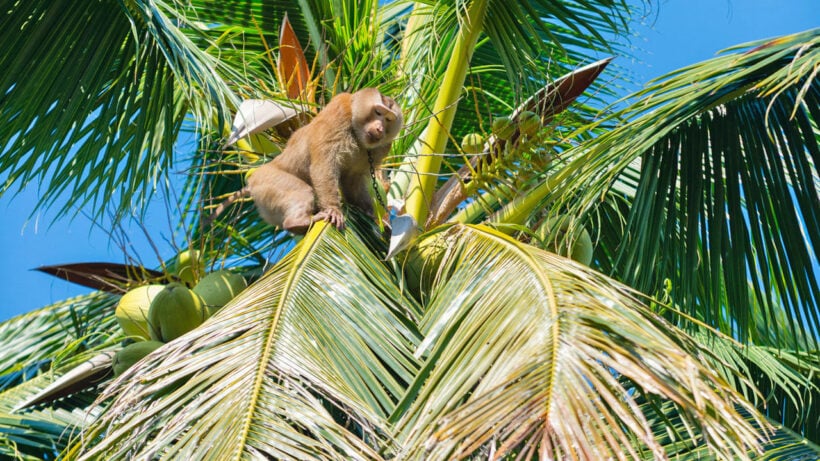 The monkeys, and the Thai government, are hitting back at accusations macaque monkeys are being exploited, even abused, and forced to pick coconuts for commercial farmers. Some larger western retailers say they're going to pull Thai coconut products off their shelves after being lobbied by animal rights activist that the coconuts were picked by abused and over-worked macaque monkeys.
The Thai Commerce Ministry, coconut farmers and the "monkey school" trainers are dismissing reports, and a dramatic video from PETA (People for the Ethical Treatment of Animal), that the coconut-picking monkeys are maltreated. So they're organising a tour for foreign diplomats and the media to see the monkeys at work and decide for themselves.
The permanent secretary for commerce, responding to the reports, says the monkey owners don't abuse or exploit the animals which have been "humanely trained" to pick coconuts. He has instructed attaches in foreign Thai embassies to provide an explanation to retailers in other countries who have expressed concerns and even instigated boycotts.
"The ministry is ready to invite foreign diplomats to visit coconut plantations and see how the monkeys pick coconuts so they will realise this is not animal cruelty."
The Bangkok Post reports that Pramual Pongthawaradej, a Demo­crat Party MP for Prachuap Khiri Khan province, the Chair of a House subcommittee tackling falling coconut prices, says they've approached owners of coconut milk plants to justify their practices to PETA. They've also asked the Department of Agriculture to provide details regarding the use of monkeys to pick coconuts.
A video from Touronthai shows an operating monkey-school posted 4 years ago…
But Somjai Saekow, an owner of a monkey school which trains macaques in Surat Thani, says… "the practice of capturing monkeys from the wild to pick coconuts ceased a long time ago".
"Currently, monkeys are bred and raised before being trained. They are not forced to pick 1,000 coconuts from trees everyday, and they don't work every day.
"Coconut-picking monkeys are mostly males and their abilities vary. The owner of the monkey receives 2 baht per a coconut picked."
"Foreigners may not understand our livelihood. Also, humans are not built to climb up a coconut tree to pick fruit. They will be at risk, compared to monkeys which have the natural ability to do so."
An owner of monkeys in Surat Thani, denied the claims of poor treatment or abuse of the coconut-picking monkeys.
"There is no cruelty. Actually, they are looked after well. They are fed well with rice, milk, and fruit three times a day. They are treated like family members."
PETA claims pigtailed macaques in Thailand were treated like "coconut-picking machines".
"Following PETA's investigation, more than 15,000 stores will no longer purchase these brands' products, with the majority also no longer buying any coconut products sourced from Thailand monkey labour."
PETA said it had found 8 farms around Thailand where monkeys had been forced to pick coconuts for commercial export.
"Male monkeys are able to pick up to 1,000 coconuts a day."
"Other coconut-growing regions, including Brazil, Colombia and Hawaii, harvest coconuts using humane methods such as tractor-mounted hydraulic elevators, willing human tree-climbers, rope or platform systems, or ladders, or they plant dwarf coconut trees."
"PETA went further by calling on "decent people never to support the use of monkey labour by shunning coconut products from Thailand".
SOURCE: Bangkok Post
Keep in contact with The Thaiger by following our
Facebook page
.
Thai PM expresses concern over "travel bubbles"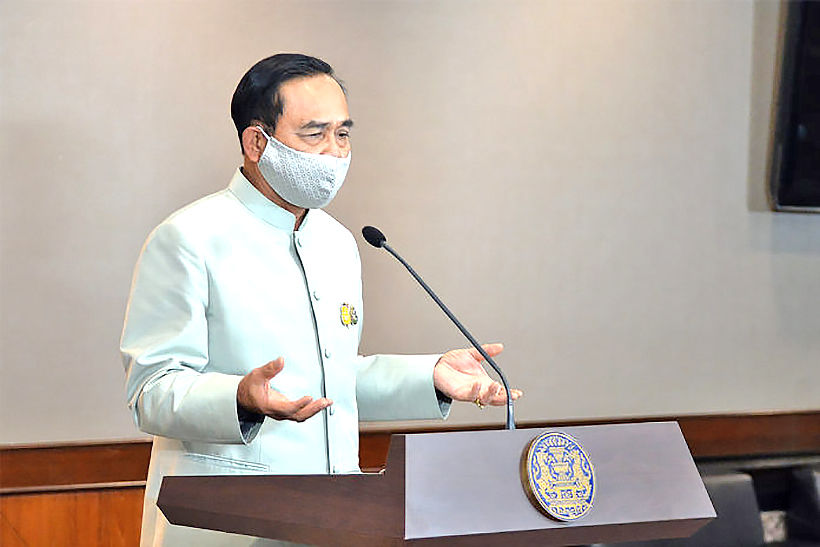 PM Prayut Chan-o-cha has expressed serious concerns about the resumption of international travel under the "travel bubble" scheme, stressing that Thailand must implement a vigorous arrivals screening protocol. The scheme is a proposed limited resumption of international travel to and from countries with a reciprocal agreement.
The Thai government has indicated it has taken a risk-averse stance with future Covid-19 legislation after largely getting the local outbreak under control in late May, early June. There hasn't been a locally transmitted case in Thailand for 40 days.
Prayut discussed the proposed scheme with the media, saying Thailand must be prepared to allow the resumption of some international travel, with the other countries involved to be carefully considered, and adding that a full agreement must be reached, to ensure compliance with public health measures at the national level.
The PM says the government is concerned about the prospects of international aviation and the country's external revenue.
During this long weekend, the Ministry of Finance expects up to 10 billion baht in cash flow from domestic economic activities. The PM says Thais are now making more domestic trips, with many hotels reporting a slow return of customers, thanks to the further easing of Covid-19 restrictions. But tourist locations, like Pattaya and Phuket, remain quiet due to their popularity with foreign visitors.
The PM stressed that all businesses "must remain strict with their precautionary measures in order to minimise the risk of a new outbreak of the virus".
SOURCE: Press Release from Thai National News Bureau
Keep in contact with The Thaiger by following our
Facebook page
.
PETA reveals 'abused' monkeys used to pick coconuts in Thailand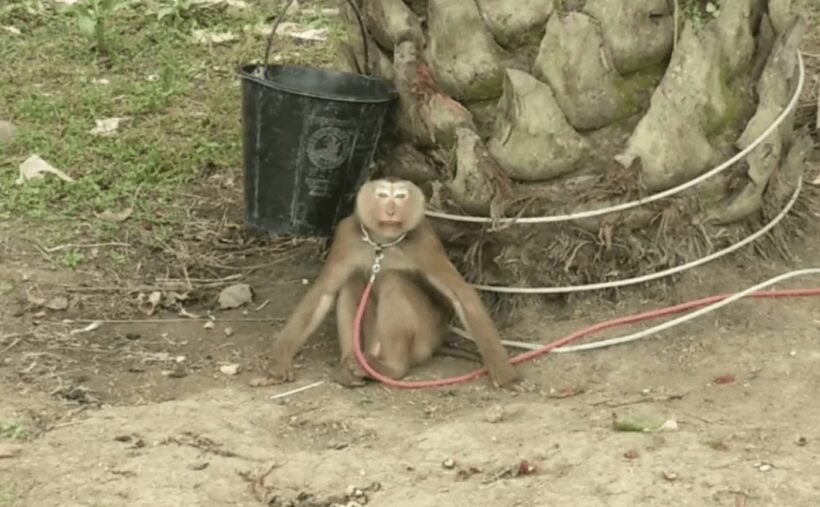 A boycott is in full swing amongst western retailers to pull Thai coconut products off their shelves following allegations that the coconuts have been picked by monkeys who were 'abused' to learn how to pick coconuts. People for the Ethical Treatment of Animals director, Elisa Allen, claims the macaque monkeys are "snatched from the wild" and cruelly trained to climb up coconut trees and pick up to 1,000 coconuts a day.
"These curious, highly intelligent animals are denied psychological stimulation, companionship, freedom, and everything else that would make their lives worth living, all so that they can be used to gather coconuts."
PETA says that the Thai pigtailed macaques are treated like "coconut-picking machines". A new investigation into Thailand's coconut industry reveals the monkeys are confined to cramped cages, chained, and forced to work. PETA reports that the monkeys are used by commercial farms that supply 2 of Thailand's best-known coconut milk brands, Aroy-D and Chaokoh. Both brands are exported EU countries and the US.
In the UK, Waitrose, Ocado, Co-op and Boots have now announced they will stop selling some coconut products from Thailand. A spokesperson for Tesco told the BBC… "Our own-brand coconut milk and coconut water does not use monkey labour in its production and we don't sell any of the branded products identified by PETA".
"Following PETA's Asia's investigation, more than 15,000 stores will no longer purchase these brands' products, with the majority also no longer buying any coconut products sourced from Thailand monkey labour."
PETA has shared a video narrated by Downton Abbey star Peter Egan. According to PETA, the video shows 'monkeys pacing and circling endlessly on chains… confined to cramped cages with no shelter from the rain… forced to climb trees and pick coconuts for milk sold by major brands'.
PETE claims it had found 8 farms in Thailand where monkeys were forced to pick coconuts for export around the world. Male monkeys can pick up to 1,000 coconuts in a day. It's thought that a human can pick about 80.
"Other coconut-growing regions, including Brazil, Colombia and Hawaii, harvest coconuts using humane methods such as tractor-mounted hydraulic elevators, willing human tree-climbers, rope or platform systems, or ladders, or they plant dwarf coconut trees."
The group said it has uncovered "monkey schools", where the macaque species monkeys are trained to pick coconuts, fruit, as well as ride bikes or play basketball for the entertainment of tourists.
"The animals at these facilities, many of whom are illegally captured as babies, displayed stereotypic behaviour indicative of extreme stress."
Keep in contact with The Thaiger by following our
Facebook page
.