Business groups hail army move if there is no coup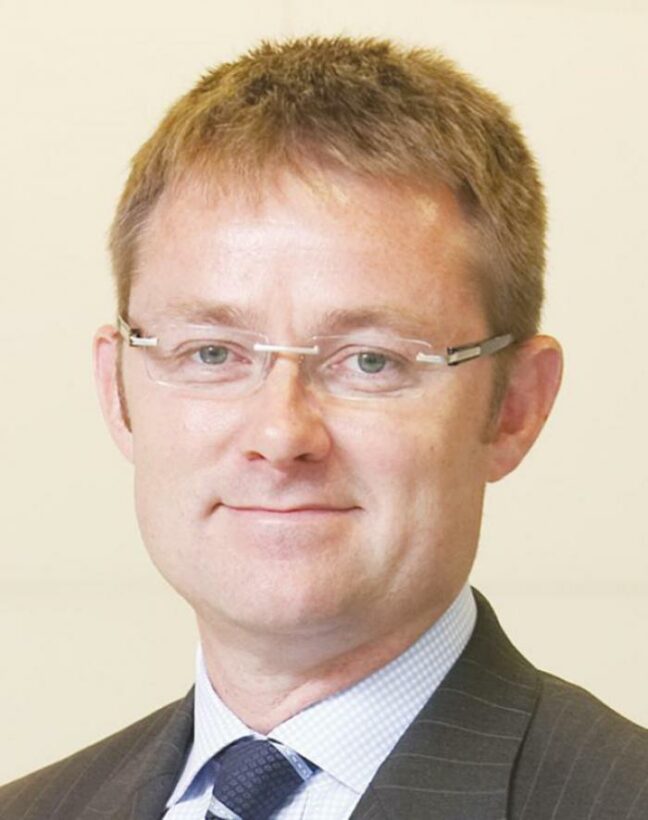 PHUKET MEDIA WATCH
– Thailand news selected by Gazette editors for Phuket's international community
Foreign business groups hail army move if there is no coup
The Nation / Phuket Gazette
PHUKET: Foreign chambers and business associations hope that the declaration of martial law will lead to an increase in security and safety, and eventually to a functioning government.
Darren Buckley, president of the American Chamber of Commerce in Thailand, said the announcement of martial law would be a positive development only if it were to get the opposing sides in the prolonged political conflict to the negotiating table – and not lead to a coup d'etat.
"The military taking control of security is not necessarily a bad thing if it leads to a positive outcome, which is a functioning government at the end of it," he said yesterday.
The announcement of martial law is not in itself an issue, but the consequences of the military's move are what really matter, he said.
He reasoned that the sooner martial law could get both sides in the conflict to find a solution via negotiation, the sooner there could be an election and a functioning government, which would in turn lead to an improvement in the economy.
However, if martial law were to lead to a military coup, the economic situation could worsen, he warned.
Buckley added that the declaration of martial law would likely initially have an adverse impact on the tourism industry and the image of the country, since people's first reaction would be some uncertainty over the differences among martial law, the Internal Security Act and a military coup.
Meanwhile, the US Embassy yesterday released a travel alert for Thailand and warned its citizens to avoid areas where there are protest events, large gatherings or security operations.
David Lyman, co-founder of the Joint Foreign Chambers of Commerce Thailand and chairman and chief values officer at law firm Tilleke & Gibbins, said he was relieved to see someone in a leadership position finally step up and take charge of the situation.
He said he did not believe the military's move was a coup, as the top brass had learned their lesson from past events.
"Somebody has to step up and say that enough is enough, since the important thing is to get the economy, businesses and the government running again – and fighting among each other will not get the country anywhere," he said.
"I do not see a coup in the making, as the military [leaders] have learned their lesson that they are not good at civil administration; that they are not built for it. The declaration of martial law can be seen as a start that could lead to a functioning government again, but everyone will have to wait and see how events unfold."
Ferdinand Gyula von der Luehe, former vice chairman of the Thai Chamber of Commerce and current director of the Swiss-Thai Chamber of Commerce, said he hoped martial law could increase the level of safety in the capital.
"A positive sign is that there is no coup. I hope martial law can be effective, due to the recent escalation of violence as seen in the attacks on demonstrators and the amount of explosives that have been found but have not been used at some of the protest sites," he said.
He also said that the number of inbound tourists would likely decrease in the short term, since the imposition of martial law would mean that foreign travellers would not be able to get travel insurance for visits to the Kingdom.
Govt clarification sought
Hugh Vanijprabha, executive director of the Thai-European Business Association, said clarification was needed from the caretaker government so that foreigners could understand the current situation in Thailand.
This would lessen the negative effect of the latest development on foreign business sentiment, he said.
"The government should make sure that foreigners understand what martial law is all about, as it could affect business sentiment if people do not have a complete understanding of what is going on in the country," he said.
On the other hand, Hugh said he believed martial law would prevent any further escalation of violence and that once violence was off the table, the parties in the conflict would have no choice but to sit down and negotiate with each other.
Setsuo Iuchi, president of the Japan External Trade Organisation, Bangkok, said that in regard to the security situation, the enforcement of martial law should be positive for the country.
However, for the political situation as a whole, he could not tell yet if it would prove to be a positive or negative development.
"Following martial-law enforcement, I think Japanese investors, together with all other investors, hope to see the situation settled as soon as possible in a peaceful way, so that Thailand can develop again toward the future," Iuchi said.
Isara Vongkusolkit, chairman of the Board of Trade of Thailand and the Thai Chamber of Commerce, said Thai private enterprises had a generally positive feeling that the military's action would bring peace back to the country and prevent further violence.
However, martial law should be enforced for as short a period as possible because it would affect foreign investors' confidence if implemented for too long, he warned.
He added that martial law offered an opportunity for every party to negotiate for an end to the political impasse, and to have the country's interests at the forefront of their thinking.
"We [the private sector] hope for peace. Now, there should be a middleman to lead negotiations and end the conflict soon. Thailand should have an authorised government to run the country, but preferably a government formed under the democratic process," Isara said.
— Phuket Gazette Editors
Keep in contact with The Thaiger by following our
Facebook page
.
Never miss out on future posts by
following The Thaiger
.
Nearly 5,000 Thai Airways staff to deplane in voluntary resignations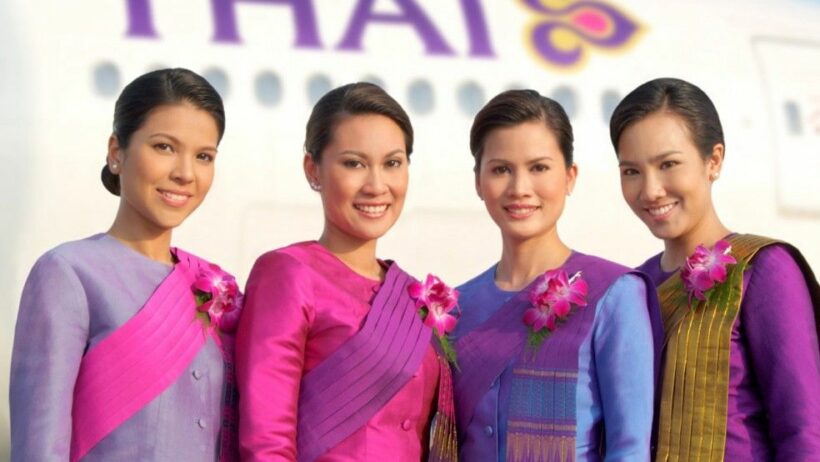 Officially, 4,977 staff at Thai Airways have applied for different stages of its Mutual Separation Plan for the survival of the airline. In other words they've been politely asked to resign. The airline employs about 20,000 people.
The beleaguered national carrier has endured a decade of substantial losses, endless headlines about systemic corruption, padded senior staff contracts and executive perks. In the midst of the impact from the border closures in April, Thai Airways executives again approached the Thai government for another cash bailout. But this time the Cabinet bristled and forced the airline into a "rehabilitation" program, effectively bankruptcy proceedings.
Acting Thai Airways president Chansin Treenuchagron said the airline offered the MSP to its staff because it had been loss-ridden and the impacts of the coronavirus disease 2019 caused it to undergo rehabilitation.
"Cargo and repatriation flights, food services from its catering department and the sales of Thai Airways souvenirs could not make up for lost revenue from the stalled passenger service."
The airline management invited early retirement applications from October 19 to 28. During the period, 1,918 employees applied to retire on Dec 1; 2,699 employees wanted to leave with 20% salary payment for six months from November to April and would later apply for early retirement; and 360 employees applied for both choices.
"The applicants contributed to the survival of the airline".
Keep in contact with The Thaiger by following our
Facebook page
.
Never miss out on future posts by
following The Thaiger
.
US cuts Thailand's tariff benefits after long-running pork dispute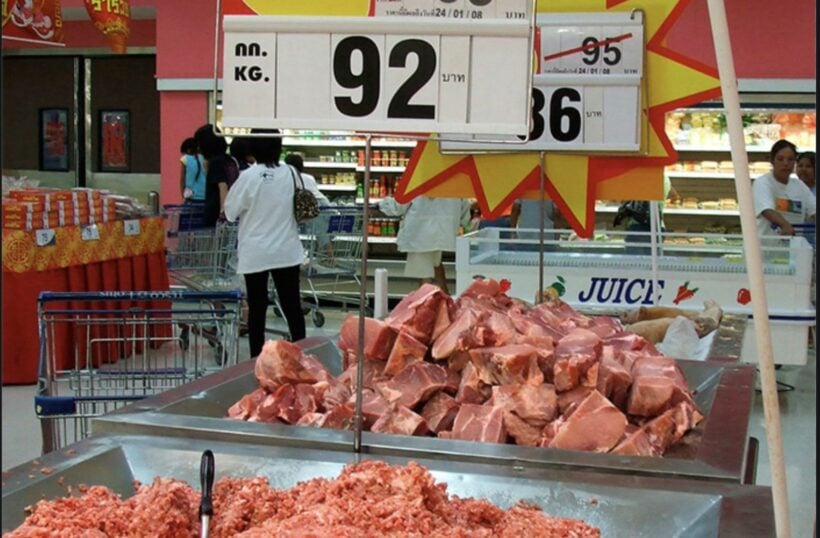 Thailand's duty-free privileges for US$817 million in exports with the US are to be revoked from the end of this year, according to US President Trump in an announcement yesterday. The President blamed a lack of progress in opening the Thai market to US pork products. Trump's letter announcing the action follows more than 2 years of threats and negotiations with Thai officials over issues ranging from access to Thailand's markets for US goods and the documented inadequate labour rights in the south east Asian nation.
Washington will now eliminate some tariff benefits for Thailand, accusing the country of failing to allow imports of pork from US producers.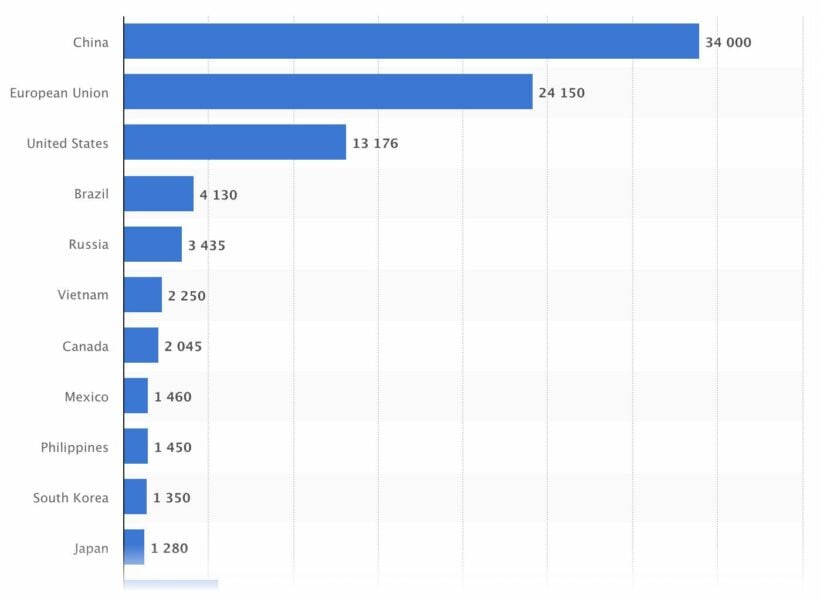 GRAPHIC: Global pork production in 2020, by country (in 1,000 metric tonnes) – statista.com
The suspension of the Generalised System of Preferences access follows a suspension earlier this year on about $1.3 billion worth imports from Thailand, which once had such privileges for about US$4.4 billion in exports to the United States.
The US Trade Representative's office said the list of products includes mango, pineapple, manicure kits, steel pipes and precious stones., auto parts, dried produce, tools, electrical products and aluminium kitchenware.
Writing to the House Speaker Nancy Pelosi, President Trump said… "I have determined that Thailand has not assured the United States that Thailand will provide equitable and reasonable access to its markets."
GSP, Generalised System of Preferences, is a 70s-era program of US trade preferences for developing economies aimed at improving workers' rights and access to broader markets.
"The US Trade Representative's office also announced that it had closed other GSP eligibility reviews with no loss of benefits for Georgia, Indonesia and Uzbekistan. It also said new GSP reviews were opened for Eritrea based on concerns about workers' rights."
SOURCE: Reuters | VOANews | statista.com
Keep in contact with The Thaiger by following our
Facebook page
.
Never miss out on future posts by
following The Thaiger
.
Dow and S&P 500 take a breath after an ugly week, tech stocks lead the way down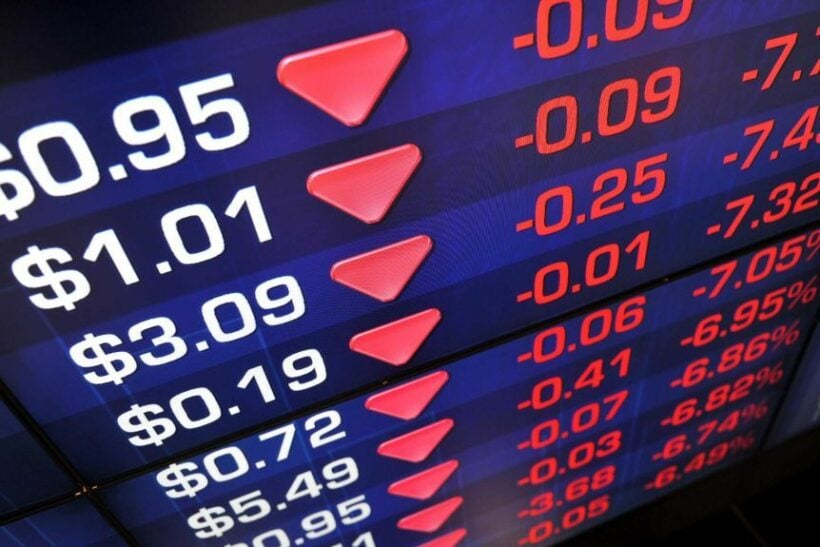 US stocks closed lower yesterday to end an ugly week downbeat with 'uncertainty' remaining the overwhelming sentiment. Tech stocks led the march downwards. The Dow Jones Industrial Average dropped in its biggest monthly collapse since March with investors reacting to rising Covid-19 cases in the US and Europe, peppered by nervousness ahead of next Tuesday's US presidential election. The increased volatility forced all three major indexes seeing their biggest weekly declines since the worst of the coronavirus-inspired selloff 8 months ago.
The Dow fell around 157 points, to end near 26,502, according to preliminary figures, while the S&P 500 lost around 40 points, or 1.2%, to finish near 3,270. The Nasdaq Composite gave up around 274 points, or 2.4%, closing near 10,912. The Dow had a 6.5% weekly fall and a 4.6% monthly drop. Friday's decline saw the Nasdaq negative for the month of October, falling 2.3%. The Nasdaq was down 5.5% for the week.
The Dow dropped more than 500 points at its session low with tech stocks – primarily Apple, Amazon, Alphabet and Facebook – leading the market decline.
A number of stocks were on the move, down, following a slew of earnings, including from the tech giants. Twitter sank more than 20% on slowing growth, while Exxon reported its 3rd straight quarter of losses.
Key moments yesterday…
Dow closed down 0.59% for its 5th negative day out of 6
S&P 500 closed down 1.21% for its 4th negative day in 5
Dow closed down 6.47% this week for its worst week since March 20
S&P closed down 5.64% this week for its worst week since March 20 when the S&P lost 14.98%
S&P closed down 2.77% this month for its second-straight negative month
Nasdaq closed down 5.51% this week for its worst week since March 20 when the Nasdaq lost 12.64%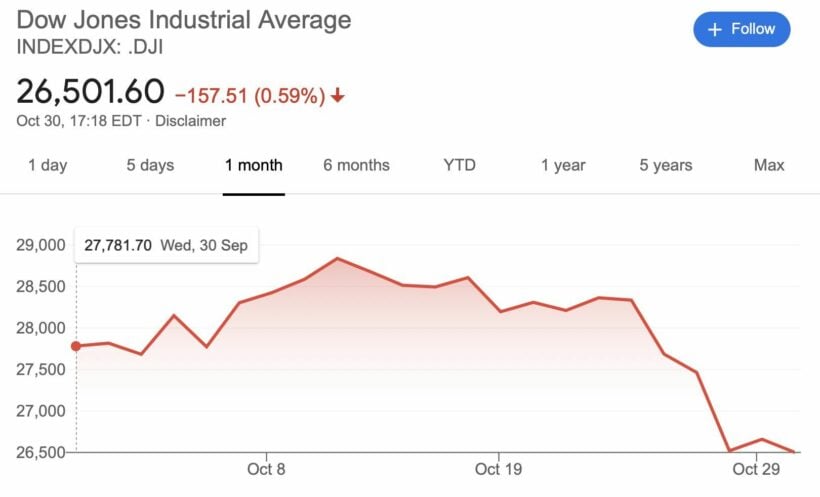 Keep in contact with The Thaiger by following our
Facebook page
.
Never miss out on future posts by
following The Thaiger
.