Biochar could solve smoke pollution problem in Chiang Mai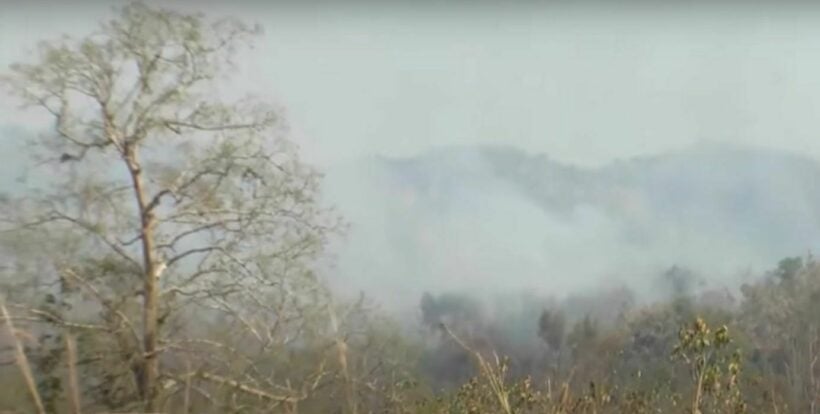 The emerging technology of biochar may be at the forefront of dealing with Chiang Mai and its globally infamous smoke and air pollution. After another terrible burn season where the air quality was rated among the worst in the world, Chiang Mai is often rated the most polluted city in the world.
As scientists worldwide tackle climate change, Chiang Mai stands out as an example of how animal agriculture is a major and often overlooked part of the climate crisis. While coal burning and gas-guzzling automobiles tend to get the most attention in the climate change debate, food production is a massive contributor to the problem.
Michael Schaefer, an American university professor now running Chiang Mai's Warm Heart Foundation explains that as people earn more money, they want to indulge in costlier foods such as meat and dairy. With the increased demand for these animal products comes an equally increased need for the staple crops that feed these animals like corn.
Corn growth has become a linchpin of farming in Chiang Mai as well as Myanmar and Laos. This farming feeds animals like chickens and pigs, whose consumption is unlikely to wane in popularity anytime soon. But burning the waste from the corn to feed livestock is what creates Chiang Mai's massive smoke problem.
Corn is an inefficient crop with only 22% of the plant being edible making the amount of waste to be burned off problematic. The husk, cob, and corn stock have to be cleared before you can plant the next year's crop. Other methods of clearing the land like tractors or hand picking are just too time-consuming and inefficient when a fire can do the job quickly.
The Warm Heart Foundation has proposed turning this waste in Chiang Mai into biochar, a version of charcoal that's far more eco-friendly. Biochar can be used to make smokeless briquettes for our barbecues, as well as soil decontaminant and fertilizer. By using the waste from the burn off to create byproducts farmers can essentially have a secondary income source.
Creating biochar does not require expensive high-tech machinery, as smokeless incinerators can be built out of old oil drums or livestock feeding troughs. Putting that carbon-rich biochar back into the soil in Chiang Mai will last for thousands of years and remove it from the atmosphere.
Animal agriculture and food systems contribute 25 to 30% of the greenhouse emissions in the world according to the Our World in Data project from Oxford University. Agriculture accounts for half the usable land on the planet and 77% of that land is farming livestock, even though the animals raised only provide about 18% of the calories the world's population consumes. Half of all the farming harvests go to feed these animals being raised for consumption. Animal agriculture also uses 15 times more land, 13 times more water, and 11 times more fossil fuel to generate protein.
It's not a perfect solution for the environment, but a step in the right direction as converting the world to a plant-based diet is not likely anytime soon. The UN Food and Agriculture Organisation estimated that farmlands roughly the size of North America and Brazil combined could be returned to nature if everyone stopped eating meat.
Letting nature take its course is still the best way to remove carbon from the atmosphere, but without a vegan revolution, this is not likely. If Chiang Mai could start using this biochar production model it would remove hundreds of thousands of tons of CO2 from the atmosphere and create more fertile fields allowing farming land to potentially be decreased and returning some land to nature.
SOURCE: Bangkok Post
Want more from the Thaiger family?
📱 Download our app on Android or iOS for instant updates on your mobile
📧 Subscribe to our daily email newsletter
👍 Like/Follow us on Facebook
🔔 Subscribe to or Join our YouTube channel for daily video updates
Chiang Mai hospital reports 7 new cases after patients lied about being infected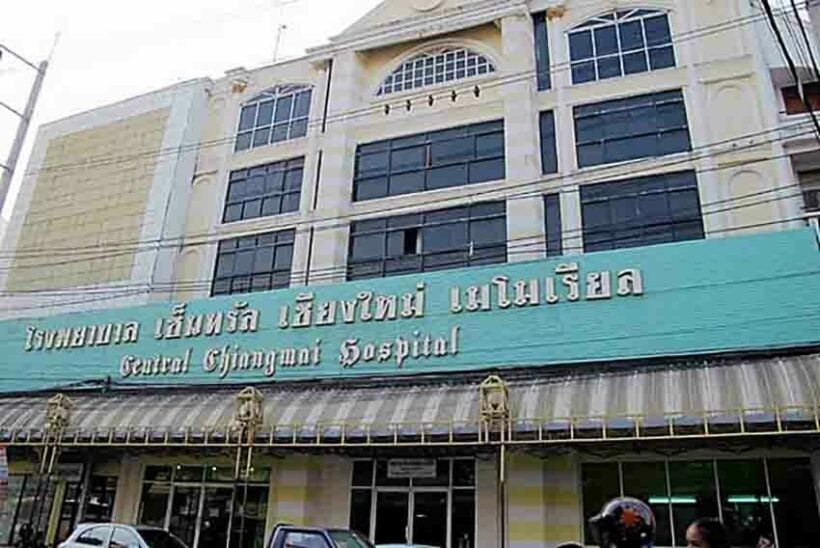 A hospital in the northern province of Chiang Mai has reported a new cluster of Covid-19 after 3 patients lied about being infected. The Central Chiang Mai Memorial Hospital has 7 new cases of the virus after the patients concealed the fact that they had Covid-19 and subsequently passed it to 7 healthcare workers, as well as putting at least 56 people at risk.
Nation Thailand reports that the hospital has given the following information on the 3 patients, as well as the dates they attended the facility:
• A 39-year-old woman who visited the hospital on April 22
• A 46-year-old man who visited the hospital on April 26
• A 61-year-old woman who visited the hospital on May 3
It's understood that only 2 of the infected healthcare workers, a doctor and a nurse, have received their first dose of a Covid-19 vaccine. The other 5 have yet to be inoculated. A hospital spokesperson says the facilty was already adhering to strict Covid-19 prevention measures, including recording the medical history of patients, instructing staff to avoid crowds and wear personal protective equipment, as well as disinfecting the premises daily.
"The hospital is cooperating with the Chiang Mai Provincial Public Health Office on disease investigation and is asking those at risk to take a Covid-19 test as soon as possible."
Nation Thailand reports that the hospital has now closed temporarily until May 21, with emergency cases and chronically-ill patents being treated in the parking area behind the main building.
Yesterday, Chiang Mai reported 10 new infections and 2 deaths. The province has now recorded a total of 3,944 cases, with 3,325 recovered, 605 undergoing hospital treatment, and 14 fatalities.
SOURCE: Nation Thailand
Want more from the Thaiger family?
📱 Download our app on Android or iOS for instant updates on your mobile
📧 Subscribe to our daily email newsletter
👍 Like/Follow us on Facebook
🔔 Subscribe to or Join our YouTube channel for daily video updates
University student carves "112" into chest after being charged with violating lèse-majesté law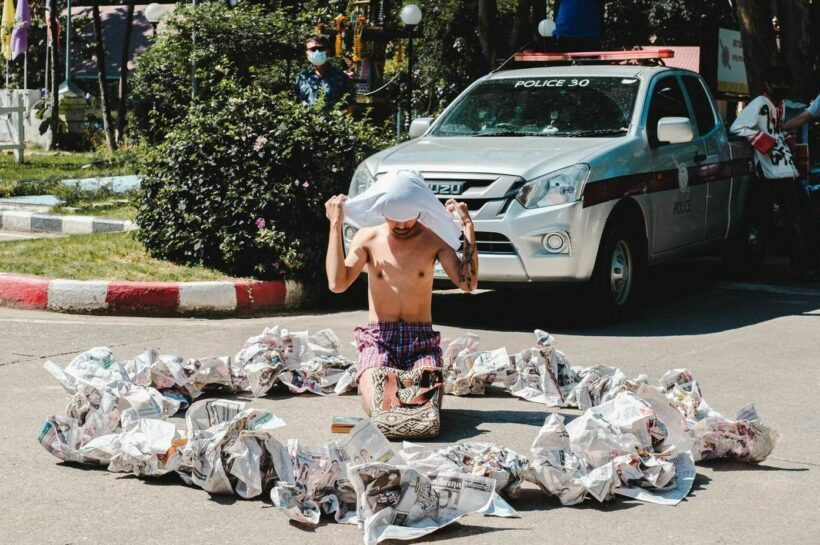 A Chiang Mai University student now has the numbers of "112" carved across his chest after using a razor blade on himself in defiance of the Section 112 of the Criminal Code, also known as the lèse-majesté law. The student took to cutting himself after arriving at the police station to face charges of violating the law. He was also charged with breaching the National Flag Act.
The 23 year old student and his colleague, are facing charges brought by political activist Srisuwan Janya after the duo allegedly placed an altered Thai national flag, featuring critical words against the monarchy, at an exhibition site at the university. Police tried to prevent him from harming himself further, as Vitthaya claimed it was an act of freedom of expression, but he was taken to the police station for first-aid treatment. The other student told reporters that he did not amend the Thai flag as police alleged, citing again, that it was a work of art. Both students are now released, but must come back to report themselves on May 31.
Thasanai Sethaseree, a university lecturer at the Faculty of Fine Arts, says the use of the Thai national flag in a work of art does not constitute a violation of the Thai National Flag Act. However, the lecturer didn't comment on whether the words adorning the flag would constitute a violation of the lèse-majesté law, or Section 112 of the Criminal Code of Thailand.
Last Thursday, jailed student activist leader Panusaya "Rung" Sithijirawattanakul was granted bail of 200,000 baht after repeated denials of bail requests over the last 2 months. Rung was detained on charges using Thailand's strict lèse-majesté laws that carry a 15-year maximum sentence for insulting the royal monarchy and has been held without bail since March 8.
She joined her fellow activist leader Parit "Penguin" Chiwarak on March 30 in his hunger strike to protest the bail denials. Penguin was recently hospitalised over health concerns due to his hunger strike that began March 16.
SOURCE: Thai PBS World
Want more from the Thaiger family?
📱 Download our app on Android or iOS for instant updates on your mobile
📧 Subscribe to our daily email newsletter
👍 Like/Follow us on Facebook
🔔 Subscribe to or Join our YouTube channel for daily video updates
3 journalists from Myanmar arrested in Chiang Mai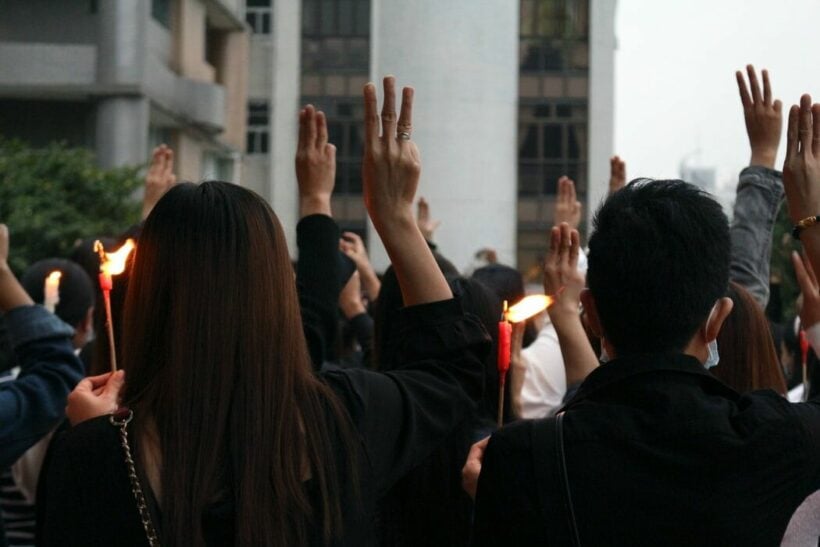 Police in Northern Thailand arrested 3 senior journalists who had fled Myanmar due to orders from the military junta to stop reporting, the director and editor of the news agency Democratic Voice of Burma said in an email to the Associated Press.
The journalists, along with 2 associates, were arrested yesterday in Chiang Mai for allegedly illegally entering Thailand. Police were doing a random search, the editor says.
The FCCT also released a statement calling on Thai authorities to release the journalists and offer them protection in Thailand.
These 5 individuals would face certain arrest and persecution, if not worse, for their work and association with the DVB, and under no circumstances should they be deported back to Myanmar.
Rather, the DVB journalists and their associates should be released from detention, urgently offered protection, and granted the right to remain temporarily in Thailand.
SOURCE: Associated Press
Want more from the Thaiger family?
📱 Download our app on Android or iOS for instant updates on your mobile
📧 Subscribe to our daily email newsletter
👍 Like/Follow us on Facebook
🔔 Subscribe to or Join our YouTube channel for daily video updates