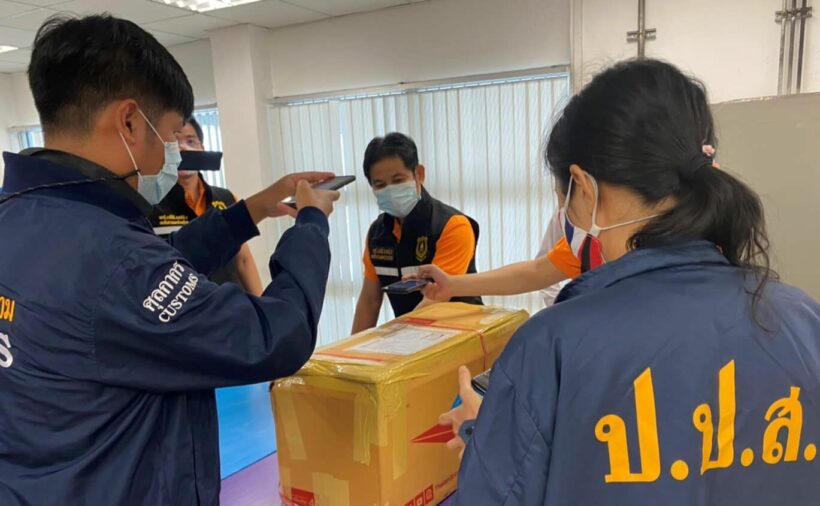 Authorities at Bangkok's Suvarnabhumi Airport are cracking down on drug trafficking, specifically packages being mailed from Thailand to overseas, after major busts in Australia and South Korea last month involving drugs trafficked from Thailand. Over the weekend, the Narcotics Control Board announced that the airport's task force found 580 grams of methamphetamine hidden in motorcycle parts in a package destined for New Zealand.
Last week, Justice Ministry announced it would be working with foreign agencies to crack down on the illegal drug trade and investigate transnational drug trafficking operations with routes in Thailand. Officers at the Bangkok airport have made several busts since then, including a similar EMS package destined for Australia containing around 750 grams of crystal methamphetamine stuffed in hollow metal motorcycle parts.
In another drug bust at Bangkok's Suvarnabhumi Airport, officers seized 1,650 grams of heroin hidden in notebooks in 2 separate packages addressed to Australia, according to Narcotics Control Board secretary Wichai Chaimongkhol. The packages were sent from post offices in Samut Prakan and South Samrong. Both had the same return name and address.
Earlier this month, the airport taskforce also seized 520 grams of methamphetamine hidden in women's shoulder bags in a package destined for Auckland, New Zealand.
The NCB has been working with their counterparts in Australia after a bust last October where 19 cases containing 24.7 kilograms of crystal methamphetamine and 61.64 kilograms of heroin had been trafficked from Thailand to Australia.
In Sydney last month, Australian Border Force searched a cargo ship from Thailand and found 300 kilograms of methamphetamine hidden in electronic water heaters and barbeque grills.
SOURCES: Thai Visa | Nation Thailand