B2bn cash, valuables stashed in police general's secret home vaults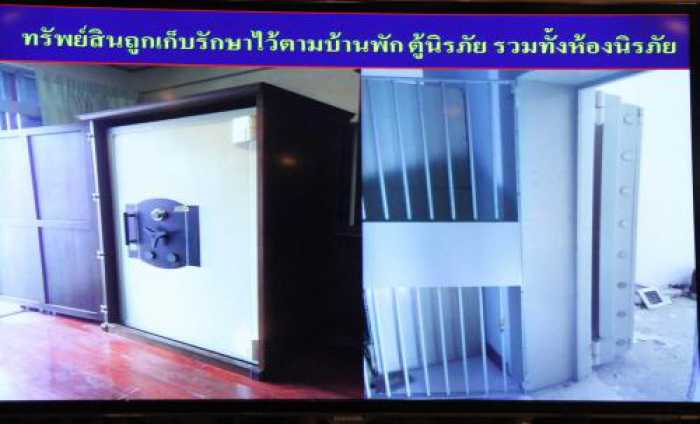 PHUKET MEDIA WATCH
– Thailand news selected by Gazette editors for Phuket's international community
B2bn cash, valuables stashed in police general's secret home vaults
The Nation / Phuket Gazette
PHUKET: In a series of raids last week, police discovered secret underground vaults at the home of former crimebuster Pongpat Chayaphan containing assets worth more than Bt2 billion.
One of the photographs displayed at a police press conference yesterday showed a backhoe being
used to demolish the wall of a vault at one of 11 houses owned by the former Central Investigation Bureau (CIB) commissioner. Many other shots showed a large number of ancient Buddha images and other belongings.
National police chief Pol General Somyot Poompanmoung said police were extending their probe into the corruption scandal and believed that more hidden items would be found.
Asked why former Royal Thai Police chiefs had not been aware of wrongdoing on such a huge scale, Somyot said he could not read the mind of the previous police leaders, but "with me at the helm now, I will make arrests regardless of how high-ranking the wrongdoers are".
Hiding assets by burying them or putting them in underground vaults is a practice considered unusual under the anti-money laundering law, which subjects violators to immediate seizure of assets, Anti-Money Laundering Office secretary-general Seehanart Prayoonrat said yesterday.
He added that those involved in the case are entitled to clarify which items seized were lawfully acquired, along with proof, before the assets are handed over to the agency.
As for the other two suspects – former Samut Sakhon immigration police chief Colonel Kowit Muangnual and wife Sudathip – Seeharat said both of them were also subject to seizure of assets, pending verification of their assets by AMLO officials.
Speaking at the press conference, acting Crime Suppression Division commander Pol Colonel Akkharadej Phimolsri said many of the vaults they discovered were built in order to distract people from noticing other, better hidden vaults in nearby areas.
"Several deposit boxes buried underground were found in the house, in addition to many wooden closets containing many items," he said.
Golden postage stamps, which the colonel said were rare and expensive, were among the items found, which included rare portraits and paintings, ivory and a large number of Thai and US banknotes. Experts from the Fine Arts Department have been helping the police identify the artefacts.
Apart from the 11 houses owned by Pongpat that where searched last week, raids were also conducted at four other locations – including the homes of former CIB deputy chief Kowit Wongrungroj and Pol Colonel Akkharawut Limrat, a former CSD officer. Akkharawut is believed to have committed suicide on November 20.
The huge cache of assets found at Kowit's penthouse including expensive cars and motorcycles, he said. Akkharadej said Kowit acted as the right-hand man of Pongpat in their quests for money.
The arraignment document seeking to detain Pongpat, Kowit, former Marine Police commander Pol Maj-General Bunseub Phraithuen and Akkharawut, said the officers had between October 1, 2010 and November 11, 2014, demanded money from fellow officers seeking higher positions. Each position allegedly cost between Bt3 million and Bt5 million.
Bunseub is also accused of getting up to Bt2 million per month from petrol smugglers since December 2001 up until July this year. Bunseub allegedly gave some Bt35 million to Kowit and Bt118 million to Pongpat.
Somyot said Pongpat, Kowit and Bunsueb were the subject of petitions lodged by many policemen who complained they had been transferred unfairly or faced demands for money from the three officers.
Speaking about the high-profile arrests for the first time, Prime Minister Prayut Chan-o-cha said the case would undergo normal processes in the justice system. He said the issue involved certain officers, but not the entire police force. He added that legal action taken against the high-profile officers was part of the much-awaited reform of the Royal Thai Police.
Pongpat and six others were taken into custody yesterday. Pongpat's sister and her husband, Piyaphan and Chob Chinnaprapha, were also taken into custody after police failed to get their arraignment order on Monday.
— Phuket Gazette Editors
Want more from the Thaiger family?
📱 Download our app on Android or iOS for instant updates on your mobile
📧 Subscribe to our daily email newsletter
👍 Like/Follow us on Facebook
🔔 Subscribe to or Join our YouTube channel for daily video updates
Thailand Consumer Confidence Index hits record low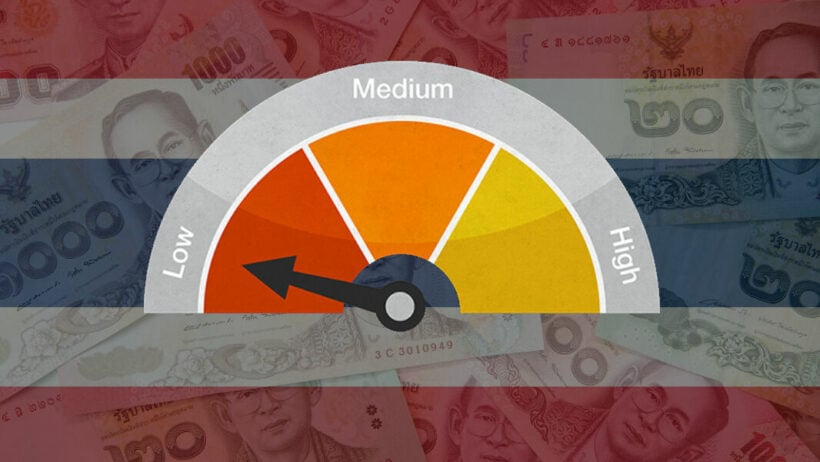 The University of the Thai Chamber of Commerce has reported that the Consumer Confidence Index has hit another new record low of 46.0 in April. The Covid-19 global pandemic has had a devastating effect on the economy and consumer confidence has fallen frequently to the lowest points that it has seen since 1998.
The president of the UTTC believes that consumers generally don't feel like there has been much of a recovery for the economy since the global pandemic began and without a stimulating event to motivate economic growth, the index is expected to continue to fall further. The university estimated that if the third wave of Covid-19 continues past the end of May the economy can expect to lose 400 to 600 billion baht.
The UTTC president stressed that the government should hasten to step up relief measures and make sure they continue relief and economic stimulus throughout the pandemic to avoid economic catastrophe. He predicted that the economy and the Consumer Confidence Index will continue on a downward slope without any hope of improvement until the vaccine rollout gets well underway towards herd immunity, and new Covid-19 infections are decreased dramatically.
Today saw another 2,101 new Covid-19 infections and 17 deaths in Thailand. Vaccination efforts are continually being stepped up, but still remain woefully slow.
The Consumer Confidence Index first started falling last year, with a drop below the previous record low in 1998 in April of 2020, when it fell to 47.2. A few months later, by July of last year, it had recovered significantly, climbing back over 50. But by March of this year, the index had fallen again to 48.5. With April's tumble of 2.5 points, the Consumer Confidence Index pushes once again to a new record low.
SOURCE: Thai Business News
Want more from the Thaiger family?
📱 Download our app on Android or iOS for instant updates on your mobile
📧 Subscribe to our daily email newsletter
👍 Like/Follow us on Facebook
🔔 Subscribe to or Join our YouTube channel for daily video updates
Thailand searches for cow vaccine for lumpy skin disease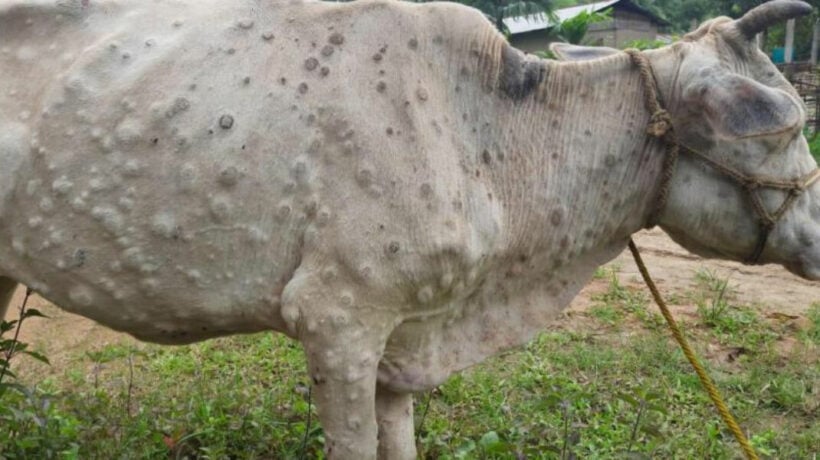 Move over Covid-19 there's a new disease sweeping the country as Thailand's cow population is afflicted with a lumpy skin disease. The Department of Livestock Development is now working on procuring vaccines from overseas manufacturers to import and treat the cattle population in Thailand. The lumpy skin is caused by pustules that are the most visible symptom, perhaps more detectable than other bovine signs such as drooling, loss of appetite and drowsiness.
The cow disease is spreading in the North, Northeast, and Central Plains area of Thailand and has been found in 18 provinces total. First identified in Roi Et, it has now spread in Chiang Rai, Kalasin, Kanchanaburi, Khon Kaen, Maha Sarakham, Nakhon Pathom, and Nakhon Phanom. The first case of the lumpy skin disease was reported in Don Daeng village last month and on April 9th officials reported it to the World Organisation for Animal Health.
The lumpy skin disease is found in cow pens and spread through flies, ticks, and mosquitoes, but the DLD says not to panic, it is not transmissible to humans. The department is distributing important information about symptoms and how the disease spreads to breeders and farmers in the area. They're requiring the breeders to monitor their cattle closely and have imposed measures to control the disease in heavy hit areas.
To prevent the spread of disease in livestock, traders are being requested to not buy and sell cattle within 50 km from disease-stricken regions. And for farmers caring for cattle, the DLD recommends spraying insecticide in all areas to prevent transmission via insects. Finally, in case the cattle were jealous of traveling humans, the DLD is advising farmers to prevent disease spread by isolating any new cow that comes into their farms with a 28-day bovine quarantine where they should be kept under nets to keep insects away.
SOURCE: Bangkok Post
Want more from the Thaiger family?
📱 Download our app on Android or iOS for instant updates on your mobile
📧 Subscribe to our daily email newsletter
👍 Like/Follow us on Facebook
🔔 Subscribe to or Join our YouTube channel for daily video updates
Covid-19 third wave cuts Thai domestic flights predictions by 38%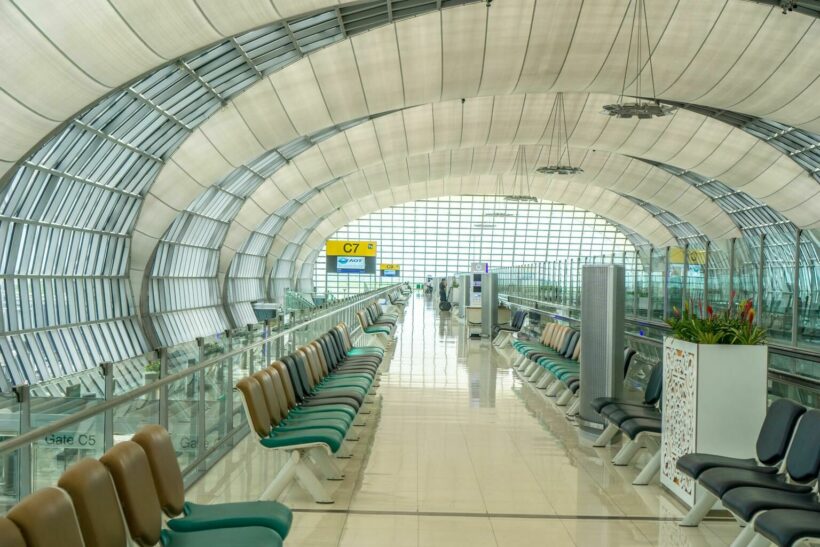 The Aeronautical Radio of Thailand is predicting a 38% drop in travel by domestic flights due to the effect of the third wave of Covid-19. Aerothai is a department under the Ministry of Transport that provides aeronautical communication and air traffic control in Thailand. With Covid-19 experiencing a rapid spread beginning in April and not yet under control, infections across all of Thailand's 77 provinces are projected to drastically hamper local travel until at least September.
The fiscal year, beginning last October, was originally predicted to have almost 519,000 domestic flight. But Aerothai has now reduced those figures down 38% to just over 323,000 flights in Thailand. The executive vice president for operations of Aerothai said that by the second half of April domestic flights had been severely reduced despite remaining relatively stable in early April.
The Civil Aviation Authority has also added increased restrictions on the way passengers are carried, adding another layer of difficulty for the domestic airlines who have slashed their schedules after having a bumper Songkran holiday period and were looking forward to better times ahead.
Flight reductions were a result of attempts to reduce and contain the spread of Covid-19 by implementing strict travel and safety measures. While domestic travel was strongly affected by Thailand's second wave of Covid-19 at the beginning of 2021, the current wave is much worse and Aerothai predicts domestic flights will reach their lowest point by the end of May.
An expectation of recovery beginning next month hinges on international flights starting to slowly creep back into Thailand. The Civil Aviation Authority of Thailand has loosened the restrictions for international travel in preparation for the government's plan to relaunch the tourism industry in key hotspots of Thailand like Phuket and Koh Samui in July. Aerothai is hoping that by August domestic flights will return to the levels seen at the end of 2020 before the second wave of Covid-19, with about 1,095 daily flights.
Aerothai has been tracking flight statistics since it was founded in 1948 by a group of airlines with the approval of the Royal Thai Government. In 1963 the government took on a majority stake in the company from the founding airlines and converted it to a state enterprise operating under the Ministry of Transport.
SOURCE: Bangkok Post
Want more from the Thaiger family?
📱 Download our app on Android or iOS for instant updates on your mobile
📧 Subscribe to our daily email newsletter
👍 Like/Follow us on Facebook
🔔 Subscribe to or Join our YouTube channel for daily video updates