Attorney, university professors seek bail for leaders of pro-democracy Ratsadon group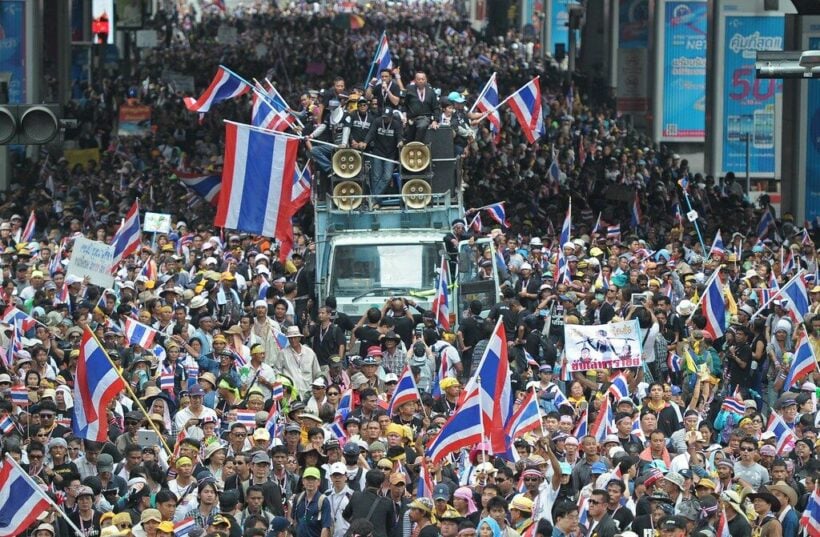 An attorney, along with university professors, are seeking the release of pro-democracy leaders from jail by requesting bail at Thailand's Criminal Court. The attorney from Thai Lawyers for Human Rights, Kritsadang Nutcharas, joined with professors from Bangkok's Thammasat and Mahidol universities to request the release of 3 of the Ratsadon group's core members.
Kritsadang says the families of Rung, Penguin, and Pai Daodin, agreed that professors should attend court, to explain why the leaders needed to be granted bail. He says the 3 are still enrolled at universities and need to finish their final year of studies.
He says, so far, they have pooled bonds of up to 500,000 baht for each leader's bail to assure the court that the accused will not flee or cause any other harm. The Ratsadon leaders were previously denied bail, after being arrested on lèse majesté charges related to the protests in front of Thammasat University and Sanam Luang on September 19 and 20 of last year.
Thailand's Immigration Bureau has also clarified that foreign students can, indeed, take part in political gatherings provided they follow the law. The news comes after The Asian Institute of Technology sent an email to its students saying it respected freedom of expression but was conveying a request from Thai immigration for foreign students not to join protests.
The issue email caused quite a confusion with foreign ministry spokesman Tanee Sangrat, saying the AIT may have been suffering from a "miscommunication" when the Immigration Bureau sent letters to all educational institutes in the area, advising students to be careful joining mass gatherings for fears over Covid-19 spreading.
"Please be assured that the Immigration Bureau has never issued an order to ban foreign students from political gatherings. We only want them to be careful about the pandemic. The bureau understands well about people's rights under the Thai constitution."
Thailand's political landscape has been noted by many international agencies with the US based Freedom House, a democracy advocacy group, choosing to downgrade Thailand from being "partly free" to "not free" in its latest global rankings.
SOURCE: Thai PBS World
📱 Download our app on Android or iOS for instant updates on your mobile
📧 Subscribe to our daily email newsletter
👍 Like/Follow us on Facebook
🔔 Subscribe to or Join our YouTube channel for daily video updates
Red paint in Burmese streets mark 700+ deaths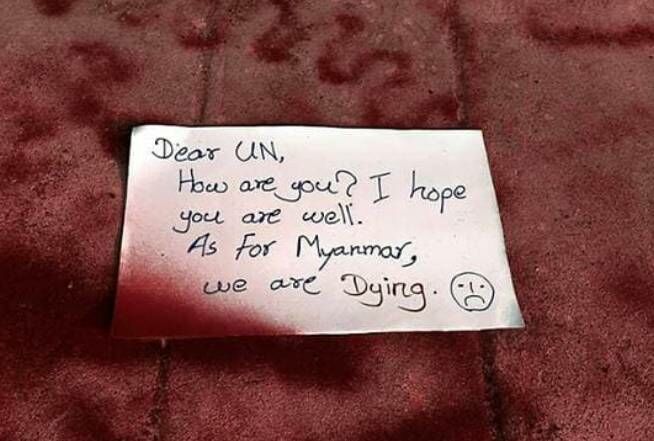 Marking over 700 deaths in the Burmese military crackdown, anti-coup protesters in Myanmar are splashing red paint across the streets of Yangon to represent the blood of those killed in the growing crisis. Myanmar has ground to a halt as the military junta attempt to silence opposition to their February 1 takeover with deadly force. 714 deaths have been verified by local monitoring groups, but they warn the actual number may be much higher.
The economy and daily functioning of the country is immobile, the internet has been cut off to many citizens, even Myanmar's Thingyan New Year festival, similar to Thailand's Songkran holiday, has been cancelled. Instead of water fights in the street, protesters explained they used the holiday to draw a parallel, splashing red paint "blood" instead to draw attention to the Burmese deaths at the hands of the military.
"The purpose of the "bleeding strike" is to remember the martyrs who died in the struggle for democracy. We should not be happy during this festival time. We have to feel sadness for the martyrs who are bleeding and we must continue to fight this battle in any way we can."
Simple but powerful signs and notes were found amongst the blood protest with phrases like, "blood has not dried on the streets," "overthrow the era of fear," and "hope our military dictatorship fails." Perhaps most poignant was a note found on red-painted streets reading, "Dear UN, How are you? I hope you are well. As for Myanmar, we are dying."
The UN fears that a Syrian-style conflict is around the corner for Myanmar, calling on countries to take immediate steps against the military junta, citing possible crimes against humanity. High Commissioner for Human Rights Michelle Bachelet draws the Syria comparison, worried a full-blown Burmese civil war could parallel the Syrian war that has led to 400,000 deaths and 6 million refugees. While some countries have enacted sanctions, infighting has delayed meaningful action with the EU claiming Russia and China are blocking possible UN arms embargos.
Meanwhile, the military added many more people to the list of over 260 people including doctors and celebrities they are seeking to arrest for crimes such as spreading dissent or treating injured protesters. 7 protesters in Yangon, 3 in absentia, were sentenced to death for the alleged murder of a suspected informant.
In the northwest of Myanmar, a milk delivery couple were killed by military storming the town of Tamu. And in the Mandalay region, protesters drove motorbikes with red flags supporting imprisoned leader Aung San Suu Kyi.
SOURCE: Channel News Asia
📱 Download our app on Android or iOS for instant updates on your mobile
📧 Subscribe to our daily email newsletter
👍 Like/Follow us on Facebook
🔔 Subscribe to or Join our YouTube channel for daily video updates
$85 to retrieve the dead after bloody Burmese military clash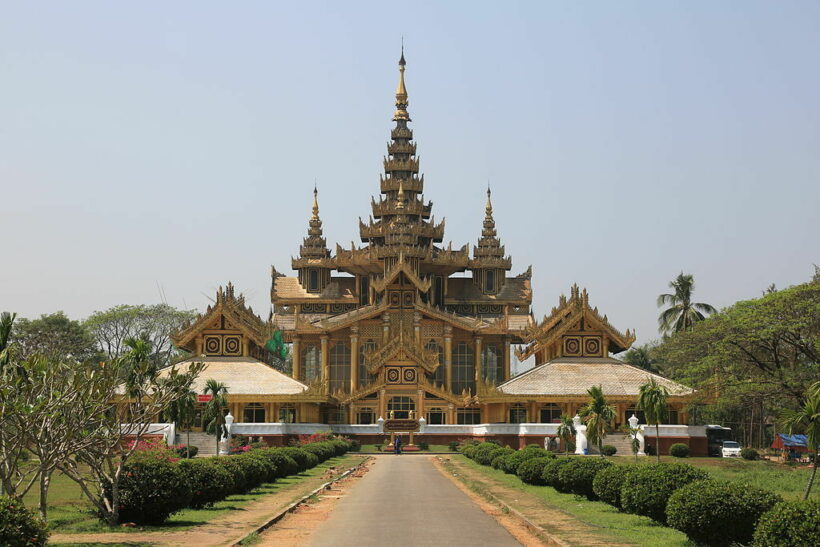 Activists say the Burmese military is charging US$85 to families to recover the bodies that security forces killed in last Friday's violent clash. The city of Bago, just northeast of Yangon, was raided by military forces with 82 people killed according to Assistance Association for Political Prisoners, a local advocacy group. Since the February 1 coup, the military has been systematically cracking down against peaceful protesters, detaining 3,000 civilians and killing over 700 more.
Eyewitnesses in Bago say the Burmese military used grenades, RPGs, and assault rifles to quell anti-coup protestors, forcing many villagers and activists to flee and go into hiding. Military security forces are going through the neighbourhoods now and have cut off internet access. Burmese forces claimed they were attacked by protestors while removing road barriers, alleging that demonstrators used homemade guns, shields, grenades, arrows and fire bottles.
In the aftermath of the bloody clash, the military charged families 120,000 Burmese Kyat (about $85) to collect the bodies of lost relatives. This was reported by Bago University Students' Union's Facebook page as well as Radio Free Asia's Burmese service.
NGO Human Rights Watch had published a call for the European Union to take action and implement strict sanctions on the Burmese military on Thursday. And yesterday the US Embassy in Myanmar joined the call, posting on Twitter, urging peace.
"We mourn the senseless loss of life in Bago and around the country where regime forces have reportedly used weapons of war against civilians. The regime has the ability to resolve the crisis and needs to start by ending violence and attacks."
A volunteer doctor who chairs the Red Cross in Bago had been detained by the Burmese military police on April 2, and yesterday a second volunteer doctor was taken after administering free medical aid to protestors, according to his family.
Meanwhile, the military's commander-in-chief and another spokesman maintain that the Burmese military are peacekeepers, trying to strengthen the democratic system of Myanmar by safeguarding the country and investigating a fraudulent election. They deny that they seized power and blame the violence and death in the country on protestors rioting.
SOURCE: CNN
📱 Download our app on Android or iOS for instant updates on your mobile
📧 Subscribe to our daily email newsletter
👍 Like/Follow us on Facebook
🔔 Subscribe to or Join our YouTube channel for daily video updates
Attendance on the wane for Thai democracy protests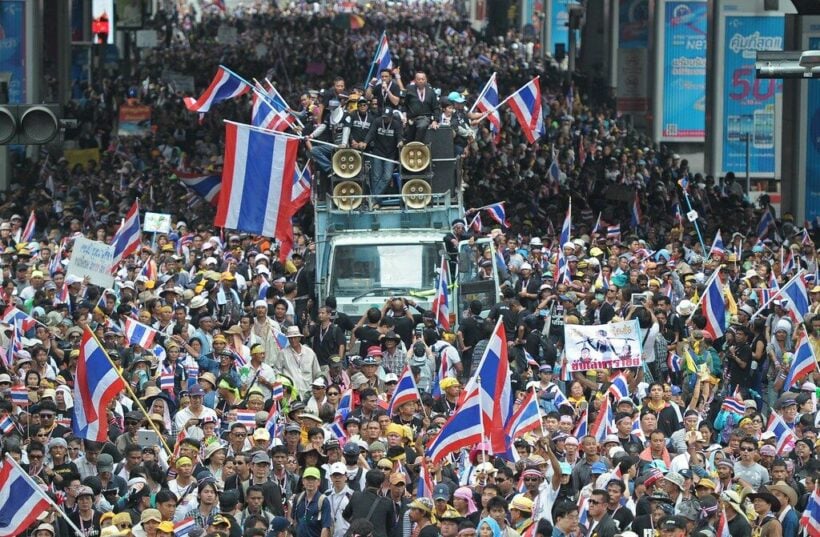 While protesters against the Thai government are continuing as they have for endless months, attendance is lessening in the face of crackdowns, coups and Covid-19. The throngs of 10,000 plus protesters, mostly energetic youth, that waved The Hunger Games 3 finger salute and demanded change in Thailand last summer have thinned to a few thousand or less these days.
The government isn't in the clear yet though, as the protester's calls to replace the current government, lessen the power of the Thai monarchy, and draw up a new constitution are still popular ideas. But a number of factors are causing protester size and vigour to wane.
The second wave of Covid in December quickly curbed the daily demonstrations for fear of spreading the virus. After that, the coup in Myanmar on February 1 has brought massive protests with international attention shifting to the growing humanitarian crisis just across the border. On top of the pandemic and the Burmese coup, the Thai government has taken a much more hardline approach to protesters in recent months.
Police began fighting back against mass demonstrations, dispersing crowds with water cannons, tear gas, and rubber bullets. And after 2 years of leniency, the government has begun prosecuting people under the strict lèse-majesté laws, where offending the monarchy can carry harsh punishment including a jail sentence of up to 15 years.
Anon Nampa, a human-rights lawyer, and Parit "Penguin" Chiwarak, a student activist, have already been arrested under this law and held without bail. Arrests like these have been demoralising for the pro-democracy movement, and have scared away a lot of Thai protesters. Many have shifted focus to more immediate efforts to demand the release of the detained protest leaders.
Even with the crowds shrinking, the protests have already brought about change, bringing once unspeakable conversations into the national conversation, and keeping pressure on Thailand's leaders. Opposition is growing, with efforts to push no-confidence votes and amendments to the constitution being constantly proposed and advocated.
SOURCE: The Economist
📱 Download our app on Android or iOS for instant updates on your mobile
📧 Subscribe to our daily email newsletter
👍 Like/Follow us on Facebook
🔔 Subscribe to or Join our YouTube channel for daily video updates