Another Army death raises questions over Military handling of hazing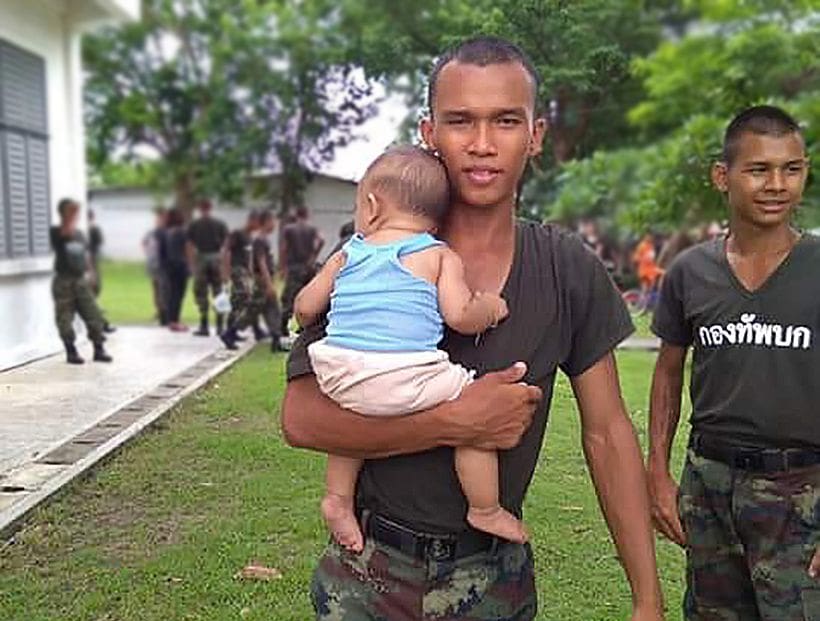 PHOTO: Facebook/Boy Krungkao
by Chularat Saengpassa – The Nation Weekend
Hazing (US English) initiation ceremonies, (British English), bastardisation (Australian English), ragging (South Asia), or deposition, refers to the practice of rituals, challenges, and other activities involving, harassment, violence or humiliation used as a way of initiating a person into a group including a new fraternity, sorority, team, or club.
Another conscript has succumbed to injuries inflicted whilst under the care of the Thai Army.
Private Khacha Pacha became the latest fatality of military-camp violence yesterday. He had been battling for his life for nearly a month and was in a coma since arriving at the hospital on August 21.
The 22 year old conscript has left behind his elderly mother, pregnant wife and toddler daughter. His family is now dealing with the pain that so many affected families had hoped would never happen again.
"I hope my son was the last victim, and nobody else has to experience this pain again," Chittra Chormanee had said in 2016 after losing her 23 year old son, Private Songtham Moodmud, to alleged torture.
She chose not to file a lawsuit after the soldiers involved had begged for her forgiveness and the Army offered her an unidentified amount as compensation.
The latest victim, Khacha, was a conscript at the 31st Infantry Regiment (King's Guard) in Lop Buri province when three other soldiers allegedly attacked him on August 21. Since then, there have been conflicting accounts on the attack. His family was initially told that he was beaten while being disciplined, but later, senior military officers began insisting that he had been beaten during a fight among soldiers.
Yet, even though Army chief General Chalermchai Sittisart has been denying the disciplining claim, the public is not entirely convinced.
After all, the public has heard too often about the brutal punishments at military camps and several victims of these beatings have made the headlines.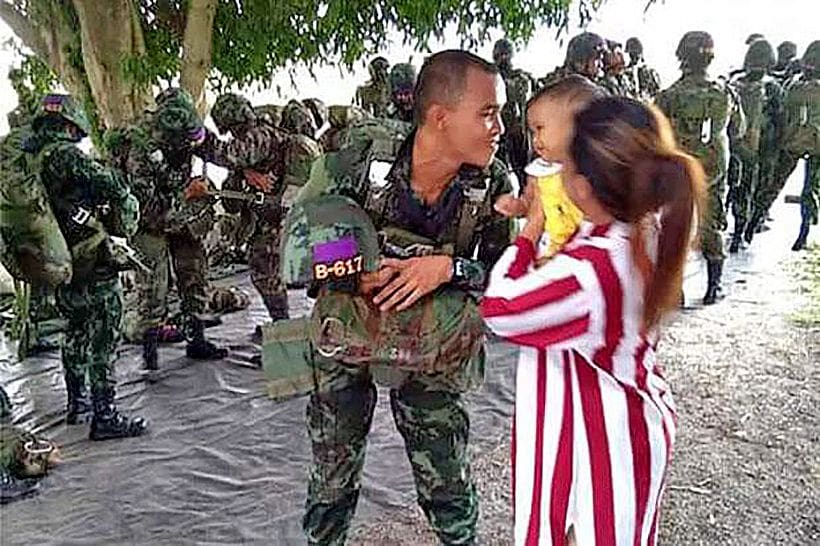 Private Khacha Pacha – PHOTO: Facebook/Boy Krungkao
Last October, 18 year old Phakhapong "Meay" Tanyakan, a first-year student at the Armed Forces Academies Preparatory School, lost his life in murky circumstances just days after being allegedly disciplined by his seniors.
His heartbroken family has been fighting for justice ever since, but to date, there has been no evidence establishing a direct link between the disciplinary action and his death. His family is now asking for an investigation into his autopsy procedure at the military-owned hospital.
There were another two cases of questionable fatalities last year. On August 19, 2017, Private Noppadol Worakitphan, a 21 year old conscript at the 45th Army Circle, died of a ruptured heart and massive internal bleeding.
It was widely reported that he might have died because of harsh disciplinary action taken earlier in the day, but a military probe concluded that there was no beating at the camp and that something else may have happened outside the compound that affected Noppadol.
On April 1 last year, 22 year old Private Yutthakinan Boonniam succumbed to torture at a military camp in Surat Thani province and 11 soldiers have been taken to the military court over his death.
There are similar cases reported every year, and every time such reports appear in mainstream media, there is a call for an end to brutal punishment at military camps.
Yet, even after the Army has had to pay millions in compensation to victims' families and has faced loud criticism, this trend has not stopped.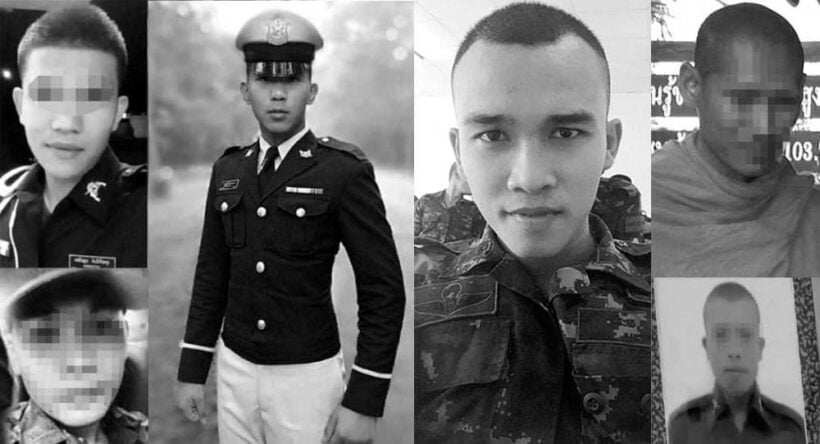 National Human Rights Commission commissioner Angkhana Neelapaijit said her agency had raised this issue with the government several times and even offered recommendations on how such tragedies can be prevented.
In a separate interview, Cross Cultural Foundation director Pornpen Khongkachonkiet said her organisation had been trying to push military units to release details on how they punish soldiers.
"To ensure transparency, military units should be able to describe how each incident occurred to the public. Let's see if there was really no excessive use of violence," she said.
Her foundation has been helping the family of Sub-Lieutenant Sanan Thongdeenok seek justice after he drowned at the 1st Infantry Battalion of the Royal Guards.
30 year old Sanan drowned on June 6, 2015 after being ordered to swim non-stop
The Army is negotiating compensation with his family, and no lawsuit has been filed due to weak evidence.
One of the most high-profile cases, so far, is probably that of Private Wichien Phueksom.
Holding a master's degree and spending a long time in monkhood, the 25 year old was reportedly unfamiliar with military surroundings. He ended up being disciplined harshly during his time at the 4th Development Battalion in Narathiwat Rajanagarind Military Camp.
His death on June 5, 2011 was put down to acute kidney failure. His body showed signs of serious physical abuse prompting his family to fight hard for justice. Yet, one of Wichien's nieces faced threats and even an arrest warrant during the battle.
The Army has offered 6.5 million baht in compensation to settle the civil lawsuit, and criminal proceedings are ongoing.
"Delayed justice is no justice," Wichien's niece Narissarawan Kaewnopparat lamented.

STORY: The Nation
Keep in contact with The Thaiger by following our
Facebook page
.
Never miss out on future posts by
following The Thaiger
.
Education ministry says curriculum revamp will promote analytical thinking over rote learning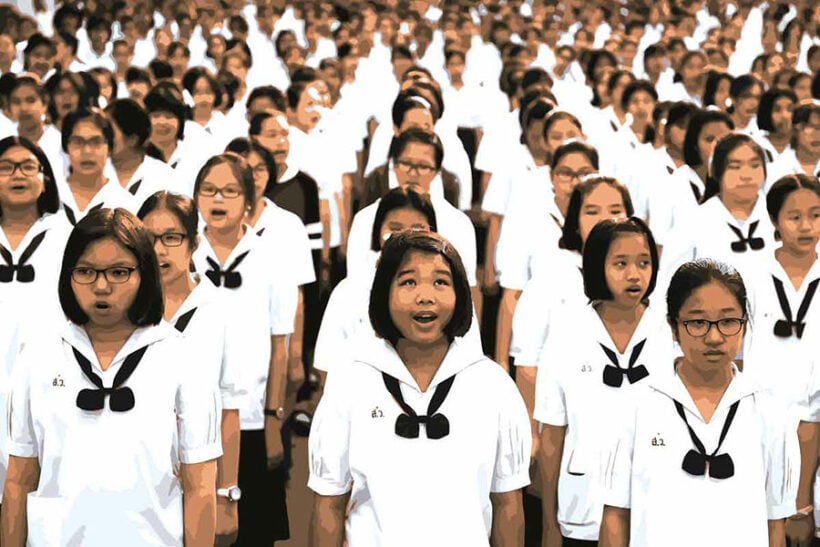 As anti-government sentiment among Thailand's student population shows no sign of abating, the Education Ministry says it plans to overhaul the Basic Education Core Curriculum to provide students with a better understanding of political developments in the Kingdom between 1932 and 1957.
Supat Chumpathong says the new curriculum will also place more of a focus on analytical thinking, instead of learning by rote. The Thai education system has come in for criticism in some quarters for not fostering critical thinking among students.
University academics are being drafted in to help with the revamp, with a draft expected to be submitted to the Education ministry by mid-December, in the hope it can be implemented in the 2022 academic year.
Supat says the social studies curriculum will be updated to consist of information currently not included. The ongoing anti-government protests refer to a 1932 revolution, organised by Khana Ratsadon (the People's Party), that overthrew King Rama VII's government, ending absolute monarchy in Thailand. One group of current-day protesters calls itself Khana Radsadon 2563 (2020) in memory of the original party.
The Bangkok Post also reports that Veera Khaengkasikarn, deputy permanent secretary for education, says the ministry plans to roll out teaching of "Sufficiency Economy" values in Thai schools.
To date, 27,520 academic establishments are considered, "Sufficiency Schools", 570 of which are learning centres promoting the philosophy of Thailand's 3 pillars of nation, religion, and monarchy, nationwide. The philosophy is aimed at creating a spirt of unity during times of crisis in the Kingdom.
SOURCE: Bangkok Post
Keep in contact with The Thaiger by following our
Facebook page
.
Never miss out on future posts by
following The Thaiger
.
Thailand News Today | German Embassy rally, permanent residency prospect, crowds in Pattaya | Oct 26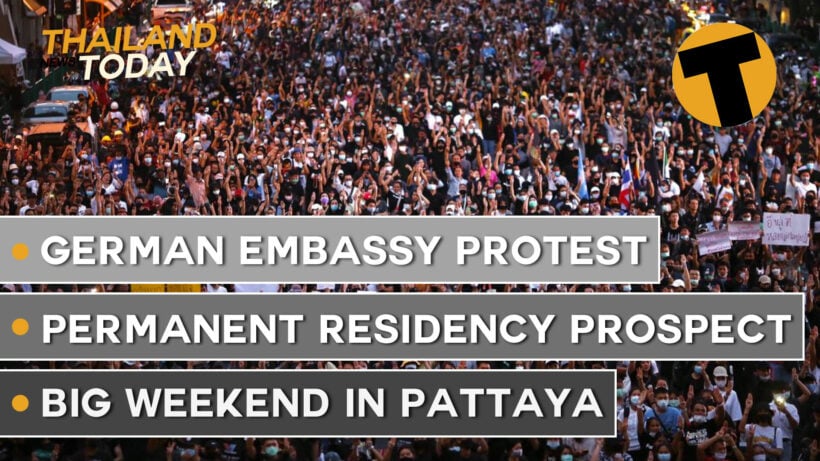 Today's latest news from The Thaiger, looking at the latest in the protests, a surge of crowds in Pattaya and the latest proposals from the Thai government to increase a new stream of revenue.
Permanent residency, changes to quarantine period – Government mulls strategies to revive economy
Thailand's energy minister has outlined a number of new strategies the government is discussing tohelp the Thai economy recover from the fallout of Covid-19 fallout.
Permanent residency for some condo purchases, changes to the mandatory quarantine and incentives for foreign investment are all under discussion.
The Eastern Economic Corridor, the special economic zone covering the eastern provinces of Rayong, Chon Buri and Chachoengsao, continues to eye foreign investors with a number of large infrastructure projects in the pipeline.
Of particular interest in the topics for discussion are that the government is considering offering permanent residency to people buying condos in the Kingdom, provided they don't mortgage, transfer, or sell the units within 5 years of purchase.
In relation to foreign arrivals, he says the government will clarify its plans on any further reduction in quarantine time. He says that if the current 14 day quarantine period is to be reduced, this would only apply to those coming from countries considered "low risk" for Covid-19. It's understood the Public Health Ministry is working on categorising countries into low, medium, and high risk.
Parliament in the middle of a 2 day session to discuss political impasse
An opposition spokesperson opened the special joint session of parliament today with a call for Prime Minister Prayut Chan-o-cha to step down, as anti-government protesters continued to keep up their pressure.
Mr Sompong also called for the release of detained protesters as a goodwill gesture to try and end the current impasse. " He said… The prime minister should be open-minded to the young protesters'demands, and stop delaying the process of writing of a new constitution."
Meanwhile a Palang Pracharath Party MP Paiboon Nititawan defended the PM saying the country needed his leadership to get through the economic crisis and to protect the institution of the monarchy, which was under attack by protesters.
Protesters march on German Embassy in Sathorn Road
Meanwhile protesters gathered at the Sam Yan intersection today at 5pm, near Chulalongkorn University, and marched to the Germany embassy on Sathorn Road, to submit a controversial petition.
Protesters are asking German authorities to look into whether His Majesty the King had violated German sovereignty by exercising his power from German soil. It is the first time a foreign government has been targeted by the anti-governmentprotesters.
Protesters say the intention is to push for the restoration a "truly" constitutional monarchy in Thailand, under law.
A 'spoiler' rally is also underway by government supporters and 'royalists' at Lumpini Park, right in the middle of the march route to the German Embassy.
Protesters massed at the Ratchaprasong intersection in Bangkok last night
Last night crowds gathered at the Ratchprasong intersection, one of the promised locations for a rally in response to Saturday night's refusal of the Thai PM to resign. Thousands gathered, mostly along the Ratchadamri Road, to hear speeches and musical performances.
Messages on some of the banners read "We are the people", "Everyone is a leader", "Thailand is for the people", "Police should protect the people".
Whilst blocking the intersection for 3 hours, with little police presence, the protesters disbanded peacefully just after sunset.
Pattaya springs back to life over the long weekend, more to come
Pattaya, struggling along for the past 7 months with a handful of domestic tourists and Bangkok weekenders, has had its busiest weekend for a long time, albeit a long weekend created by the public holiday in commemoration of King Chulongkorn.
Much of the increased traffic were Thai faces, a big change to the city's old demographic of international tourists and expats.
Tourists flocked to the city for the long weekend which included the Eastern Colorful Food, Culture and Music festival stretching along the Beach Road foreshore.
The focus of the weekend's events was the Beach Road which was visibly busy with locals and tourists joining in the foreshore festival, talent shows, music concerts and local food.
Schools advised to improve online learning in case of second Covid-19 outbreak
Thailand schools are told to get ready for a possible second wave of Covid-19 and prepare to for lockdown measures, just in case, to make sure all children have equal access to education.
A Thai economist warns that the education gap between rich children in urban areas and poor children in rural areas could widen if schools are shut down again and resort to the same online learning measures tried out months ago.
Keep in contact with The Thaiger by following our
Facebook page
.
Never miss out on future posts by
following The Thaiger
.
Expert says all rail crossings should be upgraded after fatal train-bus collision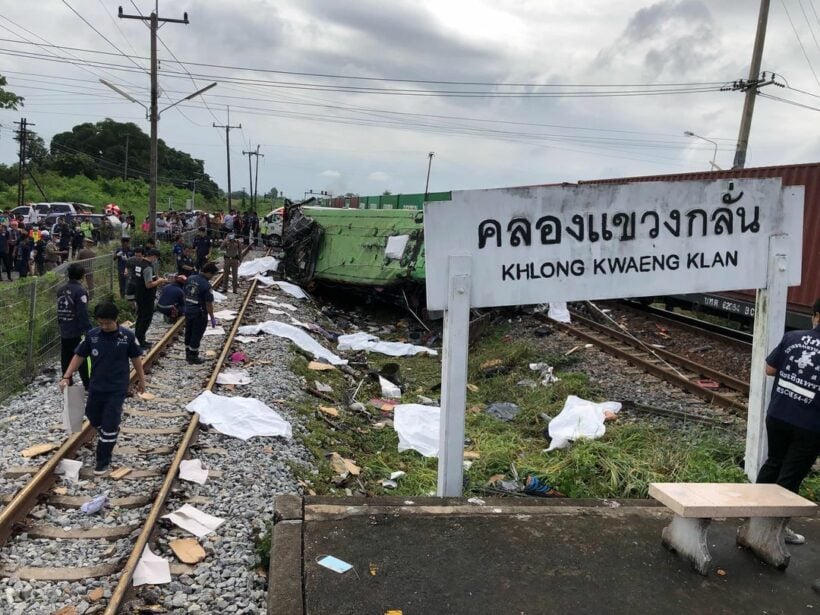 After the fatal freight train-charter bus collision earlier this month, authorities are looking into ways to make the rail crossings safer and to prevent potentially deadly incidents from happening in the future.
An expert in rail engineering says all rail crossings need to upgraded, urgently, while unofficial or illegal crossings should either be permanently closed off or upgraded with the proper safety equipment. Unofficial crossings are those that are used by locals, but are not approved by the State Railways of Thailand.
Chairperson of the Rail Engineering Committee at the Engineering Institute of Thailand, Rattapoohm Parichatprecha, gave suggestions about how to improve the rail crossings after an incident in Chachoengsao. On October 10, a train collided with a charter bus crossing the railway, killing 18 and injuring 44 who were on their way to a merit-making ceremony. Officials say the signal was broken and the crossing didn't have a barrier gate to block traffic.
Then, a passenger train collided with a car, killing a woman and injuring 2 others at a railway crossing in Phetchaburi's Khao Yai district on October 15.
The State Railway of Thailand says an average of 77 railway crossing incidents happen each year, killing an average of 28 people yearly and injuring 74. Some crossings are known as "black spots" where accidents occur more frequently, sometimes up to 4 times a year.
Rattapoohm says all legal crossings upgrade the warning signs and barricades, but warns that revamping the crossings could be expensive. In a previous report, Transport Minister Saksiam Chidchob acknowledged that the State Railways of Thailand's budget to install railroad crossing gates has been cut.
The size of the rail crossing as well as the direction also comes into play, according to Rattapoohm.
"The width of the crossing must not be at least three metres. The road should also cut through the rail tracks in a straight line and not in a diagonal direction which would create blind spots."
He says tree canopies must also be trimmed regularly to prevent branches and leaves from obstructing the view for both train conductors and drivers crossing the railway.
For illegal crossings, Rattapoohm says some can stay put since they are just used by the locals who are familiar with the terrain and know where the blind spots are, but says they should make sure the unofficial crossings stay off Google Maps.
"People outside the areas are unaware of the lurking danger the illegal crossings pose and many just follow directions in Google Map."
SOURCE: Bangkok Post
Keep in contact with The Thaiger by following our
Facebook page
.
Never miss out on future posts by
following The Thaiger
.