Amnesty International accuses Facebook of caving in to Thai Government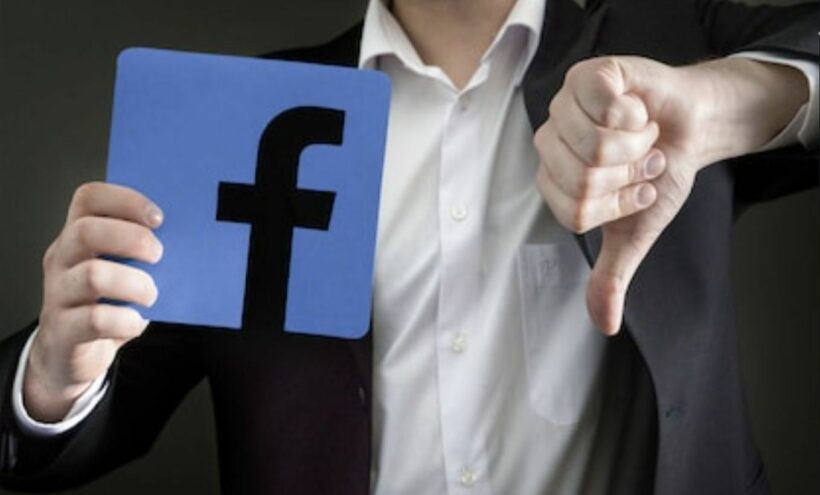 "The company should not have given in to the demands in the first place."
Facebook has acquiesced to the Thai Government's demands to remove a Facebook Group that had been critical of the Thai Monarchy. The page, "Royalist Marketplace", had a following of a million people and administered by a self-exiled Thai living in Japan. The group's page cannot be accessed in Thailand anymore.
In response, a representative from Amnesty International has accused Facebook of "caving in" to an "authoritarian government".
"Once again Facebook is caving to the whims of repressive governments, while making meek appeals to human rights, setting another dangerous precedent for freedom of expression online.
Amnesty Tech's acting program co-director, Rasha Abdul-Rahim, says that Facebook must do everything within its power to resist the Thai authorities' arbitrary censorship demands.
"Human rights, not market access, must be the ultimate bottom line."
"It's welcome that Facebook is now planning legal action to challenge the government's censorship demands, but the harm has already been done."
"The Thai government's threats of legal action to force Facebook to cooperate in online censorship amounts to yet another assault on freedom of expression online. As an Amnesty report in April 2020 showed, Thailand has developed an array of vague and menacing laws to sow fear into people's social media use."
"The Thai authorities must cease their harassment of peaceful protesters, both online and in the streets. As protests continue to gain in scale, we urge the Thai authorities to engage in constructive dialogue and to respect the rights to freedom of assembly and expression."
Last Tuesday Facebook had announced that they "reluctantly complied with a request from the Thai government to restrict access to content".
Facebook responded, after taking down access to the page in Thailand,… "Taking down the page contravenes international human rights law, and has a chilling effect on people's ability to express themselves. We work to protect and defend the rights of all internet users and are preparing to legally challenge this request"
How this proposed legal action would work, or who it would be directed at, has not yet been detailed.
For their part, the Thai government isn't backing down in the face of legal threats from Facebook.
Puttipong Punnakanta of the Digital Economy and Society Ministry says they were "unconcerned with the threat as officials were merely upholding the law by demanding it remove or block a group critical of the monarchy".
"I don't see where and how Facebook is going to sue us. The government treats all online platforms the same under the law."
SOURCES: Nation Thailand | BBC
Keep in contact with The Thaiger by following our
Facebook page
.
Never miss out on future posts by
following The Thaiger
.
Thai medic cautions against reducing quarantine period for foreign tourists
On one side there is a push to re-open Thailand's borders to re-start the beleaguered tourist industry. On the other hand Thai officials are try to keep Covid-19 contained and fear the re-opening of the borders. Even the suggestion to reduce the quarantine time from 14 to 7 days is not gaining support from health officials.
Now, a doctor from the Faculty of Medicine at Bangkok's Chulalongkorn University says reducing the quarantine period for foreign tourists would be inviting disaster. Dr. Thira Woratanarat made his statement after a suggestion from the Tourism and Sports Minister that quarantine could be halved if all goes well when Thailand re-opens its borders to a limited number of foreign tourists.
"In Thailand, if we decide to follow the proposal to reduce the quarantine time to 7 days, it would be an invitation to disaster."
Thira points to a growing number of cases in many parts of the world, with around 350,000 new cases a day reported worldwide. The number of total deaths from the virus has now reached the 1 million mark.
For its part, the government says Minister Pipat Ratchakitprakarn's proposal is not under consideration and that all foreign tourists will still be subject to mandatory 14 day quarantine. Officials say until the global pandemic situation improves, current restrictions remain in place.
A plan is underway to allow a limited number of foreign tourists to return to the Kingdom under a Special Tourist Visa scheme. The visa is due to be approved today when PM Prayut Chan-o-cha chairs a meeting of the government's Covid-19 task force.
SOURCE: Nation Thailand
Catch up with the latest daily "Thailand News Today" here on The Thaiger.
Keep in contact with The Thaiger by following our
Facebook page
.
Never miss out on future posts by
following The Thaiger
.
Van passengers hospitalised after gas leak on the way to Roi Et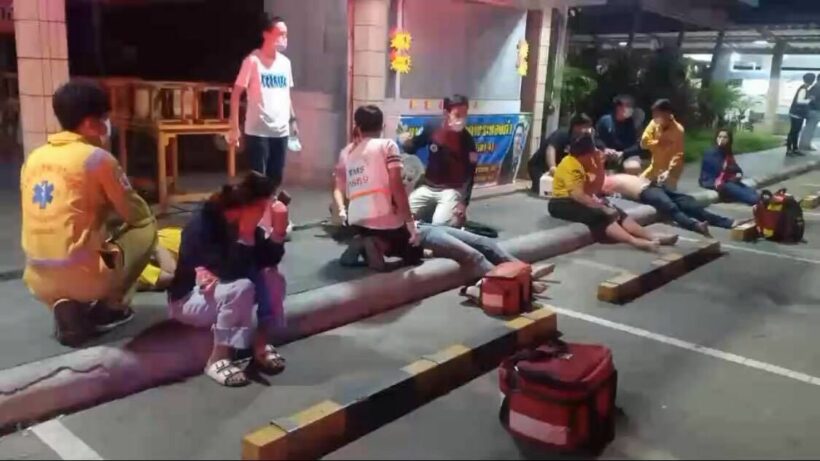 Passengers in a van leaving from Bangkok ended up in the hospital after a gas leak went unnoticed. Many passengers began to feel dizzy and nauseous. Some had difficultly breathing before falling unconscious. Some passengers were even found foaming at the mouth.
The 34 year old driver, identified as Jakpong, was hired to drive the passengers from Bangkok to the Roi Et province in Thailand's north east. He says he started noticing a burning smell when passing through Ayutthaya, just north of Bangkok. Jakpong stopped briefly at a gas station, but then continued to drive. A passenger started feeling nauseous and asked to stop again.
When the van stopped again at Nakhon Ratchasima's Pak Chong District, the passenger who complained of nausea fainted while walking to the restroom. Other passengers tried to stand up, but some also fainted.
The petrol station attendants called emergency responders to attend to the van full of sick people. All 9 people in the van were sent to Chong Nana Hospital. A doctor from the hospital says some passengers report they had difficulty breathing and dizziness before falling unconscious. Some were found foaming at the mouth.
The driver told emergency responders that he was only slightly dizzy. The driver says he had no idea there was a gas leak. Police are still investigating.
SOURCE: Thai Residents
Catch up with the latest daily "Thailand News Today" here on The Thaiger.
Keep in contact with The Thaiger by following our
Facebook page
.
Never miss out on future posts by
following The Thaiger
.
"Boss" commission chief says Thai justice system in need of reform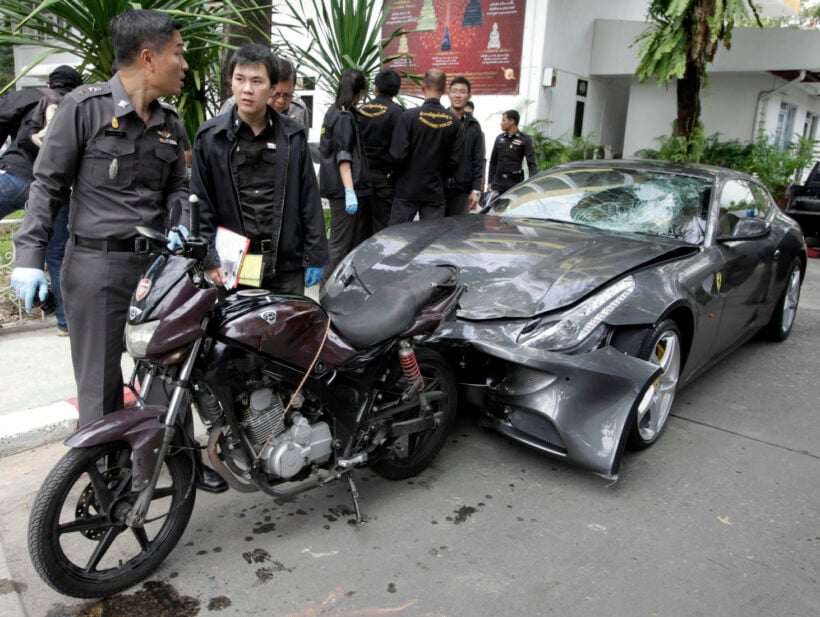 Former National Anti-Corruption Commissioner, Vicha Mahakun, who led the recent inquiry into the handling of the case against Vorayuth "Boss" Yoovidhya, says Thailand's justice system is in need of reform. Red Bull heir and grandson of co-founder Chaleo Yoovidhya, "Boss" stood accused in a 2012 hit-and-run case that caused the death of a 47 year old Bangkok police officer who was hit by Boss's Ferrari and dragged over 100 metres, before the car fled the scene.
Boss was never brought to justice and is believed to be living outside Thailand, having managed to flee the Kingdom in 2017. Despite various media outlets being able to photograph him living a jet-set lifestyle in London, Singapore, and Japan, Thai officials appeared unable to track him down. A "red notice" for his arrest mysteriously disappeared from the Interpol website. Finally, in July of this year, all charges against him were dropped by the then-deputy director of the Office of the Attorney General.
The resulting uproar from outraged Thais resulted in the PM ordering an independent investigation, led by Vicha. Having presented his findings to the PM earlier this month, the chairman of the investigating panel says the whole Boss fiasco proves that Thailand's legal system needs to be reformed. He says the decision to drop all charges in the case clearly came about as a result of systemic corruption.
"Why was the case that should have been closed within a year delayed for 8 years? There's a legal proverb 'justice delayed is justice denied'. An attempt to delay it gives a clue."
In addition to pointing the finger at prosecutors involved in the case, Vicha takes aim at the Royal Thai Police, saying reform there is long overdue. He adds that the Thai justice system is robust, claiming it is those working within it who are the problem. Vicha says Thailand's ingrained culture of nepotism has affected not only the justice system, but has resulted in economic disparity, and says changes will be brought about by the young people now rebelling against the system.
"When 12 and 13 year olds march on the streets raising 3-finger salutes, and adorn themselves with white ribbons all over Thailand, it shows how corrupt people with power are."
SOURCE: Nation Thailand
Catch up with the latest daily "Thailand News Today" here on The Thaiger.
Keep in contact with The Thaiger by following our
Facebook page
.
Never miss out on future posts by
following The Thaiger
.