Two hour chase for escaped suspect in Krabi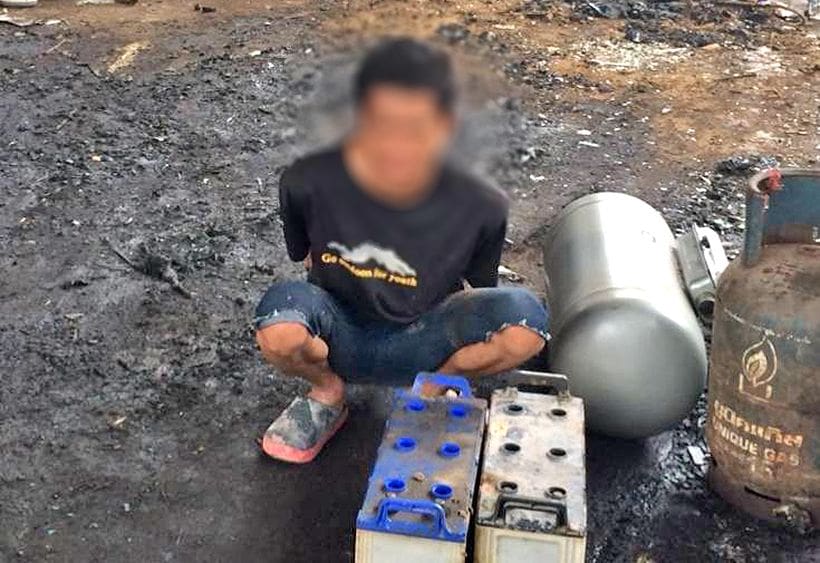 Krabi Police took two hours to catch a suspect who successfully escaped whilst being prepared for a visit to court yesterday.
The suspect is 20 year old Tanin Pueakkhwan from Krabi. Tanin was arrested on October 12 after stealing a truck battery. He was waiting to be transferred to the Krabi Provincial Court.
While officers were preparing the court documents, Tanin flapped his hands and wriggled out of his restraints while he was being minded by police, and ran out from the Krabi Police Station.
More than 50 police were hunting for him within a 5 kilometre radius of the police station. It took about two hours to catch Tanin. He was taken back to the Krabi City Police.
He now has one additional charge for escaping whilst being in custody.




Morning collision leaves 18 injured, mostly students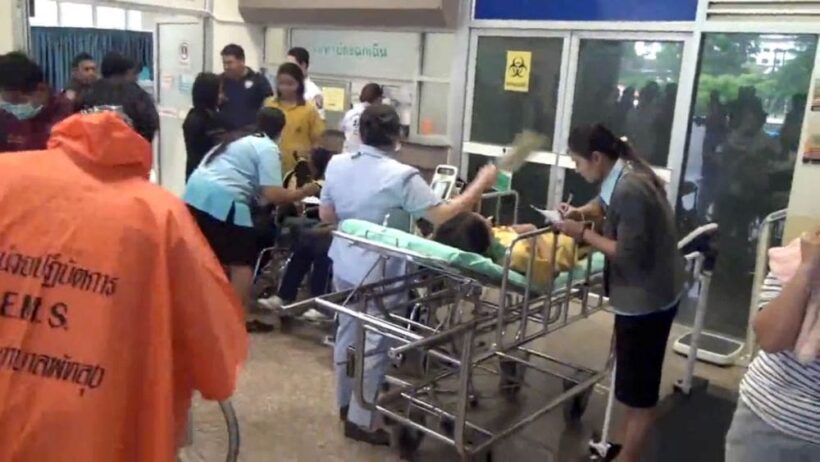 Fifteen students and three adults have been injured after a cold-storage truck collided with a song-taew bus on a Phatthalung road this morning, south of Krabi province.
The injured were taken to Phatthalung Hospital following the 7am incident at a curve on the Asia Highway in Moo 3, Tambon Tha Kae, in Muang district.
There was high drama at the hospital with the students crying and hospital staff rushing to treat them. Police said three of the students had been critically injured.
The bus was already full with students heading to school when it stopped at the curve to pick up another passenger. Police say the six-wheel truck rear-ended it as the driver pulled onto the road, causing both vehicles to fall to the roadside.

STORY: The Nation
Two arrested with 10 kilograms of crystal meth in Krabi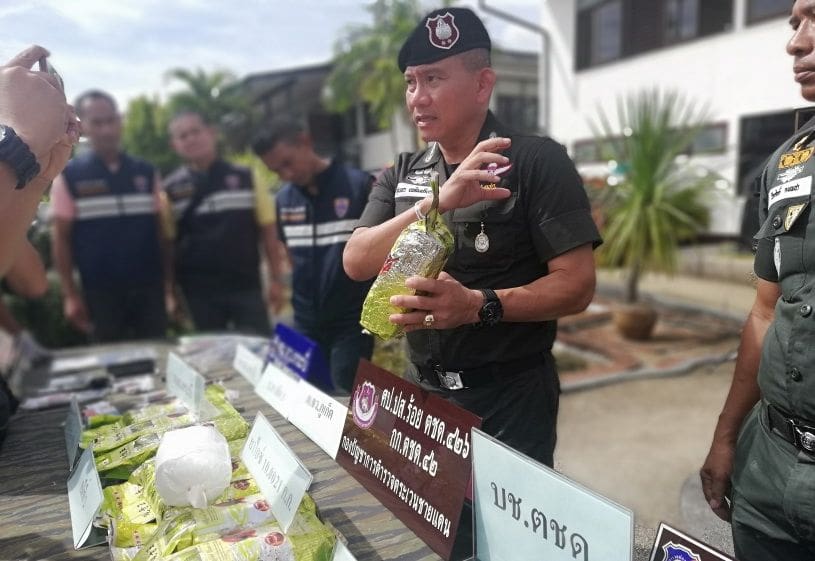 Border Patrol Police have arrested two drug suspects with a colossal 10 kilograms of crystal methamphetamine (usually measured in grams), and 121 methamphetamine pills this week.
Details were revealed at a media scrum at the Krabi Border Patrol Police Station in Krabi yesterday.
34 year old male Prasert Promprung and 19 year old female Suthasinee Srisuwan were arrested over the seizure. Police seized 10 kilograms of crystal methamphetamine, 121 methamphetamine pills, a handgun, a mobile phone, a pickup truck, a car and a motorbike.
The pair were arrested at a hotel in Krabi City.
The arrest came after police discovered that Prasert is a big drug dealer in Krabi. They have been charged with illegal possession of Category One drugs with intent to sell, and illegal possession of firearm and ammunition.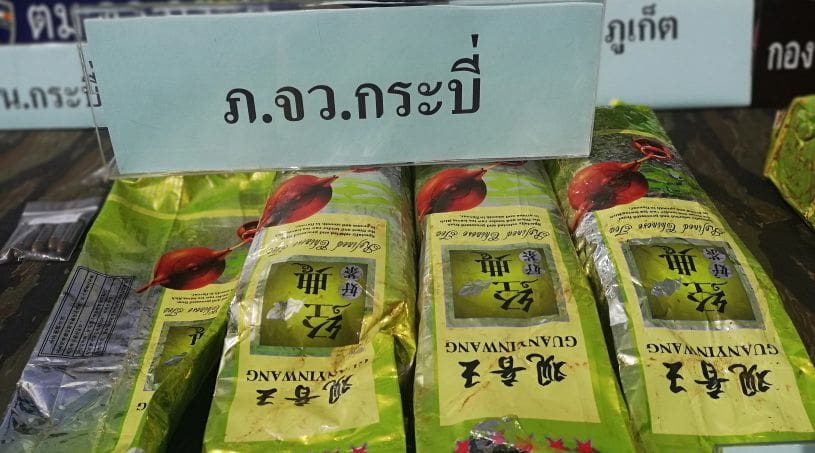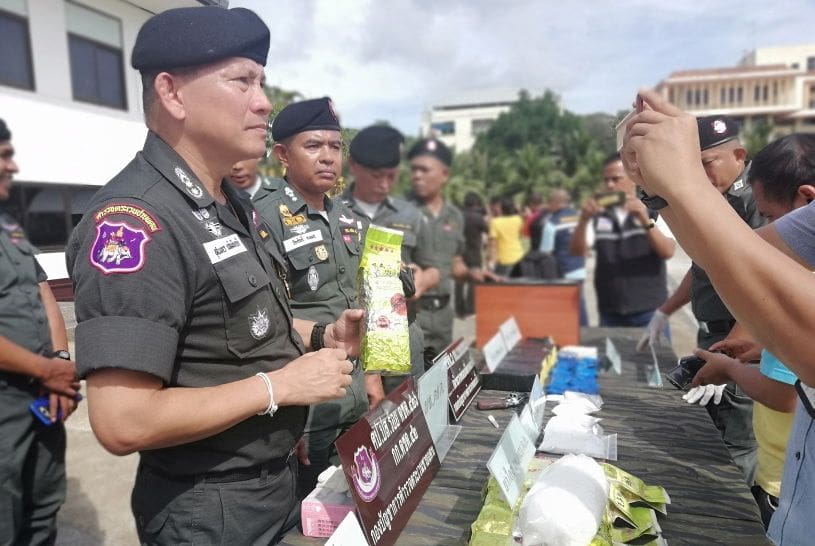 Village leaders try to track down rubbish dumpers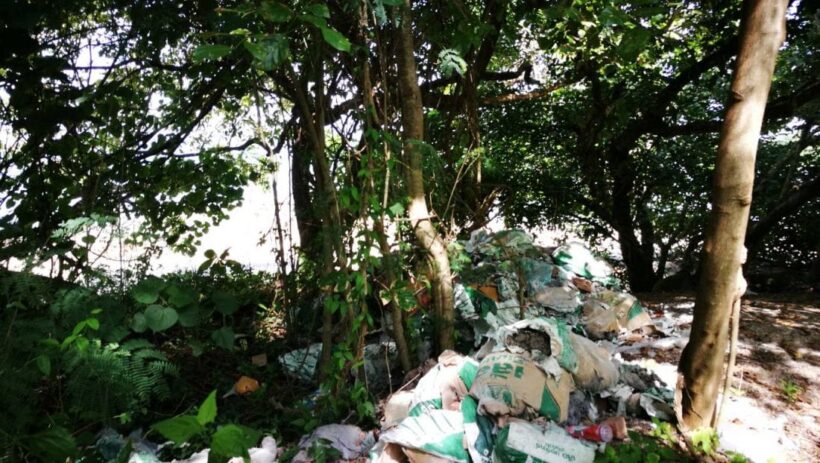 Tourists in Krabi have found construction rubbish being dumped 4 metres from Hat Baan Laem Pong in Krabi District.
Two big piles of rubbish had been dumped close to the Hat Baan Laem Pong. The village headman has trying to identify the rubbish dumpers.
Cement bags and blocks were found in amongst the piles. The Headman is worried as many tourists are travelling around the area as there are five stars hotels and the rubbish is unsightly.
Villager headman Somsak Tepbut inspected the area with media in tow. He says that local volunteers are always collecting rubbish along the two kilometre stretch of the beach.
"Rubbish dumpers usually visit during the night. We are checking the rubbish and searching for them to face legal action."