Krabi paraglider crashes into 6 year old – VIDEO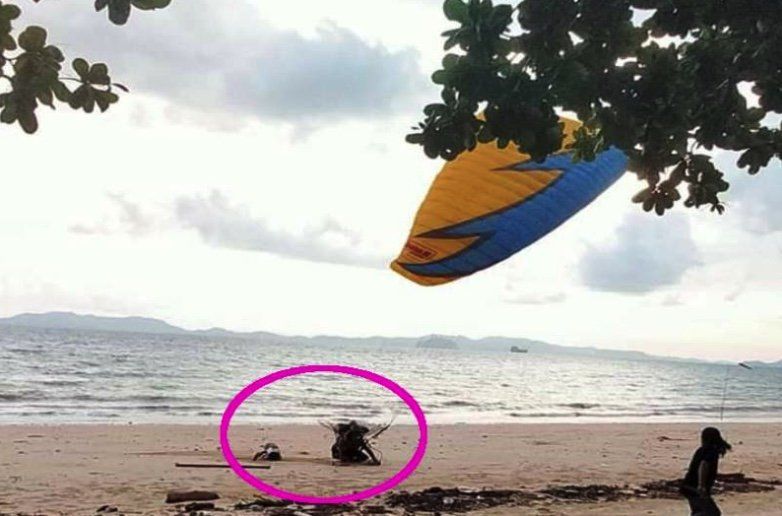 A motorised paraglider crashed into a 6 year old child on a Krabi beach over the weekend. The child was rushed to the hospital and the flyer took care of the medical expenses. Now, the flyer could face charges from the Hat Noppharat Thara-Mu Ko Phi Phi National Park officials.
The pilot somehow managed to kick the child in the head. The parents rushed to his help and the pilot also helped as they rushed him to hospital.
Paragliding is illegal on the park's Klong Muang Beach, according to the park chief. Two other motorised paraglider were in the air when the incident occurred. Other groups flying paragliders have also been seen at the beach. The park chief says he plans to prosecute the flyer and others who violated the park's rule.
SOURCES: Nation Thailand | Thai Visa
พารามอเตอร์พลาด ร่อนลงชนหัวเด็ก 6 ขวบบาดเจ็บ

พารามอเตอร์พลาด ร่อนลงชนหัวเด็ก 6 ขวบบาดเจ็บ.(20 มิ.ย.63) นี่คือภาพขณะพารามอเตอร์ กำลังร่อนลงแต่พลาดไปโดนหัวเด็กชายอายุ ประมาณ 6 ขวบ ที่กำลังนั่งเล่น อยู่บนชายหาด เป็นเหตุให้เด็กได้รับบาดเจ็บ และร้องให้ด้วยความตกใจ เหตุเกิดที่บริเวณชายหาดคลองม่วง ต.หนองทะเล อ.เมือง จ.กระบี่ เมื่อช่วงเย็น (20 มิ.ย. 2563) .โดยเหตุการณ์ดังกล่าว นายชัยวัฒน์ ยอดวารี ได้บันทึกภาพเอาไว้ได้ ขณะไปเที่ยวพักผ่อน บริเวณชายหาด ก่อนนำไปแชร์ลงโซเชียล จนเกิดกระแสวิพากษ์วิจารณ์ ว่าพารมอเตอร์ดังกล่าว ได้ขออนุญาตจากอุทยานหรือไม่ และไม่มีความปลอดภัยต่อนักท่องเที่ยวที่มาพักผ่อนตามชายหาด .นายชัยวัฒน์ เล่าว่า ตนกำลังนอนเล่นอยู่ ริมชายหาดคลองม่วง ได้เห็นพารามอเตอร์บินบนท้องฟ้าเหนือชายหาด ประมาณ 2 – 3 ลำ จึงได้บันทึกภาพไว้ และระหว่างนั้น ก็มีอยู่ลำหนึ่งบินร่อนลงที่ชายหาด ซึ่งด้านล่างมีเด็กกำลังนั่งเล่นทรายอยู่ ก่อนที่พารามอเตอร์ลำดังกล่าว จะร่อนลงไปโดนหัวเด็กชาย จนล้มหงายหลัง และร้องให้ด้วยความตกใจ คนขับพารามอเตอร์ที่ประสบเหตุ เข้ามาขอโทษ จากนั้นพ่อแม่ของเด็กชายก็พาลูกไปส่งโรงพยาบาลกระบี่ ล่าสุด อาการปลอดภัยแล้ว โดยคนขับพารามอเตอร์ ได้รับผิดชอบค่าใช้จ่ายในการรักษาพยาบาลทั้งหมด.นายวรพจน์ ล้อมลิ้ม หัวหน้าอุทยานแห่งชาติหาดนพรัตน์ธารา-หมู่เกาะพีพี กล่าวว่า บริเวณหาดคลองม่วงอยู่ในเขตอทุยานหาดนพรัตน์ธารา ที่ผ่านมายังไม่ได้อนุญาตให้มีการเล่นพารามอเตอร์บริเวณชายหาด คาดว่าน่าจะเป็นการลักลอบเล่น ซึ่งจะได้สั่งการให้เจ้าหน้าที่หน่วยพิทักษ์อุทยานตรวจสอบว่า ได้รับอนุญาตจากใคร เพื่อจะได้ดำเนินการตามกฎหมายต่อไป.ข่าวเวิร์คพอยท์ 23

Posted by ข่าวเวิร์คพอยท์ 23 on Saturday, June 20, 2020
Keep in contact with The Thaiger by following our
Facebook page
.
Tourist and environment groups share concerns for new access piers for Maya Bay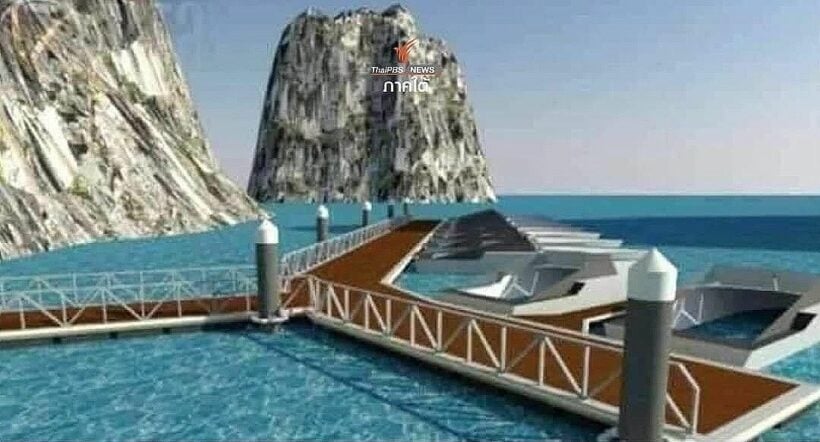 The Chairman of Krabi Tourism Industry Council has shared his concerns about new piers and landing facilities on Koh Phi Phi Ley after being made aware that the Department of National Parks had the initiative to build a pier so tourist can travel by foot to Loh Samah Bay area behind Maya Bay, Ao Nang Subdistrict, Muang District, Krabi. Maya Bay remains closed to all visitors and access confined to boats passing by the entrance to the bay for a photo opportunity instead. The bay was attracting up to 6,000 people per day at the height of its popularity before […]
Phi Phi's Maya Bay won't reopen until fully rehabilitated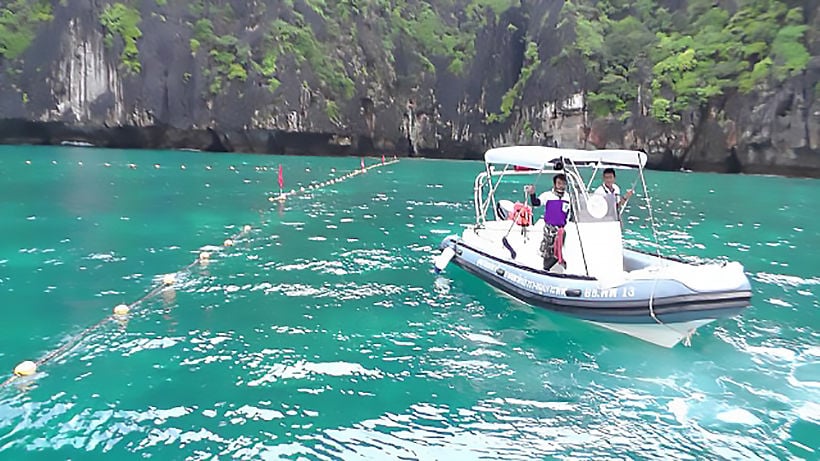 Maya Bay, Krabi's main tourist attraction since it was featured in the 2000 Leonardo DiCaprio film 'The Beach', will remain closed as natural rehabilitation of the beach and bay continues, after vast areas of coral were destroyed by excess tourism and boat traffic. Indefinitely. The Ministry of Natural Resources and Environment says that in future boats will not be allowed to enter Maya Bay except from the back side of the island. Yesterday the minister visited Maya Bay on Koh Phi Phi Ley to inspect the progress of the recovery of both the land and marine environment. He says corals […]
Thai provinces put on alert to screen anyone travelling from Phuket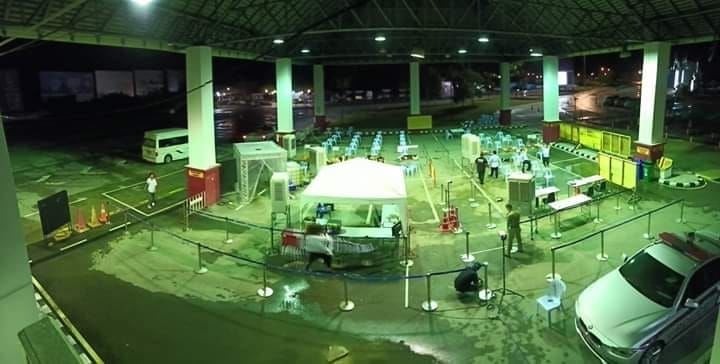 Phuket's on a blacklist of sorts, at least as far as the Interior Ministry is concerned. Thailand's provincial governors have been put on alert to screen everyone arriving from the island province of Phuket. They also been instructed to quarantine anyone suspected of being infected with Covid-19. Chalerm Promlet, the Interior Ministry's permanent secretary, issued the instructions to provincial governors after some people, who had been part of last week's exodus from Phuket, tested positive for the virus when they arrived in their home provinces. Chalerm also ordered provincial governors to allow entry of these returnees, saying that many are […]