I've got a drone. Can I bring it with me to Thailand? Yes, but…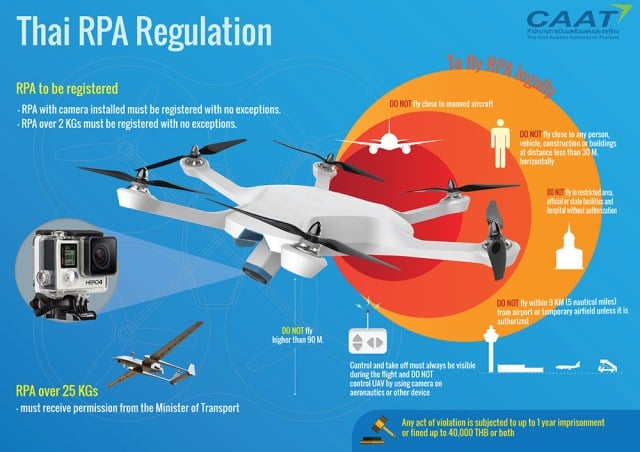 INFOGRAPHIC: Tourism Authority of Thailand
Last week it was reported that over 7,000 drones had been registered for flying in Thailand since October 2, 2017 when the law came into effect where drones must be registered. This number only included drones registered at NBTC offices, not at police stations around the country, so the true number of registrations is much higher than the 7,000 reported.
But what does this mean for tourists? Drones, of all shapes and sizes, are now a popular 'camera' that a few tourists bring on their travels to Thailand to capture the Land of Smiles from the sky. How do they know what guidelines for their drone when they arrive? Here's some information from the TAT about bringing your drone to Thailand.
From the TAT website…
"With the fast growing popularity of drones, advancements in the technology they use and their increasing consumer accessibility, more tourists now want to take their drones on holiday with them. This is not surprising, when you consider the spectacular holiday pictures and/or videos that can be taken from a flying drone with a camera attached.
Like various other popular spots around the world, Thailand has in place certain rules and regulations concerning the bringing of drones – also known as unmanned aerial vehicles or remotely piloted aircraft (RPA) – into the country, and their use while here.
The National Broadcasting and Telecommunications Commission (NBTC) announced that all drones in Thailand need to be registered. If not done, a drone's owner could face a five-year jail term or a fine of up to 100,000 Baht.
Tourists can bring their drones into Thailand. However, they are not allowed to fly their drones here until they have registered their devices with the NBTC or the Civil Aviation Authority of Thailand (CAAT).
Also, if a drone is being brought into Thailand for commercial use, then permission must also be requested from CAAT.
Forms can be downloaded from the NBTC HERE (in Thai) and from the CAAT HERE (in English).
The drone registration process requires the following: a signed copy of the applicant's passport, a photo and the serial number of the drone, and two copies of the completed registration form.
Tourists will also want to familiarise themselves with the rules for flying drones in Thailand. Among the key points here are that drones:
Must not be flown in a way that could cause harm to life and property, or disturb the peace, of others.
Must be flown in line of sight at all times.
Must not be flown over gatherings of people.
Must not be flown near areas where there are piloted commercial aircraft.
Should not be used to violate the privacy of others.
With this all in mind, you are ready to snap some beautiful photographs and shoot some fantastic videos of your travels in Thailand!
For further information, please contact:
The National Broadcasting and Telecommunications Commission
87 Phaholythin 8 (Soi Sailom),
Samsen Nai, Phayathai, Bangkok 10400
Tel: +(66) 2670 8888
NBTC Call Centre (when you're in Thailand) 1200
Website link HERE
Keep in contact with The Thaiger by following our Facebook page.
Never miss out on future posts by following The Thaiger.
CCSA Update: 309 new Covid-19 infections in Thailand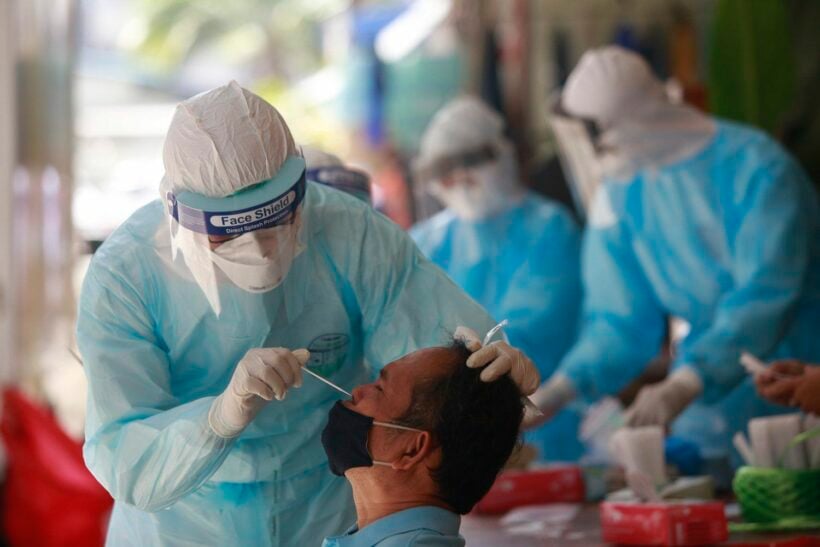 The CCSA's daily briefing today started with an update about a NBT news presenter who has attended the daily briefings at the CCSA studio and testing positive for Covid-19. The CCSA spokesman then announced that all people working in the CCSA studio, including himself, are defined as a "low risk" group for infections.
The CCSA spokesman says he, together with all those involved with any risk, will take a swab test this afternoon and will report the test results to the public later on. The infected NBT newscaster has been sent to the hospital already.
Today, 309 new Covid-19 cases were announced from the last 24 hours. The majority of the infections were detected from active case testing, accounting for 217 cases. Most of them were migrant workers. 80 were local transmission, while 12 cases were detected in state quarantine.
According to the CCSA spokesman, key measures to be rolled out next week will be the acceleration on proactive testing in Samut Sakhon and the outer western areas of Bangkok where the infection rate is still high. Numbers and reports from the active findings are expected to be complete by the end of next week will serve as key factors for a review of the current restrictions in place.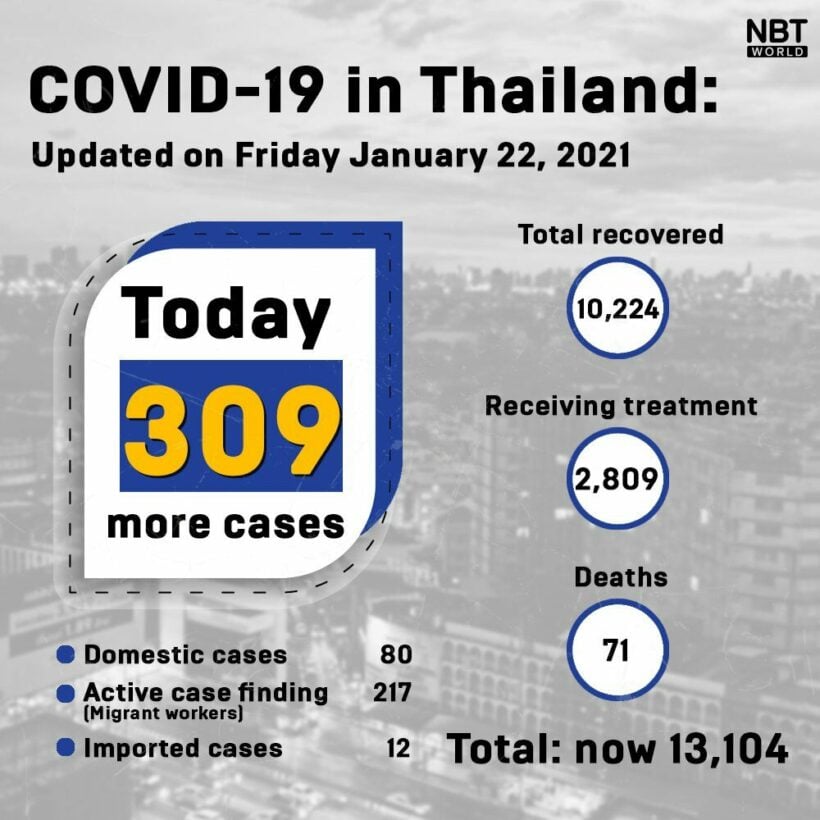 SOURCE: CCSA Daily Briefing
Keep in contact with The Thaiger by following our Facebook page.
Never miss out on future posts by following The Thaiger.
Smog across Bangkok can be blamed on a 'Dust Dome' of pollutants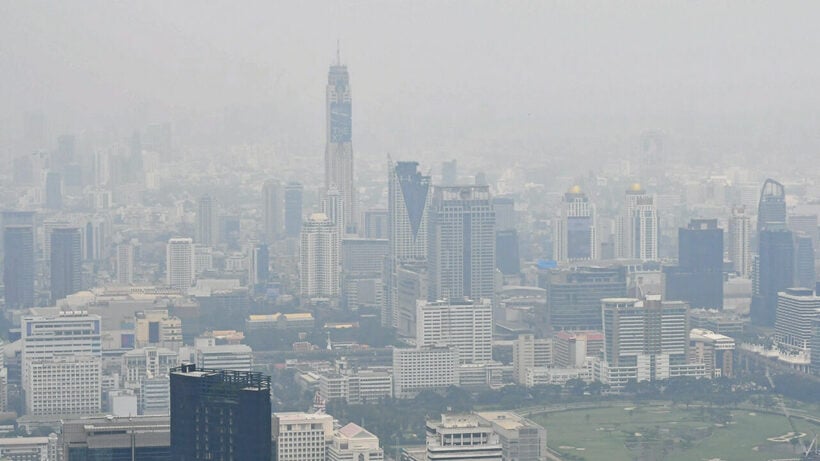 Poor air quality across Bangkok in the past week are not just caused by the PM2.5 dust. We can blame a 'dust dome' that is formed with low atmospheric pressure, dust and pollutants from the farmland waste burning, and greenhouse gases.
Natural Resources and Environment Minister Varawut Silpa-archa says that the pollutants come from "the improper disposal" of farming waste around Bangkok's northern outskirts. He also asked provincial governors to ask farmers to avoid burring farm waste. If they refuse to cooperate, there might be an order to ban all outdoor burning activities in the future, while suggesting that farmers should sell their agricultural waste instead of burning it.
The mentioning of the agricultural sector being major contributors to Bangkok's smog problems is a rare official recognition of the pollution 'elephant in the room'.
People in Bangkok are also being encouraged to avoid outdoor activities and wear their masks when going outside to prevent both the pollutants and Covid-19. While "unhealthy level" of PM2.5 has been reported in many areas over the past week, the Department of Pollution Control is considering both short-term and long-term measures to tackle the air pollution problems.
Measures that have been rolled out include an extension of the work-from-home policy, lowering the price of low sulphur fuel in the capital and its vicinity, extensive monitoring of waste burning on farms, as well as offering higher prices for sugarcane products which were made in a sustainable manner.
For a long-term plan, the department is considering setting a new standard of air quality by lowering the "safe" threshold for PM2.5 exposure below the current level, but this is likely to happen in the next 5 years. Also, the government aims to apply the Euro-5 standard for vehicle emissions by 2024.
He also says that the pollution situation in Thailand has seen improvement after the measures were implemented. And, the number of days where [air quality] exceeded safe standards was less than 20% of the year.
SOURCE: Bangkok Post
Keep in contact with The Thaiger by following our Facebook page.
Never miss out on future posts by following The Thaiger.
Son lights himself on fire after asking mom for lottery money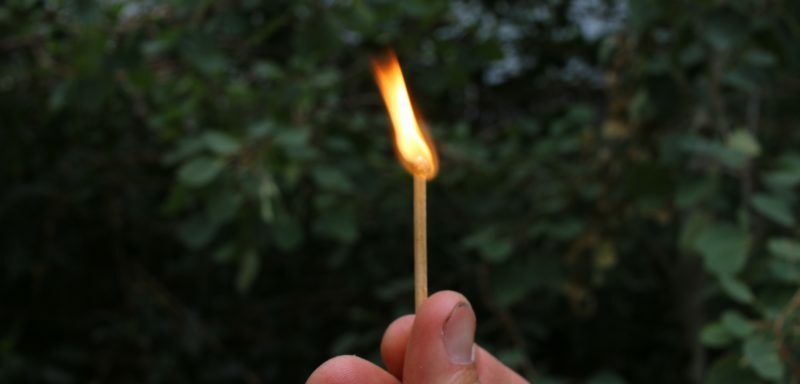 A woman's 32 year old son, in northern Thailand's Phrae Province, is in critical condition from lighting himself on fire after falsely believing that his mother had won the lottery and would not share her winnings with him.
Police at Denchai Police Station were alerted of a man who burned himself in Ban Mai Jua, Denchai District and notified a rescue team at Somdej Phra Yupparat Hospital. 60 year old Pen, the auntie of the man, who is only identified as Tossapon, says she was having breakfast when she heard an argument.
When she looked out the window, she saw Tossapon on fire and wrapped in a blanket. She says he ran to a water hose and put the fire out, but not before almost catching his house on fire. Officials arrived and found that several items in Tossapon's bedroom had been on fire, along with pieces of the blanket scattered throughout the house. They also found burnt pants and a pillow.
At the hospital, officials met 64 year old Sila, the mother of Tossapon, waiting for her son in front of the Emergency Room. Sila told police her son is a "psychiatric patient" because he used to use meth, or "yabba" in Thai. She says his addiction left him with long-term damages and says her son often falsely believes his mother won the lottery, to which she tells him she lost the lottery ticket.
Sila says she tells him it is not true, but this time Tossapon asked for proof and continued questioning her the next day. The mother says she described her love for her son, which upset him, leading him to wrap himself in a blanket and set himself on fire.
"Son, 99% of the love that I have for you has been changed to hate, the remaining 1% is technically loved because of the word 'son'."
SOURCE: Thai Residents
Keep in contact with The Thaiger by following our Facebook page.
Never miss out on future posts by following The Thaiger.