I've got a drone. Can I bring it with me to Thailand? Yes, but…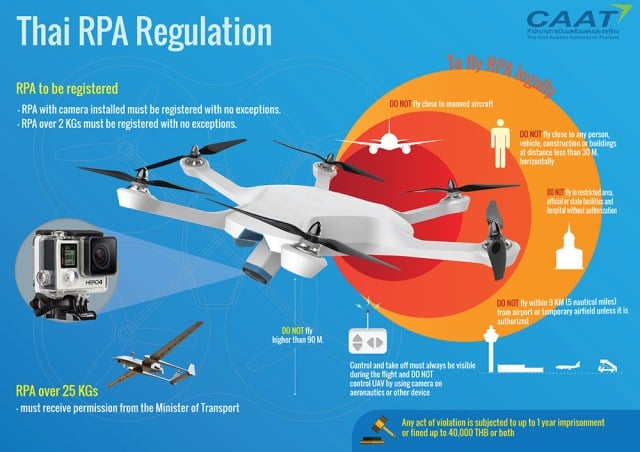 INFOGRAPHIC: Tourism Authority of Thailand
Last week it was reported that over 7,000 drones had been registered for flying in Thailand since October 2, 2017 when the law came into effect where drones must be registered. This number only included drones registered at NBTC offices, not at police stations around the country, so the true number of registrations is much higher than the 7,000 reported.
But what does this mean for tourists? Drones, of all shapes and sizes, are now a popular 'camera' that a few tourists bring on their travels to Thailand to capture the Land of Smiles from the sky. How do they know what guidelines for their drone when they arrive? Here's some information from the TAT about bringing your drone to Thailand.
From the TAT website…
"With the fast growing popularity of drones, advancements in the technology they use and their increasing consumer accessibility, more tourists now want to take their drones on holiday with them. This is not surprising, when you consider the spectacular holiday pictures and/or videos that can be taken from a flying drone with a camera attached.
Like various other popular spots around the world, Thailand has in place certain rules and regulations concerning the bringing of drones – also known as unmanned aerial vehicles or remotely piloted aircraft (RPA) – into the country, and their use while here.
The National Broadcasting and Telecommunications Commission (NBTC) announced that all drones in Thailand need to be registered. If not done, a drone's owner could face a five-year jail term or a fine of up to 100,000 Baht.
Tourists can bring their drones into Thailand. However, they are not allowed to fly their drones here until they have registered their devices with the NBTC or the Civil Aviation Authority of Thailand (CAAT).
Also, if a drone is being brought into Thailand for commercial use, then permission must also be requested from CAAT.
Forms can be downloaded from the NBTC HERE (in Thai) and from the CAAT HERE (in English).
The drone registration process requires the following: a signed copy of the applicant's passport, a photo and the serial number of the drone, and two copies of the completed registration form.
Tourists will also want to familiarise themselves with the rules for flying drones in Thailand. Among the key points here are that drones:
Must not be flown in a way that could cause harm to life and property, or disturb the peace, of others.
Must be flown in line of sight at all times.
Must not be flown over gatherings of people.
Must not be flown near areas where there are piloted commercial aircraft.
Should not be used to violate the privacy of others.
With this all in mind, you are ready to snap some beautiful photographs and shoot some fantastic videos of your travels in Thailand!
For further information, please contact:
The National Broadcasting and Telecommunications Commission
87 Phaholythin 8 (Soi Sailom),
Samsen Nai, Phayathai, Bangkok 10400
Tel: +(66) 2670 8888
NBTC Call Centre (when you're in Thailand) 1200
Website link HERE


Looking to jettison some items before jetsetting away or chartering a yacht? Look no further than Thaiger Classifieds where you can find and post items, work, property and more for free.

Read more headlines, reports & breaking news in Phuket. Or catch up on your Thailand news.
"New drug laws don't legalise unlicensed marijuana cultivation"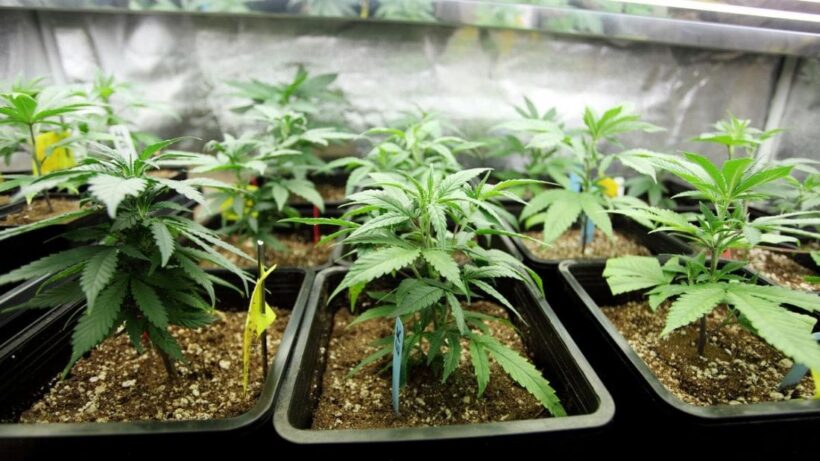 Thailand's Food and Drug Administration (FDA) has rushed to clarify that the new narcotics law does not legalise the unrestricted planting of marijuana in an apparent response to the Bhumjai Thai political party's manifesto pledge to legalise marijuana cultivation.
The party trotted out the election platform last week during their campaigning.
FDA secretary-general Dr. Tharet Kratnairaveewong has clarified that the new law, now in force, only allows for limited cultivation of marijuana with the cooperation a state agency with prior permission from the Narcotics Control Committee.
The FDA is expected to issue three ministerial announcements next week exempting doctors, researchers, community enterprises, patients and others who have registered with the FDA or with health offices, from legal action for possession and cultivation of the plant.
Dr. Tharet said that patients will be able use marijuana leaves and flowers as part of their doctor recommended treatment, not just marijuana extracts or oil.
Traditional medicine practitioners who want to use marijuana or its extracts to treat their patients must first pass a Medical Science Department training course.
HM the King recognises Krabi 'hero' after 2015 mud rescue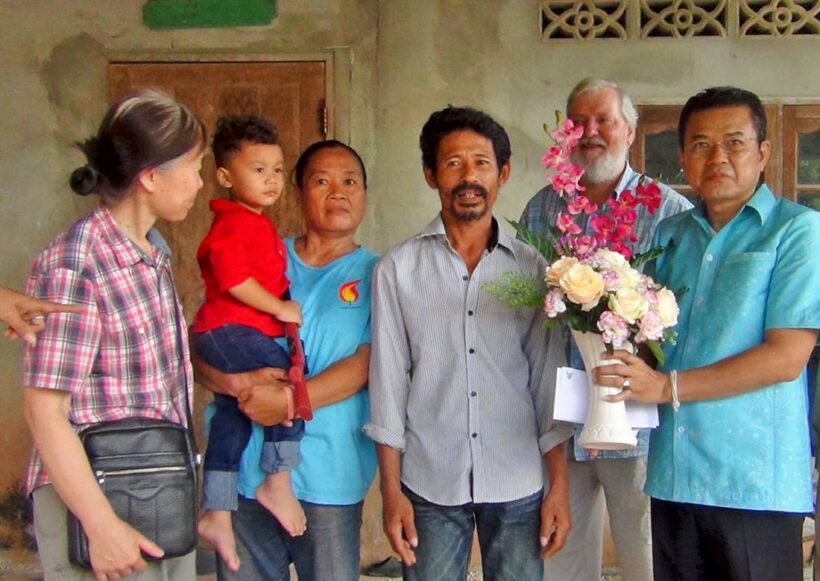 His Majesty the King has sent a gift and necessities to a local fisherman whose rescue of two foreign birdwatchers stuck in mud in 2015 went viral on social media.
Captain Khumsup Iamsri, an officer attached to the King's royal villa, represented the King to visit 47 year old Chat Ubonjinda at his house on Khu Muang road in Tambon Pak Nam of Muang district.
Read the original Thaiger report HERE.
On October 16, 2015, Chat was fishing in Krabi River when he spotted a Norwegian couple stuck in thigh-high mud and saved them by letting them step on him to get out. Once they were safe, he got in his boat and left.
Someone took a video of the rescue and posted it online, resulting in a search to find the hero. Chat received widespread praise at the time with netizens describing him as a 'hero'.
Chat and his family said they felt very appreciative of the King's kindness.
Rescuers slam local police for lack of response after body found in Chao Phraya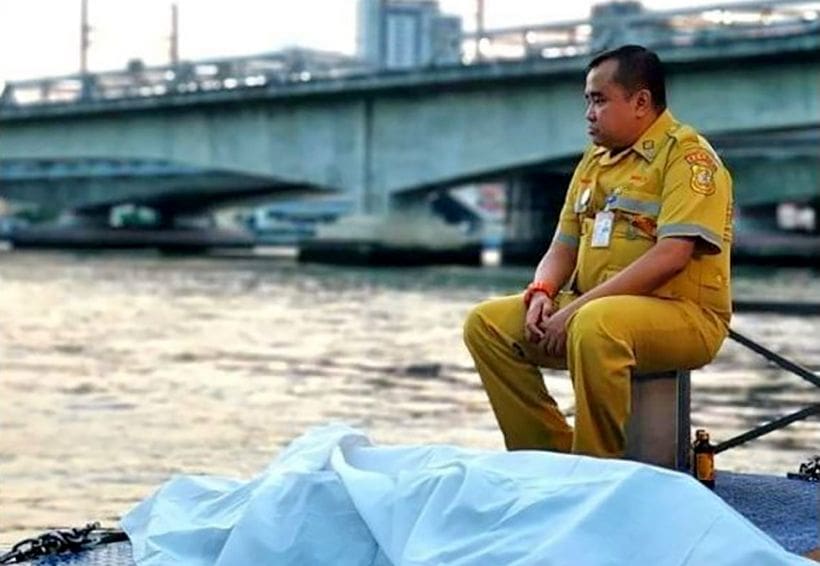 PHOTOS: @Disater_TH
The Rama VII Bridge in Bangkok has long been a location where people have jumped to their death. But its location has also fallen between two jurisdictions and the nearby police argue over who is responsible for receiving and acting on reports on bodies in the river.
Yesterday, the body of an unidentified man was pulled from the Chao Phraya River at 2am Saturday but rescuers claim police refused to turn up until late morning.
Eventually, the rescuers sent the man's body to the Police Hospital and registered the incident with the Bang Kruay police station in Nonthaburi.
The man was seen jumping from the Rama VII Bridge. That part of the river is located between Bangkok and Nonthaburi and police stations in the two provinces have been known to pass responsibility to one another when informed of bodies found on the river.
Officials of the Ruam Katanyu said they were alerted at 12.30am that a man was seen jumping from the Rama VII bridge.
Local people, who fished at the spot, said the saw the man drinking beer in the middle of the bridge before jumping. They said he was seen struggling in the water for awhile before he disappeared under water.
Scuba divers took about an hour to locate and retrieve the body. The body was put on the pier on the side of the Bang Kruay power plant of the Electricity Generating of Thailand pending a check by police.
The rescuers said they called the Muang Nonthaburi police station and Bang Kruay police station in Nonthaburi and Bang Pho police station and Boworn Mongkol police station in Bangkok at 2 am, but no police turned up.
Noppadol Si Thongkham, an official of the Ruam Katanyu Foundation, said 191 patrol police officers passed by later in the morning and they helped coordinate with some stations, but no police responded.
Noppadol said there have been similar problems at that area for years as police from nearby stations often passed the buck to other stations to inspect bodies.
Noppadol said sometimes a floating body has been tied to a pier for a day before police turned up.
If you or anyone you know is in emotional distress, please contact the Samaritans of Thailand 24-hour hotline: 02 713 6791 (English), 02 713 6793 (Thai) or the Thai Mental Health Hotline at 1323 (Thai).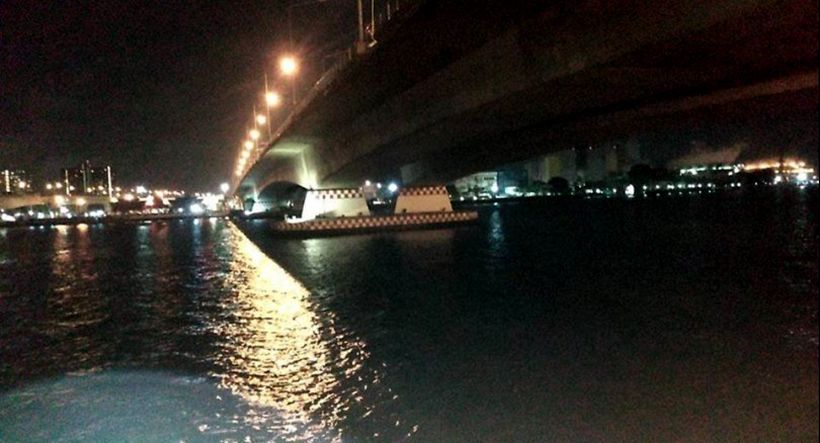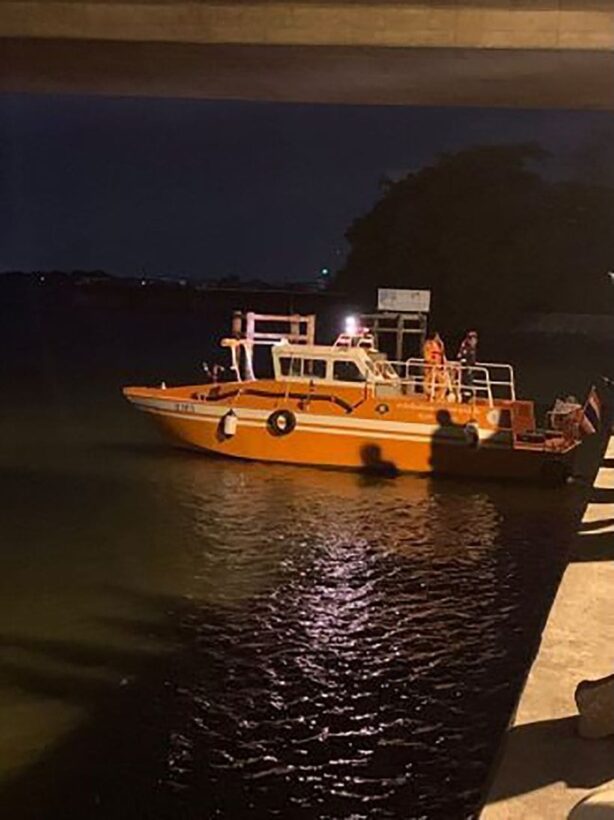 SOURCE: The Nation