Immigration nabs foreign criminals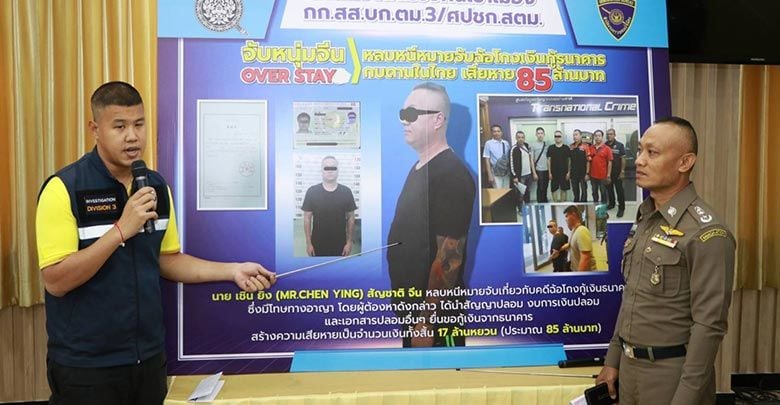 Three foreign nationals have been arrested, as well as a Thai man supplying fake documents. The Immigration Bureau held a press conference Tuesday giving details of the arrests.
The first suspect is 45 year old Chen Ying, a Chinese national who allegedly used forged documents to get bank loans.
Chen is wanted by Chinese authorities for using fake documents in 2013 to secure loans estimated at 17 million yuan, or about 85 million baht.
He fled to Thailand in 2014 before Chinese prosecutors issued a warrant for his arrest. He was recently apprehended in Chon Buri for overstaying his visa.
In the second case, a 25 year old Thai man, Anant Khonthieng, was arrested at Suvarnabhumi airport. He's accused of forging official stamps and documents and selling them to foreigners who have overstayed their visas.
Bangkok police also arrested a 48 year old Burmese man, Cho Tun, who entered Thailand illegally to escape charges of running an illegal gemstone business. Police found video footage of him arriving at Suvarnabhumi airport before checking in to a hotel. He is awaiting deportation back to Myanmar.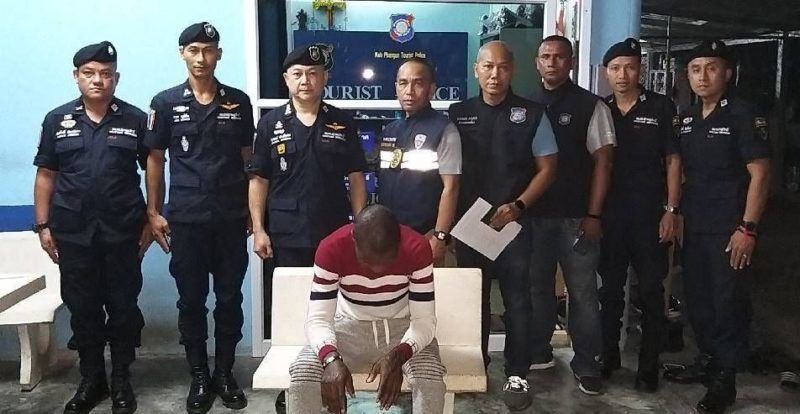 Photo: chiangraitimes
In the fourth case, a Nigerian man, Samuel Nwabueze Iwoha, has been arrested on Koh Phangan for overstaying his visa by over six years.
Surat Thani police say the man overstayed by 2,412 days.
SOURCE: chiangraitimes.com
Keep in contact with The Thaiger by following our Facebook page.
Never miss out on future posts by following The Thaiger.
Air pollution reaches "unhealthy" levels in Thailand's north and northeast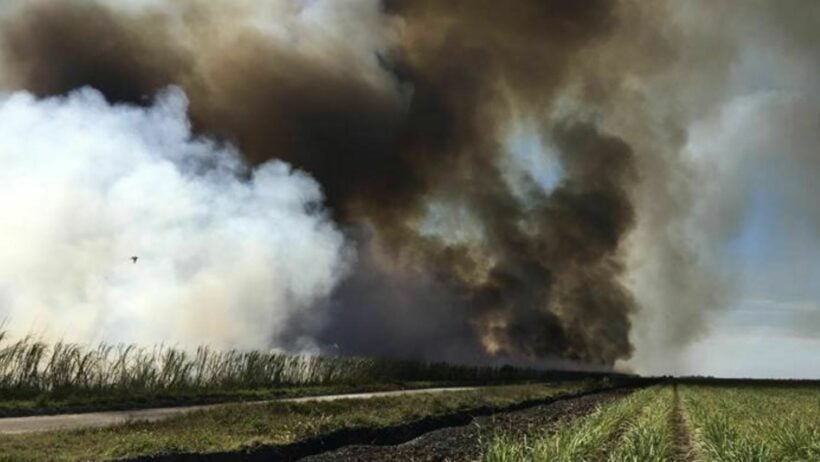 18 provinces in Thailand's north and northeast are being hit by a wave of smoke and air pollution as the burning season kicks in for the country's agricultural sector. The next 2 months are the peak of the burning off season for agricultural waste as farmers prepare their land for the next crops of corn, rice and sugar and use the fires to aid the harvest of some of their crops.
With sugar cane plantations, for example, farmers choose to burn the leaves off the plant, exposing the stalks, before harvesting the profit-making stalks, saving time and money. There are mechanical ways to achieve the same result but the farmers, pushed to slender profit margins by the multinational food companies, are unable to invest and amortise the additional costs.
The levels of PM 25 micron particulate, a measure of the smoke and haze, has been at "unhealthy" levels in Chiang Rai, Phrae, Sukhothai, Phitsanulok, Tak, Phetchabun, Phayao, Nan, Chiang Mai, Lampang, Khon Kaen, Roi Et, Chaiyaphum, Ubon Ratchathani, Saraburi, Nong Khai, Nakhon Phanom and Nakhon Ratchasima.
The Pollution Control Department are now openly admitting that the major cause of the seasonal smoke is "open burning by farmers who are preparing their land", according to the Bangkok Post. On Monday the Deputy PM Prawit Wongsuwan issued orders to prevent farmers from starting the plantation fires. You can check the result of his orders in the fire map below.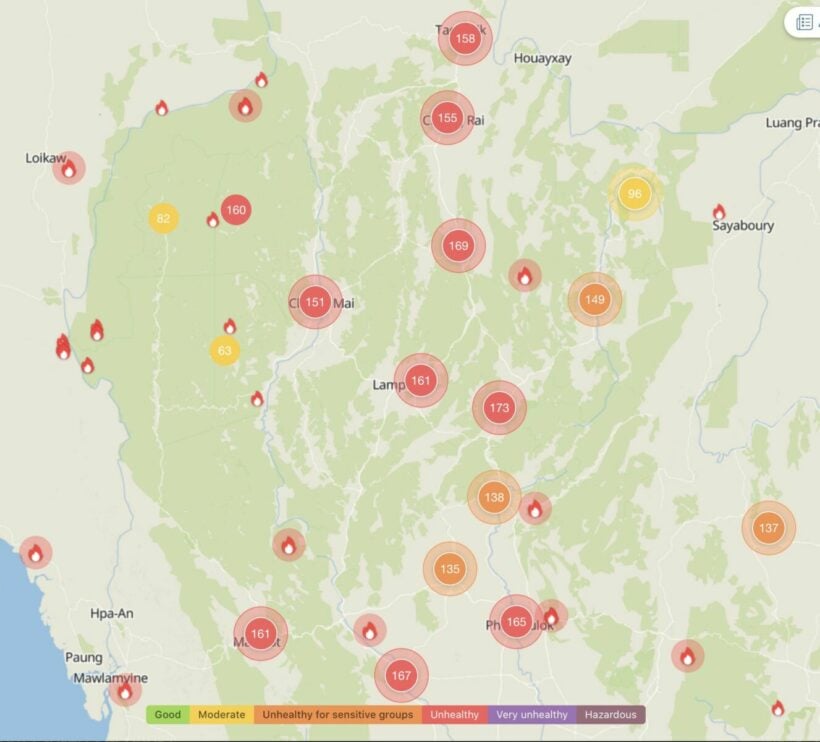 iqair.com measures the average level of PM2.5 dust in the North at between 35-85 micrograms per cubic metre (μg/m³) yesterday, considered "unhealthy". In the Northeast, the levels ranged between 40-99μg/m³.
The Thai Pollution Control Department considers PM2.5 readings below 50μg/m³ as "safe" but the Thai standard is twice as high as what is considered safe by the World Health Organisation.
firms.modaps, the NASA satellite fire tracking service, shows the number of fires currently alight around Thailand and the concentrations in the north and north east. The fires in northern Cambodia and north east Myanmar are also contributing to the Thailand's smog and haze, depending on which way the winds are blowing. During this time of the year, the winds are predominantly north east and light across much of Thailand. The firms.modaps feed is live, registering the fires alight at the time the screen capture was taken.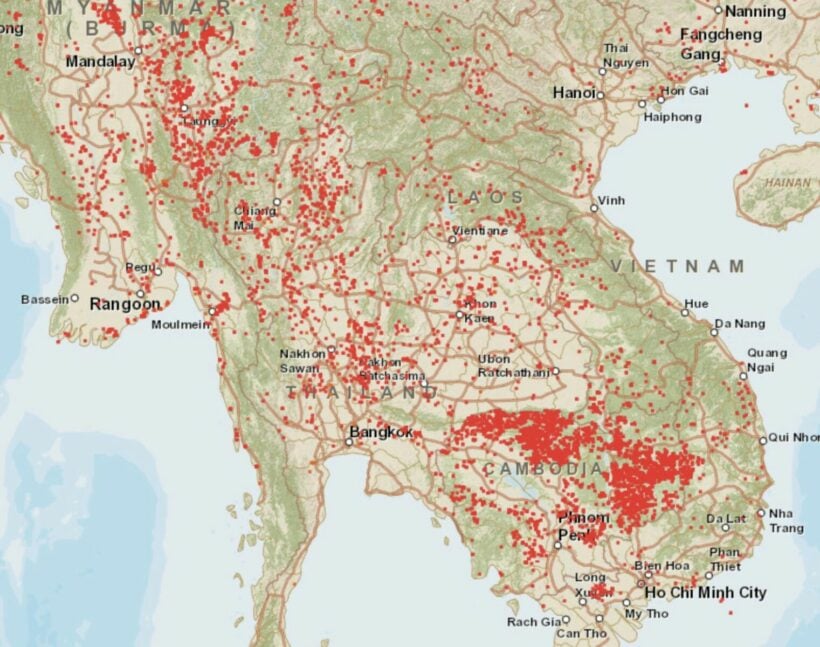 Bangkok starts off Wednesday with relatively better air quality than the past few weeks.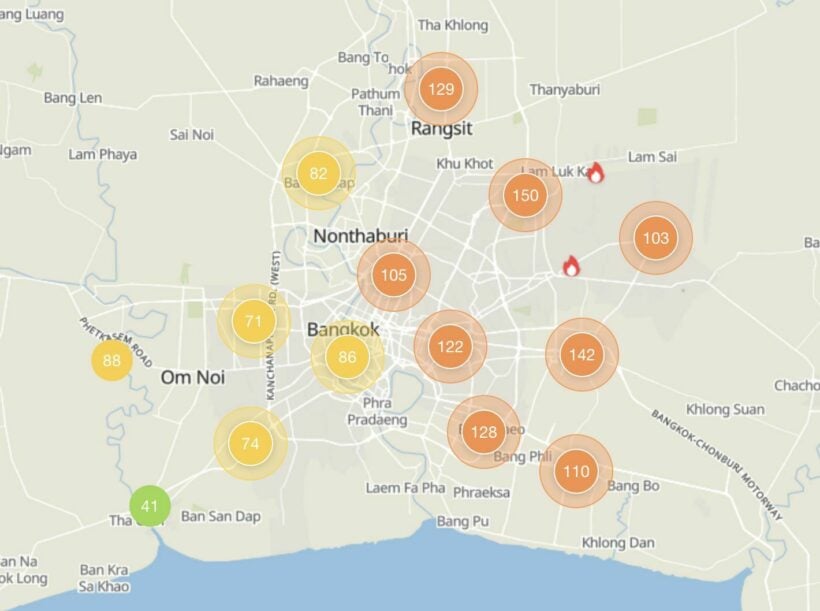 SOURCE: Bangkok Post
Keep in contact with The Thaiger by following our Facebook page.
Never miss out on future posts by following The Thaiger.
Samut Sakhon speeds up proactive Covid-19 screening to test at least 60,000 people this week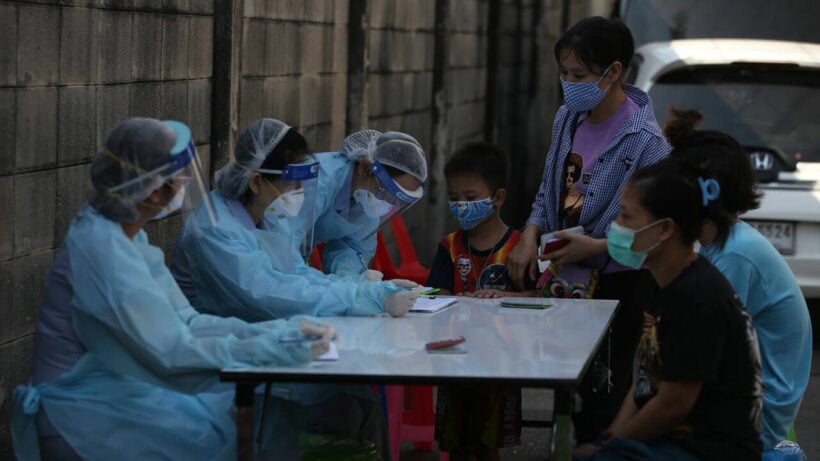 Proactive Covid-19 testing in Samut Sakhon is increasing and health officials now aim to test at least 60,000 people this week. Medical officials from several hospitals are also coming together to help accelerate the screening at different venues in the province.
The active case finding in Samut Sakhon, the primary "Covid-19 hotspot" in the new wave of infections, health officials will test migrant workers who work at various factories as well as residents in 15 communities, market vendors and other people in high risk groups.
According to the CCSA, with the proactive screening, the number of new infections is expected to be high. And with the current proactive plan to be complete this week, it is expected to find 4,400 new infections or about 7% of those being screened.
SOURCE: Thai PBS World
Catch up with the latest daily "Thailand News Today" here on The Thaiger.
Keep in contact with The Thaiger by following our Facebook page.
Never miss out on future posts by following The Thaiger.
50,000 to be tested for Covid-19 in Samut Sakhon, 198 new infections reported in Thailand today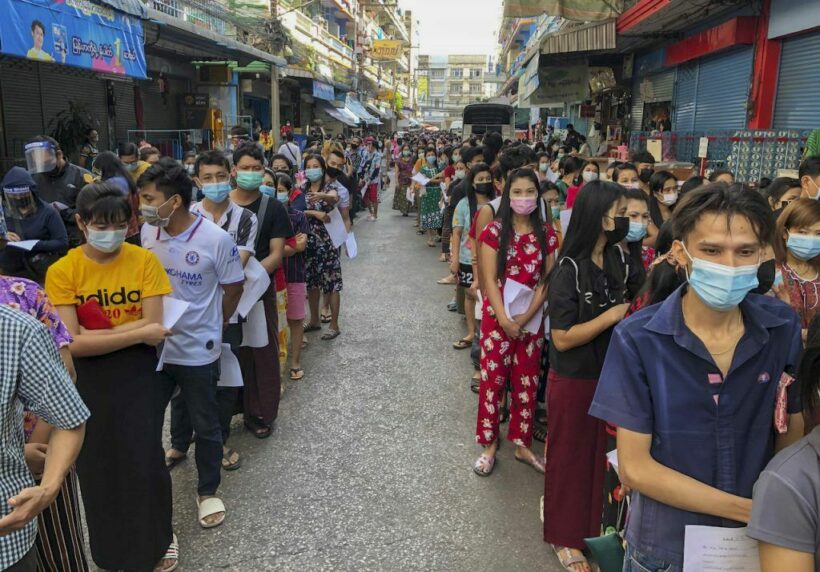 50,000 people are lining up to be tested for Covid-19 in the hotspot of Samut Sakhon over the next 5 days as health officials step up pro-active testing in the hard-hit Thai province. The target of 10,000 people to be tested per day will focus on factory workers, communities and dormitories in an effort to change Krathum Ban and Muang districts from red to yellow and then green zones.
Apisamai Srirangsun, the CCSA deputy spokesperson, says they expect to find 2,000-3,000 new cases as a result of the increased tracking, tracing and testing. She says health officials are trying to track down and free Samut Sakhon of new infections.
"Officials are optimistic that that the pandemic will ease during the 2nd week of February."
Samut Sakhon is the centre of the 2nd core wave of Covid in Thailand as a cluster of infections broke out late last year in the provincial seafood markets along the coast, just south west of Bangkok. She also said that educational institutes, in some areas of Samut Sakhon, may be allowed to reopen during the next month, if the situation improves.
"But many businesses may have to wait to reopen."
So far, 70,000 people in the province have been tested for the virus with 5,332 found to be infected. Most of those infected are migrant workers from Myanmar, with the infection rate around 7%.
According to the CCSA, 198 new Covid-19 cases were recorded today, including 191 locally-transmitted infections and 7 imported. 1 more fatality was reported, bringing the national total death toll to 73.
The latest victim was a 73 year old woman from Samut Sakhon, who also suffered from dementia, high blood pressure and epilepsy. She was found to have been infected by family members on January 9 and was admitted to the hospital suffering from fatigue and a severe lung inflammation. The woman was placed on a respirator and was transferred to Thaksin Hospital, but she passed away yesterday after her condition worsened.
SOURCE: Thai PBS World
Keep in contact with The Thaiger by following our Facebook page.
Never miss out on future posts by following The Thaiger.