French expat rescued off Phuket, jet-ski and parasail ban remains in force today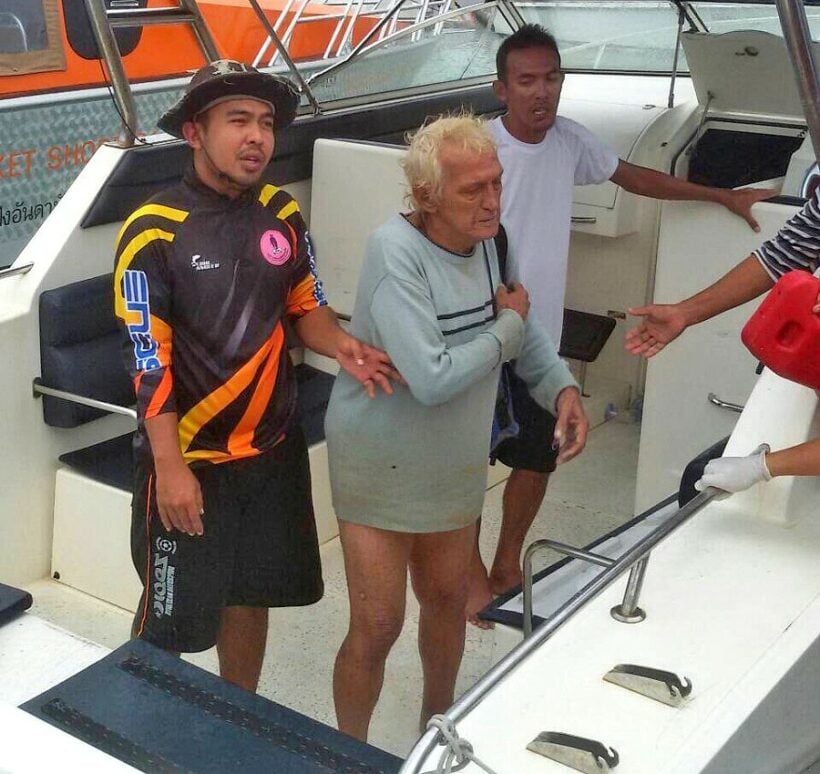 A French expat on a dinghy has been rescued in Ao Yon, Wichit yesterday (June 19) while the Phuket Marine Office has announced that jet-skis and parasails will remain beached until today (June 20).
Maj Eakkachai Siri of the Phuket Tourist Police was notified at 1.30pm yesterday that a French man, 78 year old Claude Gasca, had been rescued off the coast of Cape Panwa.
Maj Eakkachai says, "Mr Gasca disappeared after took off from Chalong Pier on a dinghy on Monday (June 18) night heading to his sailboat name 'Striana' which was moored off Ao Yon beach. "
"Yesterday (June 19) his Thai wife, Montatip Tongkhao, said she was unable to contact him. So she called the police. The search was lunched by the Royal Thai Navy Third Area Command (NAC3)."
"At 5.30pm yesterday, we were notified that Mr Gasca had been found safe by a friend and taken back to Chalong Pier. He was taken to the Mission Hospital as he was very weak."
"Mr Gasca told us that after he had retired, he lived in Phuket with his Thai wife. Every day he travels in his dinghy to his sailboat in the sea. On Monday night there were very strong winds and waves. The dinghy was washed ashore and got stuck in a mangrove forest."
"His friend, who was on another boat, had rescued him. His mobile phone was soaking with water. So he cannot contact his wife."
The chief of the Phuket Marine Office has ordered authorities at all ports and piers, as well as the boat operators, to be careful heading out to sea, including today (June 20).
Read more HERE.
However some Jet-skis and parasail operators still operated their services during the inclement weather. The Phuket Maine Office has announced a ban of jet-ski and parasails rides from yesterday until today.
"Legal action will be taken against anyone who breaks the law", says the Chief.

Keep in contact with The Thaiger by following our
Facebook page
.
Curfew in place from today – the details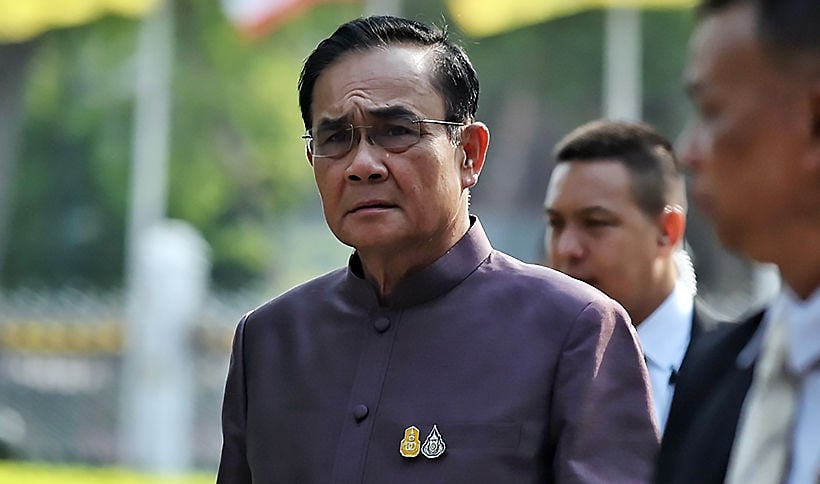 Under the state of emergency declared last week, the government of PM Prayut Chan-o-cha has imposed a nationwide curfew starting from today, banning all people from leaving their homes from 10pm to 4am, in its latest move to contain the spread of the Covid-19 coronavirus. Existing curfew orders in other provinces with stricter requirements will remain in effect.
In a televised speech last night the PM announced the curfew, "effective until further notice". He called for calm and asked the public not hoard food as they will still be allowed to go out during the day, though they will be required to observe social distancing (and wear a face mask at all times).
Exemptions from the curfew include medical and banking personnel as well as logistics workers handling consumer goods, agricultural produce, pharmaceutical products, medical supplies and equipment, newspapers, fuel, post, products bound for export and imported goods. The travel of people to quarantine venues is also allowed.
Exemptions also apply to employees working night shifts, individuals heading to or from airports with authorised documents stating their purpose, officials carrying out official duties and those who authorised to leave for emergencies.
Violators face a jail term of up to two years and/or a fine of up to 40,000 baht.
"I won't let anyone hoard the products and take advantage of people during this difficult time."
Prayut says more economic stimulus packages will be introduced, including financial aid, debt suspension and restructuring, and a liquidity boost. A centre will be set up to manage travel in and out of the kingdom with more strict screening, quarantine and monitoring measures. A press briefing will be held daily at the government's Covid-19 centre.
The PM says that unauthorised people will not be allowed to give interviews, and again warned of the consequences of spreading fake news or sharing information from unknown sources. He urges everyone to cooperate for the ultimate goal of "zero infections".
Earlier yesterday, Prayut announced that the government will block all entry to Thailand including by Thais, starting today until April 15, to prepare quarantine facilities after more local cases were linked to "imported" cases.
"In the meantime, agencies will prepare the venues and coordinate with Thai embassies to ensure all Thais returnees will be quarantined and get proper medical checks."
Taweesin Visanuyothin, spokesman of the government's newly formed Centre for Covid-19 Situation Administration, says Prayut told the officials at the centre that arrivals of both foreigners and Thais from abroad will have to be "slowed down to stop the disease." He says arrivals from abroad have proved to be a major source of infections.
The new ban does not apply to people who already have permission to travel to Thailand, but Taveesin urges affected travellers to contact Thai embassies and follow their instructions.
Thailand yesterday reported 104 new infections, bringing the total number of confirmed cases to 1,875. 3 more deaths were also reported, raising the death toll from the novel coronavirus disease in Thailand to 15.
SOURCE: Bangkok Post
Keep in contact with The Thaiger by following our
Facebook page
.
Philippine President Duterte: "Shoot them dead"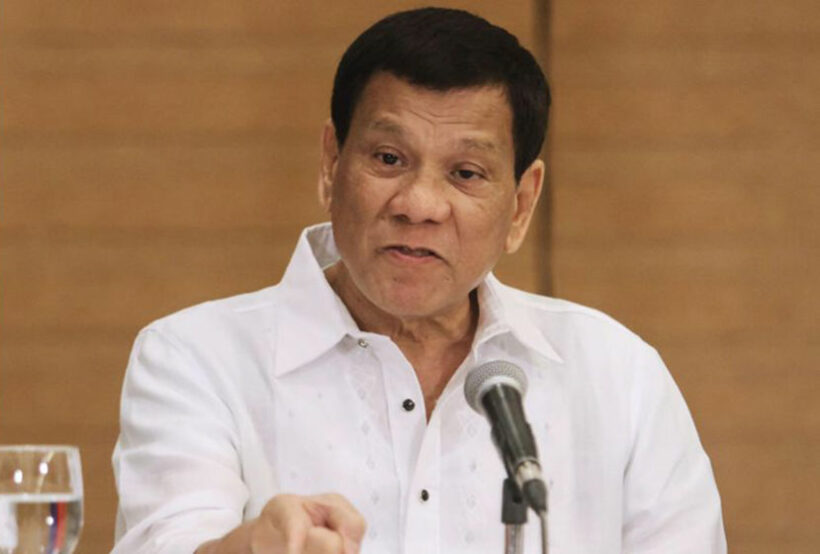 The president of the Philippines is warning that those who violate his coronavirus lockdown could be shot. He also says abuse of medical workers is a "serious crime that will not be tolerated."
In a nationally televised address, President Rodrigo Duterte said it's crucial that everyone cooperates and follows home quarantine measures to try to slow the spread of Covid-19 and prevent the country's fragile health system from being overwhelmed.
As of yesterday the Philippines had confirmed 96 coronavirus deaths and 2,311 confirmed cases since the breakout. New infections in the Philippines are now being reported in the hundreds every day.
"It is getting worse. So once again I'm telling you the seriousness of the problem and that you must listen. My orders to the police and military … if there is trouble and they fight back and your lives are in danger, shoot them dead. Is that understood? Dead. Instead of causing trouble, I will bury you."
His confronting comments come after reports of a disturbance and several arrests on Wednesday of residents in a poor area of Manila who were protesting about government food aid. They also follow outrage among the medical community about social stigma and cases of hospital workers suffering violence and discrimination. Duterte says this "must be stopped."
Activists criticise Duterte for his fierce rhetoric and say he's inciting violence and vigilantism, citing his war on drugs, in which police and gunmen have killed thousands accused of using or selling drugs. Police say their actions in the anti-drug campaign have been lawful. Duterte's office typically calls his remarks "hyperbole to underline his point."
The Philippines' national police chief yesterday said police understood that Duterte is demonstrating his seriousness about public order, and that no one will be shot.
SOURCE: Chiang Rai Times
Keep in contact with The Thaiger by following our
Facebook page
.
Coronavirus UPDATE: World total passes 1 million cases, Covid-19 vs Flu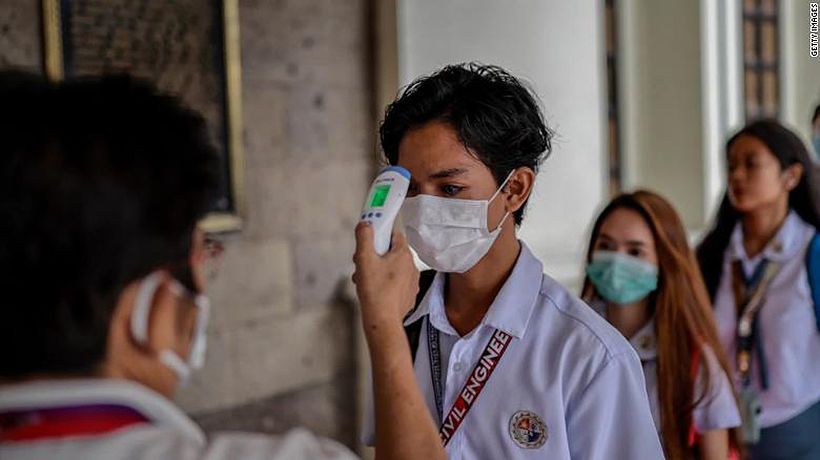 Case numbers have passed through the 1,000,000 mark, whilst world deaths have now reached over 50,000 as we wake up on the final day of the week in Thailand. Just after 7am the total around the globe has now reach 1,015,000 cases since the outbreak started and over 53,000 people have nw died as a result of the Covid-19 virus.
717,000 of those cases are still 'active' cases and over 37,000 of the patients are considered serious or critical.
Bottomline, we're still in the early days of this pandemic and the world has a lot more pain to endure, and action to take, before we see a levelling out of the curve and, eventually, a drop in cases. For now there is no cure whilst labs around the world are racing to develop a reliable and safe vaccine. Clinical trials are underway but scientists warn that the final results are probably a year away.
Again, it's the US, which added 29,317 cases in the past 24 hours, that is contributing nearly 25% of the world's current cases. Italy, Spain and Germany, all with populations of 46-82 million each, now lead China's total number of cases. China yesterday added 35 new cases and 6 deaths as it grapples with a steady re-opening of services.
Here are the world's 14 leading countries with coronavirus cases…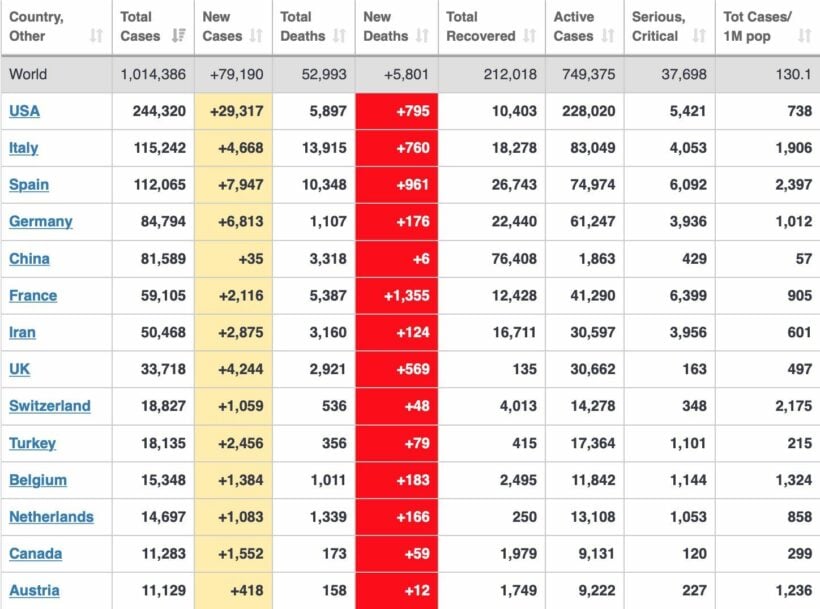 worldometers.com
THREE MONTHS AGO
Back on January 6 The Thaiger published an article about Thai arrivals being checked at four international airports after early cases of a mysterious virus were emerging in Wuhan, China. At that stage 59 patients had been placed under observation. Just three days later a case of the 'Chinese pneumonia' was detected in Chiang Mai.
DAILY TV NEWS REPORT below
THAILAND
Last night Thailand's PM announced a nationwide curfew between 10pm – 4am starting from today (Friday) to try to curb the spread of the Covid-19 coronavirus in the Kingdom.
There will be some exceptions to the new measure, including the transport of medical supplies, movement of people into quarantine, patients and travel of medical personnel, according to the statement presented this afternoon.
Also announced in the past 24 hours is a total ban on all foreign arrivals until at least April 15.
Thaveesilp Wissanuyothin, spokesman of the Center for Covid-19 Situation Administration, says that PM Prayut Chan-ocha has ordered the Ministry of Foreign Affairs to issue a new directive prohibiting any new arrivals.
COVID-19 vs SEASONAL FLU
Covid-19 and influenza vary drastically. 80% of Covid-19 infections have so far been relatively mild or even asymptomatic, 15% are severe (requiring oxygen and hospitalisation) and 5% are critical (requiring ventilation). These figures are considerably higher than what is typically observed in flu, a LOT higher.
Covid-19 is also more deadly than seasonal influenza. The raw data for mortality rates for Covid-19, based on cases to date, is currently estimated by the World Health Organisation (and all the available statistical data) to be between 3-4%, with seasonal influenza sitting well below 0.1%.
US
The US has now reported more than 244,000 cases, and the number of deaths has reached 5,900, 795 of them just yesterday. And 6.6 million people in the US filed for unemployment last week, the highest number of initial claims in history.
The government's appointed task force's response coordinator, Dr. Deborah Birx, says she can tell by looking at the US curve of coronavirus cases that not every American is following the guidelines set out by the administration for people to stay home and be vigilant about washing their hands.
"Just to everybody out there across the country, when we say no gatherings of 10, we want to be clear, if you have a family of 10, we don't want you to be split up. The guidelines mean people should be having no dinner parties, no cocktail parties."
"I know you've seen the slope on the US versus the slope in Italy, and we have to change that slope. What it means in the US is not everyone is doing it."
With more than 1,000 cases added in one day, there are now 9,191 people in California with coronavirus and 203 have died. New York City has a total of 49,707 coronavirus cases and has recorded 1,562 deaths.
BRAZIL
For third day in a row, Brazil's health authorities have reported a consecutive spike of more than 1,000 new Covid-19 cases in a single day. 1,074 new cases were announced yesterday, bringing the South American country's total number of cases to 7,910 and 299 deaths. The rapid spike, over the past week, is an indication of the country's starting of mass testing.
SPAIN
Spain announced 961 people had died in the previous 24 hours. The number of confirmed Spanish cases rose from 102,136 on Wednesday to 112,065 – an 8% rise that is similar to the rate recorded in previous days. Authorities believe the virus is now peaking and say they expect to see a drop in figures in the days ahead. Spain, the second-worst hit nation in terms of deaths, has also lost nearly 900,000 jobs.
María José Sierra, from Spain's health ministry's emergency co-ordination unit says… "We continue with an increase of around 8%. This points, as we have already seen, to a stabilisation in the data that we're registering."
CHINA
The Chinese city of Shenzhen, sharing a border with Hong Kong, is banning the eating of dogs and cats as part of a wider clampdown on the wildlife trade since the start of the new coronavirus.
Scientists speculate the coronavirus passed to humans from animals. Some of the earliest infections were found in people who had exposure to a popular wildlife market in Wuhan, central China, where bats, snakes, civets (small cat-like mammals) and other animals were sold.
TRACKING
If you want to track the growth of Coronavirus, and hopefully the eventual dropping of case numbers, here are some websites you can go to for the info…
Johns Hopkins University's Center for Systems Science and Engineering
The map aggregates data from 17 sources, including the World Health Organisation, the European Centre for Disease Prevention and Control, and several individual governments.
These statistics lay out the cases numbers and stats around all US states.
It's a general reference site that aggregates case numbers and lays statistics out in an orderly, numerical fashion.
If you want to track the 'curve' we're watching for the 'flattening of the curve', here it is in stark daily upsets.
SOUTH KOREA
How did South Korea contain, but not eliminate, Covid-19?
"A multi-prong approach was key", explains South Koreas Foreign Minister Kang Kyung-wha. She says the country worked quickly and identified "super spreaders," those who pass the virus to multiple people. Key, however, was taking an all-government approach, mobilising government ministries as well as regional and city governments.
"That strategy paid off, especially when it came to limited health care resources."
"When one region ran out of hospital beds we asked other provinces to open up beds in their hospitals. When it ran out of doctors, we asked doctors in other regions to help."
The Thaiger's daily 'Thailand News Today' below…
Keep in contact with The Thaiger by following our
Facebook page
.