Emerald Development Group addresses accusations of fraud and mismanagement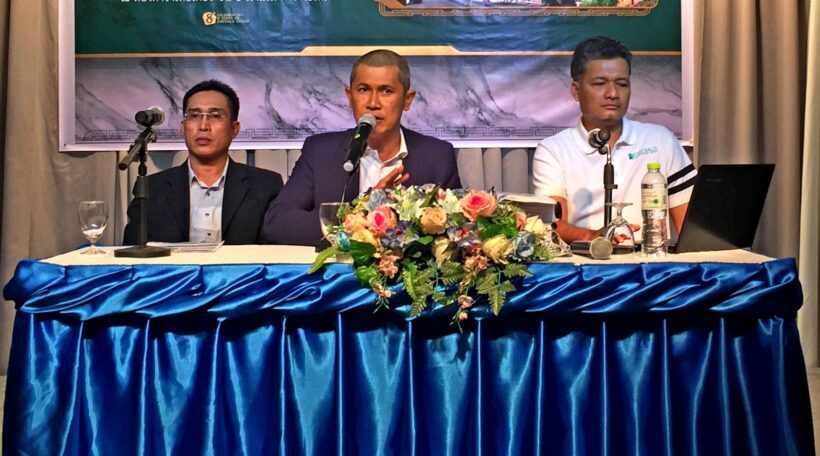 CEO of the Emerald Development Group Sawit 'Mai' Ketroj held a press conference yesterday (Saturday) at the Dara Hotel to address accusations of fraud and mismanagement. In reports to the Court the amounts involved in the alleged fraud case mount up to more than a billion baht with more than 300 buyers filing complaints with the Emerald Development Group.
He opened the meeting by claiming that there was no liquidity problems and that Emerald Development Group cared for its customers and was responsible.
Khun Sawit aimed to reassure the media conference that everything was OK and that the group just needed time to fulfil its obligations. But he refused to answer any direct questions from the media or any of the aggrieved depositors.
"I want to tell everyone that I am confident that our projects will keep going and that we just need time. We understand if people want to cancel their contracts with these projects. We are fine because we know The Emerald Development Group is valuable," said Mr Sawit.
"I would like to clarify that over the past 8 years the company has been operating with a strong commitment to direct and good governance, to deliver the best condominium accommodation to customers. Currently, there are 5 affiliate companies investing in condominiums and properties in Phuket worth more than 6,000 million baht, including the Kathu Golf Condo project by Emerald Development Group Co., Ltd. The Emerald Terrace Phuket Condo by Phuket Future Development Co., Ltd."
"The Emerald – Central Project by Phuket Capital Real Estate Co., Ltd., The Emerald City Life Condo, Patong by Emerald. Construction The Emerald Valley Nirvana 1 and 2 projects, Nirvana Lux and Jade Villas projects are under construction and awaiting construction permits. This is a project that has been brought to the attention of local news."
"For our foreign customers, I will explain an updated plan this month. We have enough investment and want to make sure the people in Phuket and our clients are confident in our ability to manage the projects."
"The company is confident that it will be able to run its business as planned. There are no liquidity problems right now. And the company is a partner in foreign investment. We are ready to take care of our customers."
The statement also said that negative media coverage was having an affect on his businesses and tourism confidence in Phuket.
"I and all Emerald Group employees are engaging in business and our work with honesty to deliver the best condominium projects to the customers who believe in our company during the eight years of our hard work."
A detailed explanation of each of the Emerald Development Groups' projects will be published later today.

Keep in contact with The Thaiger by following our
Facebook page
.
Never miss out on future posts by
following The Thaiger
.
Man allegedly burns down house because his wife refused sex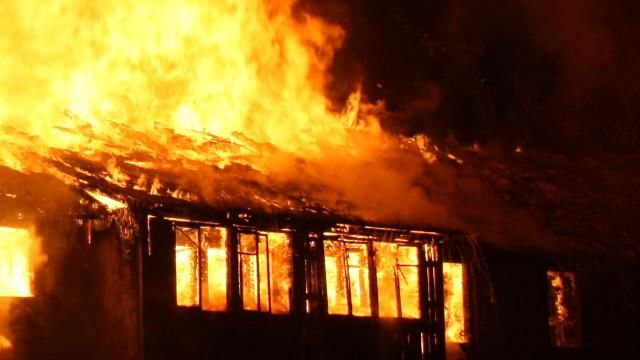 A 33 year old man was arrested after he allegedly set a house on fire because his wife didn't want to have sex with him.
Narongchan Paksarom allegedly drove his motorcycle to a house in the Isaan province Buriram where his wife was living and approached the home wearing nothing but a towel, according to his wife Ratchaneekorn Yeeram. She told police her husband's words scared her and she quickly left her home, taking her children, ages 4 and 9, with her.
Narongchan then allegedly set the home on fire. Reports don't go into detail about how the fire was started, or how much damage was done to the home, but photos show the fire engulfing the entire home. Neighbours say the alleged arsonist also threatened them with a knife.
Police say that Narongchan admitted to starting the fire and said he was angry because his wife didn't want to have sex with him. Ratchaeekorn says she believes her husband's actions were because he was high on drugs. Police tested the man's urine and it came out positive for narcotics.
SOURCE: Nation Thailand
Catch up with the latest daily "Thailand News Today" here on The Thaiger.
Keep in contact with The Thaiger by following our
Facebook page
.
Never miss out on future posts by
following The Thaiger
.
"Koh Samui is still safe", Covid-19 measures in place – Health Minister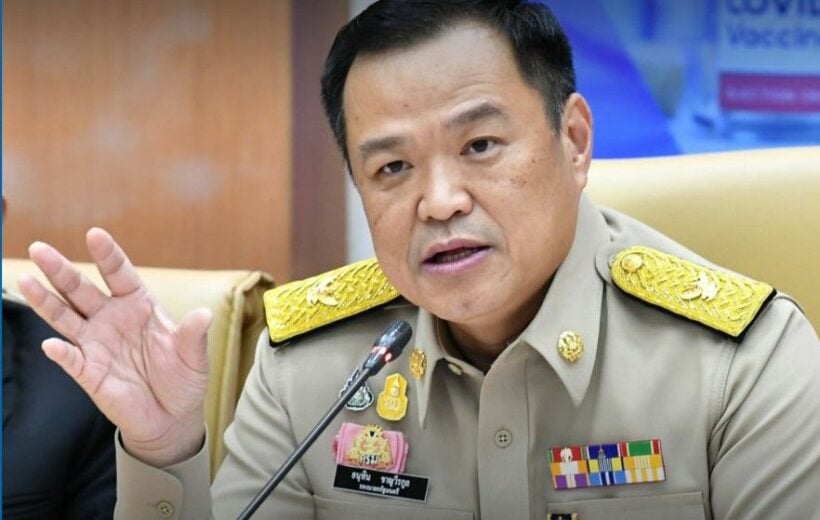 Koh Samui is safe to visit … apparently. Even though a woman on the island recently tested positive for Covid-19, the world's favourite public health minister is assuring the Koh Samui public that health measures on the island are effective and it's still a safe destination for tourists, presumably the few Thai tourists willing to pay extortionate airfares demanded by Bangkok Airways.
The 57 year old Thai/French woman tested positive for the coronavirus 5 days after she was released from a Samut Prakan quarantine accommodation where she spent the mandatory 2 weeks in isolation after entering the country. She complained of a fever a few days before going to a hospital on the island. Although she didn't feel well, she went shopping at a Big C and 7-Eleven.
Health officials investigating the case say they found traces of the virus on gym equipment the woman used at the quarantine accommodation, leading them to suspect she came in contact with the virus before arriving to Koh Samui.
In response to the case, Public Health Minister Anutin Charnvirakul travelled the island to deliver 1,000 tablets of the antiviral drug Favipiravir to local hospitals. The drug has been approved in Thailand to treat Covid-19 patients with severe symptoms.
Anutin is urging the public not to worry, saying the island is safe and people can visit as usual. He says there are stringent health measures in place to prevent the spread of the coronavirus.
Although Koh Samui reported a rare case of the virus detected outside of quarantine, Anutin says he's more concerned with the risk of transmission at Bangkok's ongoing protests. He says he's instructed the Department of Medical Services to set up medical tents at protest sites that will provide face masks and alcohol-based hand sanitisers.
SOURCE: National News Bureau of Thailand| Facebook: NNB
Catch up with the latest daily "Thailand News Today" here on The Thaiger.
Keep in contact with The Thaiger by following our
Facebook page
.
Never miss out on future posts by
following The Thaiger
.
Royalists rally at US Embassy, call on Americans to stop "interfering" with Thai politics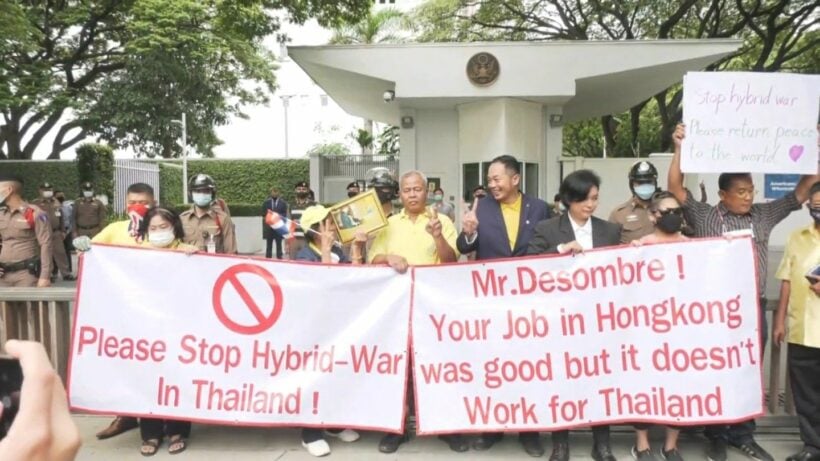 Royalists gathered this morning at the United States Embassy in Bangkok and called on Americans to stop a so-called "hybrid war," implying that the US government is interfering with Thailand politics during a time of ongoing pro-democracy protests.
Dressed in yellow, the colour symbolising the Thai Monarch, the protesters held signs calling on an end to an alleged hybrid war. Some waved the Thailand national flag and some held up photos of the Royal family. One sign read "Stop hybrid war. Please return peace to the world."
A large sign was directed at Ambassador Michael George DeSombre, who also served on the board Hong Kong forum which, according to the US government, "seeks to promote the exchange of ideas between scholars and policymakers worldwide and to foster communication between the US and China."
The sign read "Mr. DeSombre! Your job in Hong Kong was good, but it doesn't work for Thailand."
Former singer and member of the Thai Pakdee royalist group, Hurethai Muangboonsri, led the rally and accused the US government of creating divide in Thailand, without providing any details or evidence.
"Don't make Thais fight among each other or our nation will collapse. Remember that! Stop the conflict and stop the interference. This is Thailand, not Hong Kong."
It's unclear how many people showed up at the rally, but Nation Thailand says 20 police officers from Lumpini Station were deployed to secure the area around the embassy.
Whether or not the US is meddling with Thai politics, a pro-democracy activist told The Thaiger in a previous interview that political protests in America have influenced and motivated some in Thailand to rally and speak up for change.
SOURCES: Nation Thailand| US Government
Catch up with the latest daily "Thailand News Today" here on The Thaiger.
Keep in contact with The Thaiger by following our
Facebook page
.
Never miss out on future posts by
following The Thaiger
.