Dead body of a deputy mayor's brother found in Saphan Hin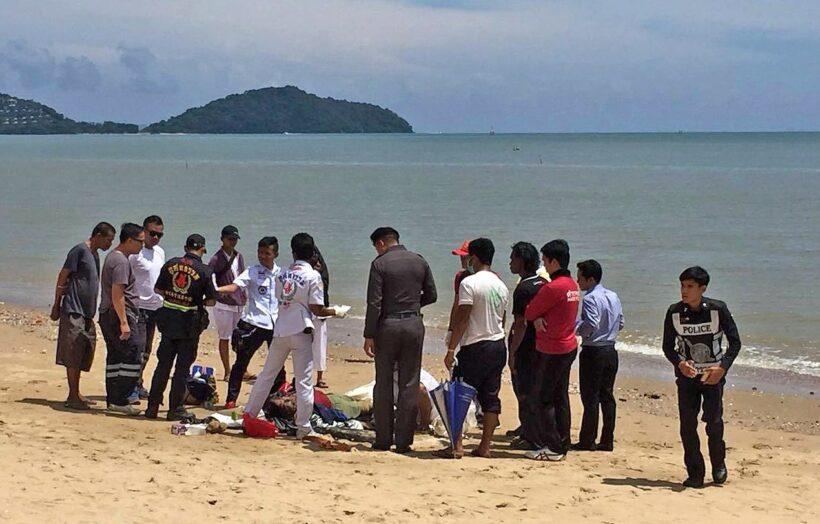 The dead body of 53 year old Sanit Kumban was found floating in the sea of Saphan Hin, approximately 300 – 500 metres away from the shore today (October 27).
The team of water police and Kusoldham Phuket brought him back to land and found a brown leather bag and a clothes bag with the body. The man was wearing 5 layers of shirts, a silver ring and a watch that was still ticking. In the leather bag, the team found documents that identified him as the brother of one of Phuket's Deputy Mayors.
The team revealed that he suffered from a mental disorder and had escaped from his house several times before when his relatives would search for him and bring him back. However, this time, no one could find him until the team found his dead body. The cause of death hasn't yet been established.
After an initial autopsy, the officers couldn't find any trace of physical attack except some small traces that were most likely caused by sea animals. They say that they estimate that he died 8-9 hours before the team found him. The initial assumption is that he drowned, but police will investigate further about the case and his whereabouts in the time before he disappeared.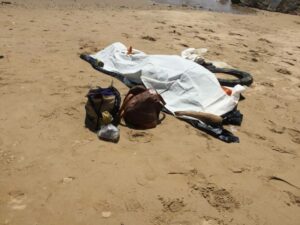 Keep in contact with The Thaiger by following our
Facebook page
.
Never miss out on future posts by
following The Thaiger
.
Man arrested for allegedly robbing 500,000 baht from Bangkok bank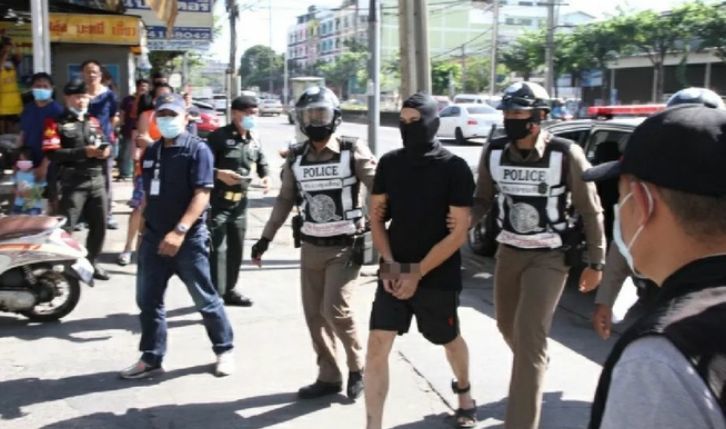 Police arrested a man for alleged armed robbery at a Government Housing Bank in Bangkok. 46 year old Phaiboon Sara allegedly used a gun to threaten bank tellers and take off with 500,000 baht in cash.
Police reviewed the bank's security camera footage and tracked down Phaiboon, arresting him at his home in Samut Prakan. Phaiboon allegedly told police that he hid the money at a hotel room in Sukhumvit. Police searched the hotel room and found 391,390 baht in cash as well as clothes that matched the robber's outfit seen in the video.
According to police, Phaiboon admitted to robbing the Bangbon district GH Bank branch, but claims he used a plastic gun to threaten the bank tellers. He allegedly told police that he threw the gun away and hopped on a public van to flee the area.
SOURCE: Nation Thailand
Keep in contact with The Thaiger by following our
Facebook page
.
Never miss out on future posts by
following The Thaiger
.
Twitter suspends Thai royalist linked account which spread pro-government propaganda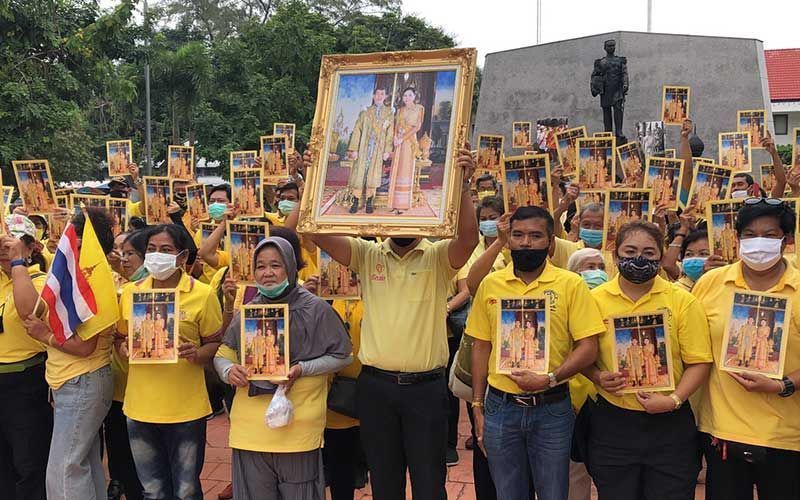 A Thai royalist-linked account was suspended on Twitter following a review by Reuters reporters that found the account spread posts in favour of His Majesty the King and the monarchy in what appeared to be a tactic to sway the public opinion.
While ongoing protests are calling on monarchy reform with statements considered unprecedented and taboo in Thai society, Reuters says they found tens of thousands of tweets from accounts amplifying the pro-government agenda, which an expert claims is a move to counter the pro-democracy movement.
While not directly linked, internal army training documents leaked to reporters show the Royal Thai Army used Twitter to spread pro-government propaganda and discredit the now-disbanded Future Forward Party. Hundreds of the Twitter accounts linked to the Army were suspended in October.
The account @jitarsa_school, created in September with 48,000 followers, was suspended after Reuters reporters reached out to Twitter for comment about the pro-monarchy accounts. A representative from Twitter told Reuters that the account violated the rules and that the suspension was not due to the reporters' review.
"The account in question was suspended for violating our rules on spam and platform manipulation."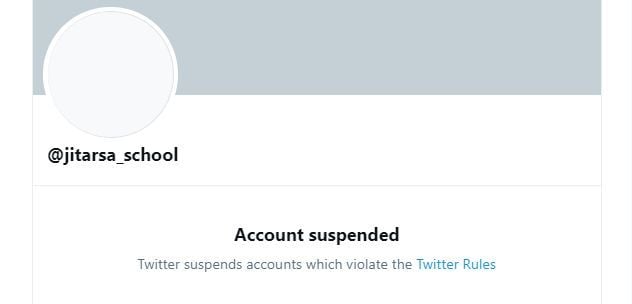 Reuters found that of the 48,000 accounts following @jitarsa_school, 80% of them were created since the start of September. Reuters says thousands of the "bot-like" accounts only promoted royalist hashtags. Some hashtags shared by @jitarsa_school translate to #StopViolatingTheMonarchy, #ProtectTheMonarchy, #WeLoveTheMotherOfTheLand, #WeLoveTheMonarchy and #MinionsLoveTheMonarchy.
While the account does not appear to be associated with the Royal Thai Army, the activity is similar. In October, Twitter suspended 926 accounts linked to the Royal Thai Army which were "amplifying pro-government propaganda." At the time, the army said they were not associated with the accounts.
Recently, a 28-page document showing the army's plan to target opponents and spread pro-monarchy messages was leaked. The army claims the plan was used as a public relations training exercise.
While Twitter only suspended 926 accounts, the documents says that 17,562 Twitter accounts were run by 9,743 army officers. The army officers were split into a "White Team" and a "Grey/Black Team." According to the document, the accounts were aimed to appear like authentic accounts and officers were instructed to tweet with coordinated hashtags and retweet each other's posts.
SOURCE: Reuters
Keep in contact with The Thaiger by following our
Facebook page
.
Never miss out on future posts by
following The Thaiger
.
Ban on sales and promotion of alcohol online starts December 7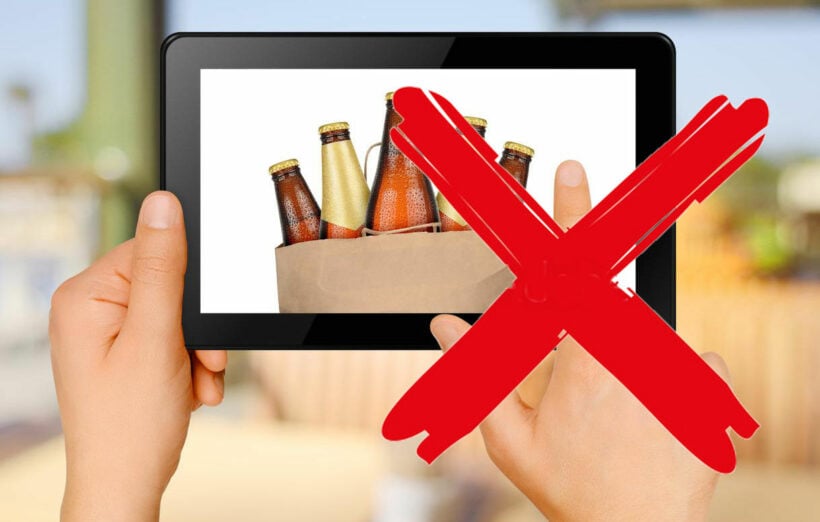 From December 7 you'll no longer, officially, be able to purchase alcohol online in Thailand, according to a posting in the Royal Gazette back in September, the Thai government will prohibit the sales and promotion of alcoholic drinks on every online platform from December 7.
The ban includes direct sales, promotion and introduction of alcoholic products online, but will not include electronic payments of purchases at retail stores, restaurants and bars.
Selling and buying beer, wine and spirits online has become more popular, but the Thai PM says that internet alcohol sales are harder to control than sales at local liquor stores. The announcement said that it's difficult to check that the provisions of the Alcoholic Beverage Control Act are being followed online, like no alcohol sales before 5pm or on certain holidays (although many local stores didn't follow the rules anyway).
"The Royal Gazette had published the announcement of 'Prohibition of the sale of alcoholic beverages via electronic sales nationwide' on September 8 noting that alcohol has become more easily accessible online due to the popularity of social media platforms and specialist Apps.
"No person shall sell alcoholic beverages or provide services related to alcoholic beverages on electronic channels. Online payment for trading such beverages at actual stores are excluded."
With Thai officials obsessed with the perceived evils of alcohol, Thailand already has a ban on the sale of alcohol before 11am, between 2 – 5pm, and after midnight. It's also illegal to brew your own beer at home or to post pictures of branded alcohol online, either as a private citizen or as a company. But the government's latest announcement, that drinkers won't be able to purchase alcohol online that really ignited the Twittersphere and social media.
Deputy PM and the Minister of Public Health, Anutin Charnvirakul, told AP after a meeting of the alcohol control committee on November 7, that they'd agreed to draft guidelines, under the revision of the Public Health Ministry, to inform the Public regarding the Royal Gazette announcement of banning online alcohol trading.
"Violators of the new ban will be subject to up to six months in prison and/or a fine of up to 10,000 baht."
People will still be able to use electronic methods of payment, like bank transfers, when buying alcohol at stores, restaurants or other establishments, just not purchase from online portals.
The Ministry is going to launch a publicity campaign about the new bans in the week leading up to December 7.
Keep in contact with The Thaiger by following our
Facebook page
.
Never miss out on future posts by
following The Thaiger
.