Police seize 2 million meth pills following car chase in Chiang Rai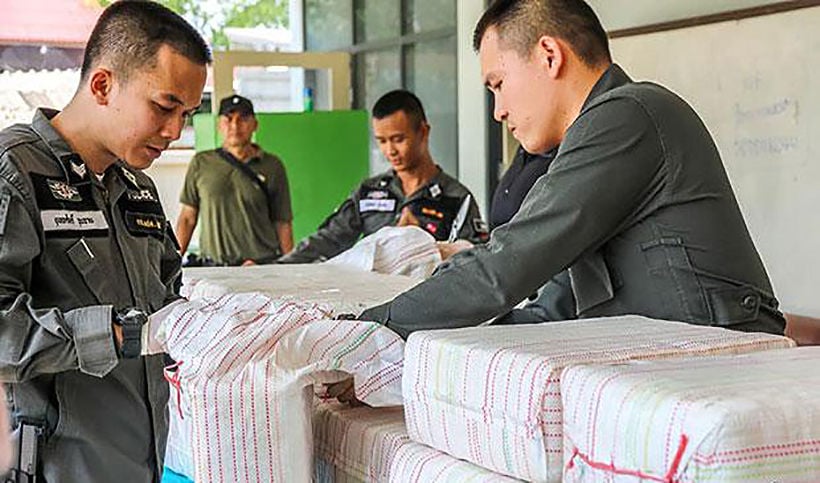 PHOTO: Facebook/@thaipolice4.0
Police are investigating the source of 2 million methamphetamine pills seized on Friday in Chiang Rai, near the Myanmar border. A man had the 2 million speed pills seized from his pickup truck following a chase in Mae Sai district late Friday. One police officer was injured in the incident.
A pick-up was signalled to stop around 11pm on Friday night in tambon Sri Muang Chum. But the driver sped off with police in hot pursuit. After three kilometres the driver of the pick-up lost control on a curve. His vehicle hot a police car in the process before ending up in a roadside ditch. A policeman in the car that was hit was injured and taken to hospital.
The 43 year old driver of the pick-up, Yutthachai Narapinitkul, was arrested and taken into custody.
Police found 20 sacks of methamphetamine pills, totalling 20 million, in the back of the vehicle.
Police are still trying to determine the source of the drugs to make further arrests.
Keep in contact with The Thaiger by following our Facebook page.
Never miss out on future posts by following The Thaiger.
Thailand non-profit offers Zoom calls with Santa and his elephant friends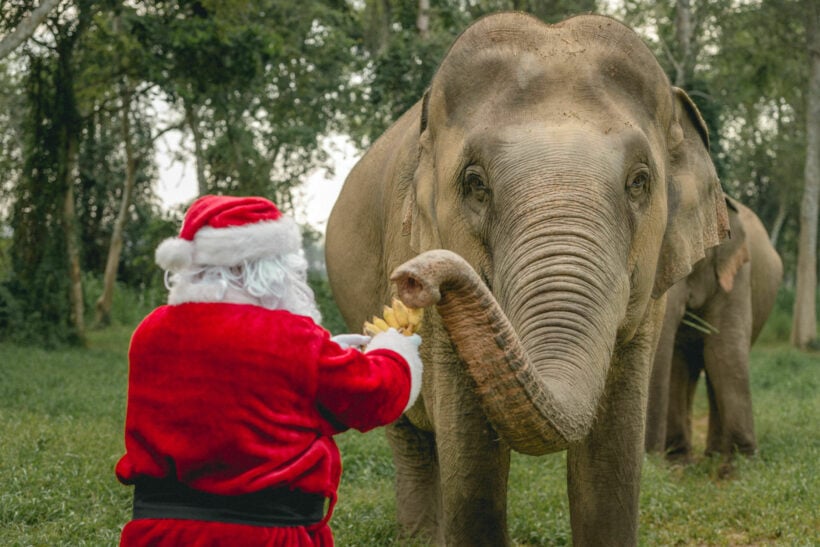 Santa Claus isn't at the North Pole this year. He's in Northern Thailand. And he's not with elves. He's mixing in with some of Thailand's beloved elephants. Don't believe it? Give him a Zoom call.
Zoom calls on Christmas Eve and Christmas Day with "Santa & his Elves" are offered by the Anantara Golden Triangle Elephant Camp & Resort and the Golden Triangle Asian Elephant Foundation.
Zoom calls with Santa and his elephant friends are limited, and pricey! The effort is intended to raise money for the program which ethically cares for elephants that were formerly in the entertainment business. The reservation for a 20 minute call requires a $2,500 USD donation.
Those interested in supporting the elephant program can make a donation. "Elephant trunk calls" are also available during the coming year, but Santa won't be around after Christmas.
The resort's director of sustainability and conservation, John Roberts, says it costs $18,000 USD a year to feed just 1 elephant. A $20 donation feeds an elephant for one day.
"Since the start of the national lockdown in Thailand in March, we have taken in three elephants and their mahouts. The COVID-19 elephant refugees, whose camps were unable to care for them and would ultimately have left them unfriended and unfed, are now matched with friendship groups and, of course, have their own diet plan."
To make a donation to the Golden Triangle Asian Elephant Foundation, click HERE.
SOURCE: Travel and Leisure
Keep in contact with The Thaiger by following our Facebook page.
Never miss out on future posts by following The Thaiger.
Chiang Rai officials insist province is now safe to visit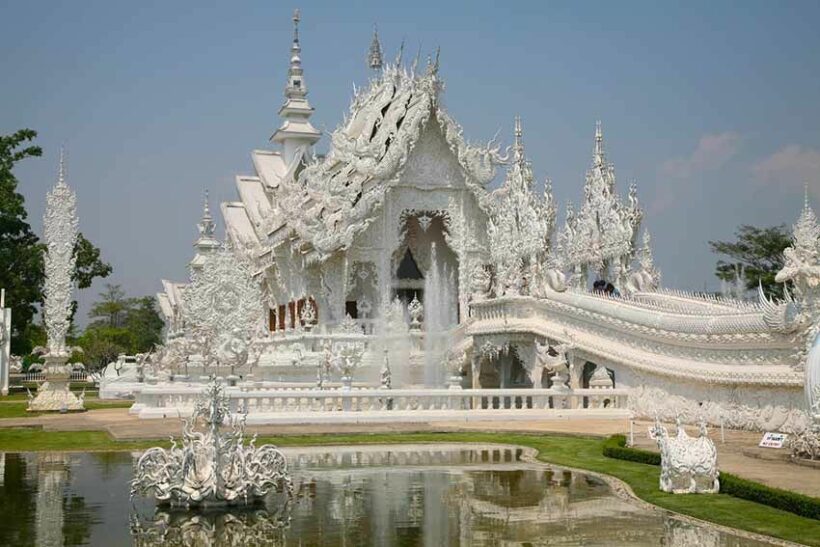 Officials in the northern province of Chiang Rai are assuring potential tourists from the rest of the Kingdom that it is safe to visit, saying the Covid-19 situation is under control. Chiang Rai hit the headlines in recent weeks, when a number of Thai nationals entered the province illegally from Myanmar. After bypassing health checks and quarantine, several subsequently tested positive for the virus, resulting in a handful of local infections.
Now deputy provincial governor, Worawit Chaisawat, is anxious to assure the rest of the country that the situation has been brought under control. He says the province has recorded no new local cases since the beginning of December. The only new infections in the province are imported cases brought in by those returning through the proper channels and entering state quarantine.
Around 180 Thai nationals are thought to have been employed at the 1G1-7 Hotel in the Burmese border town of Tachileik. Some media reports and claims from local residents say the 100 room, 4 storey hotel was used as a centre for prostitution. It became a hotbed of Covid-19 infections, causing much of its Thai workforce to flee, crossing back into Thailand illegally. Worawit says the resulting mini-outbreak of infections has now been brought under control and those who visit the province are not required to quarantine on their return home.
"We need to spread the word that there are no new infections in Chiang Rai. Visitors do not need to quarantine, and they are welcome to travel here. A flora festival is coming."
The Bangkok Post reports that yesterday, the province recorded 6 new cases of the virus, all in state quarantine. All are believed to have arrived from Tachileik. Thailand recorded a total of 28 new cases yesterday, including 1 case of local transmission in a Bangkok nurse who had close contact with a Covid-19 patient.
SOURCE: Bangkok Post
Keep in contact with The Thaiger by following our Facebook page.
Never miss out on future posts by following The Thaiger.
Returnees from Myanmar account for 9 of 17 new Covid infections today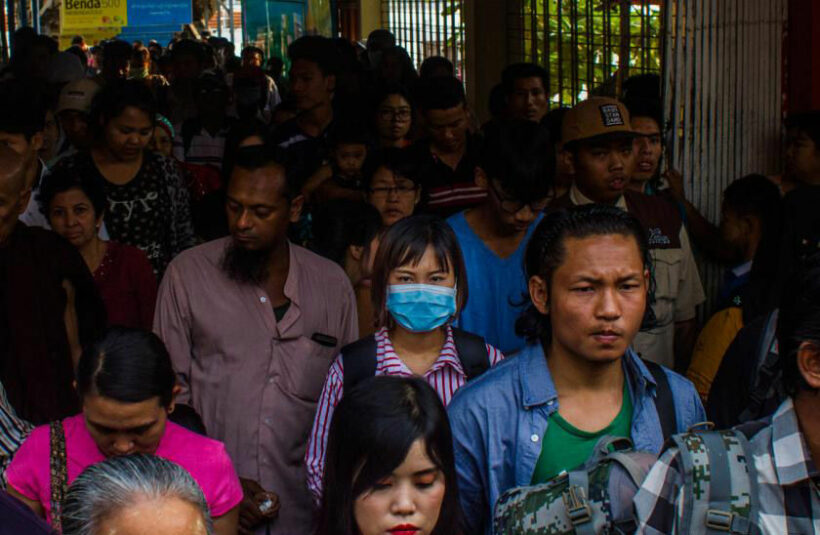 Today, Thailand has reported 17 new cases of the novel coronavirus found in people entering Thailand from other countries, with 9 infected returnees coming from Myanmar through the Mae Sai district in northern Chiang Rai.
All 9 were women who had worked at nightspots in Tachilek, the Burmese border town, featuring the now infamous 1G1-7 Hotel, which was the site of a Covid-19 breakout. They returned to Thailand on Friday and tested positive on arrival. All returnees were sent to the Chiang Rai Prachanukroh Hospital for treatment, as it has been designated as the go-to hospital for returnees from the area.
The Disease Control Department says several hundred Thais have been working at entertainment venues in Tachilek, mainly at the 1G1-7 Hotel, but since the outbreak, all have closed. Now authorities say they expect more returnees after the closure of such venues.
4 other Thai nationals tested positive after returning: a woman from the US, a woman from Switzerland, a man from Japan and a woman from Bahrain. The other 4 cases were foreigners arriving by air from overseas destinations: a Swiss man from Switzerland, a Pakistani man from Pakistan, an Indian man from the US and a British man from the United Kingdom.
Meanwhile, Chiang Rai and Chiang Mai authorities are axing the idea for a mandatory 14 day quarantine for touristswho have returned from those areas back to other parts of Thailand, after the spike in cases from the border town Tachilek in Myanmar brought 38 local cases of Covid.
Dr. Prasit Watanapa from the Faculty of Medicine at Siriraj Hospital says the coronavirus currently circulating in Myanmaris a different strain and is being transmitted 20% faster than the one detected in Wuhan at the start of the pandemic.
SOURCE: Bangkok Post
Keep in contact with The Thaiger by following our Facebook page.
Never miss out on future posts by following The Thaiger.