New rugby league for northern Thailand – The Lanna Rugby Tens League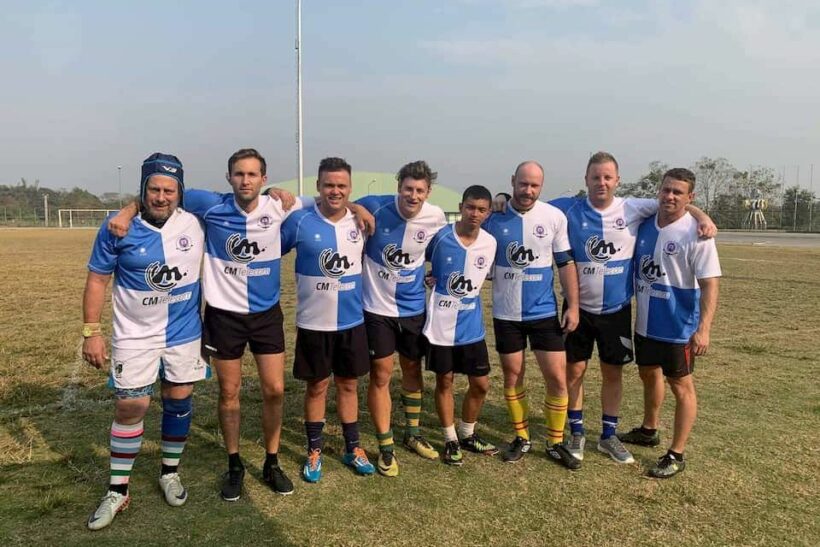 With the expansion of rugby in Asia, often the drivers are still individuals at grassroots levels who are making a massive impact. In northern Thailand, Tom Stubley and the newly formed Lanna Rugby Club, in cooperation with others in the region, are forming a new tens rugby union league called the Lanna Rugby Tens League due to start in June 2019.
"Over a year ago, back in November 2017 I discovered that there was a rugby team in Chiang Mai known as the Chiang Mai Tigers. They entered tournaments in the Thai winter months between November and February," says Tom.
"However, the tournaments only lasted a day or two. Almost as soon after the tournament had finished myself and an acquaintance at the time, Ian, saw the lack of organised sport and discussed the possible idea of turning rugby into the 'IT' sport of the north of Thailand.
"We found sponsorship with Zoe In Yellow, a successful club in Chiang Mai. By June 2018 they helped us to secure land in Lamphun at the Lamphun Technical College. Sadly, Ian departed Thailand to work elsewhere.
"The concept of having a proper team in Chiang Mai was set up, and Lanna Rugby Club now had land to use for practice, however, I did not see the point in having a rugby team purely for tournaments in Bangkok all the time.
"The good news was there are a few education bodies in Chiang Mai that have rugby teams, but there was no league set up for them to play in. Light bulb moment, create a league and they will come! We created the Lanna Rugby Tens League Manifesto in both English and Thai, highlighting why it was valuable for every team in northern Thailand to be a part of it. Since then, a number of teams have agreed to take part, especially since Prince Royal's College (PRC) came on board.
Rest the rest of the article HERE.
Keep in contact with The Thaiger by following our
Facebook page
.
British man stuck in Thailand, facing jail for defending himself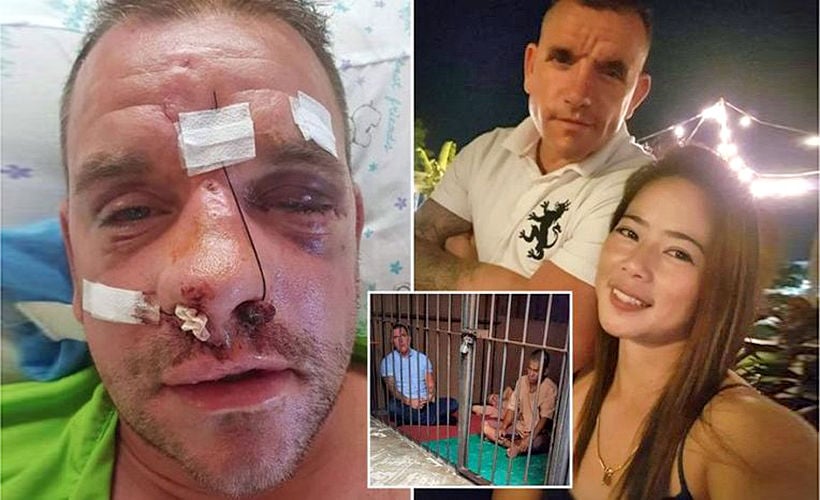 A British man, beaten up by a gang of Thai "thugs", is facing jail after throwing punches in self-defence. 38 year old Luke Thornton was kicked and punched in the face and repeatedly knocked out in the assault. He was visiting his wife Sayforn Phetkajang in the village of Pai, north west of Chiang Mai.
At the time reports in Thai media say he was sitting in the road with a few friends when three men pulled up on motorbikes and started revving their engines. Luke then pulled his friends away, at which point the Thai men allegedly unleashed a savage assault on Luke.
Three Thai men have now been arrested, aged between 23 and 25. They claim the British man shouldn't have interfered in a fight between "grown Thai men".
"So he needed to be taught a lesson." Read The Thaiger report about the attack HERE.
Luke's wife told reporters that he had raised his hands in a wai to appeal for his life but says he was kicked and beaten unconscious and left for dead as the gang fled the scene.
"They had wooden sticks with nails pointing out. They were screaming they were going to kill me. I couldn't believe what I was hearing. They punched me in the face and the back; they kicked my legs and smashed my face with their sticks".
"I lost consciousness and then when I woke up again, they knocked me out with a kick to the head. This happened two or three times. At one point they picked me up and dragged me across the road, my face scraping along."
One of the attackers eventually asked: "Where will he put his body?"
Luke was taken to Chiang Mai Ram Hospital with a fractured skull, fractured eye socket and other facial injuries. Over the following two weeks, he underwent facial reconstruction surgery and operations on his fractured skull and broken finger, with medical bills running to £7,500 (about 280,000 Thai baht).
He suffered a smashed eye socket and a smashed nose, with his left eyeball replaced by a piece of silicon and eventually re-inserted. The three men in question have been arrested but Luke now faces a trial for "fighting".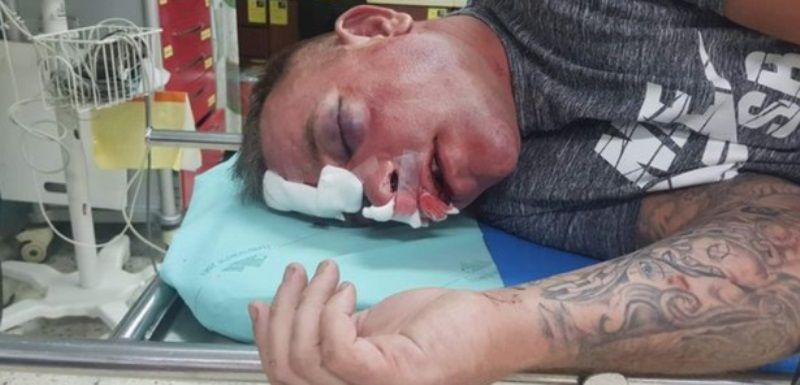 Luke now faces six months of proceedings, along with jail time or a £10,000 (about 375,000 Thai baht) fine.
"I've been told I will have to sit in the dock with the three men who attacked me at my next court date in September. I am so scared they will have me killed. I have PTSD from that night, and I can't stop replaying it in my head."
Luke's passport has been confiscated by Thai authorities and he is unable to return home to see his children.
Luke's family and friends have set up a fundraising page to cover court costs and medical bills, which can be viewed HERE.
SOURCE: Chiang Rai Times | Thai Rath | dailystar.co.uk
Keep in contact with The Thaiger by following our
Facebook page
.
Lamphun monks ahead of the trend to eliminate single-use plastic bags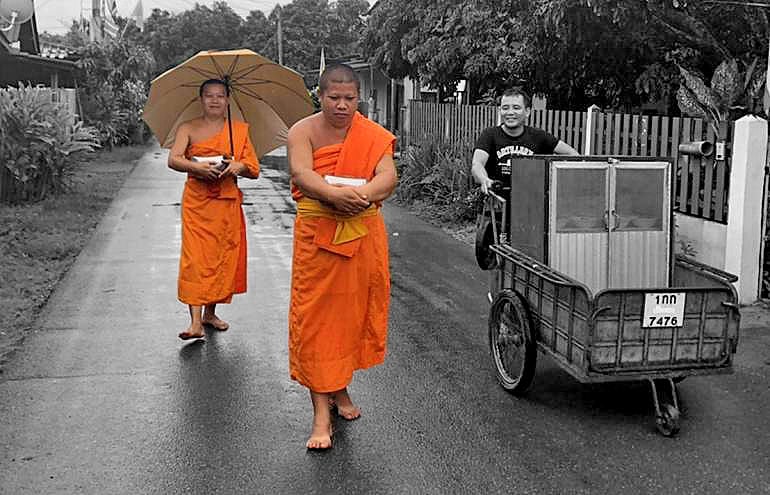 Phra Samutnatthee Suvathato, the deputy Abbot of the Wat Pa Book, in the Pa Sang district of Thailand's northern province of Lamphun, says their temple has been ahead of the trend to reduce the use of plastics for two decades.
Lamphun is just south of Chiang Mai.
They've already been using a portable kitchen cabinet to receive alms from Buddhist disciples for years.
Speaking to Thai PBS, the Abbot says the monks used to carry a Bento lunch box to receive alms from the local community but started using a portable kitchen cabinet placed on a push cart or a tricycle about 20 years ago.
"They say it's more convenient and can carry more food."
The senior monk said that, at first, people put food in plastic bags and gave it to the monks, but he asked them to put food on plates or wrap it in banana leaves. He admitted that, during the initial period, his advice wasn't followed because most people in the neighborhood bought food at the market, because the alms were collected in the very early morning.
So he advised monks at the temple to start their alms round at 7.30am, an hour later, so people had time to prepare food themselves and present it to the monks without the use of plastic bags.
Besides encouraging people in the local area to stop using plastic bags, the deputy abbot said that his monks also work with the people in the area to turn food waste and fallen leaves into compost for cultivation.
SOURCE: Thai PBS World
Keep in contact with The Thaiger by following our
Facebook page
.
65 year old tourist from Finland found dead in northern Thai resort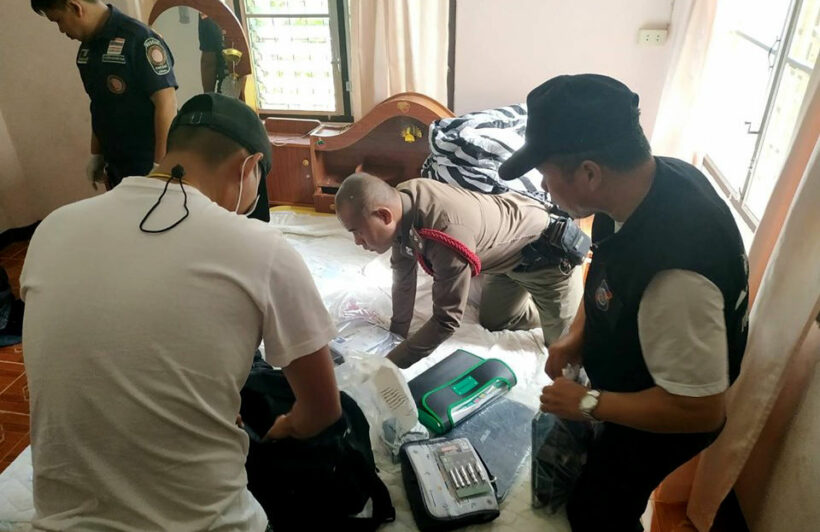 PHOTO: Tourist Police Division 2 กองบังคับการตำรวจท่องเที่ยว 2
A tourist from Finland has been found dead at a resort in Pai, Mae Hong Son, yesterday morning, north-west of Chiang Mai.
The 65 year old, Kari Rajasolo, was found dead in his room by a caretaker at the small resort in tambon Mae Na Toeng about 8am. The resort is situated in the mountainous province in a valley famous for its gorges, hot springs and scenery.
According to the Tourist Police Division 2 the man checked in at the resort on Monday evening.
The manager told police the lights remained on so she knocked on the door to check if he was OK. She eventually opened the door and found the man laying unconscious on the floor.
Police inspected the scene and say they found no traces of a struggle. They also said there were no medications found in their search of the man's room.
The manager told police the man was a frequent visitor to Pai. He usually travelled alone and had stayed at the resort. He arrived in Thailand on Sunday.
Thailand is very popular as a getaway tourist destination among Finns with over 8.2 million visits a year from a population of only 5.5 million.
SOURCE: Tourist Police Division 2
Keep in contact with The Thaiger by following our
Facebook page
.