Krabi locals selling palm seeds to boost income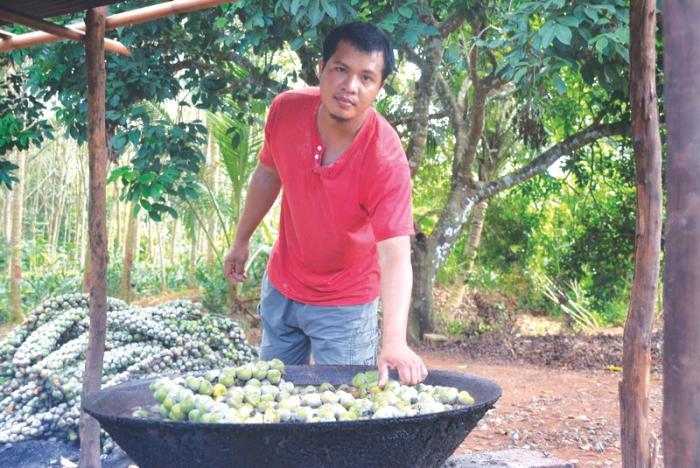 PHUKET: Krabi locals have managed to find a new way to fill up their pockets with extra cash every month by collecting palm seeds (look chok) from nearby forests.
Originally earning a regular income from rubber plantations, an additional income of 15,000 baht per month comes by collecting look chok and using them to make and sell desserts in their communities.
Warakorn Praiphan, 32, told the Phuket Gazette that he and other locals found the look chok seeds in a forest near his community located in Ao Luek District.
"The seeds can only be found once a year during the months of October and November," said Mr Warakorn. "We did not just collect the seeds and sell them off. We picked them out from their shells, developed a syrup using the seeds and made desserts to sell at the community market. Since rubber prices dropped, our regular income through that channel was adversely affected. I used to sell fruit for extra money."
Mr Warakorn says he encountered a look chok seller in a market in Phang Nga, who educated him on how to find and collect look chok in forests.
"I asked the seller for information and when I returned from Phang Nga, I decided to search for them on my own. At first, my final product was not very good; however, it became better with practice."
Mr Warakorn sells each bag for 20-25 baht, which adds up to 15,000-20,000 baht per month.
He also explained how he works in this new-found business. "I crack open the shells and boil the seeds for about 2 hours. I then clean them and put in syrups with Pandan leaves (screw pine) to make the dessert."
— Kritsada Mueanhawong


Do you need help with your business? Are you searching for a new job? Or an employer looking to hire? Try JobCute today.
Unregistered hotels and lodgings told to get their paperwork in order, or close down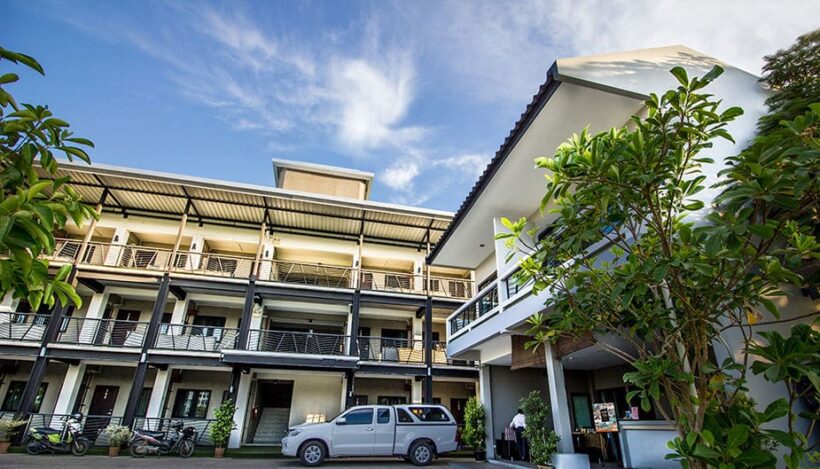 At least 5,000 of the country's estimated 23,000 unregistered small hotels are expected to get their paperwork in order. The rush to action follows the announcement by the current government to register and comply with the Hotel Act, or be closed down.
Most of Thailand's busy tourist spots are rampant with small and illegal lodgings for tourists. Whilst the growth of registered hotels has rushed to keep pace with the rising tourist numbers, so too has been the rise of unlicensed properties in Thailand's hot tourist spots.
The order was made through the controversial Article 44 powers which doesn't provide for debate or parliamentary endorsement. When announced last week the Thai PM said the order was aimed at bringing illegal hotels and accommodation service providers under better control and boost safety and reliability for guests.
The order will require smaller, unregistered accommodations to comply with the same regulations as properly registered hotels – building regulations, room sizes, the amount of fire extinguishers required, fire escapes, standards of accommodation, accounting standards, etc. The government says there will be a period given – up to 90 days – for properties to operate whilst they get their compliance and standards up to date.
Authorities are also reportedly planning amendments of the Hotel Act to bring room-sharing platforms like Airbnb under a legislative framework. Currently the act allows accommodation offerings with less than four rooms to operate without a hotel licence.
A law-firm has, in English, gone through the steps needed for unregistered accommodation to comply with the Hotel Act….
How to obtain a hotel license in due course
A hotel is defined under the Hotel Act 2004 as any business providing paid accommodation for less than a month, irrespectively of the number or capacity of the rooms. Even the smallest villa and a one-bedroom condominium unit can qualify as a hotel under the law. However, the Hotel Act legitimises ministerial regulations to regulate this otherwise.
To successfully apply for a hotel business application, in general, these seven steps are required:
Step 1: Is the business exempted under the 4-20 privilege? An application is only needed if (i) the business qualifies as a hotel and (ii) such hotel is not license-free. Under the Ministerial Regulation 2008, a hotel license is not required if the business
has not more than four rooms on all floors in all buildings,
has a total service capacity of no more than twenty guests,
qualifies as a small business which provides an additional source of income for the owner, and
reports its daily rental business to the government (hotel registrar).
If the business is in-line with these requirements, it is unclear whether it does not qualify as a hotel ("no hotel") or whether it is a license-free hotel business ("type-zero hotel"). The latest court decisions seem to favor the latter interpretation.
Type 0: hotels which are exempted from certain requirements including the need to obtain a hotel business license,
Type 1: hotels providing accommodation only, the number of rooms does not exceed fifty, the size of each room is not less than eight square meters,
Type 2: hotels providing accommodation and catering or restaurant services, the size of each room is not less than eight square meters,
Type 3: hotels giving accommodation, catering or restaurant services, the size of each room is not less than 14 square meters, and which has either conference rooms or entertainment venues which under the Place of Service Act could be a place for dancing, bars, and nightclubs or spa,
Type 4: hotels providing accommodation, catering or restaurant services, conference rooms, and entertainment venues, the size of each room is not less than 14 square meters.
For Type 3 and 4 hotels, no entertainment venues will be allowed unless these hotels have more than 80 rooms, are located in entertainment areas, or serve food, alcohol or entertainment only, and have opening hours after midnight.
You can read a full explanation about compliance with the Thai Hotel Act HERE.
Thailand's exports plunge 5.8% in May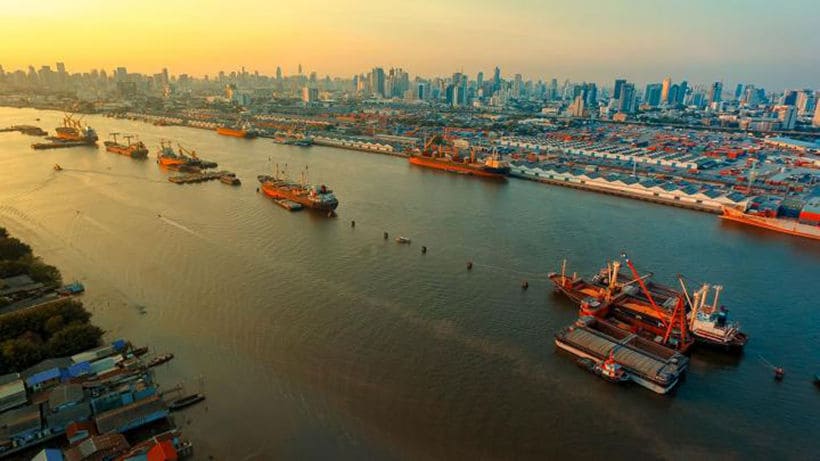 Thai exports have declined 5.8% for the month of May 2019. The value of May's exports is 648 billion baht.
The Commerce Ministry says in their report today that the contraction is mostly influenced by global factors including ongoing trade tensions between US and China and tighter global financial conditions, and specific factors of each country and region, political uncertainty in the EU and the unresolved Brexit in the UK.
"However, the effects on Thai exports are relatively less than those on other Asian countries" say the Commerce Ministry.
Thai exports still performed sturdily in main markets namely US and India and expanded in rising markets such as Canada, Russia and CIS (the post Soviet states).
Private hospitals briefed on new drug prices and medical fee notifications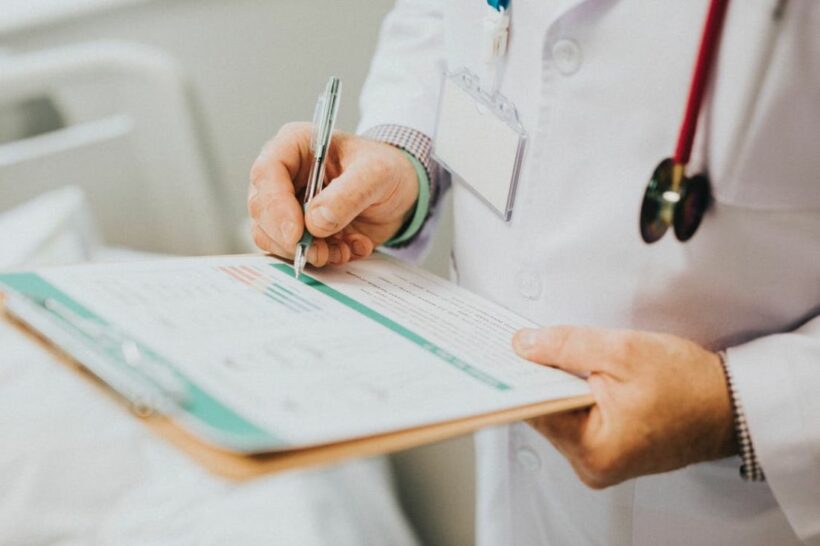 Internal Trade department officials have briefed representatives of 353 private hospitals around Thailand about the public notification of prices of drugs, medical supplies and medical services to patients are treated at their hospitals.
Internal Trade Department Director General Wichai Phochanakit explained that the private hospitals need to notify the public of the prices of drugs separately, not including the hospital room, air-conditioning or pharmacist fees.
Thailand's private hospital industry is under the gun after years of complaints from patients who have made official objections to price gouging for services, over-charging and extortionate drug prices. Story HERE.
Some of Thailand's private hospitals have been reported to charge the prices of drugs 8,000-16,000% higher than the average prices. The private hospitals are currently required to submit the buying and selling prices of drugs to the Department of Internal Trade by July 12.
The prices will be displayed on the department's website while a QR Code will be provided for people to check the prices at the private hospitals.
The department is not yet taking measures to enforce the setting of the maximum prices of drugs, though some private hospitals may have already overcharged them.
The Department says the maximum prices of drugs might have to be legally enforced if those hospitals continue to overcharge. Any change in the prices of drugs is to be publicly notified 15 days in advance so that the new prices will be updated online.
The hospitals are to notify the fees for initial medical treatment, so patients can decide in advance. That is in line with standard procedures of the World Health Organisation.
SOURCE: National News Bureau of Thailand