Insights of a veteran hotelier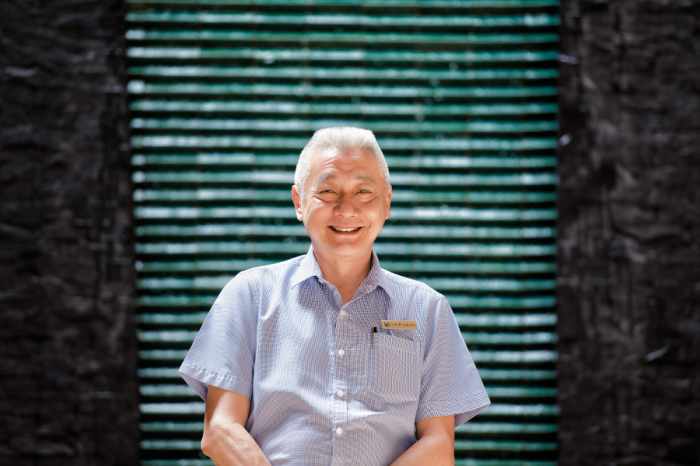 At 59 years young, Gerard Tan has some years behind him, but he doesn't let that slow him down.
"We should go out and drink one night," says Tan as he settled down to a strong coffee in the courtyard of the Millennium Resort Patong.
However, he can't be blamed for his festive mood. After a seven-year stint as the general manager (GM) of the serene Racha resort on Koh Racha, he traded in the tranquility for the more raucous surroundings of the Millennium Resort Patong eight months ago. The fact that he just secured a powerful position at a huge resort in Sabah, Malaysia, adds even more motivation to celebrate.
Although Gerard is celebrating his lucrative new position, his history in Phuket reaches back 25 years, which adds a pang of sadness as he says goodbye to a quarter century's worth of friends.
Starting out waiting tables as a 16-year-old in Singapore, Gerard's is a classic tale of an ambitious, young, hard-working man fighting his way up the hospitality ladder.
"I started in the hotel industry at the age of 16 and became a food and beverage manager at age 28 or 29," recalls Gerard.
While on holiday in Phuket, Gerard got the idea to invite chefs, culinary artists and Thai boxers to the Boulevard Hotel to host a Thai food fair and cultural attraction.
Next thing he knew, Gerard was invited by the Phuket Island Resort to revamp their food and beverage department, this post was followed by a string of GM positions at The Crown in Nai Yang, Baan Thai in Patong, The Racha and finally the Millennium Resort Patong.
"Someone gave me an offer I couldn't refuse as deputy CEO of an integrated resort complex in Kota Kinabalu, Sabah. It is a big property, about 380 acres with two hotels – five-star – 500 rooms each, 27-hole golf course with a golf club, a marina that can accommodate 105 boats, a condo and a clubhouse.
It's a very big challenge for me," exclaims Gerard with confident enthusiasm.
On July 15, after 22 years as a GM, Gerard will step into a new set of shoes at the Sutera Harbour Resort located in the northern part of Malaysia owned Borneo. There are currently four GMs operating at the sprawling five-star resort which is owned by renowned Singaporean businessman Sam Goi Seng Hui.
The hospitality industry isn't quite the same as it was when Gerard first found himself here.
"Twenty-five years ago, as a hotelier, you held the ace because there was no competition… you didn't have any of the international branding that exists here. Now, the client holds all the aces."
Gerard is quick to confirm what many others are predicting for the future of the hospitality industry in Phuket – an over-saturated market.
"The best of the best will be the only ones that survive, and it will also depend on the market segment of the clientele. If a hotel is running below 100 rooms, it's not [going to be] easy for them, they can focus only on couples, backpackers – especially those who don't cater to a niche market. For those who have 200 rooms and above – it's the location, the name of the property, the branding, the service, the facilities and amenities that can draw more groups."
Gerard is not one to second-guess himself. When asked about the difficulties he has dealt with in his tenure in the business, he is quick to answer, "In the hospitality industry, the biggest challenge I face is customer satisfaction. Sometimes you get real rotten apples and everyone wants to see the GM."
But he knows every problem can be solved, "We just have to balance it correctly and to be fair and to see where the fault lies. You see, it's not the discount or the money value or complimentary dinner, it's how you show to the clientele that as the general manager, that you are focused and that you take great interest in listening to their problems or their issues and you try your best to solve them."
Sometimes in life, it's possible for people to ride the wake created by their attitude and reputation. Gerard is a case in point – he has never applied for a job. All of his employers have searched him out and he credits that fact to his approach to life and work.
"In every job, it is very important to base it on your inner personality, your strength – and your strength is always your values – your integrity, your honesty, your sincerity, your willingness to listen and motivate. Through this strength, you will gain respect and through respect is how you will get things done.
"If your staff doesn't respect you, you can be the most intelligent general manager and never get anything done. I think that is the nature of the beast. That is what I was taught by my parents at a very young age."
In addition to his philosophy, resorts search out Gerard because he has a proven track record. In 1996, he was the first foreigner to receive the Best Management and Employee Relationship Award from the Thai Ministry of Labour, and also helped The Racha resort earn multiple international awards, including "Top 10 Best Beach Resorts in South East Asia" by Asia Tatler Magazine in 2012.
Although Gerard is celebrating his next opportunity with a tinge of sadness, he maintains his positive outlook, "I think life is short so make the best out of it. What is most important is do what makes you happy."
— Jeremie Schatz

Join the conversation and have your say on Thailand news published on The Thaiger.
Thaiger Talk is our new Thaiger Community where you can join the discussion on everything happening in Thailand right now.
Please note that articles are not posted to the forum instantly and can take up to 20 min before being visible. Click for more information and the Thaiger Talk Guidelines.