Team NOT tranquillised – PM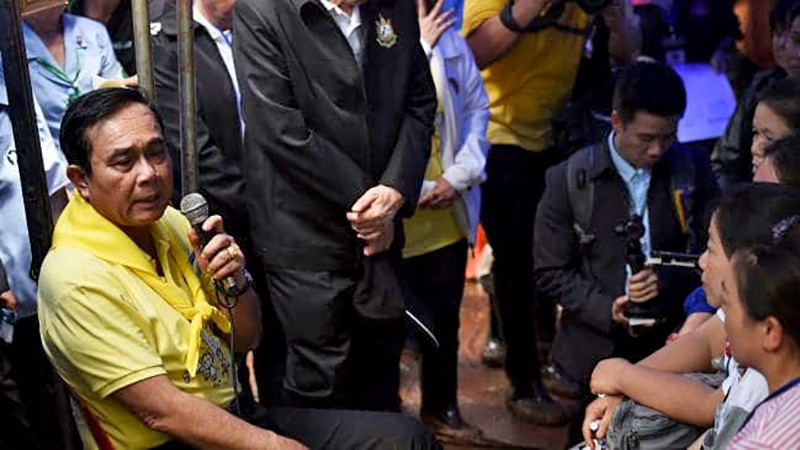 Let's put this story to sleep.
The PM Prayut Chan-o-cha denied that the young footballers trapped in Tham Luang cave were tranquilised before setting out on the journey through the convoluted cave system to freedom. He did, however, admitted that they took an anxiolytic, a drug to relieve anxiety.
Anxiolytic drugs are commonly used before general anaesthetics or in treatments where facilitators or patients wish to reduce the level of anxiety. The patient remains fully awake.
There was speculation floating around that since all of the 13 survivors had no diving experience and most cannot swim or dive, their escape from the caves could be a frightening experience. So they might have to be given tranquilisers before embarking on the high-risk journey.
Speaking after the weekly Cabinet meeting yesterday, Gen Prayut quashed the speculation that they had been administered tranquillisers to put them to sleep.
"Who would chloroform them? If they're chloroformed, how could they come out? It's called anxiolytic something to make them not excited, not stressed," the PM said.
Gen Prayut also hailed the rescue mission as a success for both Thai and international rescue team members.
"We defied advice against having them dive their way out of the cave. We have done it successfully. We all should be proud of that," he said.
The PM said he will send notes of thanks to all the governments and organisations that contributed to the rescue mission.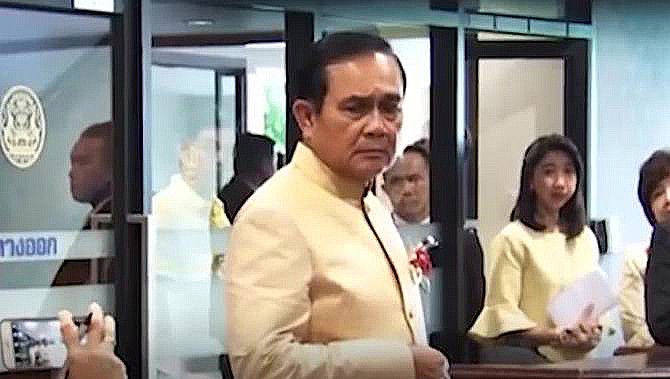 SOURCES: Thai PBS, news.com.au, Chicago PBS
- The Thaiger
Officials seize decorative corals in Chatuchak, Bangkok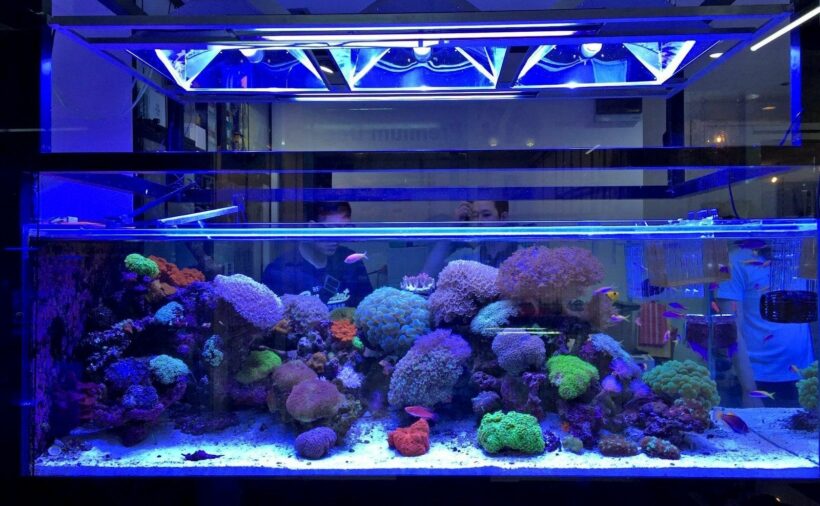 Thai PBS are reporting that police and officials in Bangkok have swooped on shops in Chatuchak, in Bangkok's northern suburbs, and seized a substantial haul of decorative corals and coralline algae.
A member of the Yiew Dong (forest hawk) task force of the Department of National Parks, Wildlife and Plant Conservation, said the Ministry of Natural Resources and Environment received lots of complaints from the public about several shops in the Chatuchak area selling banned marine products such as corals and coralline algae as well as protected wildlife species.
With search warrants issued by the Criminal Court, members of the task force, police and officials launched a coordinated raid, targeting three shops suspected of harboring the illegal items.
At one shop, reportedly owned by 24 year old Ms Supatra Saengkham, officials found nine packs of hard corals and 15 soft coral packs.  Police say the shop does not have a permit to possess or trade in these items.
At the second shop, Khun Nuwat, from the Yiew Dong task force, said the shopowner shuttered the shop and escaped before the arrival of the raiding party.  Nevertheless officials used a bolt cutter to cut the lock and entered the shop where they found 29 hard coral packs.
Three more soft coral packs were found in the third shop and its owner, Mr Sikharin Siriboon admitted he owned the corals but could not produce any official permit.
Khun Nuwat said that most of the corals would be sold to aquarium tropical fish enthusiasts at between 20-500 baht for a small pack.
SOURCE: Thai PBS


Bangkok driver threatens woman with machete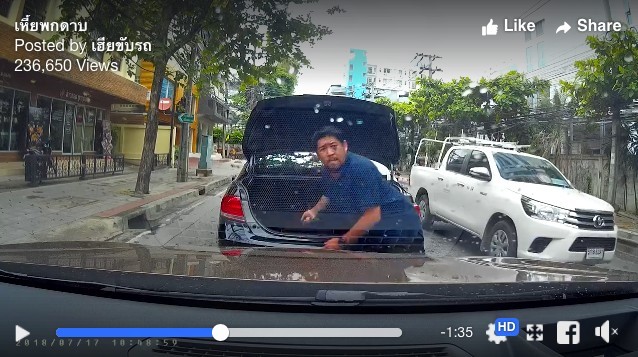 "The clip shows a man at the wheel of a black Toyota Camry, repeatedly trying to cut in front of a car whose dashboard cam is recording the incident, by driving against the traffic."
Netizens are condemning a male driver caught on video threatening a female driver with a machete after he drove against the traffic to cut in front of her car.
According to the date stamped on the clip by the woman's dashboard camera, the incident took place yesterday (Tuesday) at 10am on a Bangkok road with two lanes on each side.
The clip was first posted on YouTube by a woman, who has withheld her identity, explaining only that the woman driver was a friend of her mother's and that she had filed a complaint with police.
The clip went viral after it was later shared by popular Facebook page Hia Kub Rot. By 8am on Wednesday, 12 hours after the clip was shared on the page, it had been viewed more than 178,000 times and shared more than 37,000 times. It received over 4,600 reactions and 1,300 comments, most condemning the man.
The clip shows a man at the wheel of a black Toyota Camry, repeatedly trying to cut in front of a car whose dashboard cam is recording the incident, by driving against the traffic.
The man finally managed to complete the illegal overtaking manoeuvre after they drove through an intersection. He then stopped his car, exited, opened the trunk and pulled out the large knife. The dash board video shows him walking towards the woman's car before he disappears from shot. The person who posted the YouTube clip said he then tried to open the door before giving up, walking back to his car and driving off.
เอ้าาา คนเก่งกับผู้หญิงซะด้วย ถือว่ามีดาบมีมีด มึงไม่พอใจใคร มึงจะไปกระชากประตูรถคนอื่นจะฟันจะแทงเค้าดื้อๆ คือมึงย้อนศรเลนคนอื่นเค้า แล้วจะมาแทรกคนอื่นแบบหน้าด้านๆ พอเจอปิดทางไม่ให้เข้าเสือกหัวร้อน อยากเด่น อยากดัง พ่อคนเก่งกล้าห้าวหาญ กูจัดให้งามๆเลย ปักหมุดไว้ด้วยยาวๆเลย หน้าชัดๆ ทะเบียนชัดๆ กล้องชัดๆแบบนี้ กูหล่ะชอบมากกกกกกกกก อยากรู้จริงๆ ตอนโดนตำรวจลากคอ ออกหมายศาล โดนประกาศจับข้อหาใช้อาวุธข่มขู่ หรือพยายามฆ่า มึงจะเก่งสักแค่ไหน เดี๊ยวก็ออกมาหงายการ์ด "รู้เท่าไม่ถึงบึงกาญ" หงอเป็นตัวเหี้ยน้อย คลิปนี้กูหมั่นไส้แม่งเป็นการส่วนตัวเลย กราบพวกมึงหล่ะ แชร์ออกไปเยอะๆเลย——————————วันนี้คุณ​แม่เพื่อนขับรถไปส่งหลาน เจอผู้ชายคนนี้มาแทรกค่ะ ไม่ให้เข้า พอเค้าแซงได้จอดรถลงมาเอามีด แล้วเดินมากระชากประตูรถคุณแม่ นี่ลงบันทึกไว้แล้วฝากแชร์หน่อยนะคะ ขอบคุณ​มากค่ะCr : เจ้าของคลิปไม่ขอเอ่ยนาม

Posted by เฮียขับรถ on Tuesday, July 17, 2018
STORY: The Nation
Ex-insurance broker arrested for alleged 10 million baht credit card scam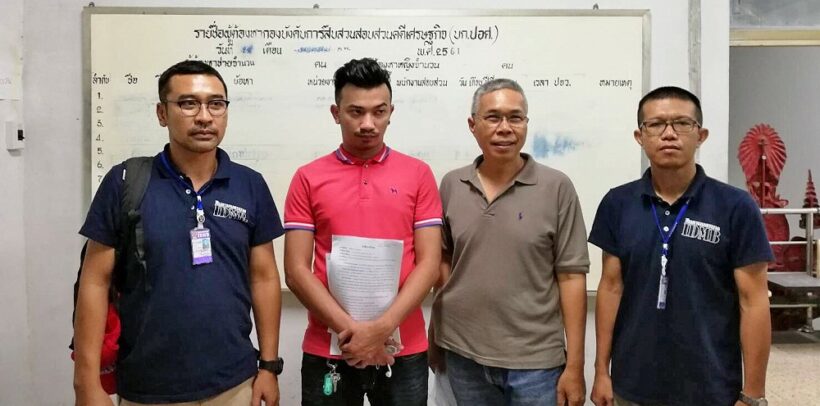 A 27 year old former insurance broker has been arrested along with information on approximately 20,500 credit-card accounts, some of which Police allege he used to make online purchases. Police estimate the amounts involve more than 10 million baht over recent years.
Officers from the Metropolitan Police's Intelligence Analysis and Special Tools Sub-Division cooperated with Bank of Ayudhya's investigation and anti-fraud division to conduct a probe that led to the arrest of 27 year old Piraeus Krutthaphan.
Police say Pirayut had been arrested at his apartment on Soi Inthamara 44 in Bankgok's Din Daeng district early Monday. He was arrested under a warrant issued by the Criminal Court on June 13 on charges of using other people's electronic cards to cause economic damage.
Police say Pirayut had acquired credit-card numbers, ID card numbers, mobile phone numbers and creditcard expiry dates from a friend, who used to work as an insurance broker for Bank of Ayudhya. Pirayut also used to work as an insurance broker and knew all the tactics for deceiving owners for credit cards into providing him with the three digits on the back their cards – crucial data required for completing online purchases.
"Piryaut had disguised himself as a bank or insurance official and telephoned the owners of credit cards, whose data he had purchased from his friend, to deceive them into giving up the three digits. He mainly told his targets that he needed the three digits in order to extend their insurance policies."
The police commander explained that Pirayut had recently used the stolen credit-card data to make online purchases worth 3 million baht, but it was believed that he had caused damage of more than 10 million baht through his scam during the past several years.
Pirayut was arrested back in April and had been released on bail pending his trial, but he had allegedly committed the same crime again, he added. Police have yet to arrest the friend who sold the credit-card data to him.

SOURCE: The Nation