Saudi teenager allowed to stay in Thailand, for now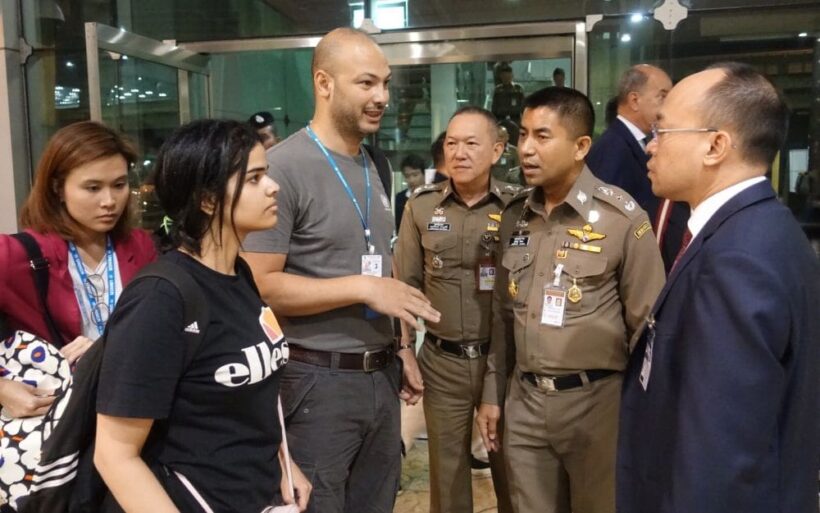 A Saudi teenager who flew to Thailand to escape her family in Kuwait will be allowed to stay in the country for now.
Thai officials ended up in diplomatic hot water yesterday after government officials initially said they planned to deport a Saudi teenager who was stopped in Bangkok, en route to Australia to seek asylum, drawing objections from the international community, netizens and rights advocates.
Deputy PM Prawit Wongsuwan spoke about the matter insisted that 18 year old Rahaf Mohanned al-Qunun had to be sent back to her family despite her claims that they had abused her and would kill her when she returned.
Immigration chief Surachate Hakparn initially agreed but later said at a press conference that al-Qunun would not be forcibly deported after all.
"If deporting her would result in her death, we definitely wouldn't want to do that."
Al-Qunun was detained on Saturday during transit at Suvarnabhumi Airport, Surachate claiming she had no visa to enter Thailand. Al-Qunan told rights groups and reporters that a representative of the Saudi embassy in Bangkok had intercepted her at the airport and seized her passport.
The teenager said she wanted to avoid a forced marriage arranged by her family, whom she accused of physical and psychological abuse. She departed from Kuwait, bound for Australia, while the family were travelling.
She said she was "100 per cent sure" her family would kill her if she was sent back.
The Nation reports that Thai-Saudi relations have been strained ever since a major ruction over a Thai migrant worker's theft of a diamond from the Saudi royal palace and the assassinations of Saudi diplomats in Bangkok in 1989-1990. Several attempts have since been made to normalise relations, none successful.
Foreign Ministry spokesperson Busadee Santipitaks said the ministry had no advance notice of plans to turn back al-Qunun.
"The case is under the jurisdiction of the Immigration Bureau under the 1979 Immigration Act," she said. "This action was taken according to the law and related regulations."
Having barricaded herself in a hotel room at the airport, al-Qunun has been keeping followers updated about her situation via tweets, videos and interviews with foreign media outlets. The Twitter account, which appears to be managed by more than one person, has issued appeals to foreign diplomats for help, as well as to US President Donald Trump.
In one video posted last night from her hotel room, she refused to leave her room until she could meet with representatives of the UN High Commission for Refugees. Photos tweeted showed a mattress jammed up against the room's main door, blocking entrance.
UNHCR spokesperson Caroline Gluck told The Nation that access had been granted to the agency to assess al-Qunun's need for its protection. After the two hour meeting, the teenager left the airport hotel under the care of UN. She was allowed to stay in Thailand for five days while the UN was considering her asylum request, said immigration chief Surachate.
The agency maintains that refugees and asylum seekers – whether confirmed to be in need of its protection or claiming to need it – cannot legally be returned to their countries of origin, the UNHRC said in a statement, citing the principle of "non-refoulement".
The principle prevents states from expelling or returning persons to a territory where their life or freedom would be threatened. It is enshrined in treaty obligations to which Thailand is a signatory.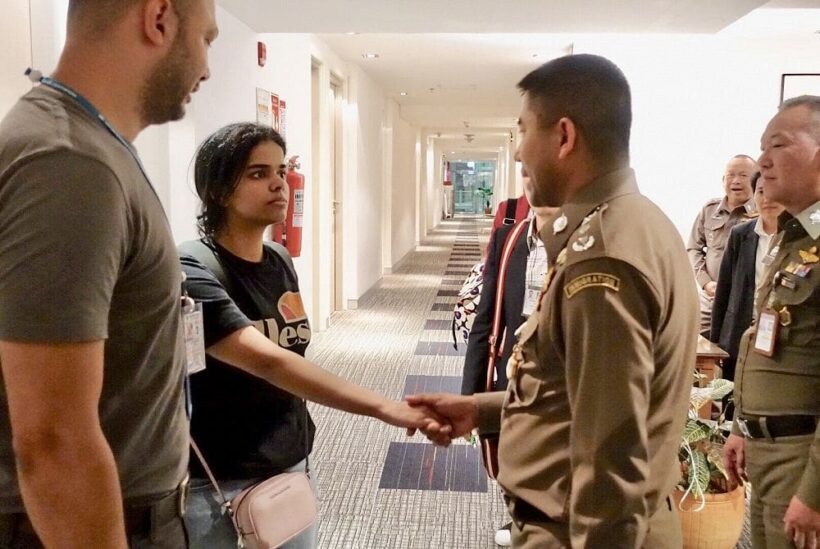 SOURCES: The Nation, CNN
Keep in contact with The Thaiger by following our
Facebook page
.
Never miss out on future posts by
following The Thaiger
.
2 Thai protest leaders immediately re-arrested after being released on bail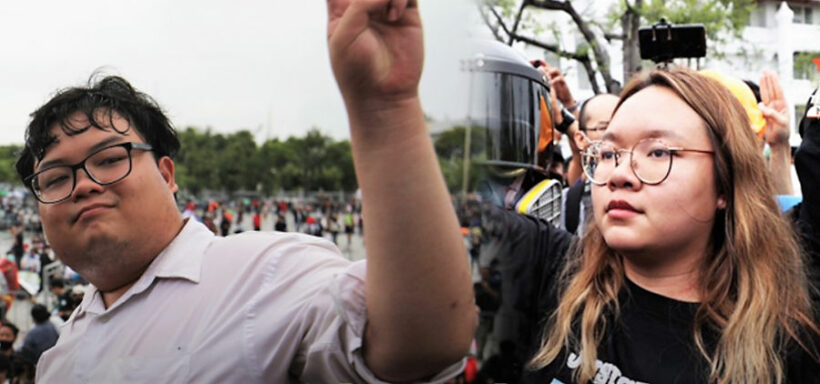 Authorities have re-arrested 2 of the leaders at the centre of anti-government protests right after they were granted temporary release on bail. Panasaya Sitthijirawattanakul, known as "Rung", and Parit Chivarak, aka "Penguin", were released yesterday from Patum Thani prison, north of Bangkok. They were being held on charges of violating the emergency decree and released alongside fellow protester Nutchanon Pairote, after Thammasat University professors paid bail of 200,000 baht for each of them.
What is the meaning of the 3-finger salute? Watch below…
But they were promptly re-arrested on the basis of another warrant issued by police in the Bangkok sub-district of Chana Songkhram, this time charged over another mass gathering in violation of the emergency decree. They are being held pending another detention request being filed by police with the Dusit Municipality Court in the capital today.
It's understood fellow activist, Nutchanon Pairote, who was apprehended alongside Panasaya the first time, and also released on bail, has not been re-arrested. He says protesters are celebrating after Cabinet approved a debate on re-drafting the Constitution.
"It is our first victory. We still cling to our 3 core demands in order to make Thailand a truly democratic country. If there is another gathering tomorrow, I will insist on going as I can't leave any of my friends out there who are dedicating their time to fight for the country."
SOURCE: The Pattaya News
Keep in contact with The Thaiger by following our
Facebook page
.
Never miss out on future posts by
following The Thaiger
.
From 40 million visitors to 41: first STV tourists arrive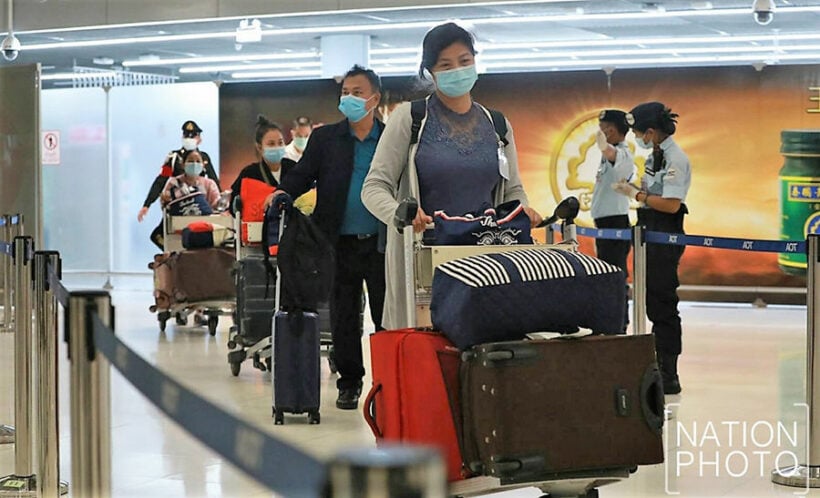 In 2019, almost 40 million tourists arrived in Thailand. Yesterday, it was 41. As the Thais say, cha cha… Thailand is slowly, slowly, re-opening its borders after the Covid-19 pandemic forced a total shutdown in March. Yesterday, the Kingdom welcomed its first tourists in 7 months, with the arrival of 41 Chinese tourists from Shanghai. The group landed at Bangkok's Suvarnabhumi airport on a chartered flight laid on by Spring Airlines, a low-cost Chinese carrier.
The visitors are here on the recently-launched Special Tourist Visa and upon touchdown, had to download a special app to track their movements while in Thailand. Yuthasak Supasorn, governor of the Tourism Authority of Thailand, also confirmed they will carry out 14 days' quarantine, before they are free to travel around. The STV grants them a stay of up to 90 days and can be extended twice.
"Most of them planned to visit the beach and they already reserved hotel rooms."
For anyone wishing to apply for the STV, your first port of call will be your local Thai Embassy and this website. Good luck!
Meanwhile, the southern island of Phuket had been expecting to welcome around 120 Chinese tourists on October 8, but that visit never materialised, with various reasons given for the delay. Some officials pointed to the island's legendary vegetarian festival, which is currently underway, saying they did not want to deter domestic tourists who might be afraid of an increased risk of the virus from 'tourists'. Others said it was simply because officials on the island wouldn't have the manpower to deal with both events. And others still pointed to the small matter of nobody having applied to come.
The STV scheme appears to be finally up and running however, even if Phuket appears to have been left out of the picture for now. Yuthasak confirms another 147 Chinese tourists are scheduled to land at Suvarnabhumi on October 26, adding (very optimistically) that they're expected to spend around 800,000 baht each while here.
Thai Airways has also confirmed it will bring 120 visitors from Shanghai to Bangkok on October 28. This group will consist of various categories, including tourists, repatriating Thais, and others arriving on 'medical' visas (people can apply to come to Thailand for various medical procedures).
In 2019, the Chinese made up the vast majority of foreign arrivals in the Kingdom, at around 10.99 million, just over a quarter of the total number of international tourists. Yuthasak is hopeful the return of international visitors is the beginning of the tourism sector's recovery. It's almost certain there's a very long and winding road ahead.
SOURCE: Bangkok Post
Keep in contact with The Thaiger by following our
Facebook page
.
Never miss out on future posts by
following The Thaiger
.
Man arrested for growing 108 cannabis plants in Samut Prakan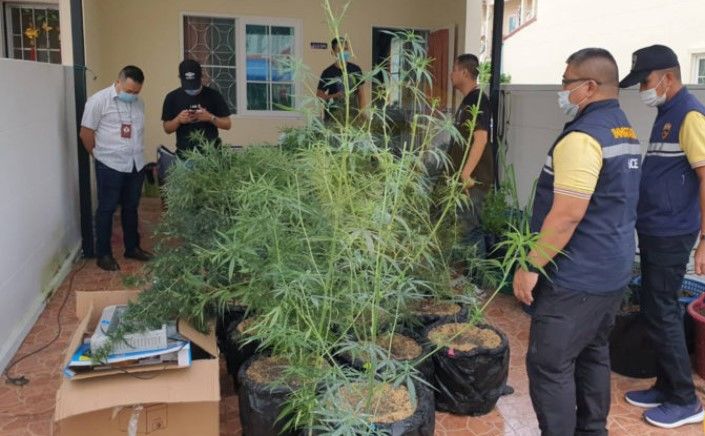 Police arrested an Argentinian man for growing cannabis at his house in Samut Prakan, just southeast of Bangkok. 35 year old Sagas Nur told police he planned to produce cannabis oil.
Medical marijuana is legalised – with limitations – while recreational marijuana is still classified as a category 5 narcotic. Sagas is facing charges of producing a category 5 narcotic. He could face 2 to 15 years in prison and a fine of up to 1,500,000 baht.
Police were tipped off about Sagas' alleged growing operation. They searched the house and say they found 108 cannabis plants that were about 1.5 metre high. Sagas allegedly told police he bought the seeds online with the intention to grow plants and then produce cannabis oil.
Thailand legalised medical marijuana in 2018, becoming the first country in Southeast Asia to do so. Recreational marijuana trafficking and operations continue to be busted by police while the government studies medical marijuana with plans to tap into the global market. The Public Health Minister Anutin Charnvirakul even helped plant cannabis seedlings at a government-run facility with 1,300 plants.
SOURCES: Bangkok Post | South China Morning Post
Catch up with the latest daily "Thailand News Today" here on The Thaiger.
Keep in contact with The Thaiger by following our
Facebook page
.
Never miss out on future posts by
following The Thaiger
.