Khao San Road vendors defy BMA's ban on sidewalk trading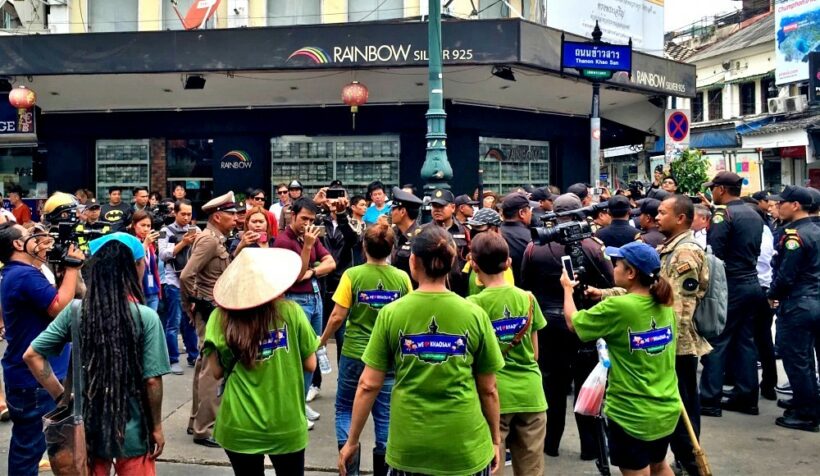 By Kornwaree Panyasuppakun
"We will open and close our footpath stalls at the regular time."
Bangkok's Khao San Road street vendors are defying the BMA's ban on footpath stalls.
City Hall has decided that the footpaths must be 'returned to the people' and that market traders are going to have to restrict their sales from 6pm – midnight, instead of the all day trading they've been providing to tourists in the past.
About 70 per cent of stall owners started setting up their stalls after a symbolic street clean in the morning marked the beginning of the ban. The Bangkok Administration's order to regulate Khaosan Road prohibits sidewalk vending and allows time for carts and stalls to operate on the road only from 6pm to midnight.
Bangkok deputy governor Sakoltee Phattiyakul ordered the ban on pavement stalls after City Hall received complaints that they were encroaching on the pavement in the busy tourist area. Before the ban, pedestrians had to venture out into the traffic during the day, while at night an influx of tourists and vendors had turned the street into an unofficial walking street.
– at midnight, 1am, or 2pm as we always do," said Chonnapah Teansawang, coordinator of the Khaosan Road Street Vendors Association.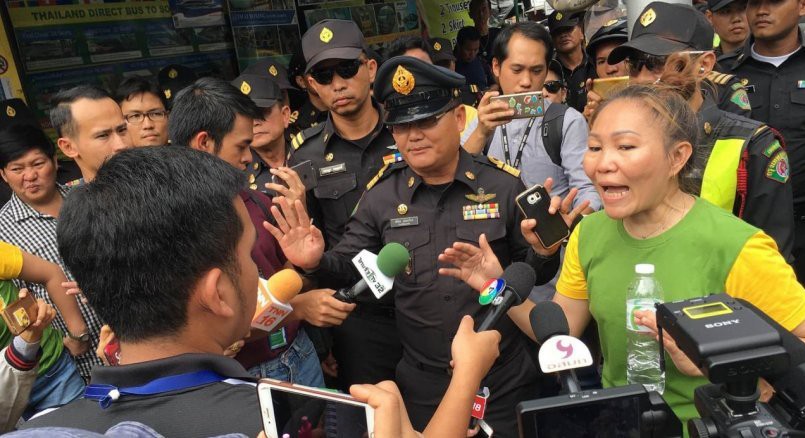 Yada Pornpetrumpa, the president of Khaosan Road Street Vendors Association, speaks to reporters in the presence of city police as vendors defy the order from the BMA.
Yada Pornpetrumpa, the Association's president, said about 200 – or 70 per cent – of all stall owners had decided to defy the city's order and trade as they'd always done. According to several vendors, officials took pictures and collected names of the offending stall owners as evidence and announced that the offending stall owners would face legal action as such trading was against the Public Cleanliness and Orderliness Act 1992.
According to Yada, shop owners may face an "extra" penalty for their protest because officials had threatened to ban them from occupying spaces on the street at night, she said.
"If the city strictly enforces the law, we could legally 'move' the vendors from the pavements but we don't want to ruin the image and tourism of Khaosan Road," said the deputy governor.
During yesterday morning's clean-up, Sakoltee oversaw Bangkok administration's officials as they and the street vendors cleaned the street and removed blockages from the sewerage system. The clean-up followed complaints from vendors that setting up stalls on the street was "dangerous".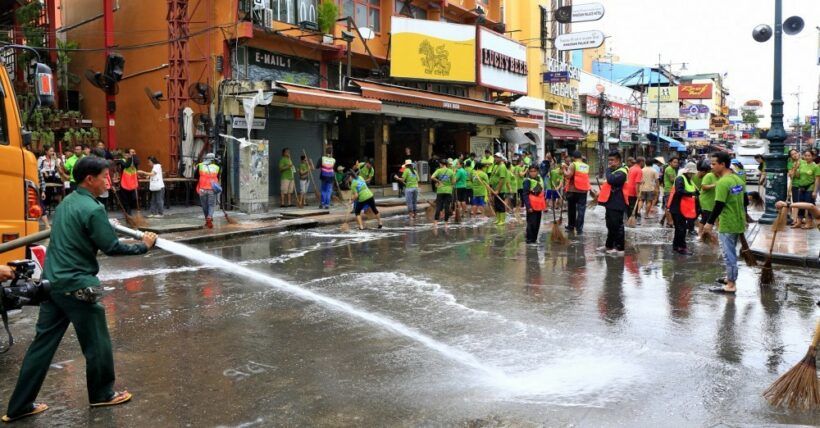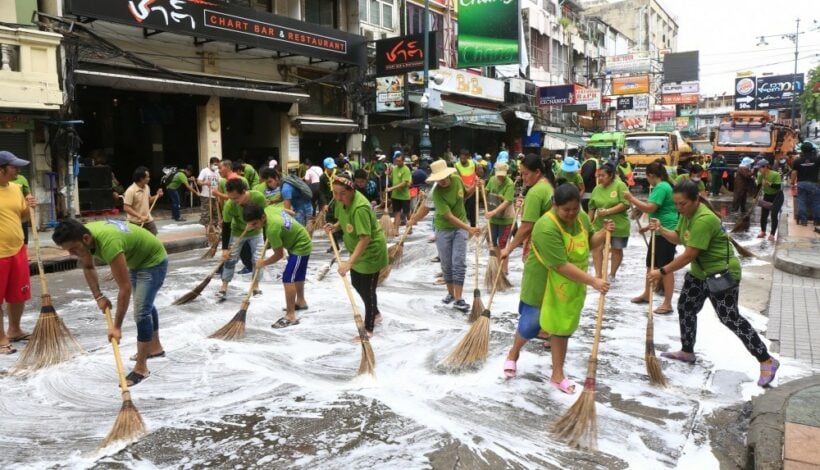 "Heavy rain and clogged sewers often caused flooding on Khaosan," said a street vendor, speaking on condition of anonymity.
"I think driving stalls down the road may lead to accidents like a short circuit and even electrocution."
The clogged sewers were dealt with … but many problems remain. In an interview with Thai Time 4.0 radio, the deputy governor said the plan to turn Khaosan Road into a night market destination had encountered problems as the Metropolitan Police Bureau refused to "legally" block traffic from Khaosan Road from 6pm until midnight.
On the other hand, Chanasongkram Police Station Superintendent Pol Colonel Chakkrit Chosoongnoen said City Hall should have discussed their plans with the Metropolitan Police Bureau before announcing the order.
During the day, according to Yada, tour operators often drop tourists at Khaosan after visiting the Grand Palace. Also, regulating Khaosan Road may affect souvenir businesses and hotels in Khaosan, said Nache Aree, a shop-and-stall owner who had been trading handmade bags in Khaosan Road for over 14 years.
SOURCE: The Nation
Keep in contact with The Thaiger by following our
Facebook page
.
Tax on salt content being considered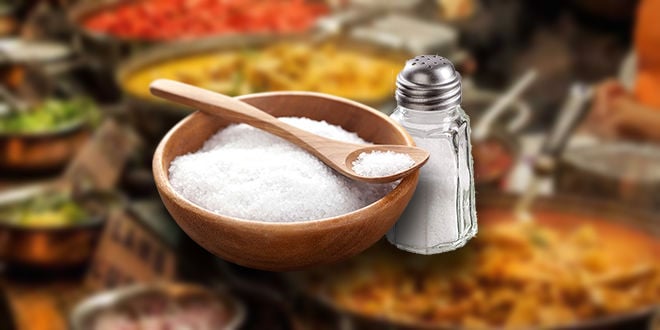 The Excise Department is considering imposing a tax on the salt content of food to encourage food producers to reduce the sodium content of snacks, instant noodles and seasoning cubes.
The director of the Office of Tax Planning said that the department is discussing a limit on the amount of sodium food can contain, in line with the standard set by the World Health Organization (WHO), which is 2,000 milligrams of salt per day.
In reality, Thai people consume an average of 1,000 milligrams per meal, making their daily intake well above WHO guidelines, according to the director.
He said any tax imposed would be at a level which would encourage food producers to reduce the sodium in their processed food without being punitive, adding that the proposal isn't intended to generate more tax revenue, but to help protect the health of consumers. Excessive sodium in the diet can lead to high blood pressure and kidney disease.
Fish sauce, soy sauce and salt would not be taxed.
SOURCE: thaipbsworld.com
Keep in contact with The Thaiger by following our
Facebook page
.
Army chief not planning a leap into political life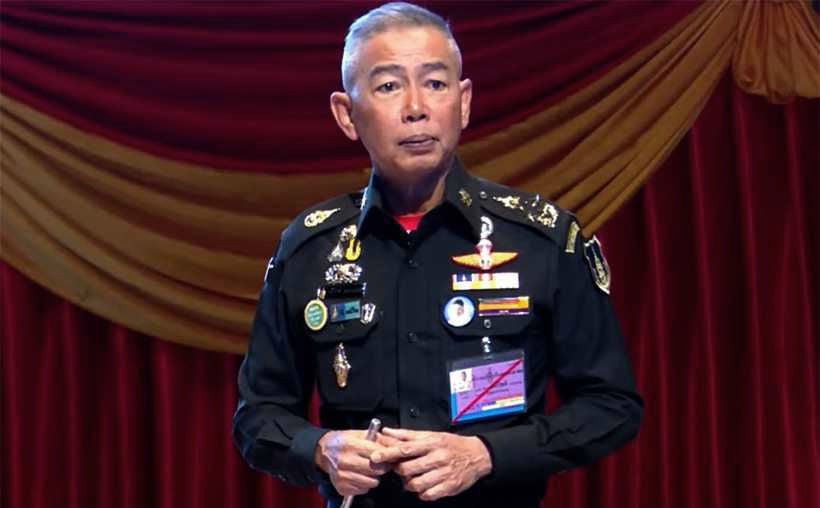 Army chief General Apirat Kongsompong will have to wait for two years after he retires before he can run for PM, the Deputy PM Wissanu Krea-ngam has declared – while Apirat himself claims it's not even something he's considering.
The Nation reports that Prawit Wongsuwan, another Deputy PM, had suggested that Apirat should be Thailand's next PM, but Wissanu insists this could not happen immediately.
"Apirat is not qualified to be the prime minister because he is a government official and when he retires as Army chief, he will no longer be a senator. According to the Constitution, he has to wait for two years after he retires if he wants to take a position in the Cabinet."
Apirat claims that a move into politics is not something he's interested in at this time. Earlier this month, while speaking on the topic of national security, he controversially stated that he was opposed to the efforts to change the junta-sponsored Constitution.
This prompted academics and opposition politicians to accuse him of meddling in politics, with the PM having to defend him, saying Apirat just wanted what was best for Thailand.
Some are viewing Prayut's defence of the Army chief as paving the way for Apirat to become his successor when his term in office ends.
SOURCE: nationthailand.com
Keep in contact with The Thaiger by following our
Facebook page
.
Noble consort has Royal titles removed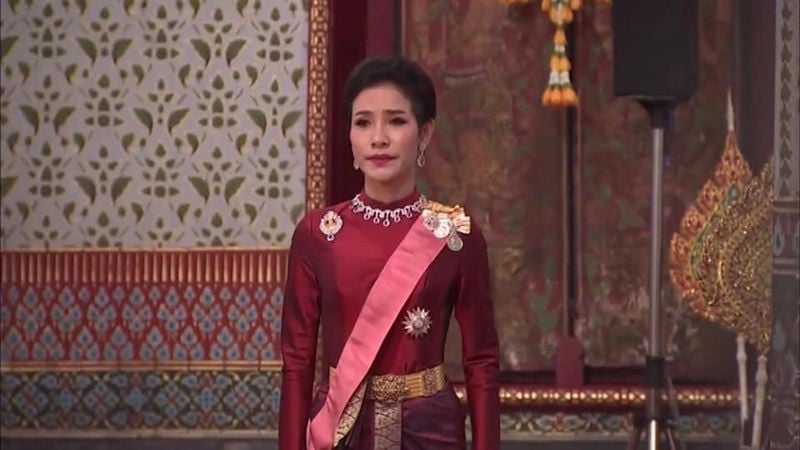 The Nation reports that Sineenat Wongvajirapakdi has had her "noble consort" (Chao Khun Phra) title removed by King Rama X along with her military rank.
Yesterday, The Royal Gazette reported that His Majesty King Maha Vajiralongkorn Phra Vajiraklaochaoyuhua had recalled Sineenat's Royal citing undesirable behaviour and disloyalty to the Royal Family.
It also reported that Sineenat had been opposed to the appointment of Queen Suthida and had also used Their Majesties' names to issue orders that personally benefited her. It's understood she also engaged in activities for which she did not have His Majesty's approval, causing confusion among the general public.
SOURCE: nationthailand.com
Keep in contact with The Thaiger by following our
Facebook page
.