Finnish man arrested over Suvarnabhumi bomb threat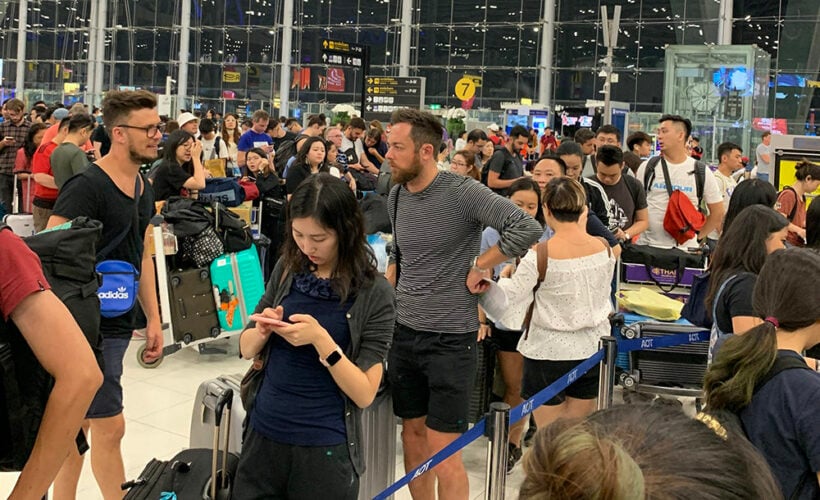 PHOTO: Skytrax
Police report that an investigation has been opened into a bomb threat made to Suvarnabhumi International Airport. A man remains in detention over the matter. The threat was made on the evening of January 1, with a call implying that a bomb had been placed inside the airport The airport regularly receives bomb threats, and has security protocols in place to protect the public.
Officials found nothing suspicious relating to the threat, but managed to trace the phone number used to make the call to a foreigner visiting Thailand. Police say he was scheduled to leave on January 3.
Officers waited for the Finnish man at the airline counter, arresting him after he checked in. When questioned, he repeated the same answers over and over, saying that when he entered Thailand he felt that the airport's security system was faulty and vulnerable to a terrorist attack, so he made the call to warn the authorities.
Officials say that the man's call created panic at the facility and is a criminal offence, punishable by up to 15 years in prison or a fine of over 600,000 baht, or both. Immigration officials say the suspect has entered and departed the Kingdom nine times. The man is still in custody and police say he will undergo psychiatric evaluation before charges are possibly laid.
SOURCE: Thai Residents
Keep in contact with The Thaiger by following our
Facebook page
.
Police announce nationwide crackdown on air pollution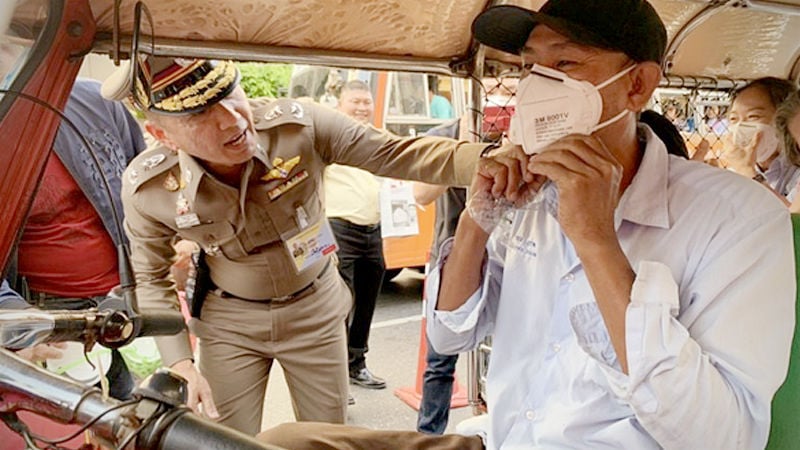 The Royal Thai Police are preparing measures to counter the PM2.5 problem by tackling the sources of air pollution in areas reported with poor air quality, a spokesman said on Sunday. (PM2.5 is particulate matter having a diameter of less than 2.5 microns)
"National Police chief Pol General Chakthip Chaijinda has ordered deputy chief Pol General Suwat Jaengyodsuk to be the central administrator of these measures. They are to be enforced at traffic routes, industrial factories, construction sites and burnt crop fields where the PM2.5 comes from nationwide."
The measures are as follows:
1. Increased frequency and thoroughness of emissions inspections on routes around big cities, especially Bangkok and surrounding provinces.
2. Random inspections at public bus and van terminals, distribution centres, as well as at businesses that use multiple trucks.
3. Coordinate with road construction contractors to reduce air pollution and restore traffic lanes as quickly as possible after construction ends to minimise traffic congestion.
4. Coordinate with related agencies to enforce laws against industrial pollution as well as illegal burning of garbage, forests and crop fields.
5. Improve traffic flow to reduce congestion and ensure that no one parks cars on the sides of main roads, blocking traffic and increasing emissions.
6. Use public relations measures to discourage vehicle owners from parking with the engine on and encourage them to regularly check their vehicles' condition.
Police will also work with private partners to distribute free surgical masks for road users in areas with poor air quality throughout Bangkok.
SOURCE: The Nation

AirVisual
Keep in contact with The Thaiger by following our
Facebook page
.
Air quality improves in Bangkok, North still battling some haze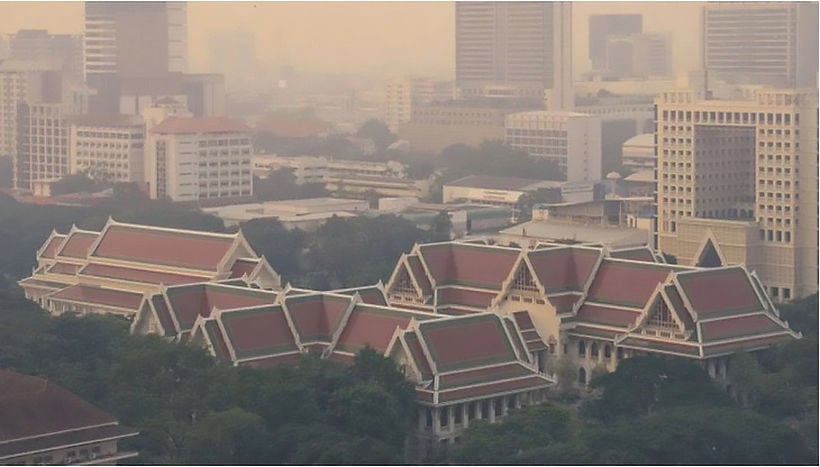 The severe air pollution which has plagued Thailand in recent weeks is improving: air quality is dramatically better in most areas today except in the north, where the PM2.5 level remains above safe levels, especially Lampang and Phrae provinces. According to the Pollution Control Department, at 10 am the PM 2.5 levels in the northern provinces of Lampang, Lamphun, Nan, Phrae, Phayao and Tak were higher than the standard level, except for Chiang Rai, Chiang Mai and Mae Hong Son where the air quality ranged from moderate to very good level.
The highest PM 2.5 level, 134 micrograms per cubic metre, was measured in Mae Mo district.
In northeastern, central and eastern Thailand including greater Bangkok,the air quality is from a moderate to very good level due to fluctuating weather.
In Bangkok, today, the local media surveyed the Sukhumvit area where the air quality has improved. According to the Air Visual application, the air quality ranges from good to a moderate level, according to the National News Bureau of Thailand.
On Ekamai road in Bangkok, police have set up a checkpoint to detect trucks that are not covered with canvas to lessen the dust and pollution problem.
SOURCE: NNT

AirVisual this morning
Keep in contact with The Thaiger by following our
Facebook page
.
Nonthaburi mansion fire burns away damages valued at 10 million baht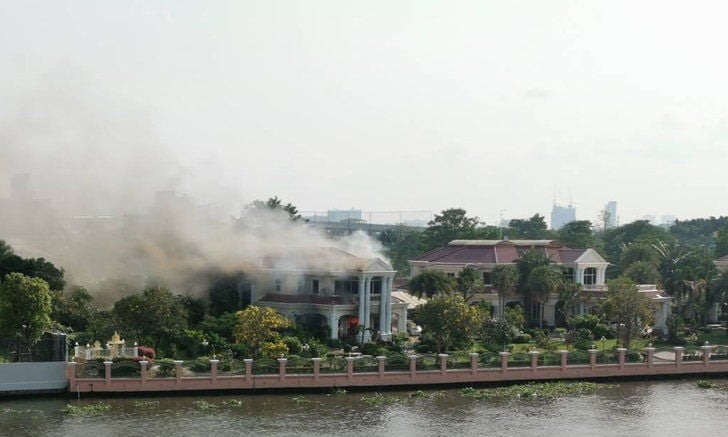 A fire at a mansion in the central province of Nonthaburi has created over ten million baht worth of damage. The home, on the Chao Phraya River in Nonthaburi City, lit up on Saturday, the morning of Chinese New Year. Firefighters rushed to the scene.
Firefighters arrived at the two-storey house on 16 rai (6.3 acres) of land to find the main living room on the 1st floor ablaze. Damages were extensive and included French-style furniture, teak furniture, curtains, a large chandelier, a set of elephant ivory, designer bags, and other decourations amounting to over ten million baht.
No one was inside at the time of the fire. The source of blaze is believed to be an overheated air conditioner inside the house. The owner, 60 year old "Suree," who is also the owner of the famous Owl Night Market, says he was outside celebrating Chinese New Year at about 9:30 am when he saw smoke coming out the windows. The gardener and other staff tried to use a garden hose to put the fire out but the pressure was too low. Firefighters put out the blaze in 20 minutes using 6 fire trucks.
SOURCE: Thai Residents
Keep in contact with The Thaiger by following our
Facebook page
.