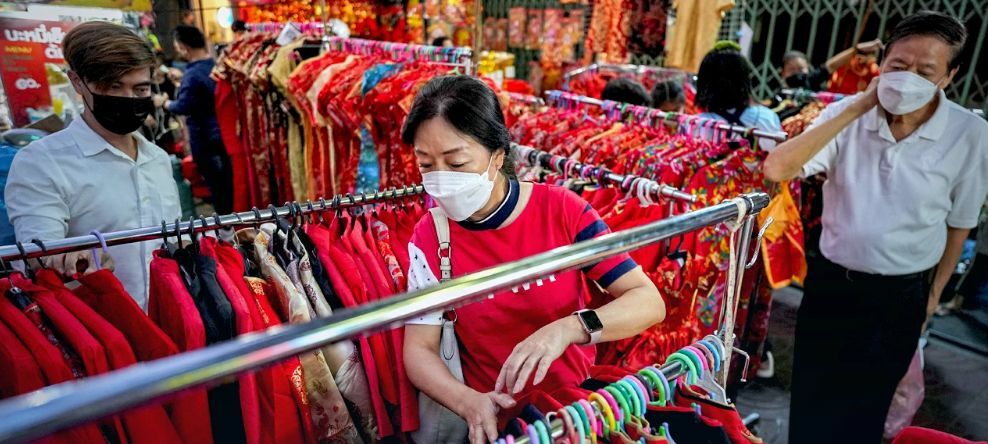 Chinese-Thais packed one road in Bangkok today for 'day for shopping,' a day that comes two days before Chinese New Year. Bangkok's Yaowarat Road is celebrating Chinese New Year until February 15, Nation Thailand reported.
On 'day for shopping,' Chinese-Thais usually buy food and other offerings for deities and gifts for relatives.
Tomorrow, Saturday, will be the 'day to pay respect,' when Chinese people pray to gods and remember their ancestors.
The actual day of Chinese New Year, which this year falls on Sunday, is also called the 'day for visiting.' As the name suggests, people visit their relatives on this day and go out to celebrate with them.
Young people usually present gifts to their elderly relatives, including four oranges, on Chinese New Year's Day.
Thailand is home to a large ethnically Chinese population, which means that Chinese New Year is one of the country's biggest holidays. The holiday is also called Lunar New Year because the dates of the celebration follow the phases of the moon. It starts with the new moon between 21 January and 20 February, and the festivities may last until the following full moon.
During Chinese New Year, Chinese families come together for dinner feasts, and to honour deities and ancestors.
Besides being celebrated in China and Chinese communities worldwide, the Lunar New Year is also a major event in some other East Asian and Southeast Asian countries, such as Korea and Vietnam. In China, the Lunar New Year is known as Chūnjié in Mandarin or the Spring Festival. Koreans refer to it as Seollal, and Vietnamese call it Tết.
Communities across Thailand are gearing up to celebrate the Chinese New Year. Chinese-Thais are decorating their shops and houses with red lanterns, and there are fireworks displays, dragon and lion parades, and dance and theatre performances.
For a low-down on five places to go in Thailand to have a spectacular time during Chinese New Year this year, click HERE.