Thailand's taxi and tuk tuk scams and annoyances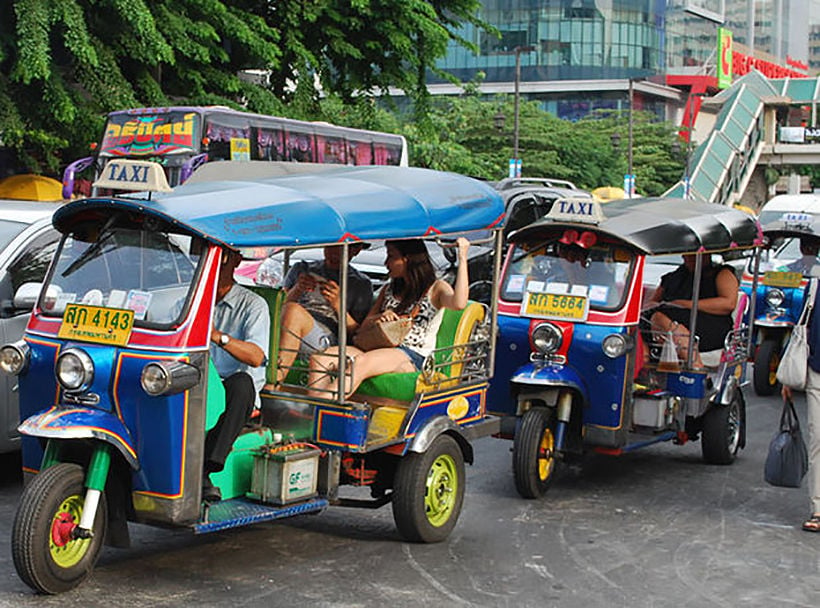 "Where are you going?", they shout from across the road. A Tuk Tuk driver wants to help you get to your next destination but the willing smile and lure of a ride in a local jalopy may have switched off your trusty scam-detector.
Tuk Tuks and taxis, and the motorbike taxis too, are a convenient, safe and reasonably cheap way to get around Bangkok and other provinces in Thailand (except Phuket where the taxis and tuk tuks are run by a local cabal and are hideously over-priced). Most of the drivers are good, honest Thais making a living. But there are a few who will 'take you for a ride' and not necessarily the destination you had in mind.
The best policy is to have some knowledge and know what to do in advance, before you even get in.

The Cheap Tuk Tuk Ride
A casually dressed, English-speaking Thai man starts talking to you. In a friendly, conversational way you are asked "Where are you going"? On his handy chart are some local tourist recommendations – a temple, a shrine, a waterfall, a market, a view-point. The asking price is low and before you know it you're heading for some locally recommended tourist haunt instead of where you wanted to go.
Along the way there are recommendations to drop into other markets, silk factories, shops, restaurants and gem stores. Here the prices are expensive and the ride to get back to your accommodation or original destination is now much higher.
This is a classic scam played out daily in various parts of the country. It all seems innocent enough and, hey, you're here for an adventure. But the commissions along the way leave you out of pocket and probably too polite to say much about it. And you're in a foreign country and don't want to turn down a local's friendly offer, right?
Thaiger Tip
A tuk tuk or taxi ride anywhere for a really low price should be a red flag. Best to ask your hotel reception about the local going rate for a taxi or tuk tuk before you venture out for the day. Be firm but polite if you feel you need to decline their offers. If the cheap fare their offering is too good to be true, it probably is.
Getting a 'Scenic Tour' or going to the Wrong Destination
A lot of your travails, if you happen to come across any problems with tuk tuk and taxi drivers, will likely come down to 'misunderstandings'. Most public transport providers around Bangkok, and most of the tourist hot spots, will speak enough English, or maybe a bit of Chinese and Russian, for you to be able to explain where you want to go.
If you just babble your desired location and assume your driver completely understood you, you're probably wrong. Check that they know where you want to go, show them a photo, get your hotel concierge to explain it, show them the map on your smartphone. Get an acknowledgement to be sure.
A problem you may encounter is the 'long route' to wherever you're going. If you insist on a metered journey this is more likely to happen. The driver can just sit in a traffic jam earning money at your expense. If you negotiate a fixed fee for the journey, before you get in, this is unlikely to happen and, from a business point of view, the driver will be keen to get you where you're going and find the next fare.
The other scam is to intentionally take you to the wrong destination where you will then point out it's not where you wanted to go. Of course, after admitting the 'misunderstanding', they'll gladly take you to the correct location, for another fee.
Thaiger Tip
You're a tourist in a foreign country. It's probably difficult to know if you are heading in the right direction or going by the best and fastest route. Technology can really help in these situations. In Thailand you can get a local sim card at the airport or local convenience stores. They will require a copy of your passport front page for local ID, but it's well worth being able to use all the latest Apps and maps on your phone to keep a track of where you are. Internet in Thailand is very reliable and cheap.
By the way, if you do get into any difficulties call the Tourist Place, anywhere in Thailand, on 1155.
The Case of the Malfunctioning Meter
By law, all taxis are required to charge you by the meter. In reality that rarely happens though in Bangkok officials are really ramping up spot inspections to make sure they do. In Phuket, it will likely NEVER happen. From the airports in Bangkok you will have no problem getting a metered taxi although there's plenty of touts hanging around the arrival area, especially at Suvarnabhumi, who will try and intercept you before you find the proper metered taxi booth.
But it's not all bad having to negotiate a set fee for your journey although a bit of homework beforehand will put you in a stronger position to negotiate a price. Negotiate means 'negotiate'. Try for a lower fare, with a smile, and settle for something reasonable. It's not a battle to the death and dragging it out and accusing them of being 'rip offs' is not going to help.
"Meter no work" is a common phrase you'll encounter. You will have two options – politely thank them for the information and walk away or negotiate a set fee. If you really have no idea of an approximation of the fare then find a taxi with a working meter or ask a local for help.
There are also turbo-charged meters where the meter has been 'fiddled' to click over at a faster rate. If you suspect you've been scammed by a turbo charged meter take some photos of the meter and the taxi and contact the Tourist Police – 1155.
Thaiger Tip
Usually, but not always, you'll get a better rate on the meter. So push for the driver using the meter, especially if it's sitting there on their dashboard! Believe us, the meter works.
Alternatives
• Grab Car (and Grab Bike) is a great alternative, especially in Bangkok, Pattaya, Chiang Mai and Hua Hin (and plenty of other popular locations these days). Not so much in Phuket where the Grab Car fees are about the same as the local, artificially high taxi rates. The 'disruptive' taxi technology puts safety, ease-of-use, fairness and transparency back in the hands of the user, instead of the taxi driver.
• In Bangkok Grab Car is usually cheaper than local taxis and a lot easier to use. Same with Grab Bike when compared to the local 'Win' motorbike taxi drivers.
• In Phuket push for the taxi driver to use their meter but realise this may be a losing battle. Sometimes a pre-arranged pick-up will avoid problems but will probably end up costing you more. Tuk Tuks (red Diahatsu vans) only operate in the tourist areas and don't have meters – you'll need to negotiate every time.
• In Chiang Mai there's the red baht buses, more like a small truck with space in the back for passengers. Know where you are going and be careful that you know the fee before you get in. Grab is popular in the northern city and taxis are usually quite reliable.
• In Pattaya the baht buses travel around all the well-trodden tourist areas and are very cheap and reliable. Taxis in Pattaya will often have 'problems' with their meters so be ready to haggle for a reasonable price.
• Tuk Tuks look different in different parts of the country. The 'famous' tuk tuks are the three-wheelers in Bangkok (also in Hua Hin). In Phuket they're three cylinder Diahatsu mini vans, usually red. In Pattaya and Chiang Mai they're usually 'baht buses' and not called tuk tuks by locals.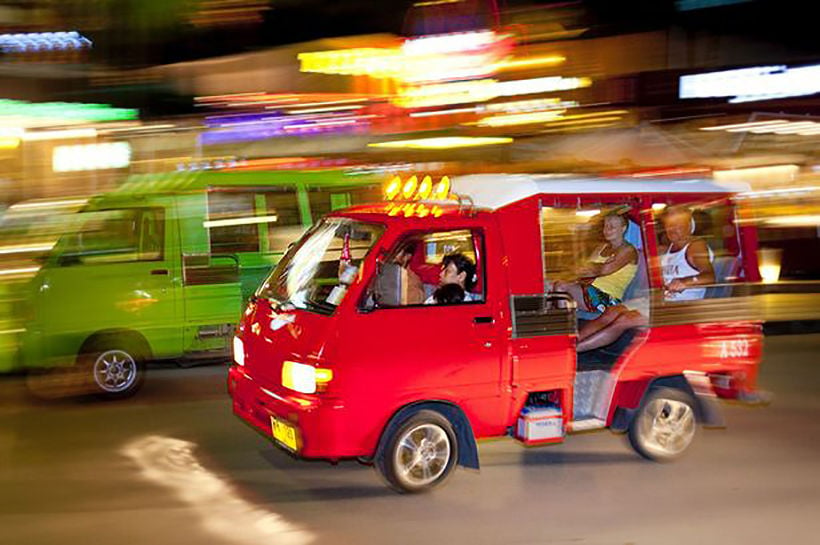 Keep in contact with Thaiger by following our Facebook page.
Never miss out on future posts by following Thaiger.
7 Thai dogs find a new home in California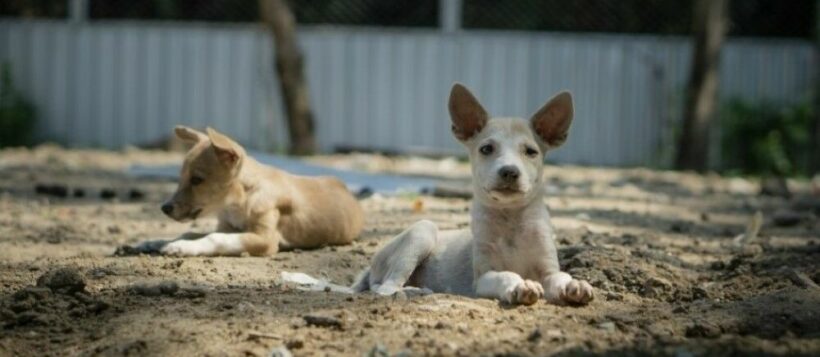 7 stray dogs from Thailand have immigrated to the United States as one California woman attempts to rescue as many Thai dogs as possible. Melissa Bacelar is the owner of The Wagmor Luxury Pet Hotel and Spa, along with its offshoot pet adoption service, Wagmore Pets. Located in Studio City, a neighbourhood in Los Angeles bordering Hollywood, the pet hotel just checked in the 7 Thai dogs.
They were street rescues that the Soi Dog Foundation helped prepare for their move to America. Soi Dog Foundation, a non-profit organisation dedicated to helping stray dogs and cats, is based in Phuket and operating throughout Thailand. They have recently been hosting vaccination and neutering on Koh Samui.
Following 2 days of air travel across the world, the dogs are settling into their new country, safely landed in Los Angeles. Melissa has a passion for rescuing dogs from Thailand because of the tough life they lead here, and the tragic end many face. Some die on the streets, others are poisoned or bludgeoned when they become burdensome to people in the area, while others are slaughtered and sold for meat.
"The dogs on the street often end up in different meat markets in the area; they're just dying on the streets. So it's important to get them out of there and find them homes."
These 7 dogs have escaped that dark fate and have been rescued, rehabilitated, trained and vaccinated by the Soi Dog Foundation in Thailand. Melissa is hopeful that they will find new homes easily as they are fully prepared and ready for adoption. The Thai dogs are surely looking forward to starting their new lives as American dog citizens.
SOURCE: MSN
Keep in contact with Thaiger by following our Facebook page.
Never miss out on future posts by following Thaiger.
Chon Buri: 141 new Covid-19 infections, 54 linked to nightlife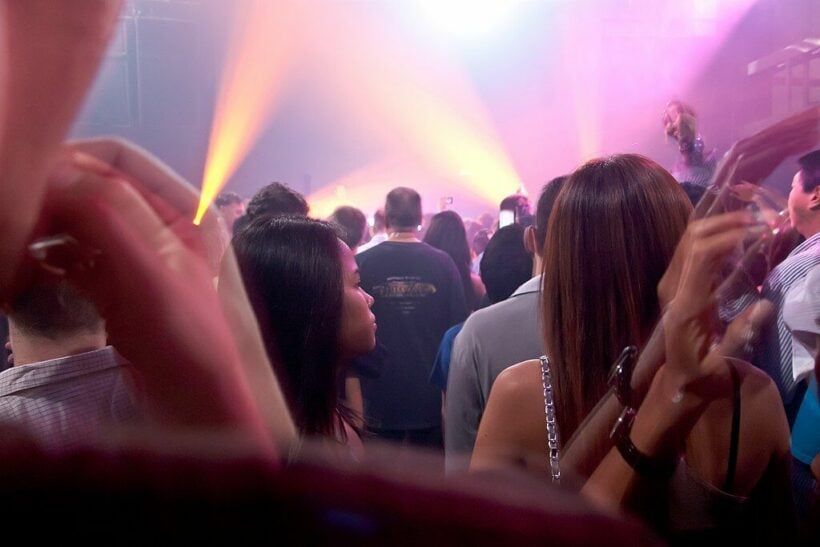 Chon Buri now has 264 confirmed Covid-19 infections this month after the Chon Buri Public Health Department announced that today brought 141 new infections. Many of the new cases stem from exposure from evening entertainment venues. 54 of the new cases are from an outbreak cluster at the Flintstones Pub in Mueang Chon Buri, bringing the total number of Coronavirus cases linked to that one pub to 90. Other infections were found in Chon Buri area venues including Class 99 Pub, Bone Pattaya, Na Pa, Symphony Pub, plus cases from nightclubs in Bangkok and Samut Prakan. 5 of the infected people were actually from other provinces who came to Chon Buri for treatment, while over 60 cases are still being investigated to determine their source.
The infections that were identified locally are:
53 in Mueang Chonburi
30 in Banglamung
8 in Si Racha
7 in Panthong
4 in Panat Nikhom
3 in Ban Bueng
1 in Nongyai
6 from other provinces
Another 2,410 tests have been administered from contact tracing the infections, but results have not been announced yet. Some are suspected to be infected, while others are just proactive cautionary testing for people who may have been exposed in or around the entertainment venues listed above. While the Thai government has shut down all bars and nightclubs in 41 provinces including Chon Buri, local officials are also reminding people to follow Covid-19 precautions. They are requesting everyone in Chon Buri wear masks, maintain social distancing, and avoid crowded places. Officials want to avoid a panic, but do want people to be vigilant to prevent an even bigger outbreak.
SOURCE: The Pattaya News
Keep in contact with Thaiger by following our Facebook page.
Never miss out on future posts by following Thaiger.
Nightlife plays major role in Covid-19 third wave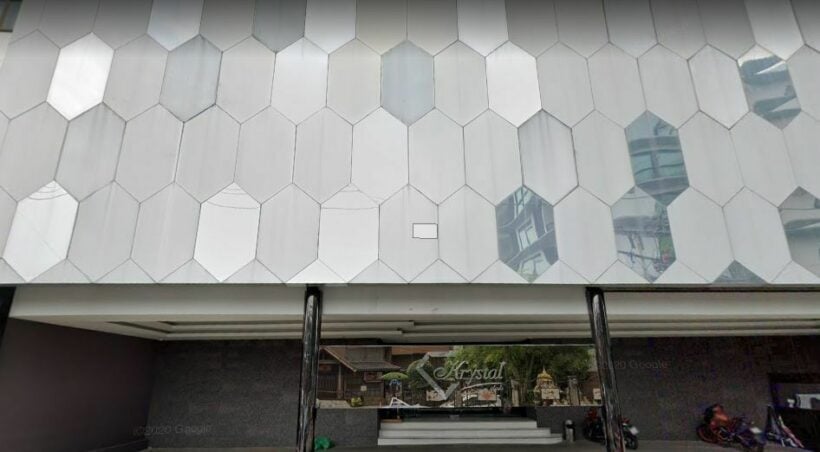 The current surge in Covid-19 infections now looks to be spread in large part by Thailand's colourful nightlife, with more than 500 people contracting the more contagious UK variant (B117) of the Coronavirus. The government responded by closing all bars and entertainment venues in 41 provinces, but it may be too late to prevent a third wave of the pandemic. Many people now are critical, pointing to the first and second wave as harbingers of how the party nightlife can so easily transmit Covid-19.
At the beginning of the pandemic, partiers in Bangkok's Thong Lor area began testing positive for Covid-19 last March. The Public Health Ministry instructed everyone to follow safety measures to prevent a big outbreak. The area is well known to be a hotspot for Bangkok's wealthy elite and powerful with its multitude of high-end luxury clubs and bars.
A normal night has thousands of people roaming the streets into the late hours of the evening. But after infections started spreading, all nightlife was closed until July when Thailand overall had gained some control and contained the Coronavirus more successfully than most countries. In fact, it would be months before any new infections were diagnosed in the area.
While it's commonly known that the next wave of Covid-19 in Thailand started mainly from migrant workers and low wage market workers, even the second round of infections was proliferated by people enjoying the nightlife around Thailand. There was a case of a woman in the North who went to several bars before knowing that she had contracted the virus in January, and, when the details of her bar-hopping were released, many customers of a bar she attended in Chiang Mai had already contracted Covid-19 as well. Meanwhile, in Bangkok, Techin "DJ Matoom" Ploypetch held a lavish all-night party in a luxury hotel in January. Facing criminal charges for violating Covid-19 restrictions, he has recovered from the virus himself but the party became a spreader event. None of these nightlife outbreaks stopped people from pouring back into the club scene as soon as it reopened in February.
Now Thailand is facing a massive shutdown with the threat of a third wave of Covid-19 inescapable. One major factor in the rapidly spreading infections is trendy evening entertainment venues around Bangkok, Phuket, and Pattaya among other areas. A 35-year-old man who contracted Covid-19 reported he had been partying in Thong Lor the month before. Testing clubgoers from bars and entertainment venues in the area revealed an outbreak of Covid-19 infections.
Krystal Club Thonglor25 gained attention as powerful politicians and the wealthy elite that frequent the club so often it's nicknamed "Government House 2". 1/3 of Thailand's cabinet ministers are currently self-isolating and it was rumoured that the Transport Minister had gotten C0vid-19 from visiting the infamous Krystal Club, though rumours were later dispelled.
But growing anger has emerged towards the upscale party-going set, with the hashtag #thonglorpub trending across social media since Wednesday, and many people complaining as the country closes down entertainment venues for the next two weeks and maybe facing further lockdown procedures.
The bar and club scene is a hotspot for Covid clusters since social distancing and mask-wearing are rarely enforced, in poorly ventilated rooms with throngs of tightly packed people. A list has emerged of high society hot spots where anyone in attendance in the past few weeks is being requested to get Covid-19 tests right away after customers at each has tested positive for covid.
Krystal Club Thonglor25
Bar Bar Bar,
Ekamai Beer House,
Emerald Thonglor13
Dirty Bar
Bottoms up Thonglor
AINU Hokkaido lzakaya & Bar
the Cassette Music Bar Ekamai
63 Music House Ekamai
SOURCE: Thai PBS World
Keep in contact with Thaiger by following our Facebook page.
Never miss out on future posts by following Thaiger.