Thai transport minister agrees to taxi fare hikes in Bangkok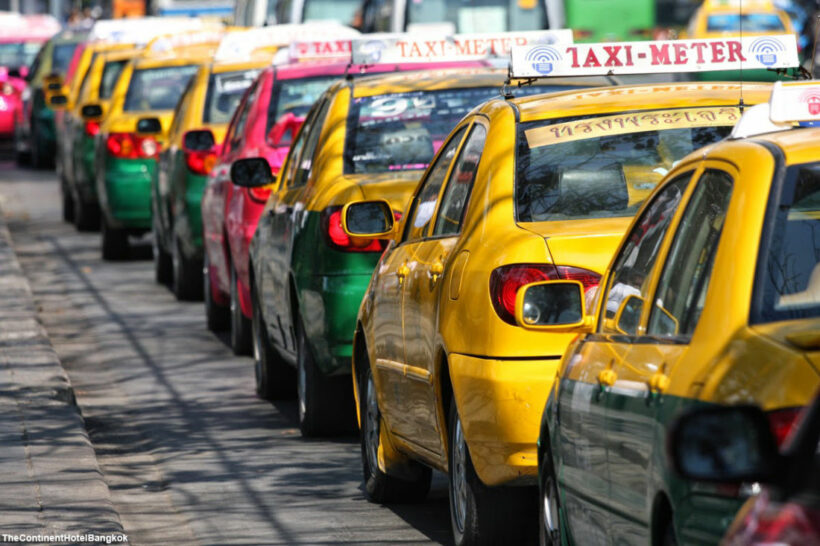 The Ministry of Transport has given approval for taxi fares in Bangkok to go up within a month.
Transport Minister Saksayam Chidchob met with representatives of four Bangkok taxi groups and officials of the Land Transport Department to discuss demand by taxi drivers to hike taxi fares. Taxi drivers have been pleading for an increase for years and have staged a number of protests. They say they need the rise in line with the increasing petrol and diesel costs. They also claim that they are often stuck in traffic and no distance is being added onto the fare whilst they are not moving forward.
The new taxi fares will be…
the basic rate of 35 baht for the first kilometre distance remains unchanged
50 baht/km from 5.50 baht/km for 1 plus km-10 km
7 baht/km from 6.50 baht/km for distance above 10 km to 20 km
8 baht/km from 7.50 baht/km for distance over 20 km to 40 km
50 baht/km from 8 baht for distance over 40 to 60 km
9 baht/km for distance over 60 km to 80 km
50 baht/km for distance above 80 km.
Additionally, if a taxi is caught in a traffic jam and can travel not more than 6 km/hour, the fare will increase by one baht for every minute stuck in traffic.
The new fares are expected to come into effect in 30 days . The meeting also agreed to increase the surcharge for taxies at Suvarnabhumi international airport from 50 to 70 baht for ordinary taxies and 90 baht for large taxies. Airports of Thailand is being asked to publicise the new taxi rates.
Passenger luggage will also be subjected to a charge of 20 baht per item for three or more bags. Private cars will be allowed to operate as a taxi but they have to be registered as a company.
The changes don't apply in the rest of the country, let alone Phuket where taxi fares are routinely 3-4 times the rates of Bangkok taxis and the meter is rarely used.
SOURCE: Thai PBS
Train derails heading south from Bangkok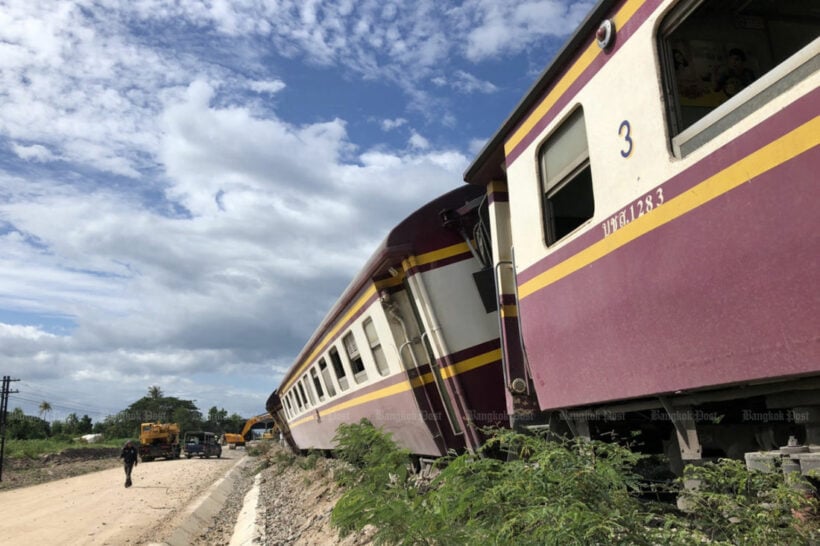 PHOTO: Chaiwat Satyaem
Rail services between Bangkok and southern provinces were delayed yesterday after a passenger train jumped tracks in the Cha-am district of Phetchaburi province, about four hours south of the capital. There were no injuries reported.
The incident happened around midday yesterday.
The State Railway of Thailand reports that train 55 from Thonburi to Lang Suan station in Chumphon province became derailed at 12.04pm after departing the Huay Sai Tai station in Cha-am.
They confirmed that six carriages had jumped off the rails. They believed that the theft of steel nails used to fix the tracks to the sleepers had been stolen. Railway teams and cranes went to the scene to lift the carriages back on the tracks and assess the damage.
The Hua Hin station mater noted that there were some of the large steel nails missing from the accident scene.
Trains in both directions were affected for the rest of the afternoon but were able to resume early last night.
SOURCE: Bangkok Post
Hong Kong's protests have been good for Bangkok's luxury condo market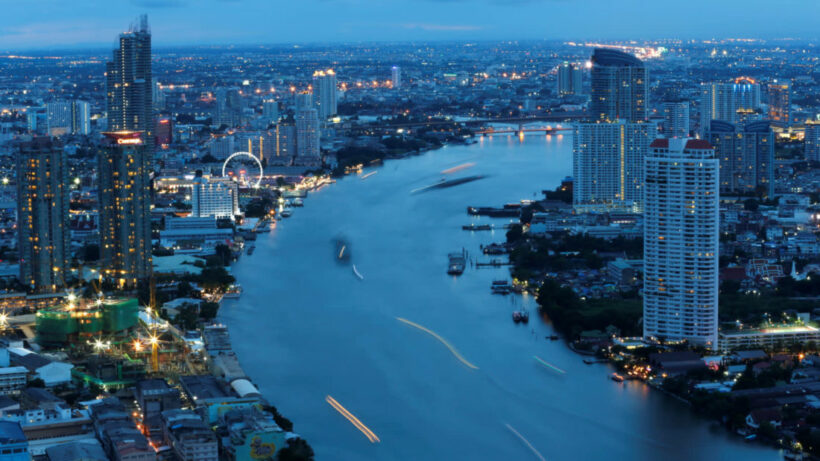 High end Hong Kong investment is turning away from the Chinese business hub and looking outside for new investment opportunities.
Thailand's high-end luxury condo market has been one of the beneficiaries.
Keerin Chutumstid, from the Bangkok-based Magnolia Quality Development, says about 40% of the condos in a 52 storey Bangkok luxury tower development that opened last week have already been sold to buyers from mainland China, Hong Kong, Taiwan and Singapore. Among those, mainland Chinese and Hong Buyers are the top foreign customers.
The new luxury tower on the Chao Phraya River has 146 units, which are managed by 5 star managers Mandarin Oriental Hotel Group. Prices start at 65 million baht (US$2.9 million) and go up to 533 million baht for the larger penthouses.
Keerim says that the protests give them an advantage for the project.
"If you look at Thailand right now, compared to other countries, we have a good level of political stability."
Meanwhile, Thailand leading property portal FazWaz says there has been a noticeable surge of enquiries in the past few months. CEO Brennan Campbell says a lot of the new interest is coming out of Hong Kong and Mainland China….
"FazWaz has noted an influx of investment inquiries over the past two months. The city's high-end market offers some of the best condominium properties in the world at prices still well below other mature property markets. We're also seeing a lot more inquiries into the medium-level condo market from 6-15 million baht as well as for the ultra-luxury market over 35 million baht."
Last week, Hong Kong's CK Asset Holdings and Sun Hung Kai Properties decided to postpone sales of new multi-billion-dollar projects, and transactions in the secondary market are down sharply, especially for luxury homes. The slump follows two months of protracted and often violent street protests by Hong Kong's pro-democracy movement.
It's believed that the circumstance could add another tailwind to the luxury market in Bangkok, where the last decade's tourism boom has put the city on the map for investors, especially mainland Chinese who have buying up big.
Bangkok real estate has also been attractive to international investors because, even after years of gains, prices are still often cheaper than in less travelled-to cities such as Jakarta, Kuala Lumpur, or Vietnam's Ho Chi Minh City.
'One Night In Bangkok'. The song, 35 years later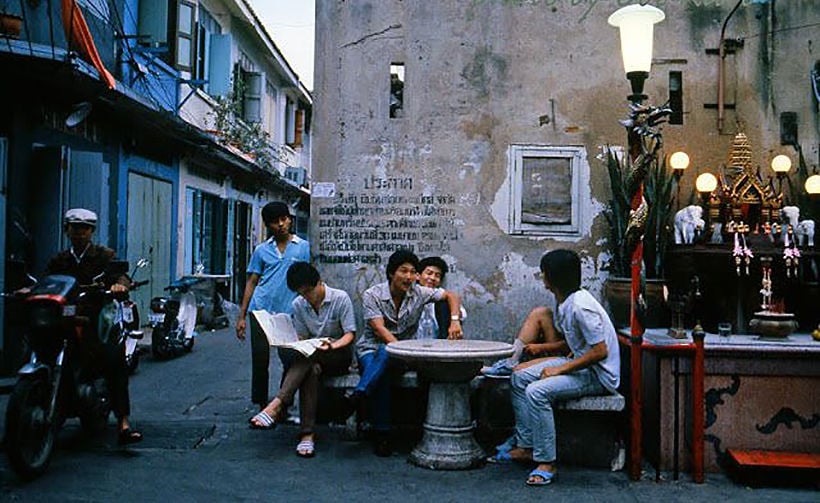 PHOTO: Doi Kuro, Bangkok 1980
When 'One Night In Bangkok' was released in 1984 it was an unlikely hit- the opening song from a (at the time) little-known stage pop-opera called 'Chess'. The song made Number 1 in South Africa, West Germany, Switzerland and Australia, and Number 3 in Canada and the United States. It has remained a staple of Classic Hit radio ever since. Have a listen below…
The musical was the first outing for the two 'Bs' in ABBA – Benny Andersson and Bjoern Ulvaeus. Their pop grooves had made ABBA one of the most famous music groups in the world between 1973 and 1982 with a string of hits including 20 singles in the Billboard Top 100 from eight albums, etc, etc. The lyrics of the song were penned by Tim Rice (Jesus Christ Superstar, Evita, Joseph and his amazing technicolour dreamcoat, Aladdin, The Lion King, Beauty and the Beast).
In the opening song of 'Chess', the American chess champion Freddie Trumper gets ready for a chess game with his Russian counterpart. He ridicules Bangkok's 'pleasures' and tourist attractions – the Chao Phraya River ("muddy old river"), Wat Pho ("reclining Buddha"), and the red-light distractions. The choruses are more complimentary.
At the time the sarcasm of the song didn't go down well with the Thai Mass Communications Organisation (now the NBTC) issuing a ban on the song in 1985, saying its lyrics "cause misunderstanding about Thai society and show disrespect towards Buddhism", a line still trotted out about inappropriate Instagrammers and their selfies in front of Thai temples.
Thirty-five years later the song still paints a picture of a contrasting 'oriental' city alive with lights (including red lights), colour, pungent smells, culture and history.
We're not sure if the ban was ever lifted but I hear the song played on Thai stations from time to time. At the time, when Bangkok was less on the tourist map than now, the song was a lone reference point for westerners.
How does it stand up thirty-five years after becoming a world-wide hit? Comment on our Facebook Page.
One Night In Bangkok
Bangkok, Oriental setting
And the city don't know that the city is getting
The creme de la creme of the chess world
In a show with everything but Yul Brynner (referring to the actor's starring role as the King of Siam in 'The King and I')
Time flies, doesn't seem a minute
Since the Tirolean spa had the chess boys in it
All change don't you know that when you
Play at this level there's no ordinary venue
It's Iceland or the Philippines or Hastings or,
Or this place!
One night in Bangkok and the world's your oyster
The bars are temples but the pearls ain't free
You'll find a god in every golden cloister
And if you're lucky then the god's a she
I can feel an angel sliding up to me
One town's very like another
When your head's down over your pieces, brother
It's a drag, it's a bore, it's really such a pity
To be looking at the board, not looking at the city
Whaddya mean?
Ya seen one crowded, polluted, stinking town
Tea, girls, warm, sweet
Some are set up in the Somerset Maugham suite
Get thai'd, you're talking to a tourist
Whose every move's among the purest
I get my kicks above the waistline, sunshine
One night in Bangkok makes a hard man humble
Not much between despair and ecstasy
One night in Bangkok and the tough guys tumble
Can't be too careful with your company
I can feel the devil walking next to me
Siam's gonna be the witness
To the ultimate test of cerebral fitness
This grips me more than would a
Muddy old river or reclining Buddha
And thank God I'm only watching the game… controlling it
I don't see you guys rating
The kind of mate I'm contemplating
I'd let you watch, I would invite you
But the queens we use would not excite you
So you better go back to your bars, your temples
Your massage parlours
One night in Bangkok and the world's your oyster
The bars are temples but the pearls ain't free
You'll find a god in every golden cloister
A little flesh, a little history
I can feel an angel sliding up to me
One night in Bangkok makes a hard man humble
Not much between despair and ecstasy
One night in Bangkok and the tough guys tumble
Can't be too careful with your company
I can feel the devil walking next to me
Songwriters: Tim Rice / Benny Goran Bror Andersson / Bjoern K. Ulvaeus