Body parts and debris found after Indonesia's 737 plane crash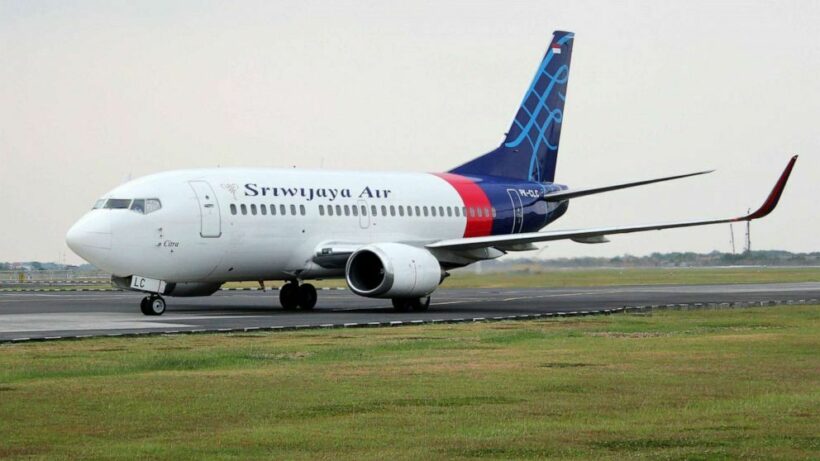 Body parts and debris from Indonesia's Sriwijaya Air Boeing 737 crash are being found today near the capital as the Jakarta police spokesman Yusri Yunus detailed the findings, which leave little hope of any survivors.
"As of this morning, we've received two (body) bags, one with passenger belongings and the other with body parts."
62 passengers and crew were on board, including 10 children, all of them Indonesians. The 90 minute flight was scheduled to land in Pontianak city on Borneo, but after climbing to an altitude of nearly 11,000 feet, it dropped suddenly and lost contact with air traffic control. According to coordinates, the head of Indonesia's military, Hadi Tjahjanto, says the plane crashed into the Java Sea near tourist islands off the coast.
"From our observation, it is strongly believed the coordinates match the ones from the plane's last signal contact."
Divers marked 3 sites, where the plane is suspected to have crashed, with orange balloons as officials continue their search using sonar radar to detect the remains of the jet.
Sriwijaya Air did not immediately comment on the news when contacted by AFP again today, but has recently said it was only investigating the loss of contact between the plane and air traffic control. The airline has around 19 Boeing jets that fly to Indonesian and Southeast Asian destinations. Boeing issued a statement that did not speculate over the cause of the crash.
"We are aware of media reports from Jakarta regarding Sriwijaya Air flight SJ-182. Our thoughts are with the crew, passengers, and their families."
"We are in contact with our airline customer and stand ready to support them during this difficult time."
Indonesia's aviation sector has had a history of poor maintenance and mismanagement, including poor safety, and its airlines were once banned from entering US and European airspace. But yesterday's plane crash did not feature the Boeing 737 Max, which was grounded by aviation regulators around the world for nearly 2 years in order to totally rehaul its software systems after the 'MCAS' system was blamed for 2 crashes in the past few years.
Instead, this crash featured a 26 year old Boeing 737-500 model, one of only a few older models that are still in operation. Authorities say they will continue to search for the wreckage of the plane as well as any survivors despite the outlook appearing to be grim.
SOURCE: Thai PBS World
Keep in contact with The Thaiger by following our Facebook page.
Never miss out on future posts by following The Thaiger.
Burger King Indonesia urges diners to share the love – by ordering at McDonald's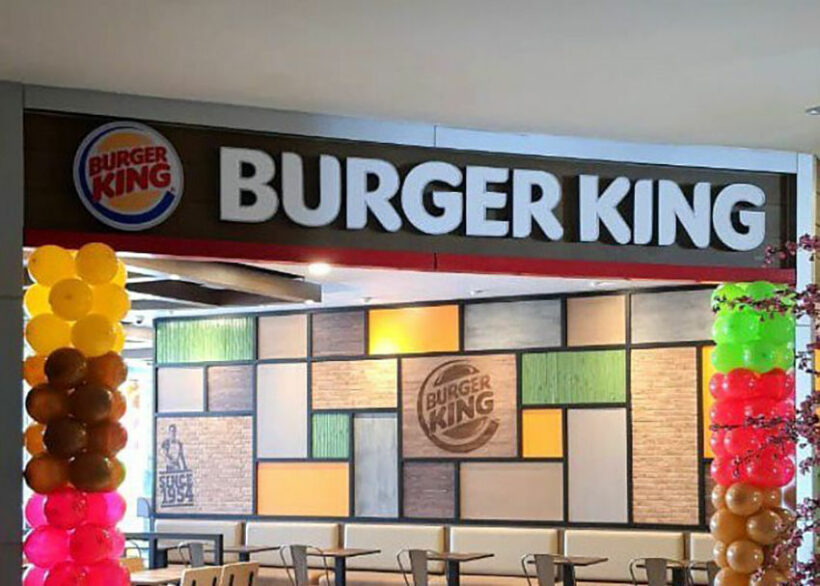 The fast food chain Burger King has come in for online praise (and no doubt, some helpful PR) after suggesting its customers in Indonesia should order from other struggling businesses, including rival burger joint, McDonalds. Burger King Indonesia is believed to have followed the example of its UK counterpart, who posted the same suggestion, in a tweet that has since gone viral.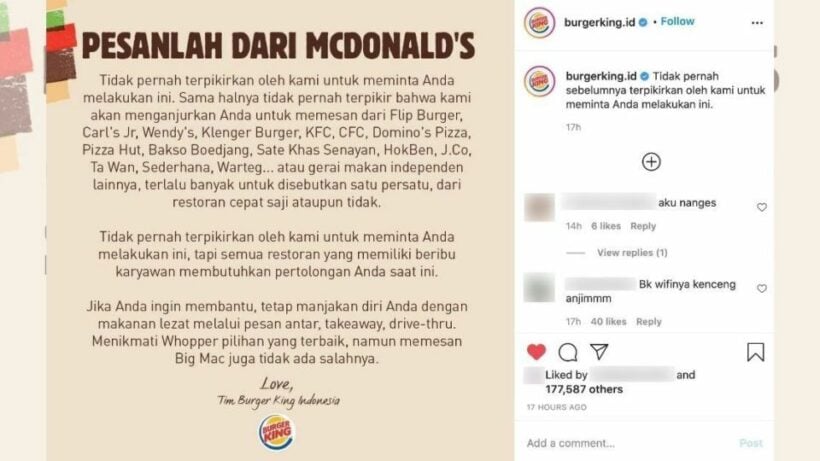 "We never thought we'd be asking you to do this. Just like we never thought we'd be encouraging you to order from Flip Burger, Carl's Jr, Wendy's, Klenger Burger, KFC, CFC, Domino's Pizza, Pizza Hut, Bakso Boedjang, Sate Khas Senayan, HokBen, J.Co, Ta Wan, Sederhana, Warteg, or any other independent food outlets, too many to mention here, whether they're fast food joints or not. Getting a Whopper is always best, but there's no harm in ordering a Big Mac."
Burger King says the post was its way of signalling support for the fast food industry as a whole, pointing out that it employs thousands of people and is also feeling the economic effects of the Covid-19 pandemic. The burger outlet's tweet received many positive comments, as social media users praised the company for putting aside business rivalries – at least for a while.
"What the admin meant was that these fast food chains are not rivals in this condition, but they're going hand-in-hand to rise again."
While Burger King's action could be dismissed by some as a clever PR stunt, it will have helped raise awareness of how Covid-19 is affecting all operators in the fast food industry. And if that's the case, they may well feel that sending a potential Whopper customer to purchase a Big Mac instead was worth it.
SOURCE: Coconuts
Keep in contact with The Thaiger by following our Facebook page.
Never miss out on future posts by following The Thaiger.
2 strong quakes shake Indonesia's Sumatra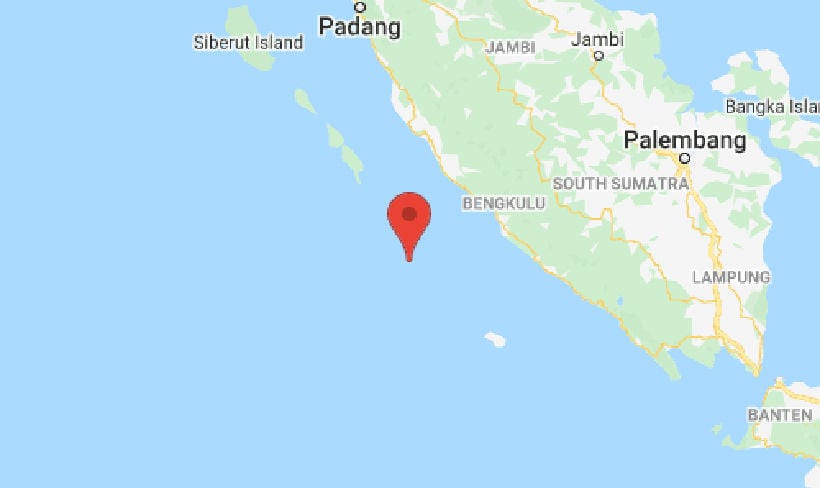 2 large, shallow earthquakes, of magnitude 6.8 and 6.9, struck off Indonesia's Sumatra island early today, according to the US Geological Survey. No tsunami warning was issued and there were no immediate reports of casualties or major damage. Terrified residents fled their homes when the twin offshore quakes rocked Bengkulu city on Sumatra's western coast. Bengkulu resident Jumentrio told AFP:
"The first earthquake was quick…but another one hit shortly after and it was just as strong. My children screamed hysterically."
The area was hit by a string of aftershocks, according to Indonesia's Meteorology, Climatology and Geophysics Agency.
"But until now we haven't received any report of damages due to the earthquakes."
The quakes struck within 6 minutes of one another from 5:23am local time at a depth of between 22 and 26 kilometres, respectively. Shallower quakes tend to cause more damage than deeper ones.
The Indian Ocean Tsunami Warning and Mitigation System said there is "…no threat to countries in the Indian Ocean."
There is a "low likelihood of casualties and damage", according to the USGS.
Indonesia, the world's fourth most populous nation, has frequent seismic and volcanic activity due to its position on the Pacific "Ring of Fire", where tectonic plates collide.
In 2018, a 7.5-magnitude quake and subsequent tsunami on Sulawesi island left more than 4,300 people dead or missing.
A devastating 9.1-magnitude quake struck off the coast of Sumatra in 2004, triggering a tsunami that killed 220,000 throughout the region, including some 170,000 in Indonesia.
SOURCES: Bangkok Post | AFP
Keep in contact with The Thaiger by following our Facebook page.
Never miss out on future posts by following The Thaiger.
Crocodile attacks and kills 55 year old fisherman in Indonesia
A crocodile was hunted and killed after it attacked and ate a 55 year old fisherman. Reports reveal that villagers at Riau province Indonesia, on the central eastern coast of Sumatra facing the Strait of Malacca, got together to help to catch the crocodile.
When the crocodile was eventually captured and killed, the villagers then cut open the crocodile's belly to confirmed if it had eaten the victim.
According to the fisherman's friend 'Toha', on Sunday night a 4 metre crocodile pulled the 55 year old man 'Syafri' straight into the Lakar River. Toha managed to scramble up the muddy banks to safety after witnessing the reptile attack his friend at close quarters.
He says he tried his hardest to attract the crocodile's attention before deciding to call for help.
While searching for the crocodile on the morning after the incident rescue teams made a gruesome discovery of the victim's leg washed up on the river bank.
Not long after discovering the body part they managed to track and identify the suspected crocodile. They shot and killed the animal before bringing it up to shore and cutting its belly to reveal if it had eaten Syafri.
Once opening the crocodile stomach they found Syafri body parts being eaten whole by the crocodile.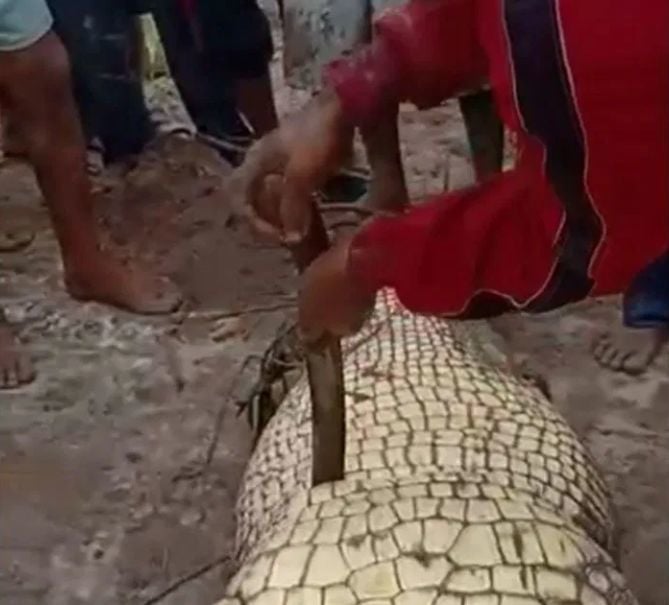 Indonesian forest officials blame the villagers for not being extra careful in this area, where it is known to be the perfect habitat for saltwater crocodiles. Although the saltwater crocodiles are wildlife animals protected by Indonesian law. Heru Sutmantoro, the head of the Riau province's Natural Resources Conservation Agency acknowledged the villager's actions whilst saying they are unlikely to prosecute anyone over the incident.
"We received the information that the attack happened on Sunday night, we have long warned the public to avoid saltwater crocodile habitats and be careful around that area."
"This was not the first attack, similar attacks have happened before around the Lakar River.
Keep in contact with The Thaiger by following our Facebook page.
Never miss out on future posts by following The Thaiger.